Introducing India's First Life Insurance Chatbot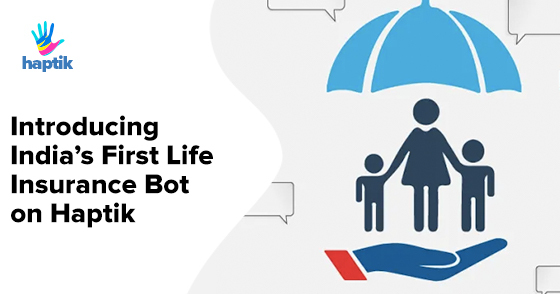 With the financial year end just around the corner, there might not be a better time to understand how simple and important Life Insurance is. Making the right investments can sometimes come across as a lot of work. So to make it a lot easier for everyone involved, we have partnered with one of India's premium life insurance companies to launch India's first Life Insurance Bot – which will act a financial guide to help users choose the most suited Insurance Plans & Solutions!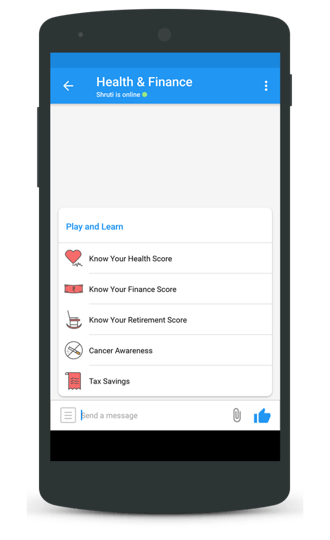 Once you enter the Health & Finance category within Haptik, the bot will help you with insurance ranging from Health to Tax Planning & Retirement, by taking you through a specially designed quiz, which won't take more than a minute or two, to understand your Insurance Quotient.
Explore How to Gain Tremendous Competitive Advantage By Using Automation In Insurance
What is the Insurance quotient?
The insurance quotient is an indicative score that will help our partner recommend the best suited Insurance Plans for you; and is calculated using different parameters under each insurance category. For example – If you're looking to plan your taxes, the bot will ask you about how much tax you're paying and suggest a simple way to calculate your taxes so on & so forth.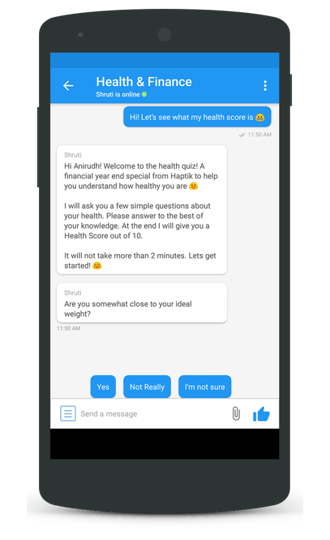 We've always believed chat as an interface simplifies various complex problems, and with this we aim to solve the complex process of understanding Life Insurance. The Insurance bot is our first step towards providing a simple platform for the tech-savvy millennials to access relevant information about the otherwise complex problems.
The Life Insurance Bot went live on the Haptik by 14th of March, 2018.
The State of Insurance Chatbots in 2022: Use cases, Reports, case studies, and more.
---