How to Get Started with WhatsApp Marketing Software in 2023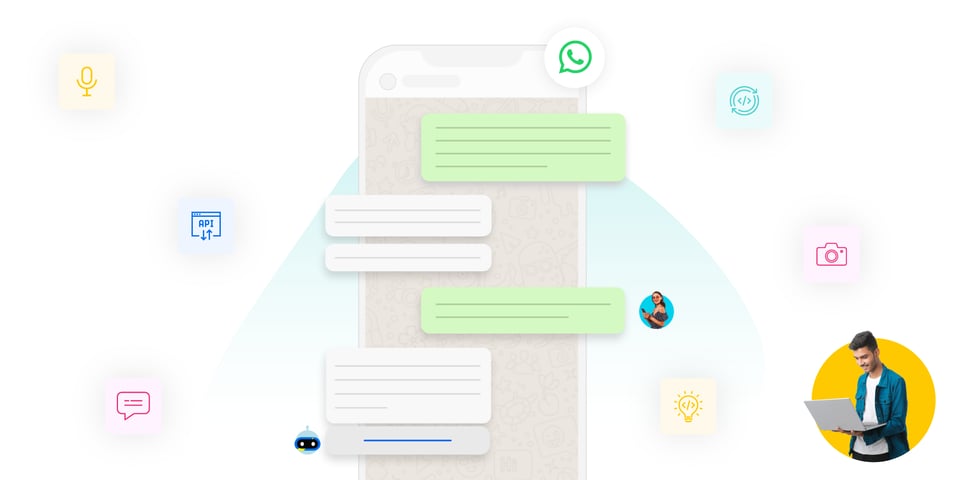 Social media platforms are a key part of today's marketing strategies for contemporary businesses. In this regard, WhatsApp marketing software offers marketers a wide range of opportunities. Notably, more than five million brands currently use WhatsApp Business to connect with customers. With the continuously growing number of WhatsApp users, brands must update their marketing strategies to remain relevant and competitive.
WhatsApp marketing refers to using WhatsApp as a marketing tool to engage with prospects and existing customers. Companies can send personalized messages, important announcements, and offer promotional deals to their target audience through this approach. WhatsApp offers businesses a wide range of benefits, which include:
The ability to reach a massive audience and facilitate meaningful, two-way conversations with customers.

With 24/7 on-demand assistance, companies can establish trust, foster long-term customer relationships, and boost brand loyalty.

With personalized & timely notifications, brands can improve customer engagement and satisfaction and improve overall retention rates through targeted campaigns.

WhatsApp marketing software can be easily integrated with other cross-functional channels such as Clevertap, HubSpot, PayU, Shopify, and more.
This blog offers a comprehensive guide to effectively integrating WhatsApp marketing software into your organization's overall marketing strategy. Key factors to consider when selecting the right WhatsApp marketing software, the optimal methods of incorporating it into your existing marketing mix, and finally, the most relevant goals and KPIs to measure success and achieve compelling business outcomes - we will cover all these topics here.
1. Targeting the right people on WhatsApp marketing software
In today's highly competitive business landscape, brands must target the right customers to maximize their reach and conversions. A practical approach is customer segmentation, categorizing customers into sub-groups based on shared characteristics such as age, gender, location, spending capacity, and more.
Segmenting customers on WhatsApp enables brands to tailor their messaging to specific groups, leading to better marketing results. Regularly monitoring and updating customer segmentation is critical for successful customer retention.
By segmenting customers, brands can

improve personalization, a key factor in enhancing customer engagement, with more than

90% of customers

expressing interest in it.

Sending appropriate messages to specific customer segments enhances customer experience, reducing unsubscribe rates.

Relevant and contextual communication ensures customers receive valuable messages, reducing the possibility of flagging the brand as spam or blocking its content.

Targeted communication, promotions, and messages enhance conversion and clickthrough rates, leading to better ROI when relevant to customer requirements.
When it comes to customer segmentation, there are various types available such as behavioral, geographical, demographic, psychographic, and seasonal segmentation.
Behavioral segmentation categorizes customers based on their behavior patterns, such as browsing activity and purchase timing. This approach can optimize customer journeys, predict future behavior, and allow for targeted marketing.
Demographic segmentation uses basic customer information such as age, gender, marital status, education, profession, and income to enhance personalization, relevance, and targeted marketing. This approach helps to identify ideal customer groups that speak directly about their specific needs and requirements.
Psychographic segmentation considers customers' personalities, interests, activities, culture, and lifestyles to understand their buying patterns. Seasonal segmentation helps brands market season-specific products, create promotional campaigns during slow seasons, and target different customers for more effective campaigns.
Businesses can choose the segmentation criteria that work best for them depending on the product, service, brand, and industry.
2. How to choose the right WhatsApp marketing software
Selecting the right software for WhatsApp marketing is essential to achieve desired outcomes. It is crucial to choose software that aligns with the business objectives.
For instance, if the software does not support broadcasting or WhatsApp chatbot integration, it may impede promotional message broadcasting or seamless customer support. With WhatsApp's vast user base of over 2.2 billion monthly users worldwide, it is a compelling platform for brand marketing. This segment highlights the most significant factors when selecting the best WhatsApp marketing software.
WhatsApp marketing software key features to look for
Once the marketing goals have been set, it is time to evaluate the software's functionalities and features and ensure they align with the marketing objectives.
Determine whether the software offers features such as WhatsApp broadcasting, live chat, and AI chatbot integration that align with your WhatsApp marketing objectives. Assess their customer service capabilities and implementation process. Book a demo to understand their functionalities.
WhatsApp marketing software integration with other marketing tools
Ensure the WhatsApp marketing software integrates with other software solutions used by your business. For instance, if a brand has a Shopify-powered eCommerce store, the marketing software should support integration with Shopify to view product catalogs, automate order updates, delivery updates, and abandoned carts, to build a comprehensive ecosystem on WhatsApp.
Haptik offers integration with popular CRM and eCommerce portals, including Shopify, Magento, Salesforce, Zendesk, HubSpot, PowerBI, Stripe, PayPal, Razorpay, and more.
Pricing of WhatsApp API
While it may be true that WhatsApp marketing software requires an initial investment, it can be considered an investing tool for brands looking for ROI-driven results. To use it effectively, brands can tailor WhatsApp marketing solutions and services to align with specific business needs, and costs accordingly. Communicate directly with service providers, like Haptik, to understand the cost structure for optimal decision-making.
3. How to integrate WhatsApp marketing into your marketing mix
In today's convenience-driven economy, customers value experiences over brand names only. This shift in consumer demands, combined with the fast-paced digital landscape, has resulted in a more fragmented market. With over 2 billion users globally, WhatsApp emerges as a powerful marketing channel that offers one-to-one communication and personalization, which customers appreciate. Real-time notifications help build brand recall, influence buying decisions, and curate AI-powered conversations tailored to each customer's needs.
WhatsApp allows you to create meaningful connections and turn customers into brand advocates. Integrating WhatsApp marketing software into your marketing plan can drive customer engagement, improve customer satisfaction, and increase conversions.
WhatsApp for Customer Acquisition
Using WhatsApp in the customer acquisition process provides a powerful way to engage with shoppers one-to-one and increase conversions.

The one-tap product catalog feature on WhatsApp offers an unparalleled level of convenience and ease for customers, allowing seamless shopping experiences that can drive conversions and increase sales.

Automated responses to customer queries regarding products and services can enhance customer satisfaction while providing tailored product recommendations based on browsing behavior can increase average order value.

In addition to its other benefits, WhatsApp is also a valuable tool for businesses looking to upsell and cross-sell products to their customers by offering contextual add-ons.
Quick Read: Learn how CASHe onboarded more than 50K customers using WhatsApp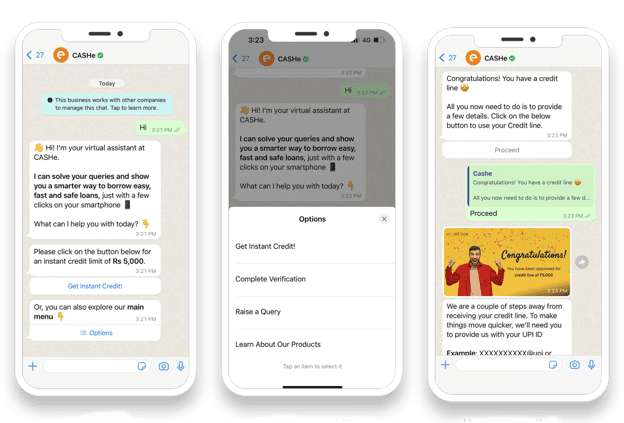 WhatsApp for Lead Generation
Lead-generation chatbots on WhatsApp provide a personalized approach to engage prospects at the right time in their journey.

The chatbots automate the lead generation and qualification process by interacting with customers, understanding their needs, and collecting preliminary details to qualify the leads.

By recommending products, providing discounts, and gathering customer information, these chatbots help convert passive visitors into sales-ready prospects.

The chatbots enhance subsequent follow-up campaigns by personalizing them, increasing the likelihood of conversion.
Quick Read: Discover how WhatsApp helped CEAT with a massive 542% increase in leads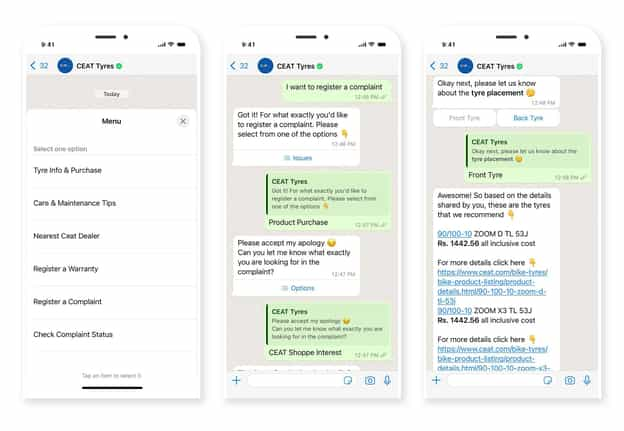 WhatsApp for Sales
The WhatsApp Business App's catalog feature acts as a digital storefront, enhancing product visibility.

The

Broadcast

feature allows brands to send informational or promotional messages or content with the customer's consent.

Brands can leverage the

Status

feature to inform customers about flash sales and promotions.

"Click to chat" or "Click to WhatsApp" features let brands initiate a chat with potential customers instantly.

WhatsApp provides a low-effort means to offer post-purchase support, leading to personalized service and an increased customer satisfaction rate.
Quick Read: Learn how JioMart records a 68% repeat rate using WhatsApp chatbot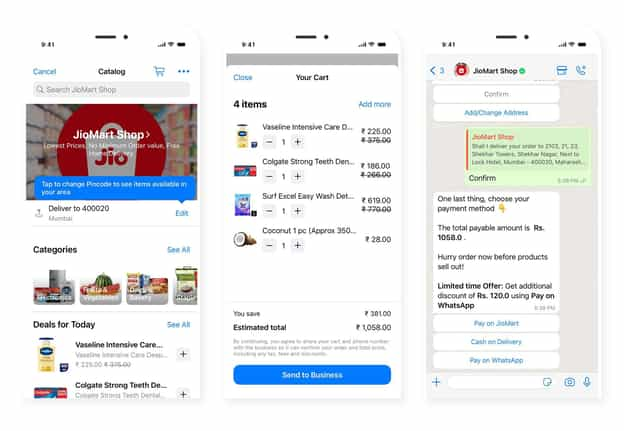 4. Guide to setting goals and KPIs for WhatsApp marketing software
WhatsApp has become an increasingly popular platform for businesses to engage with customers. However, in order to achieve success with WhatsApp marketing, it's essential to have clear goals and track key performance indicators (KPIs) to measure progress and adjust strategies as necessary.
The primary goals of WhatsApp marketing are typically centered around:
Increasing brand awareness,

Acquiring new customers,

Improving engagement with existing customers, and

Driving conversions.
To track progress toward these goals, there are several KPIs that brands should focus on. By monitoring these KPIs, brands can gain a better understanding of how their WhatsApp marketing strategy is performing, and make data-driven decisions to optimize their approach. With a clear set of goals and a focus on measuring KPIs, businesses can maximize the impact of their WhatsApp marketing efforts and achieve greater success.
The following is a list of the most important performance metrics that brands should focus on to drive their growth and profitability.
Open rates

measure the percentage of recipients who opened a WhatsApp message, which can help determine the effectiveness of messaging and identify areas for improvement.

Click-through rates

(CTR) measure the percentage of recipients who clicked on a link in a message and can provide insights into the relevance of messaging and the effectiveness of a call to action.

Conversion rates

are also critical KPIs to track, as they measure the percentage of recipients who took a desired action, such as making a purchase or signing up for a newsletter.

Response rates

measure the percentage of recipients who replied to a message, which can help businesses understand customers and identify areas for improvement in messaging.
Take away
In today's intense commercial environment, brands must take advantage of every opportunity to connect with their target audience and build lasting customer relationships. WhatsApp Marketing Software is a powerful tool that can help businesses achieve these objectives and drive lead generation, sales, and customer acquisition. By identifying the right audience, selecting the right software, and integrating WhatsApp into their overall marketing strategy, brands can gain a competitive edge and propel their growth.
Drive Your Brand's Success with Haptik's Custom WhatsApp Solutions