10 Reasons Why Your Brand Should Be on WhatsApp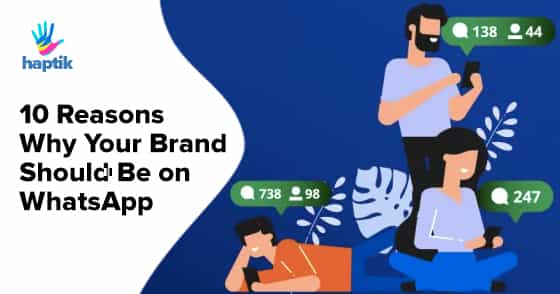 Ever since the WhatsApp Business API was launched in 2018, businesses have had the ability to engage and serve their customers on the world's largest and most popular messaging platform.

Here are ten reasons why your brand should definitely be jumping on the WhatsApp Business bandwagon!

#1 WhatsApp has over 2 billion users across 180 countries. This makes it the most popular and widely used messaging app across the globe. With WhatsApp, you can potentially reach out to well over a quarter of humanity!

#2 A million people register on WhatsApp daily. So a number of people your brand can potentially connect with expands every single day.

#3 WhatsApp is the 3rd most downloaded Android app in the world. There's an overwhelming probability that your current and potential customers have downloaded WhatsApp. And it's definitely a good idea to be where your customers are!

#4 WhatsApp users spend 195 minutes on the app daily. That's over 3 hours spent on WhatsApp connecting with friends, families, co-workers…and brands. More than enough time for you to make a good impression!

#5 The average user checks WhatsApp 23 times a day. You have plenty of opportunities to connect with them during one of their frequent checks.

#6 WhatsApp is a private and secure platform. In an era of heightened awareness about data security and privacy, your customers will find WhatsApp to be a safe avenue for communication with your brand.
Download Report: How is WhatsApp Shaping Commerce

#7 WhatsApp makes you accessible to customers 24/7. You can answer your customer's questions, and resolve their issues anytime, with minimal or no delay – significantly enhancing their experience with your brand.

#8 WhatsApp helps you better understand your customers. The conversations your brand has with users are a rich source of consumer data – giving you an insight into preferences, pain-points, frequently asked queries etc.

#9 WhatsApp gives you a host of communication options. Photos, videos, gifs, voice recordings, documents – WhatsApp offers you plenty of options to get your brand's message across to customers.

#10 WhatsApp helps you reach across generations. With WhatsApp, your brand can engage customers from across age-groups. While the 18-35 demographic accounts for the majority of WhatsApp users (55% in India), there are a significant number of older users on the app.

Fortunately for you, we have answered these questions, and a lot more in our in-depth on-demand webinar, 'Customer Support on Whatsapp – Best Practices to Maximize ROI and Customer Delight'. Our Business Head Kartik Poddar discusses the reasons why brands should be leveraging WhatsApp Business, presents a step-by-step guide on how to get started, and shares global examples of brands with winning WhatsApp strategies!
Also Read: 6 Best WhatsApp Chatbots in India
---

Watch the webinar to learn how your brand can unleash the power of WhatsApp