How Haptik sets itself up for Industry Specific Specialisation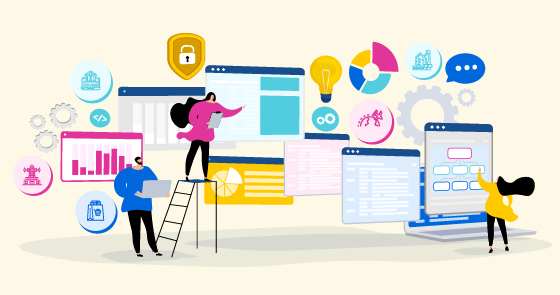 Digital transformation has become an essential requirement in the way businesses function in the post-Covid era. Virtual Assistants are becoming the go-to option for companies to embark on this new journey. However, evaluating and choosing the right conversational AI partner can often become a critical challenge to solve.
Our suggestion to businesses facing similar hurdles is to look for Industry Specialization in their partners for the digital transformation journey.
What does this mean?
Industry specialization is crucial for virtual assistants to achieve higher accuracy & ensure a top-notch customer experience. Moreover, an in-depth understanding of customer behavior and business dynamics helps in delivering the desired business impact.
Let's take a look at a real-life example - as customers ourselves, we experience much more anxiety when a payment failure occurs while booking a flight ticket as compared to an Uber charging the card erroneously for a ride.
We at Haptik, understand this behavior and ensure that the insights and learnings obtained from building 100+ virtual assistants across key industries are meticulously incorporated into the Haptik Platform. This makes sure that every future Virtual Assistant in a given industry is significantly smarter than the previous one and it isn't just us talking, Haptik has received multiple accolades for our specialization with the latest one coming from Gartner, for our proven track record in the Insurance Industry.
In a bid to make our platform more robust for any specific industry, here are the 3 key components of our strategy:
Out of the box integrations with other platforms
Let's dive a bit deeper into each of these and understand how this expertise is ingrained into the platform and made available to all our customers.
SMART SKILLS
Through application of advanced Natural Language Processing (NLP) and Machine Learning (ML) based clustering algorithms, we have aggregated millions of such customer queries and crystallized them into what we call SMART SKILLS.
Smart Skills are pre-built intelligent conversational journeys with deep domain intelligence that can handle high-frequency use-cases within industries quickly and efficiently. Trained on 3 billion+ conversations and crafted by Conversation designers and linguists, these skills are a cumulation of years of best practices and industry learnings to ensure most human-like interactions. In cases where human assistance is required, there are pre-identified trigger points for live agent handover.
Our SMART SKILLS STORE is a comprehensive library of 100+ such skills ready to use. Here's a quick glimpse of our store -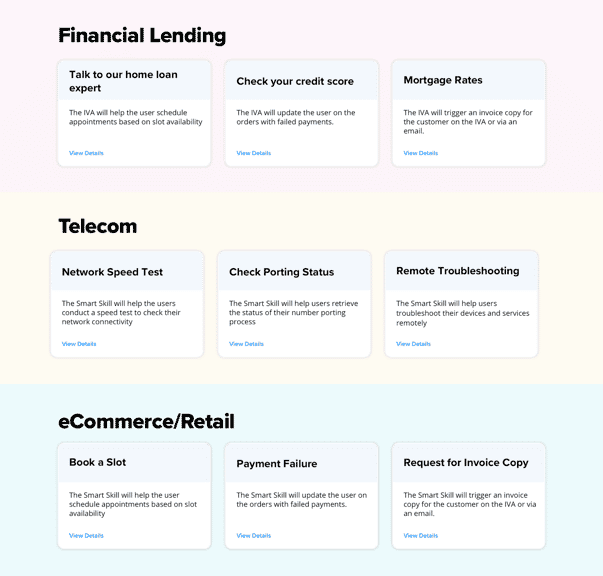 Industry-Specific Pre-Trained NLU Models
The Natural Language Understanding (NLU) Models that power Haptik's Intelligent Virtual Assistants (IVAs) have been pre-trained over 3 billion+ conversations and customized per Industry as well. This enables the virtual assistants to comprehend the finer industry nuances like specific keywords or sequence of words, out of the box.
The meaning of certain words or phrases could vary in different industries. An industry-specific pre-trained NLU Model is able to differentiate the meanings out of the box and doesn't require fresh training data to perform optimally.


For example, when a customer mentions "Show Plan", an NLU Model pre-trained on Insurance would relate that request to "Policy Suggestions", while an NLU Model pre-trained on the Telecom industry would relate that to "Check Recharge Options"

The Pre-trained NLU Models also enable the IVA to understand industry-specific acronyms like PDR, e-term (Insurance); GIRO, VAS, SIM (Telecom), etc; and hence, answer the customer accurately.

Additionally, each NLU model has 1500+ intents and domain-specific entities to make the grunt work that goes behind building an Intelligent Virtual Assistant much lesser.

Over time, we have come to observe that NLU Models pre-trained on data and language of specific industries out-of-the-box, achieve a higher accuracy of about 5-10% on Insurance and e-commerce IVAs, viz-a-viz generic NLU Models.
Out-of-the-Box Integrations with Other Platforms
Haptik has a vast array of pre-built integrations with many softwares and tools that businesses regularly use in various industries. These are powerful integrations which can be integrated with the IVA in a no-code manner, with very little effort. This allows Haptik to work deeply and in tandem with key technologies and business systems to achieve customer success.

Common integrations in BFSI, Telecom and E-commerce industries include Zendesk, Freshdesk, Salesforce, Genesys, NICE, etc.. Common examples of Integrations specific to e-commerce industries include Magento, Shopify, etc. These integrations enable Haptik to support the entire customer journey and tie all the necessary touchpoints together to transform it into a complete experience.



TO SUM UP



Combining the aforementioned three differentiators - SMART SKILLS, Pre-Trained NLU Models, and Out of box integrations - enable Haptik to deliver superior quality and battle-tested IVAs across key industries, while bringing the time it takes to deploy a complex IVA within 1 to 2 weeks. The industry benchmark for such deployments is average 5 to 6 weeks. Coupled with this, Haptik's 100+ deployments are a testament to the efficacy of the above strategy. With Haptik as the partner in your digital transformation journey, you can rest assured that your customer's experience and business objectives are in safe hands.
This article has been written by Shrey Jain, Senior Product Manager at Haptik.
---