How to Engage and Serve Customers with WhatsApp Chatbot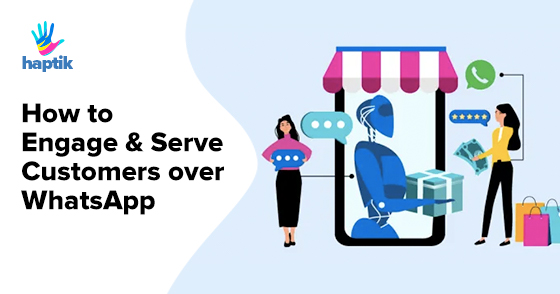 This is PART FOUR of our series on WhatsApp Commerce. Read PART ONE, PART TWO, and PART THREE.

The messaging channel of choice for over 2 billion people across the globe, WhatsApp is now well on its way to becoming one of the predominant platforms for enabling conversational commerce. The WhatsApp Enterprise API enables brands to engage with their customers on the app, offering a wide range of options to promote, recommend and sell their products/services, as well as offer instant 24/7 post-sales support.

So once your brand is set-up on WhatsApp, and you have started acquiring customers on your channel, how do you leverage the platform to effectively engage and serve your customers?

Here are some of the ways WhatsApp can be used to have engaging, helpful, and productive interactions with your customers.
Making the Ordering Process Conversational
Consider a website or app. If you wanted to make a purchase over these platforms, you would need to navigate to the relevant category to select the item you want, or use a search function if it is available. Either way, the process of finding what you want requires multiple clicks and at least several minutes of your time.

This is not the case with WhatsApp bots, wherein placing an order is as simple as going to a store and asking a sales clerk if they have what you want – with the added benefit of being able to do so wherever you are using your smartphone!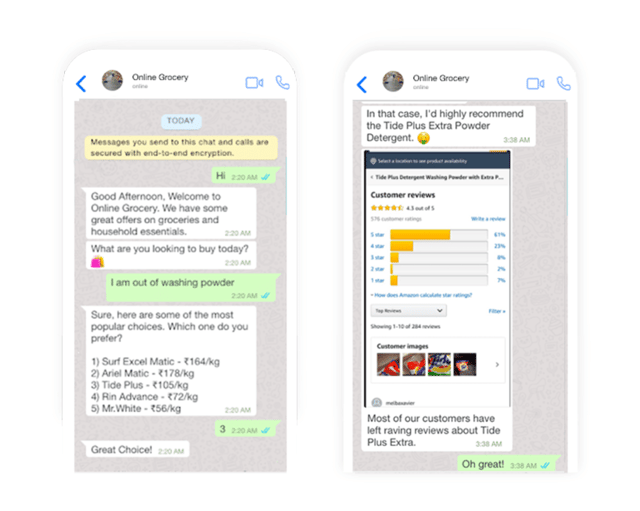 Seamless ordering experience and product recommendations over WhatsApp



For instance, if you want to buy detergent, you could initiate a conversation with the business over WhatsApp saying "I am out of washing powder" (as in the example given above), which is what you would say to a sales clerk at a brick-and-mortar store. Just like in the store, you would be asked questions (in terms of quantities, pricing, other specifics), presented with options based on your preferences and availability, and ultimately make your selection and complete the purchase. Essentially, the customer would enjoy the experience of being served by a helpful and capable sales clerk without actually needing to make it to the store. What would take 10-12 clicks over a website or app, instead happens seamlessly over the course of a quick conversation when you engage your customer over WhatsApp.

With the Enterprise API, human sales clerks and support agents can directly engage with customers over WhatsApp and respond to customer queries swiftly. But businesses also have the option of integrating a chatbot or virtual assistant solution with their WhatsApp Enterprise account. This enables the brand to be available to customers 24/7 over WhatsApp and makes the purchase experience even more seamless. Moreover, the WhatsApp chatbot, when equipped with an AI-powered recommendations engine, can leverage NLU (Natural Language Understanding) technology to understand precisely what your customer wants and make personalized recommendations based on their inputs as well as previous data.
Using Contextual Data for Personalized Selling
While it is the next stage in the evolution of online retail, conversational commerce is not just about replicating everything you can do on a website or app on a conversational interface. Rather, it's about leveraging the power of a platform like WhatsApp to deliver a truly engaging, and personalized, customer experience.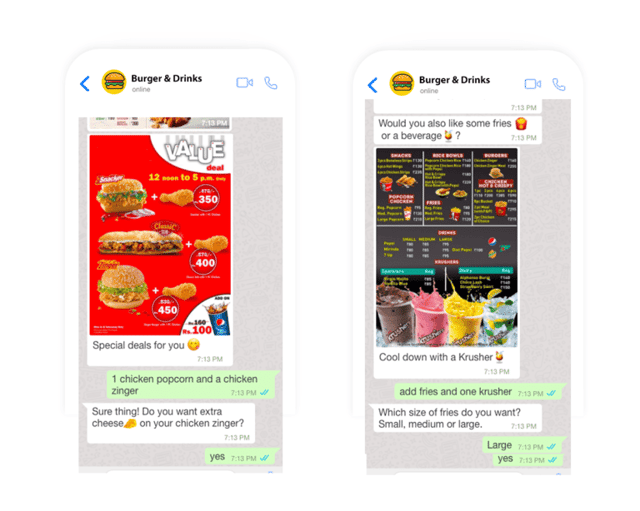 Upsell to customers with contextually relevant recommendations over WhatsApp



When you engage a customer over WhatsApp, you understand the context of their purchase journey during the course of the conversation far better than you would if they were transacting on a website or app. This enables you to make more relevant product recommendations to them, increasing the likelihood of a sale. You can also use the contextual data that you gather during the conversation to upsell relevant add-ons to them – for instance, extra cheese along with a food order (as seen in the example above).

WhatsApp enables you to integrate your Customer Relationship Management (CRM) system with your brand's Enterprise account, which allows you to make use of past consumer data as well while making recommendations and upselling to a particular customer.

Essentially, WhatsApp Commerce makes a customer feel that you truly know them well enough to know exactly what they want, and what extras they would like to have, which can go a long way towards creating long-term engagement with your brand – ultimately resulting in lasting customer loyalty and retention.
Enabling Online Payments
You can enable transactions over WhatsApp using a third-party payment gateway. Once the conversation with the customer has reached the transaction stage, you can send a link to the payment gateway used by your business. The customer clicks on the link, opening up the payment gateway on their phone and completes the transaction there. Once the payment has been completed, you can share a receipt/invoice or order confirmation with the customer on the WhatsApp conversation as a document/PDF or image.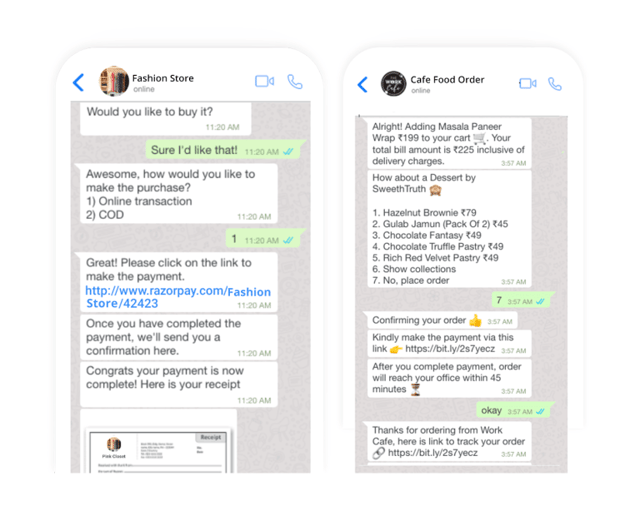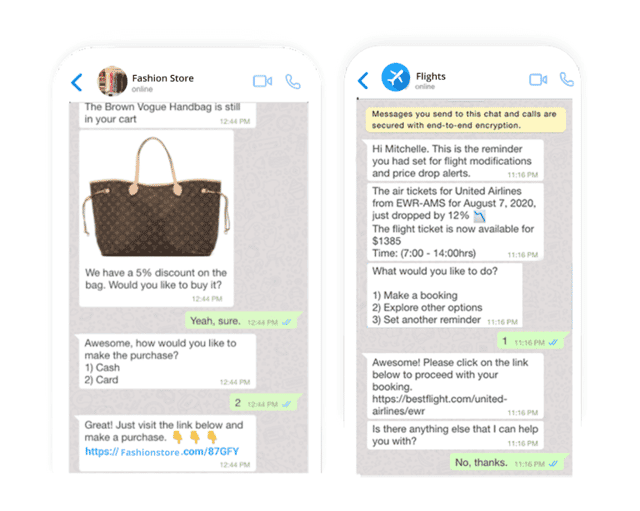 To re-engage customers over WhatsApp, you can send them notifications and reminders to encourage them to complete the purchase.
If the customer chooses, you can also send them alerts on price changes or discounts for items in their carts, or for relevant add-ons and extras to their recent purchases. You can send them alerts related to their purchases for e.g. order tracking (in case of a retail purchase), web check-in (in case of a flight booking) etc.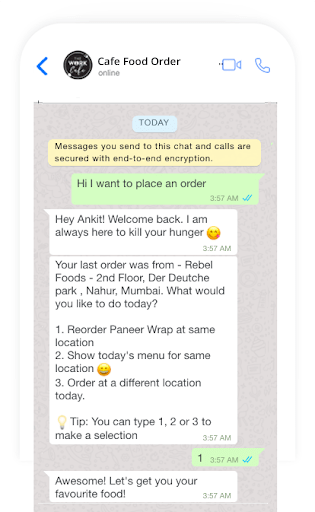 Reordering made simple for regular customers


In the case of repeat customers, you can send them prompts with their usual orders, based on past data. This saves them the trouble of having to navigate through a website or app to select the same items, thus significantly speeding up the transaction process.


Offer Post-Sales Support through WhatsApp Chatbot
The work of delivering a great customer experience does not stop with a purchase. WhatsApp enables your business to offer seamless post-sales support to your customers.

Customer care over WhatsApp can either be handled either with human agents, or with a WhatsApp chatbot. The latter approach comes with the advantage of being able to offer 24/7 support, with the instantaneous resolution of simple queries. Using an AI-powered virtual assistant solution also reduces the need to maintain a large customer care team, significantly driving down operational costs.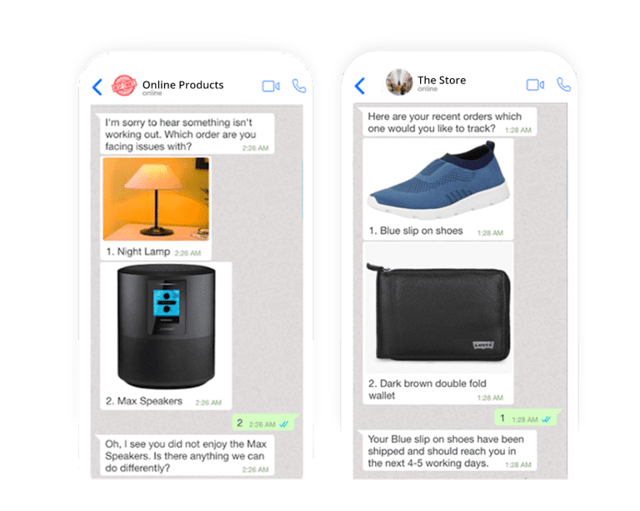 Order tracking and refunds & cancellations are two of the most common support use cases, and both of these can be handled over WhatsApp swiftly and in a completely frictionless manner. From a user experience standpoint, a key advantage is that the customer does not need to navigate through a website or app to find these features, but can access them instantly over chat.

WhatsApp is also a very useful tool for collecting customer feedback, particularly feedback of a more subjective nature. Customers are also more likely to share their feedback over a conversational interface than go through the tedious process of opening and filling up a static feedback form.


To sum up
WhatsApp makes the buyer journey and experience simple, fast and frictionless for your customers. It allows you to re-engage them if they drop-off and make relevant recommendations using contextual data in order to increase the likelihood of a successful sale. It also enables you to offer instant post-sales support. All these factors, and more, make WhatsApp for Business not only the perfect customer engagement tool, but also a great tool for ensuring a seamless customer care experience, and for driving sales and revenue.

To learn more about how your business can leverage WhatsApp chatbot, check out our on-demand webinar on WhatsApp Commerce for Brands: Watch it Now
---

Interested in implementing a WhatsApp Commerce solution for your brand?