10 Best WhatsApp Chatbots in India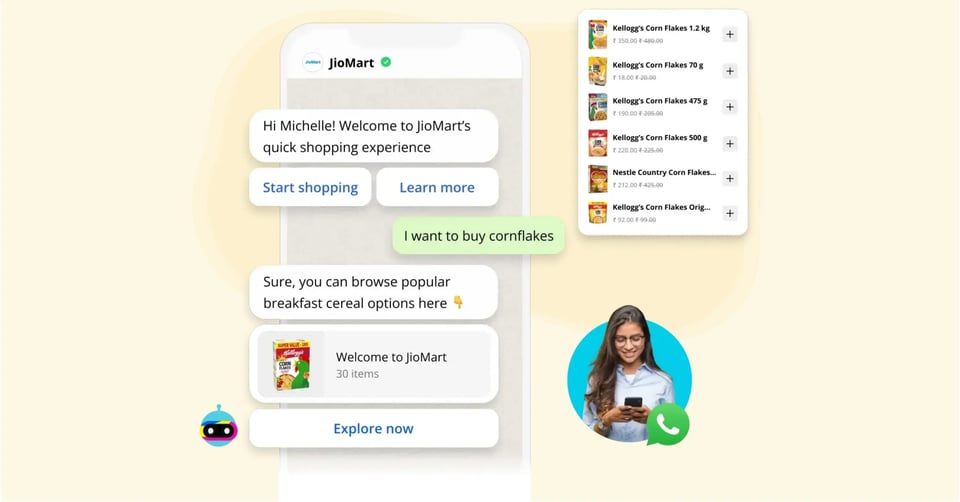 WhatsApp is the most popular messaging platform with more than 2 billion active users, outranking Facebook Messenger at 1.3 billion and WeChat at 1.2 billion. Besides, it has become the world's third-largest social networking platform after Facebook and YouTube.
Given the platform's popularity and demand, businesses have also started to turn their ships the WhatsApp way and integrate WhatsApp marketing into their overall marketing strategy. Businesses are relying on WhatsApp Bots to make WhatsApp more profitable for them. WhatsApp chatbots are helping companies engage, support, and serve their customers virtually while igniting a new spark of online sales called WhatsApp Commerce.
Furthermore, by integrating ChatGPT with WhatsApp, brands can unlock enormous potential in terms of improving customer engagement, adding a human touch to customer interactions, boosting revenue, and offering phenomenal customer experience across the funnel.
What are the benefits of using a WhatsApp Bot?
Establish real-time conversations with instant messaging
Help customers explore the entire product catalog in one place
Provide a secure platform for conversation with WhatsApp with end-to-end encryption
Deliver top-class virtual support with personalized communication
Strengthen the trust between the customer and the brand
How to choose the best WhatsApp Bot for your brand?
It should solve the existing sales/support problem the business is already facing.
It should communicate, personalize and empathize like humans.
It should understand the customer's context and intent.
It shouldn't ask to subscribe/register/install anything to use a WhatsApp bot.
It should be easy to use without any technical/coding expertise required.
Now that you have already dipped your toes into knowing WhatsApp bots, their capabilities, and their benefits, let us explore the best WhatsApp bots that can help brands drive their online sales and support like never before. In this article, we cover 6 renowned brands in India that successfully use WhatsApp bots as a conversational channel for their customers.
#1 Paisabazaar
Paisabazaar, India's premier free credit-scoring platform, delivers unmatched lending solutions and is the benchmark for excellence in the market. Amid increasing competition, it sought to differentiate itself; it partnered with Haptik to drive its plan for outbound communication in a bid to achieve exponential outreach.
Haptik's solution revolutionized Paisabazaar's customer engagement, helping Paisabazaar's customers interact seamlessly via WhatsApp and offering a new level of convenience and personalization to its services.
By leveraging Haptik's platform, Paisabazaar improved its conversions by 100% compared to SMS while its cost per lead also reduced by the same margin.
Learn more about the Paisabazaar success story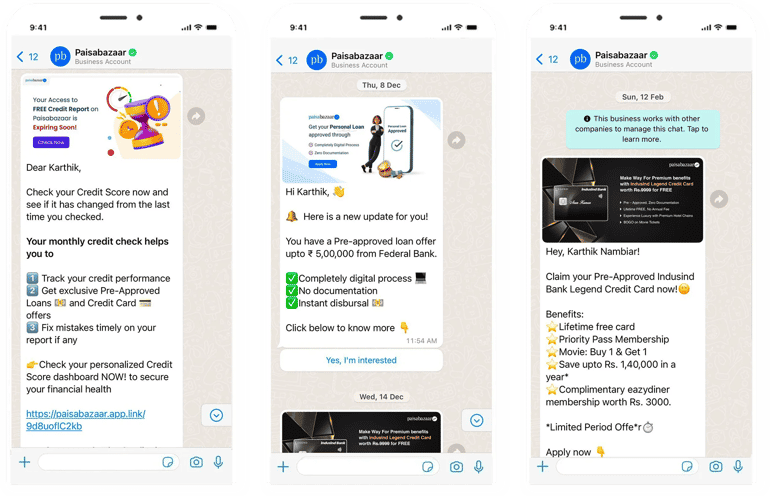 #2 Hero Electric
A prominent player in the electric scooter segment, Hero Electric aimed to reduce dependency on dealers and take charge of sales on its own. It partnered with Haptik to drive several key use cases such as lead generation, answering FAQs, and more.
Haptik's solution allowed Hero Electric customers to reach it seamlessly via WhatsApp and get their queries resolved in seconds. It also ensured that the number of calls to the call center was greatly reduced.
Hero Electric maximized the user engagement potential of WhatsApp to generate 8000 high-quality leads along with achieving a 30% user-to-lead conversion rate.
The solution also enhanced Hero Electric's user experience and streamlined its dealer network, among other benefits.
Read everything about Hero Electric improving customer experience via WhatsApp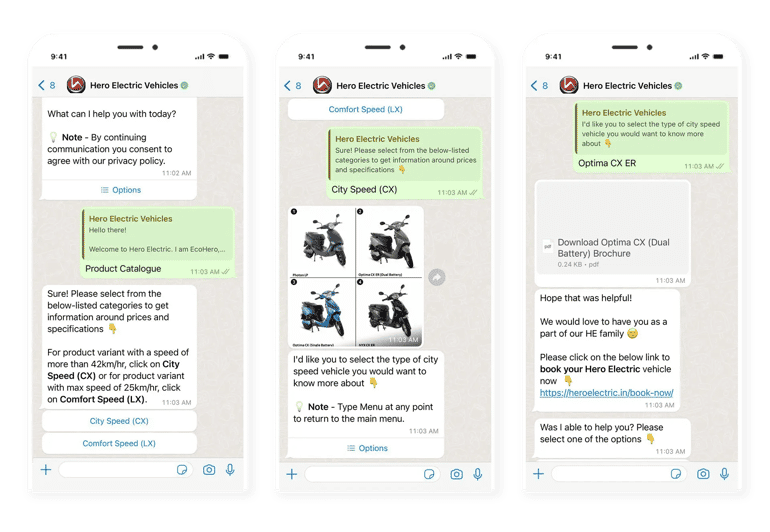 #3 Zoop
One of the top players in the train food delivery industry, Zoop offers a wide variety of meal options to railway passengers. Its main challenge was being able to provide a truly seamless experience given the spotty network coverage during train journeys.
It partnered with Haptik to build a WhatsApp solution, Ziva, that could offer passengers with low-data ordering options, pre-booking of meals, real-time order tracking, among other salient features. In essence, the solution by Haptik allowed Zoop to offer convenience to railway passengers, who could now order and get their meals delivered to their seats.
Ziva helped Zoop increase its monthly orders by 15% while having 8000+ daily chat sessions.
Here's all you need to know about Zoop's revolutionary railway food ordering system
# 4 Upstox
Asia's largest investment platform, Upstox, was faced with the challenge of engaging better with its customers. While it had a reliable customer acquisition strategy, it had to find a way to engage with a growing number of inactive customers.
Upstox partnered with Haptik to drive seamless onboarding of new users and guide them with personalized workflows.
In addition, Haptik's Proactive Messaging feature helped Upstox to send WhatsApp notifications to users and increase its number of trades by 20%.
Moreover, Upstox was able to boost its sales pipeline and drive exceptional CX at scale.
Read more about Upstox's WhatsApp solution and its role in improving CX
#5 Personal Shopper by Shoppers Stop
Shoppers Stop, one of India's leading online shopping brands, offers seamless virtual shopping with Personal Shopper. It is a WhatsApp bot that answers all purchase/support-related queries at Shoppers Stop. If you are looking to shop online, you can directly WhatsApp your Personal Shopper with your requirements, and they will help you find the best product with the best deals. It also provides a secure payment link via SMS to make instant and safe payments. Once done, your order will be delivered to you without you having to step out.
#6 Personalized Support by CEAT
CEAT, one of India's leading tire manufacturers looking to elevate its customer service and offer personalized 1:1 support, deployed a WhatsApp chatbot. With the help of the WhatsApp chatbot, the brand intended to reduce wait times, enable a seamless complaint registration and tracking mechanism, and create a frictionless customer experience on a platform their customers already use and love. After the deployment, the brand could handle 206K conversations and achieve a 21% lead-to-conversion rate.
Check out this Case Study to learn how CEAT is tailoring customer experience on WhatsApp with Haptik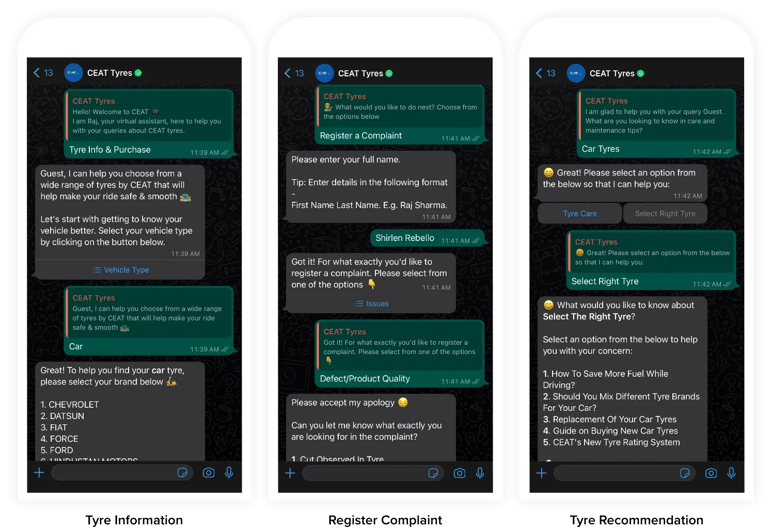 #7 Mr. Simple by Tata Mutual Fund
Part of the Tata group, Tata Mutual Fund is the most trusted fund house in India, offering a range of investment solutions for financial planning and wealth creation. With an investor base of over 3 million, the brand manages funds across the entire risk-return spectrum targeting investors of all ages and risk profiles. In such scenarios, providing top-class instant support to their customers became a critical factor for business success.

As a solution to challenges like delayed response and a broken customer experience, Tata Mutual Fund introduced an AI-powered support bot known as Mr. Simple. It brought a game-changing experience to TMF's customer support by resolving 90% of queries end-to-end, reducing call center calls by 67%.
Check out this Case Study to learn more about Mr. Simple and its contribution to TMF's business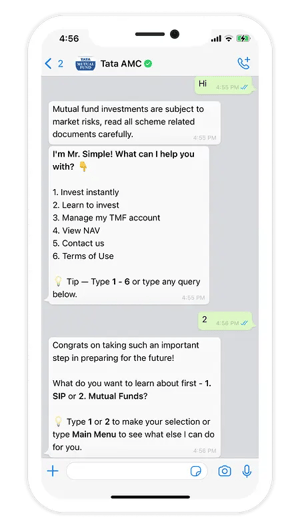 #8 MyGov Corona Helpdesk
During the Covid-19 pandemic, the Government of India wanted a solution that would eradicate misinformation and empower citizens with the right steps to take precautionary measures and stay safe. The idea was to offer a 24/7 help desk that can answer all sorts of COVID-19 queries and help prevent the spread of false information.
Haptik, one of the world's largest Conversational AI companies, accepted this challenge to handle and resolve the diversity of queries coming from millions of users across the country in English & Hindi. As a result, Haptik built the MyGov Corona Helpdesk, a WhatsApp bot that helped users check symptoms and get a diagnosis, provided tips and precautionary measures to stay safe, and shared the latest updates and advisories from the Ministry of Health.
Check out this Case Study to learn how Haptik helped India fight COVID with a WhatsApp Bot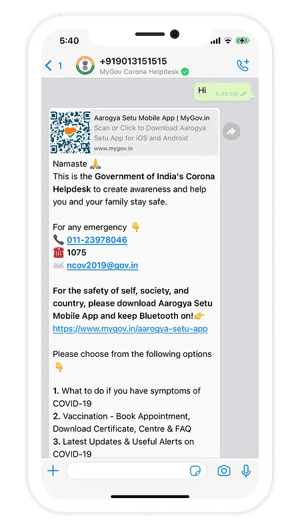 #9 JioMart WhatsApp Bot by Reliance
JioMart is an eCommerce venture launched and run by India's most valued firm, Reliance Industries. It is an offline to online grocery service that allows you to order online and deliver the product to you from a nearby local store. JioMart offers a selection of 50,000+ products and processes over 250,000 orders per day.
With increasing orders every day, JioMart started experiencing 3x more traffic than expected. Soon, they realized an immediate need to automate and upgrade their customer support. As a result, JioMart built a WhatsApp bot that later emerged as the primary go-to channel for users to shop with JioMart. Also, JioMart observed that the WhatsApp bot can resolve 88% of the queries with a reduced response time by 62%. Some of the key use cases of this WhatsApp bot are Check Order Status, Delay in Delivery, Replacement Requests, Refund Related Queries, etc.
Check out this Case Study to learn how JioMart Handles 40% of Customer Support on WhatsApp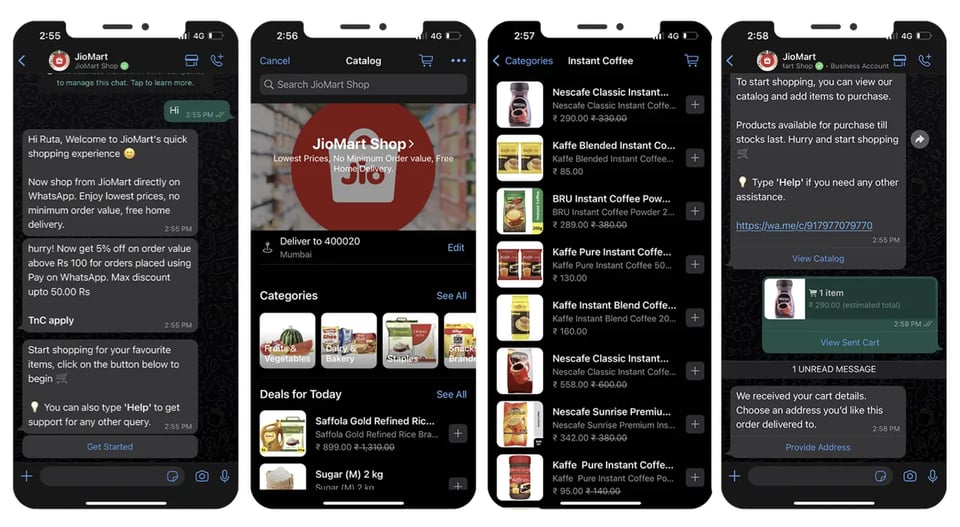 #10 WhatsApp Banking by HDFC
HDFC Bank is the second-largest private bank in India with a customer base of more than 19 million. With an objective to be available for customers 24/7 x 365 and provide uninterrupted customer service to everyone, HDFC too reaches its customers - the WhatsApp way, known as WhatsApp Banking.
HDFC WhatsApp bots help customers get information about their cards, important updates, regulatory messages, payment alerts, and a number of other banking queries like:
What documents do I require for a car loan?
What is the available limit on my credit card?
What is my pre-approved loan offer?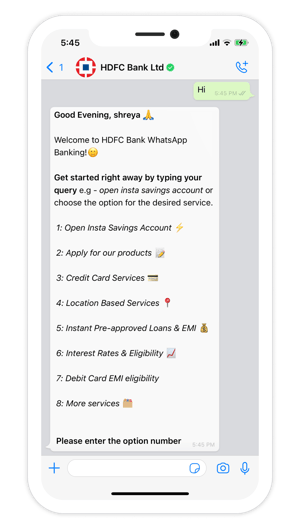 Final Words
With messaging becoming the most preferred mode of communication among customers to interact with brands, WhatsApp bots will play an extremely important role. Leading brands are already leveraging the potential of WhatApp Business API and scaling up their online sales and support performance with the help of the WhatsApp chatbot. Now that you are also clear about the best WhatsApp bots in India, it is time to choose the best one for your business.
Surprisingly, the best part of a WhatsApp bot is that you can get it up and running in very little time. Unlike a website or app, which requires a long development phase, possible for a brand to deploy a WhatsApp bot in as little as 7 days!
Talk to Our Experts About GPT on WhatsApp