Benefits of a WhatsApp Chatbot for Banking & Finance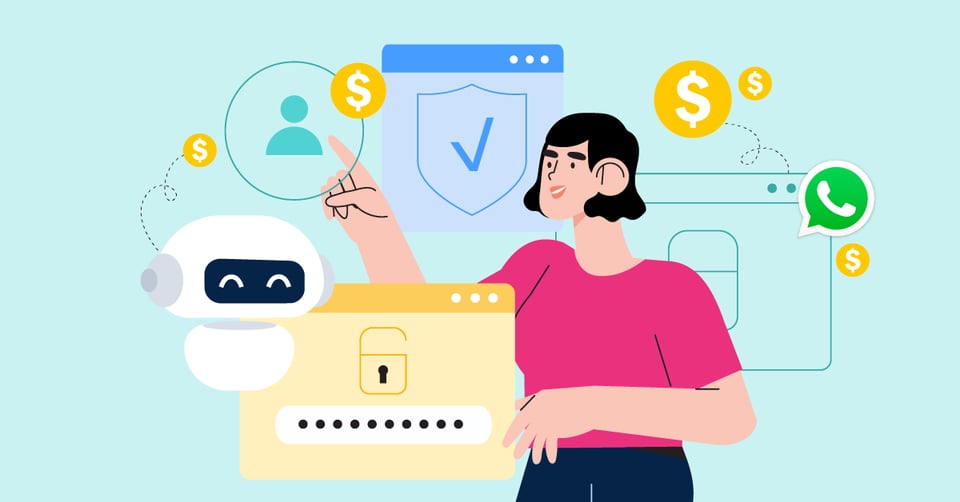 Technology has revolutionized many sectors in the past decade. Specifically speaking, the pandemic gave rise to the rapid acceleration of technological adoption. Businesses and consumers had to rely on only one thing: technology. Of all the industries that have benefitted from the rapid growth of technology, Finance has been no exception.
Whether it's new-age Fintech companies or traditional BFSI companies, both these players have leveraged technology to create better products, having a direct impact on revenue.
In another world, WhatsApp chatbots have become an integral part of every brand's digital transformation strategy, irrespective of the industry, vertical, size of the company. [A stat here on the scale of WhatsApp].

With India being WhatsApp's biggest market with 400+ Million users, it's a no-brainer for the BFSI sector to use WhatsApp to enhance CX. In this blog, we look at the scope of WhatsApp Banking and how the BFSI sector can leverage the capabilities of a WhatsApp chatbot.

Let's jump right in!


WhatsApp Chatbot for Insurance
If there's one word to describe the Insurance industry, that's trust. People trust the insurance companies to come to their rescue during unfortunate events. In such an industry, it's imperative that you are perceived as a trustworthy brand. In order to convey trust, your brand has to provide a seamless customer experience across the customer's journey with your company. This is where an AI-powered WhatsApp chatbot steps in.
---

Customer Experience Transformation for Insurance: An Expert Guide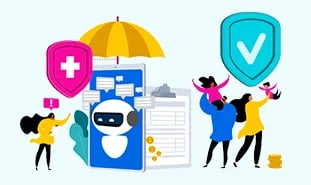 ---
Let's look at how you can leverage a WhatsApp chatbot to distribute Insurance products

Automation of Lead Generation

There are numerous ways for your business to generate leads but a channel like WhatsApp makes it seamless and automated.

It's critical for your business to have a solid pipeline of leads to grow the business. If a customer messages you first on WhatsApp after discovering your number, his contact details will automatically get saved in the system. In another scenario, for you to send any messages to users, it's mandatory to get an opt-in from your customers. There are a lot of ways to get opt-ins: Website deep-link, website banners, contact form, IVR Deflection, Missed Call.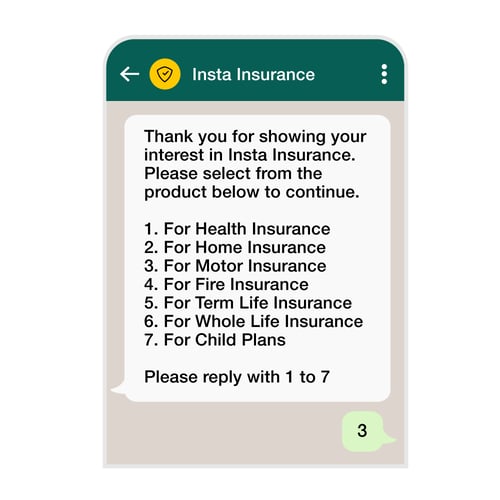 A WhatsApp chatbot for Insurance is the ideal place for your brand to generate and automate high-quality leads in a seamless manner!
We have pre-built, field-trained Smart Skills best suited for the Insurance industry. These are built from billions of real customer interactions and Conversation Design best practices.


Managing Policies
A WhatsApp Chatbot can be very useful when it comes to helping customers manage their policies. For instance, the chatbot can send renewal reminders to the customers and keep them up-to-date on policy information. The conversational interface simplifies the process of modifying personal details in the policy.


The process of submitting documents and getting them verified also becomes a lot easier – a customer can simply upload the documents in the chat window and the AI-powered WhatsApp chatbot can scan them within seconds, and accept them or reject them in case it identifies any discrepancies. The assistant can also send customers reminders about upcoming payments, and simplify the payments process on WhatsApp.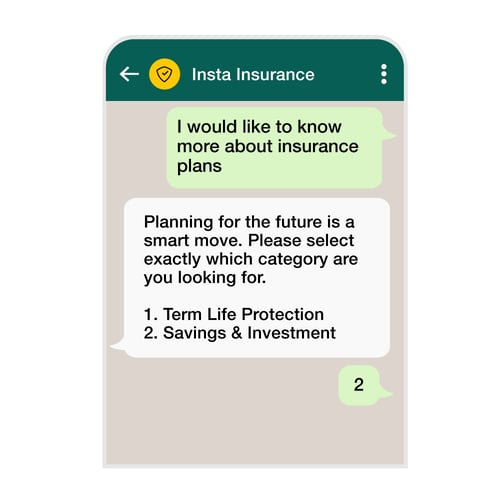 The WhatsApp chatbot for Insurance also serves as a virtual insurance advisor for customers. Simulating the behavior of a human insurance agent, it can engage the customer in a conversation and ask them questions to understand their needs and expectations. Leveraging the power of Natural Language Understanding (NLU), the AI-powered WhatsApp chatbot can precisely pinpoint the customer's intent based on their responses. Based on this, the assistant can then make personalized policy recommendations to the customer.
The customer details and data gathered during this process also provide your sales team with better context about what the customer is looking for, which further improves the likelihood of a conversion further down the sales funnel. Hence, the WhatsApp chatbot significantly increases the likelihood of the prospect exploring the purchase further.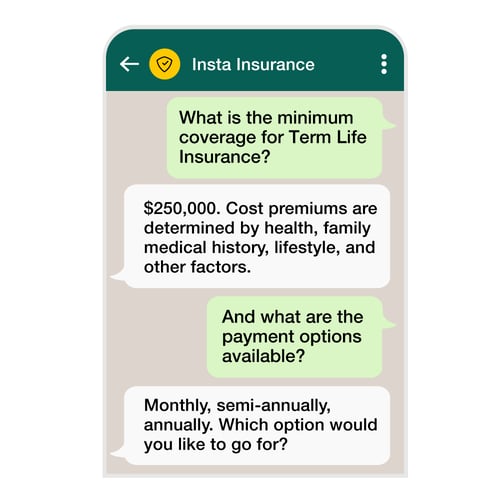 Insurance Quotes on WhatsApp
One of the most important pieces of information your customers will require is the Quote. Your WhatsApp Chatbot can easily gather all the necessary details from your customer and crawl into its system to provide the best quote for the customer. This step becomes particularly important as the customer is highly interested in your brand and has shared all the details regarding the purchase. This is where the capabilities of AI-powered Insurance chatbots are critical.
Apart from generating leads and managing end-to-end policies, a WhatsApp chatbot for Insurance is capable of achieving all your digital transformation goals. Have a look at this table to understand the use-cases that can be handled by a WhatsApp chatbot.

Know more: Kotak Life Insurance increases user engagement by 500%


Making Mutual Funds Investment Easier with WhatsApp Chatbot
There are a lot of people who don't trade directly in the Stock Market but do it through Mutual Funds. It has become a great choice for people who don't have the time to monitor the markets regularly. As the disposable income of the urban population continues to grow, it's essential for your company to provide seamless ways for young digital-savvy customers to do business with your company.

As the technological literacy of India has grown exponentially, investing in Mutual Funds through a WhatsApp chatbot has never been faster, easier, and more secure. Most all banks have made this option available for users.

Have a look at this screenshot to understand the capabilities of a WhatsApp chatbot for Mutual Funds.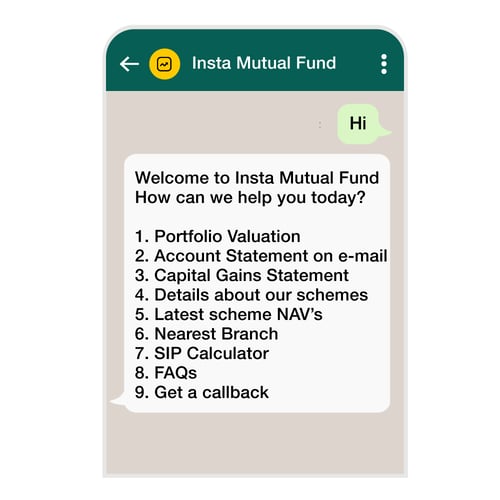 Using a WhatsApp chatbot for Mutual Funds is 100% safe and secure as WhatsApp is an end-to-end encrypted channel. Customer details are not shared with anyone and they do not need to enter any confidential information such as PIN or password on WhatsApp. If there are users who are not your customers, they will be able to access only generic features and FAQs.
Know More: How Haptik Helped Tata Mutual Fund Achieve 58% Growth in Engagement
You can also allow your users to invest in the Stock Markets through the WhatsApp chatbot. Not only investing, but you can also provide relevant information that they require to make the right decision. How does it work:

1. Users opt-in through any mode.
2. They receive an SMS/email with a link
3. They send the first message and save the number to their contacts.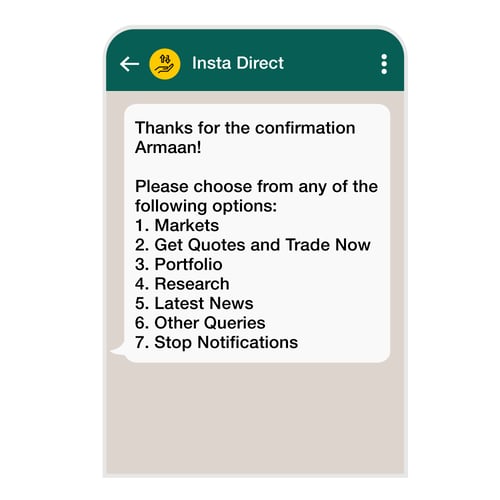 Kotak Securities has launched "Chat to trade" for its customers that simplifies trading as easily as chatting. It accepts trades from customers on WhatsApp & Telegram messaging apps.
Customers can place a trade in the equity and derivatives segment in the live market via a dealer. They can start trading via Chat to Trade by sending a WhatsApp message on 7400 102 102 from their registered mobile number. A once-in-lifetime authentication is required, which is done by bots without any human intervention.
Further, existing customers can also request fund transfer, margin requirement, portfolio value, and other service-related queries.
Chats transcripts are recorded and stored in pdf format, thereby making it un-editable and ensuring complete transparency.
Using a WhatsApp Chatbot for Seamless Loan Experience

According to a report by Boston Consulting Group (BCG), the digital lending market in India can grow up to $1 Tn by 2023.

With the help of a WhatsApp chatbot, getting a loan is as simple as ordering food (we think it's simpler than that, too!). It has never been easier for lenders to create a seamless lending experience for borrowers with WhatsApp facilitating an end-to-end lending process on a single platform.

The simple and hassle-free lending experience with a WhatsApp chatbot has made it a go-to choice for leading players in this sector. Using this service, customers can apply for any type of loan in a few minutes on a single chat screen.

How does it work post a user has opted-in for the service: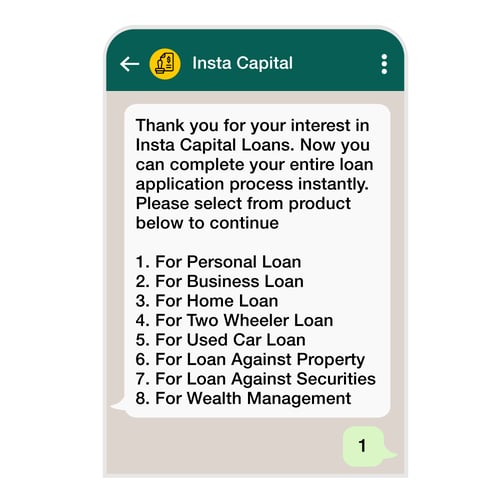 Last Thoughts
By now it's clear that a WhatsApp chatbot is the best channel for your brand to distribute any financial product in your portfolio. WhatsApp offers an unparalleled scale and a buffet of features that every BFSI brand can leverage to grow its business and provide a better customer experience.
Haptik has been trusted by leading BFSI players including Kotak Life Insurance, Tata Mutual Fund, IIFL, Zurich Insurance, HDFC Home Loans, and many more! Haptik's Conversational AI platform is appreciated and recommended by Gartner, G2, Opus Research and has won notable awards in different categories!

By handing more than 4B+ Conversations and 306+ Live Implementations and reaching 500+ Million Users Globally, Haptik is one of the World's largest Conversational AI companies!

If you're looking to deploy a WhatsApp chatbot, get in touch with us to schedule a demo with one of our Conversational AI experts!

Oh, did we mention that we've built the world's largest WhatsApp chatbot?
---
Grow your business and enhance customer experience with WhatsApp