Unlocking WhatsApp Commerce for D2C brands in 2023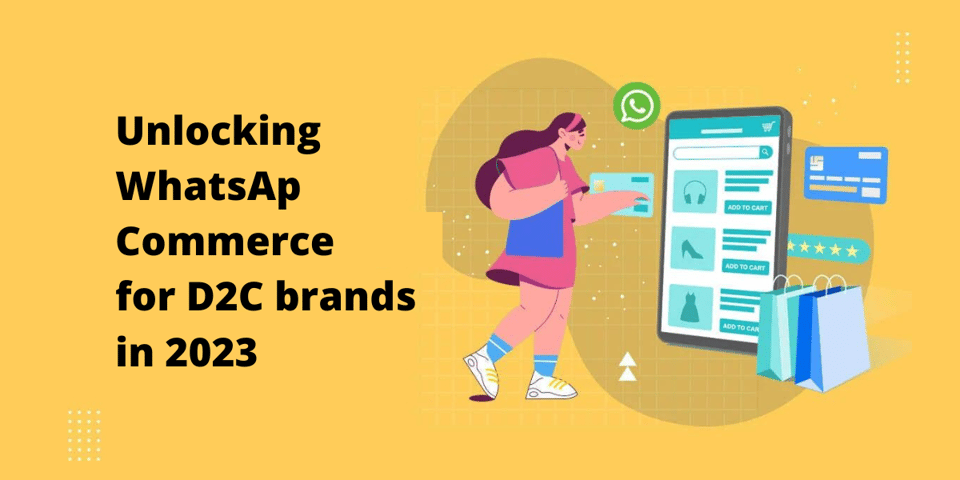 Direct-to-consumer (D2C) has emerged as one of the most booming sectors in the last decade; expected to grow 15 times by 2025 compared to 2015. With numerous brands achieving the Unicorn status. Multiple factors have favored this rapid growth of the industry, COVID playing a major one. Social distancing and contactless delivery became the norm and significantly boosted the D2C brands. According to Google India Report, the search interest for D2C brands rose by 533% during the pandemic.
Why D2C should leverage WhatsApp Commerce
Pandemic-driven wide-scale adoption has made the D2C industry profitable, increasing competition. There will be more than 200 thousand brands in India by 2025. Also, consumers' expectations have risen. Customers today expect more from the brands, with 80% of consumers agreeing that they are more likely to purchase from a brand that provides a personalized experience and 83% saying convenience has become a critical aspect while shopping. With its new features, WhatsApp Commerce empowers D2C brands to fulfill these expectations by helping them power an end-to-end shopping journey on their customers' favorite messaging platforms. With businesses already sending over 100 million messages through WhatsApp Business API, WhatsApp Commerce is evolving to become a full-blown sales and marketing channel for brands.
Know why WhatsApp is the future of commerce
How D2C brands can drive growth with WhatsApp Commerce
Increase conversions and boost sales
Lead generation and acquisition:


After driving traffic to their WhatsApp Business accounts, D2C brands can open a two-way communication channel with their prospects with the help of a WhatsApp chatbot. The WhatsApp chatbot would then interact with customers and capture critical personal information and more details on their requirements conversationally. This data can be used to qualify prospects and generate a solid sales pipeline.

Provide an intuitive and simple shopping experience:


WhatsApp Commerce provides several interactive UI elements and inherent rich media capabilities like List Messages, Reply Buttons, Single and Multi-product Messages, etc. When combined with navigation tools like NLP and text search, D2C brands can help their customers get what they are looking for without hassle—reducing drop-outs and increasing conversions.

Offer personalized buying guidance:


66% of customers expect companies to understand their individual needs and expectations. With a WhatsApp chatbot driven by an

AI-recommendation engine

like Haptik's, D2C brands can engage and guide their customers across their buying journey. The WhatsApp chatbot can share personalized recommendations based on pricing, budget, and other preferences. The WhatsApp chatbot can also be equipped to share helpful tips and information that helps customers make buying decisions.
Brands can also build

multilingual chatbots

to give customers the flexibility to chat in their preferred language and have free-flowing conversations



Improve upsell and cross-sell opportunities:
With a

WhatsApp chatbot

, D2C brands can suggest the right add-on at the right time based on the customer's past orders and other contextual information, thereby increasing the possibilities of upselling and cross-selling.




Swift payment setup


53 % of customers

today want the ability to buy directly through the messaging app. With WhatsApp Commerce, D2C brands can encourage customers to initiate payments while they are on their buying journey. In the case of recurring payments, the WhatsApp chatbot can use the notification facility to send reminders with in-built payment links for a seamless experience.
Successfully re-engage customers with WhatsApp Commerce
Promotional Messages are one of the most powerful features of WhatsApp Commerce. Leveraging WhatsApp's high open and click-through rate, D2C brands can recover abandoned carts and recapture their customers' attention by sending promotional messages to them with the help of a WhatsApp chatbot :
Retarget customers with abandon cart reminders and personalized discount offers to encourage them to complete their purchases.
Reconnect with dormant customers by sending feedback forms, information on new launches, product recommendations related to their previous purchases, etc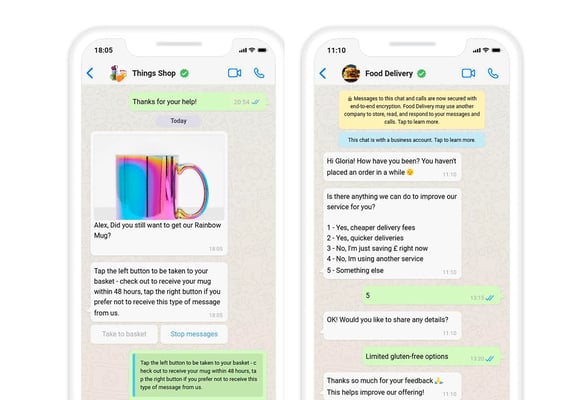 Know how brands can drive growth with WhatsApp promotional messages in 2023
In short, with WhatsApp promotional messages, D2C brands can improve customer engagement and take their marketing efforts to the next level.
Deliver exceptional customer experience with WhatsApp Commerce
90% of customers rate an "immediate" response as necessary, and 78% back out of purchase due to a poor customer experience. Having a WhatsApp chatbot that offers on-demand support and guides the customer at the right time in their purchase journey, D2C brands can provide enhanced shopping experiences to their customers. A WhatsApp chatbot can easily handle the frequently asked customer questions like tracking orders, return orders, payments, managing refunds, etc., without having the customer wait for an agent, leading to improved satisfaction, loyalty, and retention.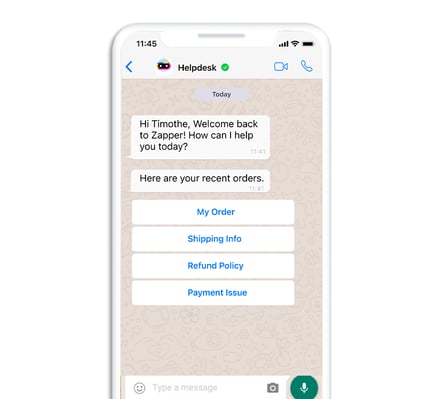 Key Takeaways
With 59% of shoppers wanting to connect directly with brands through messaging to order and complete their purchases, WhatsApp Commerce will become the most crucial channel for generating sales and unlocking hyper exponential growth. WhatsApp Commerce capabilities harnessed through a WhatsApp chatbot solution can help D2C brands make the shopping experience more conversational, personal, and convenient for their customers. Thus, hitting the bull eyes in meeting the customer expectations.
At Haptik, we've had the experience of working with some of the new-age D2C companies in India like HealthKart, SleepyCat, NetMeds, and many more! We have also powered WhatsApp solutions for some of India's most prominent brands, such as Jio, TATA, HDFC, Dream11, OLA, Kotak Mahindra, etc. We're a recipient of 15 G2 badges recognized by Gartner and Opus Research.