WhatsApp Commerce for Insurance: Key Takeaways From Our Webinar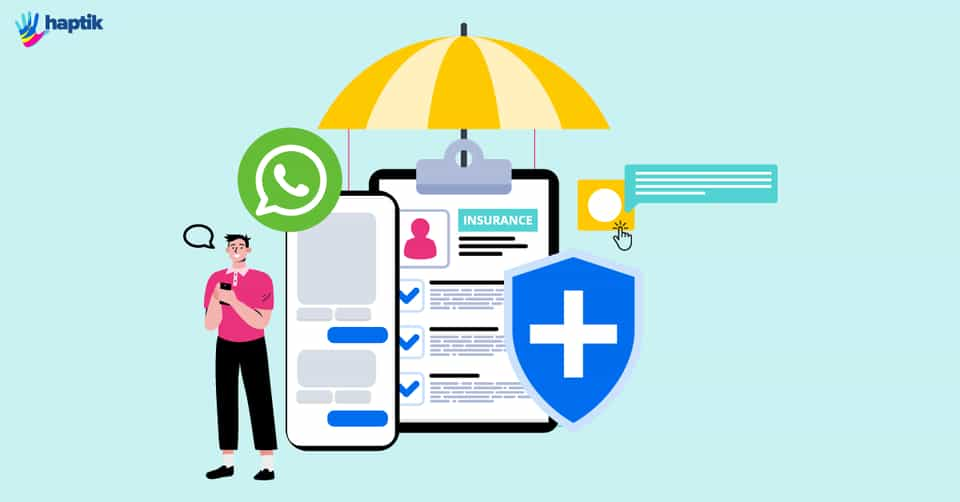 With WhatsApp expanding its capabilities and scope, it is evolving as a platform for conversational commerce, giving rise to the concept of WhatsApp commerce - offering and selling products and services to customers using WhatsApp as the primary channel. This development poses a massive opportunity for Insurance brands to leverage. Now, they can simplify the complex process of buying, renewing, or claiming policies by having simple conversations with their customers on their preferred communication channel.
We spoke to Sushant Khairnar (Head-Digital Transformation, Kotak Life) and Swati Mishra (Strategic Partnerships, WhatsApp) to understand how Insurance brands can reap the benefits of WhatsApp commerce.

You can watch the complete on-demand webinar or continue to read a summary of the main takeaways discussed.
In this no holds barred candid discussion, the panelists deep dived into the following topics and more:
How insurance brands can power an end-to-end buying journey on WhatsApp
Use of marketing notifications to nudge customers
Providing personalized buying assistance to customers
Handling agent onboard, support & engagement
Key commerce use cases for Insurance
Powering an end-to-end buying journey on WhatsApp
The typical purchase journey for an insurance customer would involve going through multiple web pages filled with text and technical terms. But WhatsApp commerce, with its recent introduction of features and UI elements, is empowering brands to make this entire process a lot simpler and more conversational for their customers. Sushant Khairnar talked about how very few Life Insurance companies have a customer-facing app. And even they were contemplating on having one. But when they saw the pickup on the WhatsApp channel in the initial months, they decided that WhatsApp would play the role of a customer-facing app for Kotak Life.
Here are some critical pointers to help brands begin their conversations on the world's largest messaging app:
The first and most crucial aspect to consider is

driving visibility and discovery.

WhatsApp has made it highly flexible for brands to get customer opt-ins. Practically, brands can use every communication channel to get customer opt-ins, e.g., SMS, website, social media, telephone, etc.
By deploying a

WhatsApp chatbot

solution, brands can streamline and automate processes like collecting information, answering queries, providing policy information, document collection, follow-ups, etc.
Brands can also deliver a frictionless payment collection process on WhatsApp for their customers without them having to navigate between multiple apps.
Use of marketing notifications to nudge customers
People want to hear from their favorite brands in more ways across the customer journey. Earlier, businesses were only allowed to send transactional notifications like order updates, appointment reminders, and account information. But recently, WhatsApp has allowed brands to send marketing notifications, in other words, non-transactional messages. This move is a game-changer for insurance brands since it enables them to proactively engage with their customers at each stage of their buying journey. According to the panelists, the marketing notifications are poised to deliver more results than other forms of brand-related outreach. They are capable of fetching better ROI than Emails and SMSes.
Here is an example of how marketing notifications can be helpful:

Insurance companies can get on-the-spot policy renewal acceptance from their customers by sending policy renewal quotes. They can also direct them to the website to complete the entire renewal process.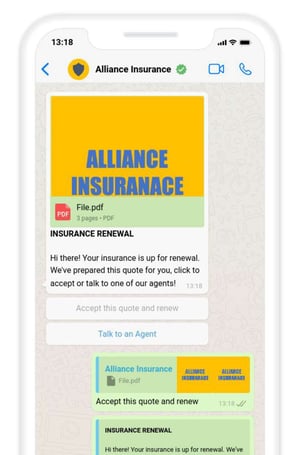 Providing personalized buying assistance to customers
Insurance is a serious and complex subject. Customers require constant support like detailed information while evaluating multiple options, making inquiries about their policies, or filing claims. And Swati Mishra believes that AI can play a critical role in meeting this demand; it can enable brands to deliver tailored experiences according to customer preferences. It can also help brands decide which products to bundle together for cross-selling opportunities.
When powered with an AI-recommendation engine like Haptik's, an insurance chatbot can serve as a virtual insurance advisor for customers. Simulating the behavior of a human insurance agent, it can engage the customer in a conversation and ask them questions to understand their needs and expectations. It can then offer them personalized policy recommendations, help them compare two or more plans, and assist them in getting a clearer understanding of policy options by answering any follow-up questions.
Handling agent onboard, support & engagement
The panelists talked about how life insurance brands offer technical products requiring human intervention to understand their features and benefits. They also stated that long-tail queries can also become a challenge. In that case, a handover to a relevant channel can help customers get the desired support.
With the chatbot automating routine mechanical tasks, insurance agents can solve more complex customer issues and have more meaningful interactions with current or prospective customers. Insurance chatbots also help enrich agent interactions with customers by gathering data about the customer's intent, requirements, risk profile, etc., providing the agent with more context about what the customer wants.
Key WhatsApp commerce use cases for Insurance
1. Automation of lead generation and qualification process
Building a solid sales pipeline is essential for growing any business. With the help of a WhatsApp chatbot, the lead generation and qualification process can be made seamless. While interacting with prospective customers, the insurance WhatsApp chatbot can collect critical information: contact details, monthly income, premium paying ability, etc.
As the customer provides all these details in an engaging conversational way, rather than filling a long static lead form, the chances of drop-offs get reduced. When routed to agents, the collected data about the customers' intent and requirements can help them have more meaningful interactions, leading to higher conversions.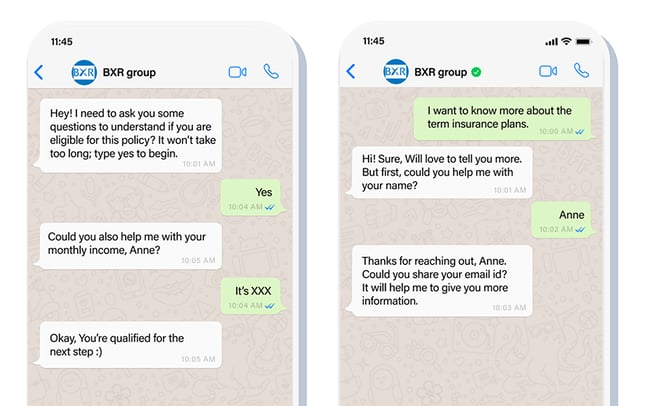 Kotak life has been using WhatsApp chatbot for lead generation and seeing a good lift. The percentage of conversions through WhatsApp for the brand is at par with their other performing sources.
2. Policy information and recommendations
Offering customers not just general information but concrete recommendations through chatbot increases the likelihood of the customers exploring the purchase further. Also, with an insurance WhatsApp chatbot available 24/7, insurance companies can guide customers at every stage without waiting for a sales or customer care representative. The chatbot can answer basic customer questions about plans, premiums, coverage, etc.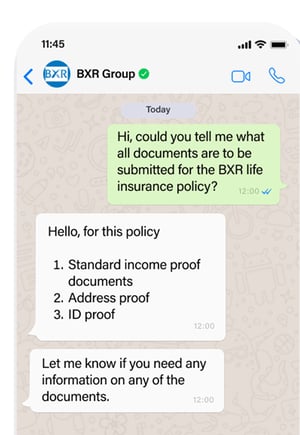 3. Follow-up with leads
Many leads get lost because customers become unresponsive or forget to share the required documents. The open rate of WhatsApp is more than 90% which makes it an excellent channel for follow-ups. And now, with the advent of WhatsApp's marketing notifications, it has become even easier to nudge customers towards the desired action; e.g., if the customer hasn't sent the documents, the WhatsApp chatbot can send a reminder message.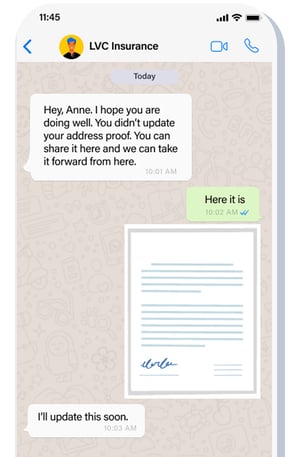 4. Document submission
One of the central pain point areas for insurance companies when onboarding customers for any service is the collection of documents like income slips, address proofs, ID proof, medical statements, etc. WhatsApp makes it extremely easy; the customer has to just scan the documents and share them. And that's why our experts urge brands to leverage WhatsApp's inherent rich-media capabilities. According to them, they are powerful when used for the right use-cases.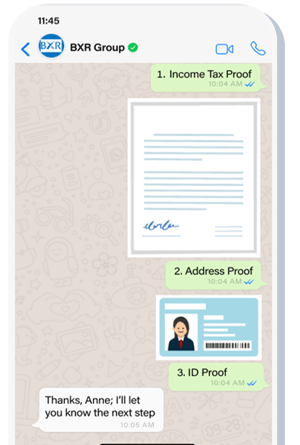 To sum up
The world has changed and digitized more than anyone could have imagined in the last couple of years. Today, businesses focus on meeting the customers where they already are rather than pulling them to specific platforms where they want them to. And looking at the sheer scale, it is evident that WhatsApp is the channel for brands to be. According to Sushant Khairnar, WhatsApp is more than a channel; it is a habit, and that's why it sees a pull from the customer's side. With the expansion of WhatsApp's commerce capabilities, it is emerging as the most efficient channel to buy and sell digitally.
---
Are you looking to leverage the full potential of WhatsApp Commerce?