4 Ways Chatbots Are Transforming the Travel Industry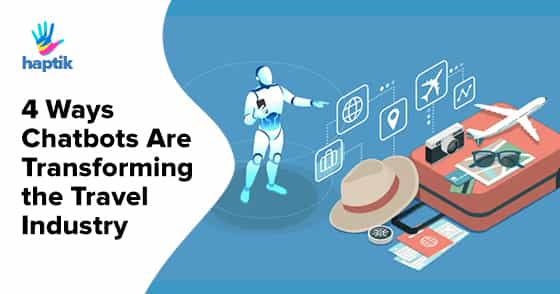 Going on a trip is truly one of the delights of life.

Planning a trip, on the other hand, can be quite a task for travelers. And despite the best efforts of the travel industry, not always a delightful one.

Every aspect of a journey requires meticulous planning. That planning usually leads to innumerable calls, emails and meetings with travel agencies, airline and hotel staff, tour operators etc. And that is before you factor in the additional follow-up that may be required while the trip is in progress.

All of this can be quiet trying for travelers, and for representatives of the travel industry.
The solution?

Conversational AI.

'Chatbot' has become a buzzword across many industries, and the travel industry is no exception. For well over a decade, the digital revolution has substantially disrupted the travel industry. Online travel agents, online flight bookings, web check-ins etc. are testament to that. The increasingly ubiquitous use of travel chatbots is the latest instance of that ongoing transformation.

Far from being a gimmick, the travel industry's adoption of conversational AI is poised to pay huge dividends. Research has shown that over 55% of Millennials are inclined to positively view businesses that use chatbots. Millennials have an estimated $200 billion in purchasing power. So travel industry players would be well-advised to pay attention to any technology that optimizes their experience.

There's a lot that AI-powered chatbots can do to make life easier for customers and travel service providers alike.

Read on to learn about four of the major ways that conversational AI is changing the travel industry for the better.


1. Saves Time and Effort
The majority of queries that travel agencies or airline/hotel staff need to handle are routine queries and FAQ's. Having human customer-care representatives repeatedly respond to such queries is highly inefficient. Particularly when a business has suitable alternatives available in the age of conversational AI.

Chatbots can easily resolve these routine queries. This enables human employees to focus on resolving complex customer problems, and performing other managerial tasks, that actually require human intervention. Being relieved of the mundane and repetitive task of responding to routine queries can prove to be a great motivating factor for employees. This further boosts their productivity and efficiency.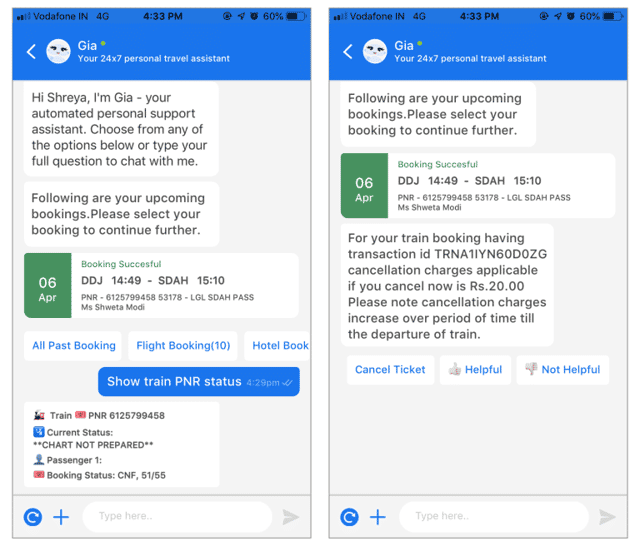 There are many examples of chatbots that have been successfully deployed to answer more routine queries than any human agent could in a day. Goibibo's chatbot Gia has reduced the need for human intervention in the ticket-handling and seat-selection process, as well as post-booking queries, by over 25%. It also facilitates the seamless delivery of hotel vouchers on the messaging app of the customer's choice. In fact, Goibibo uses a metric called 'Human Interactions Saved' to measure Gia's efficiency. A 'human interaction saved' is a conversation in which the user sends just a few messages – all of which the bot handles on its own. Gia's 'Human Interactions Saved' stands at 60%!

Increased efficiency and swift response times are a boon not only for travel service providers, but for customers as well. In fact, the effective use of conversational AI can lead to a substantial boost in…


2. Customer Engagement & Personalization
Travel chatbots are on-call 24×7, 365 days a year, to resolve simple customer queries. This constant availability enhances the customer experience in any industry. But it is particularly useful in the travel industry, where customers need their problems to be resolved immediately, even as they travel across time-zones.

Chatbots are not only available when required, but also bring an added level of personalization when it comes to helping customers.

NLP (natural language processing) enables chatbots to be programmed to understand vague queries, such as "Goa beach party resort" or "hill station retreats". The bot can identify trigger words from the query and use them to carry out a customer's search. This reinforces the idea of the chatbot as a 'personal helper'. A helper who can be asked any question, who can be asked to service any request, and who can potentially give customers exactly what they want. The interactivity and feeling of flexibility this offers a customer is sure to boost engagement, especially when compared to the traditional option of making the customer fill a long static survey form with limited options.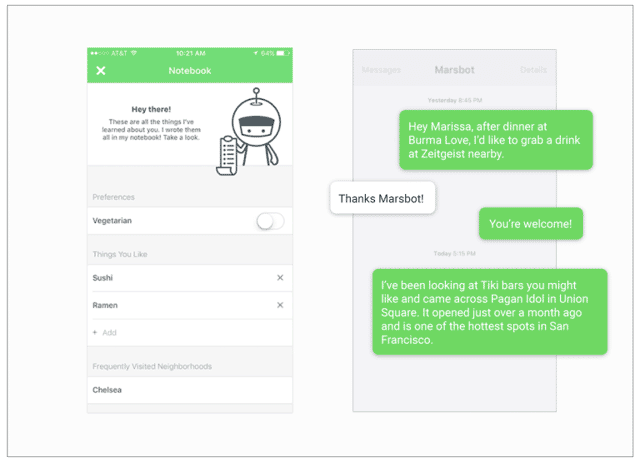 The element of personalization that chatbots provide is also evident from how they can offer solutions and make recommendations on the basis of data. Travel chatbots can serve as a useful source of local knowledge. They can inform you about nearby hotels, restaurants and other attractions. Foursquare's chatbot, Marsbot, is a case in point. Marsbot allows travelers to find restaurants, cafes and bars wherever they go, based on their preferences and their location.

Of course, travel chatbots are able to effectively perform a lot of the aforementioned tasks because they are…
Read More : The need for AI Chatbot in Customer Self-Service
3. A Treasure Trove of Data
From a customer's point-of-view, the ability to easily access their chat data on a conversational AI platform is yet another aspect that adds to the convenience of the medium. But from a business point-of-view, chatbots are a rich source of data on their consumers – offering insight into their purchase history, experience, positive and negative feedback etc.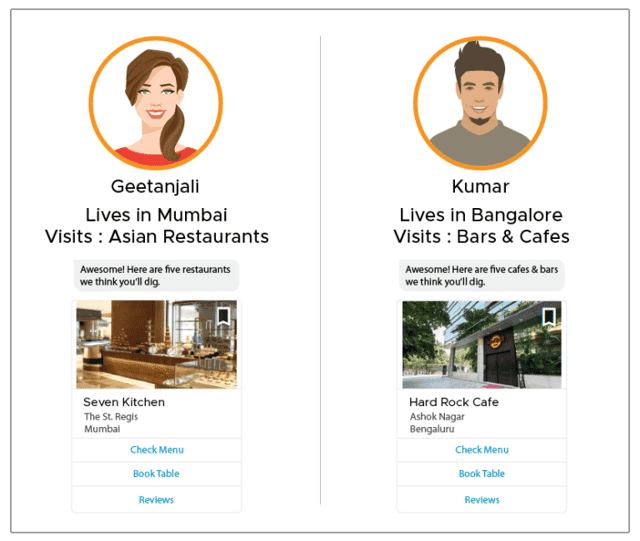 Travel industry players can then put this data to use in a number of ways. They can offer personalized recommendations based on inputs from a customer's interactions with their chatbot, as we've already discussed in the case of Foursquare's Marsbot. They can tailor their marketing messages to individual users based on the insights gathered. Conversational analytics can predict future customer behavior and intent.

More fundamentally, conversational AI allows for continuous market research – literally generating qualitative data by the second! With the help of conversational analytics, companies can use data to make substantial changes to existing product/service offerings, as well as to introduce new offerings.

Ultimately, everything that's been discussed so far contributes to one very tangible reason why companies in the travel industry need to embrace chatbots. And that is…
4. It Makes Financial Sense
As already discussed, millennials, probably the most significant target consumer group for the travel industry, have embraced chatbots. So from a business development perspective, it makes sense for companies to invest in conversational AI solutions. After all, a well-designed travel chatbot can take a consumer from awareness to conversion in a matter of minutes! That certainly gives a strong impetus to revenue generation.

A case in point is GReaTa, the bot introduced by GRT Hotels & Resorts. Within two-and-a-half-months of its launch, GReaTa exchanged over 175000 messages. 84% of those who interacted with the bot shared their contact details, and 40% among them had booking intent. This lead to a potential revenue generation of INR 240,000 within the span of a mere 7 days!
Conversational AI also enables businesses to substantially cut down on the costs of maintaining large numbers of customer-care/support staff or outsourcing to third-party call-centres. Up to 30% automation (i.e. percentage of interactions handled by a bot with no need for human interaction) can be observed right from the day the bot is launched. Over the course of the first six months or so of the bot's life, the level of automation can gradually rise to as much as 80%. In other words, the cost-per-chat for a chatbot is potentially one-twentieth of the cost-per-chat for a human agent!

Juniper Research forecasts that chatbots will be responsible for cost savings of over $8 billion per year by 2022. So if you're betting on the future, then betting big on conversational AI is sure to be a wise choice!
Read on: Benefits of a WhatsApp Chatbot for Banking & Finance

In conclusion…

Chatbots serve to enhance customer experience, boosting their engagement with your brand. They are far more efficient than human staff when it comes to dealing with routine enquiries. They are a rich and constantly replenishing source of consumer data. And they are a very attractive prospect indeed from a cost-saving and revenue-generation perspective.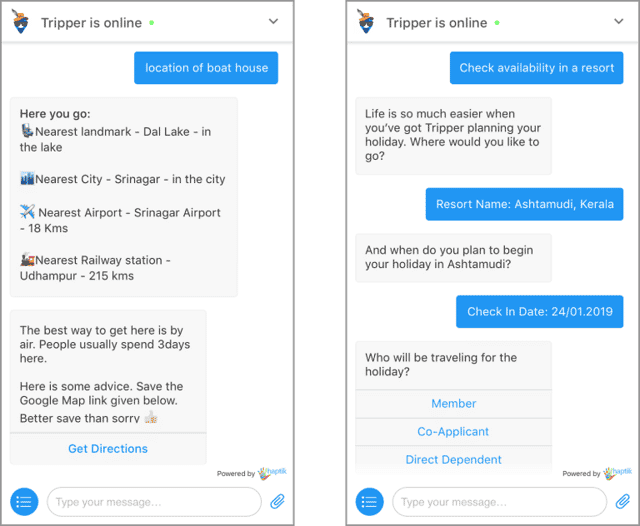 We at Haptik have endeavored to bring the benefits of conversational AI to the travel industry in India. In 2018, we developed Tripper – a custom chatbot deployed on the website of Club Mahindra, for the exclusive use of their premium members.

As conversational AI becomes widespread in the travel industry, chatbots are likely to be the go-to medium for all travel-related queries and needs. This will certainly provide an impetus to every travel industry player, large or small, to develop an effective conversational AI solution.
---

Are you interested in developing a chatbot solution for your business?