How WhatsApp Commerce is driving the Banking and Finance Sector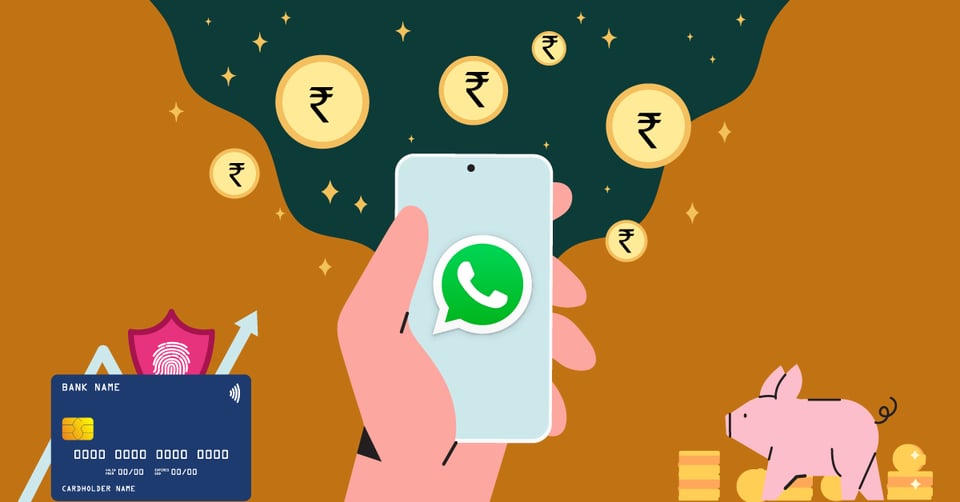 The COVID-19 outbreak has severely changed the development vector of different industries worldwide, and the banking and finance sector is no exception. The pandemic has forced the sector to re-examine its technology strategies, strengthen digital/branchless banking, offer improved services to its customers, and redefine customer relationships. According to a report by Deloitte, the banking and finance sector needs to embrace emerging technologies and put customers at the center of every strategy to be successful. Companies of all sizes need to deliver hyper-personalized experiences throughout the customer journey.
Today, customers demand faster, more personalized experiences delivered via mobile—mainly via messaging. 68% of the respondents have indicated that, given a choice to make a purchase, they are more likely to go with the business that offers convenient communications. And what better channel to deliver financial services than WhatsApp, the World's most used messaging platform. The launch of WhatsApp Business API has made it possible for brands in the banking and finance sector to engage with the customers on their most preferred communication channel.
WhatsApp Commerce for banking and finance
As WhatsApp Business API expands its range of services to businesses, it is increasingly becoming a platform to enable conversational commerce. Giving rise to 'WhatsApp Commerce' – offering and selling products and services to customers using WhatsApp. With WhatsApp Commerce, and its recent introduction of features and interactive UI elements, brands can make the entire process of providing complex financial services more straightforward and conversational across the customer journey.
People want to hear from their favorite brands in more ways across the customer journey. And taking this into account, the WhatsApp Commerce solution is designed. From the pre-purchase stage, where the customers are in the evaluating phase, to providing them with exceptional post-purchase support, financial institutions can quickly assist customers at each stage of their buying journey with the help of WhatsApp Commerce for banking and finance.
Let's see some use cases for WhatsApp Commerce in the banking and finance sector that empowers financial brands to create delightful customer experiences and unlock growth opportunities.
Download Report: How is WhatsApp Shaping Commerce?
Onboarding customers seamlessly with WhatsApp Commerce
Assuming a customer wants to open a new account with a bank. They go to the brand's website, fill out the application form, and wait for the bank to contact them. An executive from the bank calls and schedules an appointment. Post this, the applicant has a discussion with the executive over a scheduled call. The executive explains the various options and asks for multiple documents (e.g., identity proof). The whole process is long and tedious.
By deploying a WhatsApp chatbot for banking and finance, a financial brand can direct the customers visiting their website to their WhatsApp account and open a two-way communication channel. Companies can leverage the UI elements offered by WhatsApp Commerce to make the flow of conversation more seamless. With List Messages Buttons, brands can present a choice of up to 10 alternatives to pick from in a menu-type view. The customers can also reply by selecting one of the fixed options provided under the Quick Reply Buttons, reducing the effort of typing the entire message.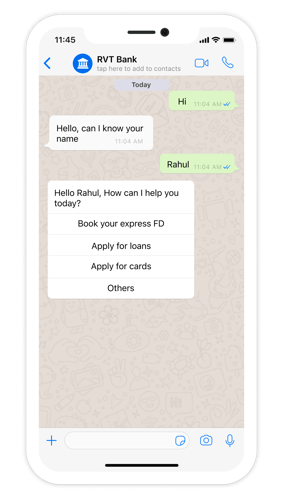 By leveraging the features of WhatsApp Commerce and having a WhatsApp chatbot for banking and finance in place, brands can easily automate the following steps of lead generation and qualification:
Welcoming and engaging with prospects.
Collect their personal information and requirements.
Guide them to the next course of action.
If a prospect shows further interest, it can aid in carrying out the KYC processes like ID verification, document verification, etc.
When passed on to agents, the collected data about the customers' intent and requirements can help them prioritize prospects and have more meaningful interactions, leading to higher conversions and a better customer service experience.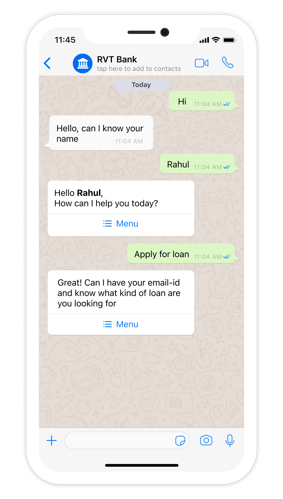 Automating follow-ups with prospective customers
The benefits of the WhatsApp Commerce for banking and finance are just not limited to the initial lead generation and qualification process. WhatsApp Marketing Notifications (Push notifications), a critical element of the WhatsApp Commerce solution, make it easy to re-engage with customers who have dropped off or have not completed the onboarding process. In short, it is an excellent nudging tool.
For example, If the customer hasn't sent the documents. With the help of WhatsApp banking and finance chatbots, financial institutions can send a reminder message. More than a 90% open rate makes WhatsApp an excellent channel for follow-ups. Brands can also send the latest offers or additional resources to help resolve apprehensions that the customer may have before enrolling in the recommended financial and banking services.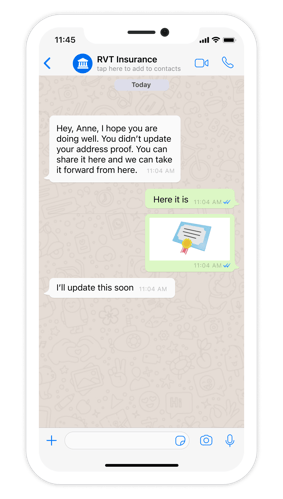 Providing personalized financial buying assistance to customers
Post qualifying the customers by collecting their data, a WhatsApp chatbot for banking and finance powered with an AI- recommendation engine like Haptik's can help financial institutions sell their services by providing personalized buying assistance.
Let us look at some service use-case examples:
Loan Applications
With help of the WhatsApp chatbot for banking and finance, brands can probe the borrower further with questions like the amount of loan, occupation, expected interest rate, etc. Before issuing a loan amount and deciding on a corresponding interest rate, the companies need to review the prospect's credit history. CIBIL, the oldest credit rating agency in India, shares reports to financial brands that depict the credit and repayment history, utilization of credit, tenures of previous debts, and so on about the borrower. A WhatsApp banking and finance chatbot like Haptik's can easily access these credit reports. Based on it, it can also recommend the various credit options available to the borrower. Post this, the borrower just has to choose the best option and verify the bank details to secure the loan. WhatsApp Commerce for banking and finance empowers financial brands to facilitate a seamless end-to-end lending experience on a single platform that the customers are already familiar with.

Source
How Haptik helped IIFL reduce its operational cost and improve customer experience
Mutual Funds
Mutual Funds have become an excellent choice for people who don't have the time to monitor the markets regularly. By utilizing WhatsApp Commerce's UI elements and deploying a WhatsApp chatbot for banking and finance, financial institutions can make investing in Mutual Funds faster, easier, and more secure for their customers.
A banking chatbot will ask the interested investor about their financial goals; suppose the investor wants to open a SIP. Then, the WhatsApp banking chatbot will ask about the monthly investment that the investor is willing to make. Post this; it will recommend all the fund options to the investor in a menu-type view, out of which the investor can select one. The customer can also state the start date for their SIP investments and confirm their bank details to start the automatic deduction of the SIP.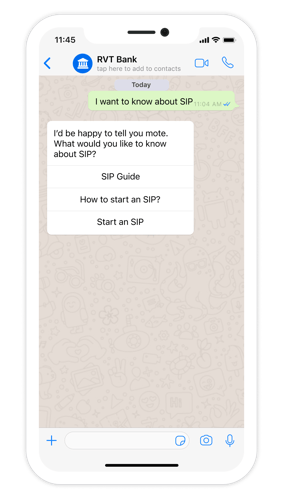 Read how Haptik helped Tata Mutual Fund achieve 58% growth in engagement
Similarly, banks can help customers open a new bank account, issue a new card, etc., with a few clicks with a WhatsApp banking chatbot rather than going through multiple web pages filled with text and technical terms.
Learn how WhatsApp Commerce can become a revenue generator for your insurance business!

Payment collection on WhatsApp Commerce
With the help of an AI-powered WhatsApp chatbot like Haptik's, banking and finance brands can collect payments from over 487 million users across India with just "3-clicks".
The financial brands can send payment reminders with in-built payments links on WhatsApp.
Brands can also provide the customer an option to send a WhatsApp message to fetch their bills, know their due dates, and pay the financial services directly.
Post payments brands can also share invoices and payment-success messages.
Payment collection is one of the problem areas for the banking and finance sector. By leveraging the features of WhatsApp Commerce, like the push notification, brands can improve the collection rate. And turn WhatsApp into the ultimate all-in-one payment collection channel.
Post-purchase customer support
Financial product buying is complex and might need human agents consulting to help customers decide. Having a WhatsApp chatbot for banking and finance for automation of routine mechanical tasks gives the agents the time to solve more complex customer issues and have more meaningful interactions with current or prospective customers.
Here are a few of the support functions that a WhatsApp chatbot for banking and finance can carry:
Sharing reminder marketing notifications (push notifications) about recurring payments and transfer limits.
Help customers with their account details and interest rates. Assist them in updating their account information and resetting passwords.
Sharing invoices, e-policies, e-receipts, etc. to the customers
Send proactive marketing notification messages to the customers, about their loyalty points, new offers, etc.
Assist in credit card actions - blocking, renewing, etc

Key takeaways
COVID-19 has caused banks to become more proactive, question their long-held assumptions, and become more adaptive and innovative. Financial institutions need to focus on meeting the customers where they already are rather than pulling them to specific platforms where they want them to. WhatsApp's sheer popularity makes it undeniably the best channel for any brand to distribute its financial products. With WhatsApp Commerce for banking and finance, financial brands can grow their business and provide a better customer experience to their customers.
Haptik has been trusted by leading BFSI players, including Kotak Life Insurance, Tata Mutual Fund, IIFL, Zurich Insurance, HDFC Home Loans, and many more! By handing more than 4B+ Conversations and 306+ Live Implementations and reaching 500+ Million Users Globally, Haptik is one of the World's largest Conversational AI companies!