5 Use Cases of Insurance Chatbots

Insurance is a serious and complex subject. When it comes to securing their lives, their health, and their finances from any possible eventuality, customers understandably want to leave no stone unturned. During the process of buying insurance, they require access to detailed information while evaluating multiple options, in order to make an informed decision. And they will also need constant post-purchase support when it comes to making inquiries about their policies or filing claims.
Needless to say, insurance firms across the globe receive massive volumes of queries every day, from prospective customers looking to buy insurance, and existing customers looking for help. Given the sheer volume of inbound queries, it is not always possible for human insurance agents or support staff to handle these conversations with the speed, efficiency and precision required.
This is where Conversational AI can help.
AI-powered Intelligent Virtual Assistants (IVAs) offer insurance customers a seamless conversational interface to get all their queries resolved, both before and after buying an insurance plan or policy.
Here are five of the key Conversational AI use cases for insurance brands.
Offer Policy Information & Answer FAQs
Conversational AI is a very effective tool for information dissemination. An AI Assistant essentially functions as an interactive, conversational FAQ for your firm – answering customer queries about plans, policies, premiums, coverage, and more.
A key advantage of using an AI Assistant is that your customers can get instant answers to their 24/7, without needing to wait for 'office hours' to get hold of a sales or customer care representative on the phone or email. Conversational AI also ensures that the information provided is accurate, consistent, and up-to-date with your firm's policies and standards.
Filing & Processing Claims
With Conversational AI, the process of filing a claim becomes a lot faster and more efficient for customers. Instead of waiting to talk to a service representative, a customer can instead file the claim anytime by chatting with your AI Assistant on their smartphone. The assistant can instantly pull up the customer's information from your database and take them through the claims process in a swift and seamless manner.
Why Should Insurance Companies Consider Implementing Insurance Claims Chatbots?
Managing Policies
Conversational AI can be very useful when it comes to helping customers manage their policies. For instance, the AI Assistant can send renewal reminders to the customers and keep them up-to-date on policy information. The conversational interface simplifies the process of modifying personal details in the policy.
The process of submitting documents and getting them verified also becomes a lot easier – a customer can simply upload the documents in the chat window and the AI can scan it within seconds, and accept them or reject them in case it identifies any discrepancies. The assistant can also send customers reminders about upcoming payments, and simplify the payments process on the customer's preferred channel.
---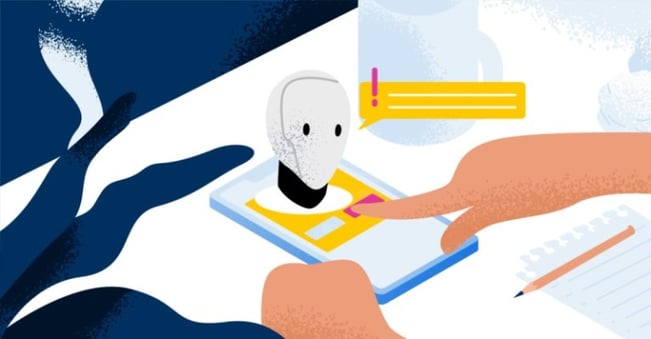 E-BOOK: Implementing Conversational AI – What Insurance Brands Should Keep in Mind
---
Making Recommendations
An AI Assistant can serve as a virtual insurance advisor for customers. Simulating the behavior of a human insurance agent, it can engage the customer in a conversation and ask them questions to understand their needs and expectations. Leveraging the power of Natural Language Understanding (NLU), the AI can precisely pinpoint the customer's intent based on their responses. Based on this, the assistant can then make personalized policy recommendations to the customer.
The customer details and data gathered during this process also provides your sales team with better context about what the customer is looking for, which further improves the likelihood of a conversion further down the sales funnel.
READ MORE: Conversational Commerce: Use Cases for Travel, Retail & Financial Services
Enhancing Customer Support
As we discussed earlier, an AI Assistant is not bound by office hours and is available to your customers 24/7. This is particularly useful when it comes to resolving urgent customer issues. When a customer requires an instant response to a query or a swift resolution of a problem with their policy, facing the long wait times of a customer care helpline can be very frustrating. An AI Assistant helps insurance firms prevent the likelihood of this kind of negative experience.
Moreover, Conversational AI enables you to scale up your customer support capacity exponentially. The vast majority of support queries, as much as 80%, require the same routine, repetitive responses or tasks. The AI Assistant can seamlessly resolve these simple customer queries and issues. When 80% of your customer care is fully automated, you can effectively handle a spike in customer queries without the need for additional investment in human resources.
AI automation of customer care also improves the productivity and efficiency of your customer service representatives, as they are now free to dedicate their time and attention to tackling complex customer issues that require their intervention.
Case Study: Zurich Insurance
Zurich Insurance, one of the world's largest and most experienced insurers needed a solution that would enable them to instantly resolve customer queries, and make their customer support experience seamless and as easy-to-access to possible.