Conversational Commerce Chatbots are the future of eCommerce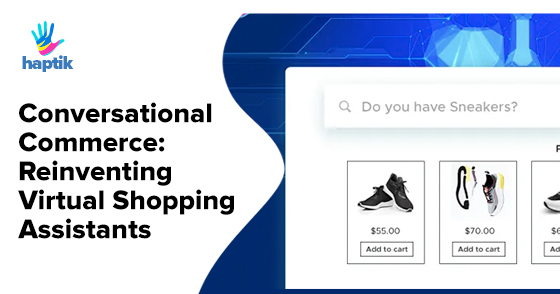 The term 'conversational commerce' was first used in a Medium article by Uber's Chris Messina in 2016. Commenting on then-recent developments such as Facebook's acquisition of WhatsApp, and the emergence of voice assistants like Apple's Siri, Google Now, and Microsoft's Cortana, Messina wrote –

"These and related innovations suggest that "conversational commerce" is growing and concierge-style services may become the primary way in which people transact on their mobile devices".

It's been half a decade since Conversational Commerce is no longer a new buzzword, but an established AI-powered solution to boost customer experience and drive sales for eCommerce businesses. As a result, brand leaders are leveraging a variety of conversational interfaces (online messaging, chatbots, virtual assistants, etc.) to deliver an enhanced online shopping experience to customers.

According to a survey, 83% of online shoppers need some form of support during their purchase journey, and 74% of people are likely to switch brands if they find the process too difficult.
Three major challenges in driving online conversions:
Customers are unable to decide what to buy: Researching products and comparing options is a tedious, time-consuming process, leading to site abandonment and drop-offs.
Customers are dissatisfied with previous purchases: A third of first-time online buyers feel that their purchases do not satisfy their original purchase intent.
Customers are unaware of grievance redressal: Many online buyers are wary of defective products and delayed deliveries, and unsure of customer care responsiveness.
In most cases, it increases the rate of cart abandonment for eCommerce brands, which is not a good sign. However, forward-looking brands are leveraging conversational commerce to make the purchase journey smooth and seamless for their customers. Conversational Commerce possesses the ability to transform the way businesses inform, engage and sell.

Before we delve further into the future of conversational commerce and its necessities, let us recap a little and understand precisely what the term means.
What is Conversational Commerce?
Quite simply, 'conversational commerce' or contactless commerce refers to the leveraging of conversational interfaces (online messaging, chatbots, voice assistants, etc.) to deliver an enhanced shopping experience to customers. It involves offering customers a means to directly communicate with a brand, coupled with the ability to make online purchases.

Advancements in AI technology, specifically Natural Language Understanding (NLU), offer brands a far more seamless and sophisticated means of engaging customers – Conversational Commerce Chatbots.
Imagine walking into a physical store, looking for a pair of shoes. If the store is seriously customer-centric, you'll immediately be greeted by a sales clerk. The clerk will understand your preferences (in terms of shoe size, type, price range, color, etc.), and present you with the best available options that meet your requirements. Once you've found a pair of shoes you like, the clerk immediately starts to convince you to make the purchase.
In a nutshell, if the clerk does his job right, you walk away happily with a pair of new shoes, and the store closes a sale. Everybody wins. Now imagine the same process being replicated in the context of an online shopping journey.
That's what conversational commerce is all about.
Conversational Commerce chatbots and shopping assistants effectively simulate the behavior of an in-store sales assistant – engage a customer in conversation, understand their preferences, make relevant product recommendations, and ultimately convince them to make the purchase.
Learn how conversational commerce helped Healthkart automate customer engagements by 80%.
Why Conversational Commerce?
Using conversational interfaces, particularly chat-based commerce, customers are getting comfortable with exploring, selecting, and buying products. And this certainly provides a strong impetus for brands to adopt intelligent conversational commerce platforms for their business use cases. The following customer data trends seem to justify the statement.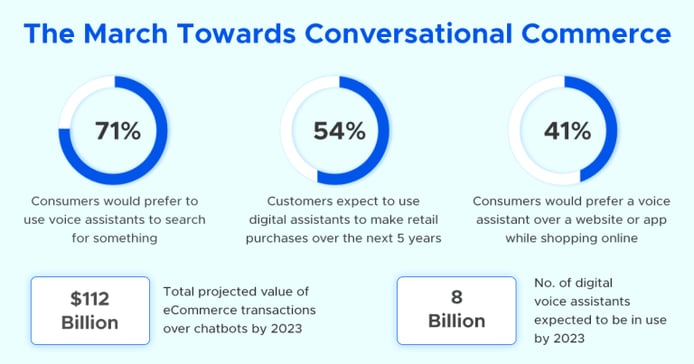 Key reasons why brands need a Conversational Commerce platform:
Reduce Cart Abandonment: Based on 44 different studies containing statistics on eCommerce shopping cart abandonment, it is calculated that an average of 70% of shopping carts are abandoned. A conversational commerce chatbot reduces the possibility of abandonment by proactively engaging visitors in a conversation that they may find interesting and converting them into paying customers.

Up-selling: eCommerce businesses offer a wide range of products and services to customers. With all the customer data collected in one place, conversational commerce chatbots can proactively recommend personalized offers and services tailored to each customer. Products suggested by these online sales assistant chatbots based on a customer's interest and historical purchase trend, increase the up-selling opportunity for business development teams.

Build Customer Loyalty: To create brand differentiation in the market, the buying experience of customers is equally important as the product or service itself. This is because a delightful customer experience leaves a lasting impression and inculcates loyalty in the long term by forging a connection with your customer. By ensuring that the customers are happily engaging with your company's brand, you are building a long-term relationship and decreasing churn which eventually translates into referral-powered growth.

Increase Conversions: When a prospective customer is browsing your business's eCommerce website, that is where the lead generation process gets ignited. It means it's time to nurture your lead. A conversational eCommerce chatbot interacts with online shoppers in a personalized manner and helps convert them into happy satisfied paying customers by recommending the best products and guiding them throughout their buying journey.
Read how India's fastest-growing eCommerce startup increased its cart addition rate by 2.4X
How to deliver a top-notch conversational commerce experience?
For conversational commerce solutions to perform at their best and increase eCommerce revenue consistently, conversational commerce chatbots need to possess the following key capabilities:
Omnichannel Support: An eCommerce website is a one-stop shop for customers. However, digital touch-points like Facebook Messenger, live chats, apps, and other messaging channels help to extend your reach to customers. To establish a superior quality online shopping experience, conversational commerce solutions are capable of engaging, nurturing, and converting visitors coming across any of the digital channels.

Superior NLP Technology: Natural Language Processing (NLP) helps conversational chatbots to understand the intent of the customer queries, making the conversation more human. Conversational eCommerce chatbots are programmed with sophisticated NLP engines to seamlessly auto-detect the languages, sentiment, or context of the customer.

Multilingual Conversation Support: Mostly, customers prefer to communicate with chatbots in their preferred language. In such scenarios, it becomes imperative for eCommerce brands to ensure that their conversational commerce solution supports vernacular languages and can switch dialects based on the user's utterances.
Know more: 3 Ways Conversational AI Can Drive E-Commerce Sales
The Future is Conversational
The growth of online shopping over the past decade revolutionized the eCommerce sector, forever transforming the way we buy and sell. But amidst the convenience and speed of online shopping, one key element was missing – namely, the personalized service offered by a friendly and helpful sales assistant at a physical outlet. This is a gap that Conversational Commerce can now fill. Nothing makes your customers feel happy and valued more than perfectly understanding their needs and giving them precisely what they're looking for (if not better!). AI-driven Conversational Commerce enables brands to do so at scale – delivering exceptional customer experience on the digital platforms of their choice.
We're looking at a future where conversational commerce solutions hold even more sway than they already do at present. E-commerce brands must be prepared to market and sell their products and services in conversational marketplaces.
In simple words, Conversational Commerce is going to reshape the future of eCommerce businesses by establishing a seamless online shopping experience for customers.