A Phased Approach to WhatsApp Marketing in 2023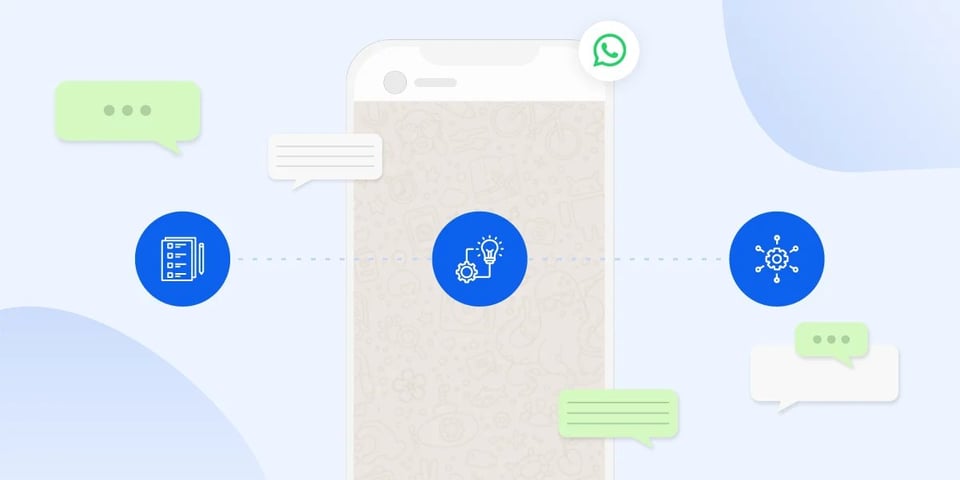 Brand marketers actively seek opportunities to expand their customer base. They are showing keen interest in integrating WhatsApp, the widely popular social media platform with over 2 billion monthly active users, into their marketing strategy. This platform is being explored to its fullest potential to achieve marketing objectives.
WhatsApp marketing is the practice of utilizing WhatsApp as a marketing channel to promote products and services. WhatsApp marketing enables companies to engage with prospects and customers through personalized messaging, product announcements, and promotional offers, resulting in increased customer engagement, sales efforts, and scalable customer retention. Interactive reply buttons, personalized product recommendations, on-demand support, payment integrations, rich media support, and product catalogs are some of the features that can effectively drive conversions and revenue.
This blog aims to provide insights into the various stages of WhatsApp marketing, from preparing and implementing WhatsApp marketing software to optimizing and integrating it with other channels. By following these steps, brands can launch a successful WhatsApp marketing campaign, enabling them to reach their target audience, establish customer relationships, and propel sales.
We'll discuss the following phases in this blog:
Phase 1: Preparation for WhatsApp Marketing
Before leveraging the WhatsApp marketing benefits, it is crucial to conduct extensive research and prepare adequately. To engage with the target audience, brands must clearly understand their needs and characteristics by creating buyer personas and collecting data from surveys, CRM insights, Google Analytics, and social media instead of making assumptions.

To evaluate the effectiveness of WhatsApp marketing campaigns, set specific objectives, and monitor relevant KPIs. Key metrics that brands must track include:


Total conversations
Response and resolution time
Conversations led to Conversions
Agent response time
Ad Impressions
Top Selling Products
These metrics provide valuable data for informed decision-making.

When using WhatsApp marketing automation for business, be mindful of the frequency and timing of promotional notifications to avoid negatively affecting the quality rating of the business account. A recommended frequency is 4-6 messages per month, although this may vary based on specific campaign needs and promotional strategies. It's advised to avoid overloading customer inboxes with excessive notifications.
Phase 2: Implementation of WhatsApp Marketing Automation
Brands employ WhatsApp marketing strategies to meet business goals such as improved conversions, higher revenue, and better customer experience—a WhatsApp chatbot for business aids in achieving these objectives.
A WhatsApp chatbot is a software program that uses AI or pre-programmed rules to interact with customers through the messaging platform. It provides real-time assistance, automates routine operations, and even handles complex queries and integrates with other business systems such as CRM or payment gateways. The chatbot is accessible via the WhatsApp Business API when a user messages the business.
To design a compelling customer journey using a WhatsApp chatbot:
Utilize conversational marketing to acquire and engage users with proactive, personalized messages, targeted ad campaigns, and promotional broadcasts.

Use conversational commerce on WhatsApp to deliver product recommendations based on user intent and drive conversions.

Offer excellent post-purchase customer care support to exceed buyer expectations, retain loyal customers, and establish trust.
Brands have the power to automate the entire customer journey workflow on WhatsApp. It enables streamlining processes, reducing manual effort, and improving customer experience, thereby enhancing customer satisfaction scores (CSAT).
The attached screenshot illustrates the effective utilization of a smartly programmed WhatsApp chatbot that we have automated for CASHe to enhance brand-customer communication and create a frictionless customer journey.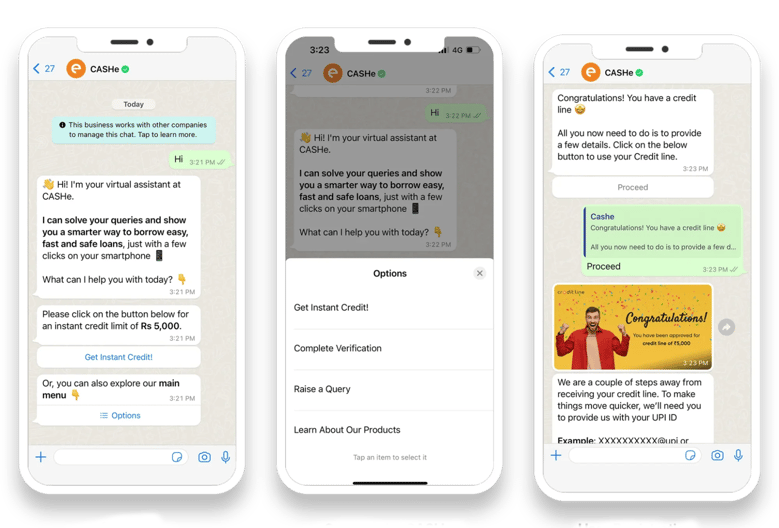 The WhatsApp Business API provides essential automation features that enable brands to enhance customer experience.
Customizable WhatsApp greeting messages can be sent to customers who initiate contact for the first time or have been inactive for 14 days.

WhatsApp away messages can be set to notify customers when a business is unavailable or outside working hours.

Abandoned cart notifications have proven to be highly profitable, resulting in a significant sales surge.

Automated and pre-set responses to sales and customer inquiries can be customized using a WhatsApp Chatbot.

Brands can share live updates on orders and deliveries, improving transparency and customer satisfaction.
Phase 3: Integration and Optimization of WhatsApp Marketing Strategy
WhatsApp marketing software can be seamlessly integrated with various support and agent platforms, payment gateways, social channels, and other software that supports APIs as the success of any software depends on its integration in cross multiple departments.
For instance, a Shopify-powered eCommerce store can benefit from integration with the marketing software to automate order updates, view product catalogs, and abandoned cart alerts, creating a robust WhatsApp ecosystem. Haptik's WhatsApp commerce solution integrates with several popular CRM and payment gateways, such as HubSpot, Magento, Salesforce, Shopify, Stripe, PayPal, PowerBI, Razorpay, Zendesk, and more.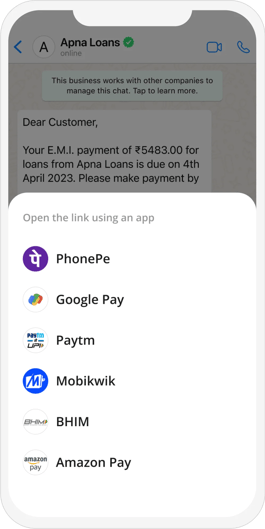 In phase 1, we covered the essential metrics that brands must consider when evaluating the efficacy of their WhatsApp marketing campaigns. These metrics are fetched because of the powerful integration system with WhatsApp chatbots that serve as vital sources of information for analyzing and comprehending customer preferences and pain points.
For instance, marketers can craft more personalized and targeted deals by gaining insights into the most sought-after products to improve engagement. This data-driven approach enables businesses to make informed decisions. Consequently, monitoring and analyzing campaign performance is of utmost significance.
Integrating a feedback mechanism into a marketing strategy offers various benefits, such as validating marketing efforts, identifying unhappy customers, and measuring satisfaction levels. WhatsApp message templates provide a practical solution to gather feedback and inform essential business decisions. By utilizing this feedback, companies can refine their marketing strategies and enhance customer engagement, boosting their competitiveness and improving their brand reputation.
Wrapping Up
WhatsApp Business API is essential for business success but requires technical know-how to access its value-driven features and to set up accounts. Brands can gradually build their audience and engage with customers by taking a systematic and strategic approach on WhatsApp. Haptik, a Conversational Commerce solution provider, offers groundbreaking solutions followed by smart skills library across industries, such as Click-to-Haptik ads and click-to-Haptik insights, enabling marketers to make data-driven decisions.
Tailored and continuously improved WhatsApp marketing software may require an initial investment to achieve ROI-driven results. Hence, businesses should connect with service providers like Haptik to understand WhatsApp marketing costs. Combining chatbots with WhatsApp's immersive buying experience can help companies stay ahead in the next wave of commerce. Therefore, businesses must develop their brand identity on WhatsApp to gain a competitive edge in 2023 and beyond.
Partner with Haptik and Kickstart Your Growth Journey on WhatsApp