Best WhatsApp Chatbots in RSA in 2023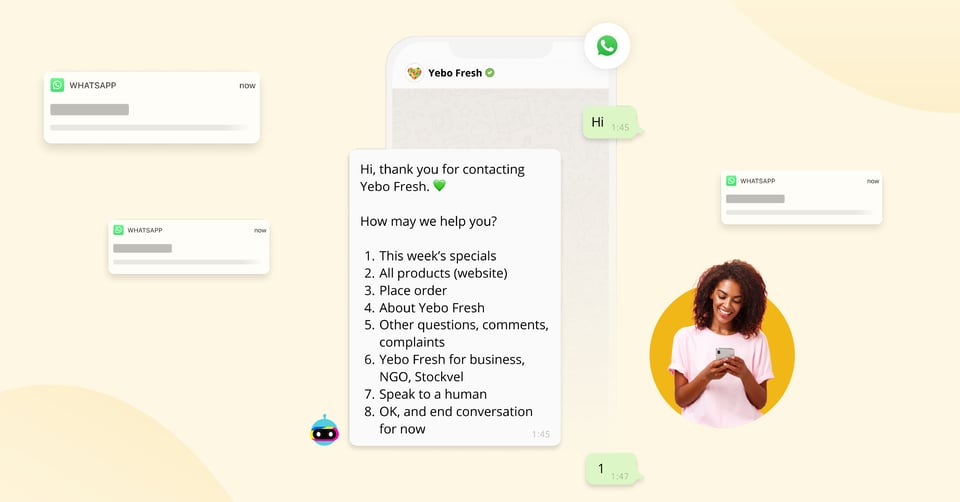 In a world where connectivity is the key to bridging gaps and bringing people closer, one app stands out as a true champion in South Africa - WhatsApp Messenger. With an astounding 58% of mobile phone owners relying on this messaging giant, it has become an integral part of the nation's digital landscape. But what makes WhatsApp so wildly popular in this diverse and vibrant country?
WhatsApp's compatibility with affordable smartphones has made it accessible to all South Africans, while its free international communication feature has become a lifeline for those seeking to stay connected across borders. In a country with a developing telecommunications infrastructure, WhatsApp has emerged as the go-to app for maintaining relationships and transcending physical boundaries.
But WhatsApp's influence doesn't stop at personal use. In South Africa, WhatsApp has become an indispensable tool for businesses operating in the mobile-first environment. With a thriving tech community and a strong entrepreneurial spirit, the nation has fully embraced the concept of conversational commerce, utilizing WhatsApp chatbot and marketing capabilities to drive remarkable success.
In this blog, we'll explore the inspiring stories of seven South African companies that have leveraged WhatsApp chatbot's power to propel their businesses forward. From innovative startups to established enterprises, these stories exemplify the transformative impact of WhatsApp chatbots and marketing strategies, connecting people and businesses in unprecedented ways.
RSA's Best WhatsApp Chatbots 2023
#1 DSTV - WhatsApp Chatbot for Broadcast Satellite Service
#2 YeboFresh - WhatsApp Chatbot for Personal Shopping Assistance
#3 Shoprite's WhatsApp Chatbot: The Shopping Sidekick
#4 Black Label's #NoExcuse WhatsApp Chatbot: Empowering Victims, Inspiring Change
#5 Old Mutual's WhatsApp Chatbot: Personal Financial Advisor at Fingertips
#6 Digify Africa's WhatsApp Chatbot: Future of Education at Fingertips
#7 Checkers' WhatsApp Chatbot - End-to-End Shopping Solution
Top WhatsApp Chatbots in RSA 2023
#1 DSTV - WhatsApp Chatbot for Quick DSTV Bill Settlement
DSTV's WhatsApp chatbot rescued users from TV glitches and never-ending customer service calls. With just a simple "Hello," users can access a world of convenient self-service right from their fingertips. What makes it special?
This chatbot understands the natural language, so users can chat without the frustration of complex menus or waiting on hold. But wait, there's more! No more credit card hunting or logging into multiple accounts to pay the subscription. DSTV's chatbot lets users update their package, browse the TV guide, rent a movie, and even reconnect the services effortlessly. And the best part?
Even when users are away from the TV, this chatbot keeps users in the loop with the latest and greatest content. It's like having a personal entertainment curator in your pocket! So sit back, relax, and let DSTV's WhatsApp chatbot handle all your TV needs. Say hello to convenience and uninterrupted TV time with DSTV's WhatsApp chatbot, right on your mobile device.
#2 YeboFresh - WhatsApp Chatbot for Personal Shopping Assistance
Say goodbye to limited access to quality products. With YeboFresh's WhatsApp chatbot, shopping has never been easier or more accessible. YeboFresh, South Africa's leading online shopping service, is here to bridge the gap and make quality goods accessible to the underserved population. And now, they've taken it a step further by unleashing their WhatsApp chatbot to revolutionize the shopping experience.
How does it work? It's simple yet powerful. With YeboFresh's chatbot, users can search for products using relevant codes or keywords and even make returns hassle-free. No more sifting through endless options or struggling to find the right item. The chatbot understands user needs and guides them every step of the way. But it doesn't stop there.
This innovative chatbot assigns users to the nearest live agent, ensuring personalized assistance whenever needed. Need to know the current status of any order? Just ask! The WhatsApp chatbot provides real-time updates, keeping users in the loop.
What's more, the chatbot seamlessly integrates with YeboFresh's online shopping platform, providing a smooth and convenient experience from start to finish. It's like having users' very own shopping assistant right at their fingertips.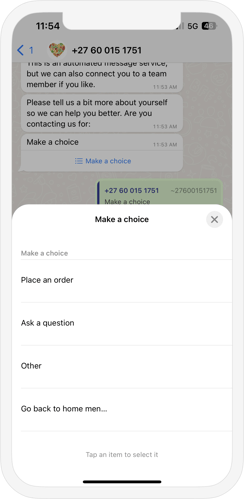 #3 Shoprite's WhatsApp Chatbot: The Shopping Sidekick
Shoprite, Africa's largest supermarket retailer, is all about delivering an exceptional shopping experience. With over 2,943 stores across the continent, it's no wonder they're a favorite among South African consumers. And at the heart of their seamless shopping experience is WhatsApp.
Shoprite's WhatsApp chatbot is your go-to tool for convenience and innovation. From browsing grocery flyers to finding stores, signing up for savings programs, or even applying for a job, the chatbot does it all.
The secret lies in purposeful automation, ensuring immediate support and customer assistance. Say goodbye to friction and hello to an extraordinary retail experience with Shoprite's WhatsApp chatbot.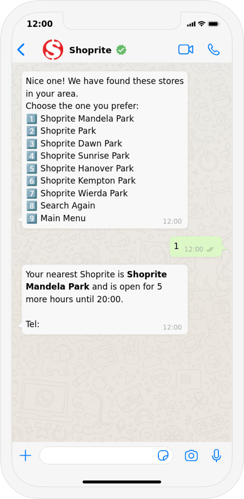 #4 Black Label's #NoExcuse WhatsApp Chatbot: Empowering Victims, Inspiring Change
When South Africa faced a national lockdown, crime rates decreased, but one issue persisted: gender-based violence. Carling Black Label recognized the urgency of supporting and empowering domestic abuse victims, leading to the launch of their impactful #NoExcuse WhatsApp campaign, driven by their WhatsApp Chatbot.
The WhatsApp chatbot serves as a beacon of hope for victims, offering discreet counseling and a safe space to seek guidance and support. It's an innovative platform where individuals can find solace and empowerment on their healing journey. But it doesn't stop there.
This chatbot goes beyond victim assistance. It aims to reform perpetrators too. By connecting men with mentors—champion men who have transformed themselves—it fosters growth and change. These mentors become beacons of inspiration, guiding men to break the cycle of abuse and become better individuals.
To access the Black Label #NoExcuse WhatsApp chatbot, victims simply save the number to their contacts and send the word 'BRAVE'. With Black Label's WhatsApp chatbot, we can empower victims, ignite change, and create a society where no excuse is acceptable.
#5 Old Mutual's WhatsApp Chatbot: Personal Financial Advisor at Fingertips
Managing your finances has never been easier, thanks to Old Mutual's WhatsApp Chatbot. Skip the long queues and paperwork—now users can take control of their policies and products with just a simple message. Whether it's managing premiums, submitting a funeral claim, making a withdrawal, or exploring their range of products, it's all just a chat away.
Planning for retirement? The chatbot has you covered. Check your fund benefits, track claims, and access educational content to make informed decisions. Need important documents? No worries. Retrieve policy documents and tax certificates with ease. Plus, get a glimpse of the exciting Old Mutual Rewards program, where loyalty pays off. Ready to invest or protect your future? Apply for savings plans, investments, insurance, and more—all through WhatsApp.
Old Mutual's WhatsApp Chatbot is like having a personal financial advisor in the pocket, available anytime, anywhere. Say goodbye to stress and hello to the convenience of managing finances effortlessly.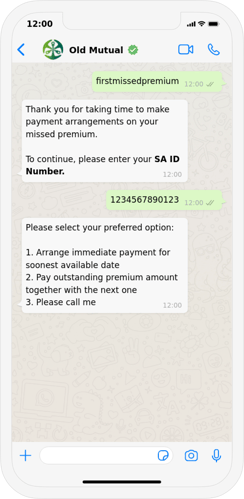 #6 Digify Africa's WhatsApp Chatbot: Future of Education at Fingertips
Digify Africa brought education straight to the user's favorite messaging app: WhatsApp! Their three incredible chatbots, Naledi, Kitso, and Lesedi, are here to revolutionize e-learning.
Naledi, the Facebook Digital Marketing Learning Chatbot, has become a popular go-to for aspiring marketers. With hundreds of learners spending a week with Naledi, over 1,400 topics have been explored through a whopping 100,000 messages.
Kitso, the WhatsApp bot for teachers and parents, is transforming education. Partnering with the Ministry of Basic Education, Kitso equips thousands of educators with internet safety knowledge. With over ten million messages exchanged and 10,000 students completing the course, Kitso is making a big impact.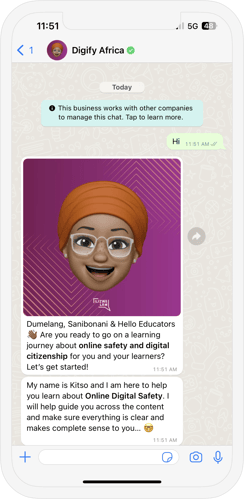 Lesedi, the WhatsApp chatbot for digital competence, helps users enhance their digital literacy skills. With engaging courses combining voice notes, text, and images, Lesedi empowers learners to unlock the power of their mobile phones. In less than a month, 13,000 registered learners have consumed 10,000 topics and exchanged a million WhatsApp messages.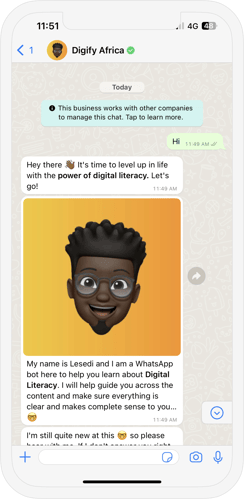 In just a year, Digify Africa has garnered over 32,000 registrations, nearly four million messages, and 37,000 completed topics.
#7 Checkers' WhatsApp chatbot: End-to-End Shopping Solution
Calling all South African bargain-hunters! Say goodbye to shopping woes and hello to convenience with Checkers' WhatsApp chatbot. Checkers, one of the country's beloved supermarkets, is stepping up its game with a cutting-edge WhatsApp chatbot. With the introduction of their "Xtra Savings" cards and the convenient "Sixty60" grocery delivery service, Checkers is proving to be a leader in digital innovation.
Now, shoppers can enjoy a 2-way communication platform with the brand through the WhatsApp chatbot. It's never been easier to stay up-to-date with the latest leaflets and deals, all from the comfort of WhatsApp. Need to find the nearest Checkers store? No problem! The chatbot has you covered with location services.
In this era of face masks and limited interactions, the Checkers WhatsApp chatbot provides an end-to-end shopping solution for customers in the new normal. Simply save the number, say "hi," and explore the standout features, including access to leaflets, store deals, and seamless sign-up for the Xtra Savings platform.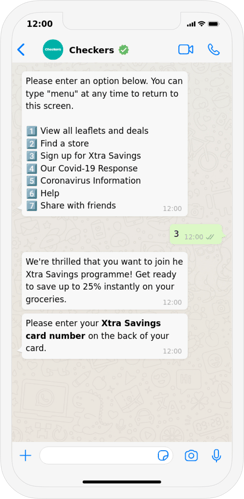 Conclusion
In the evolving landscape of chatbots, WhatsApp has emerged as a powerful platform in South Africa. With its massive user base and low data consumption, developers are turning to WhatsApp chatbots instead of mobile apps. This shift has resulted in innovative use cases and exciting possibilities for businesses. As the popularity of WhatsApp continues to soar, we can expect to see even more impressive and effective chatbot solutions in the coming years. The era of WhatsApp chatbots in RSA is here to stay, shaping the future of customer engagement and convenience.
Haptik empowers enterprise businesses with Conversational Commerce Solutions that deliver exceptional customer experiences. With strategic partnerships and scalability, we ensure your brand thrives in a competitive landscape. Our dedicated customer success team guides you every step of the way, while our enterprise-ready solutions solve your business challenges. Leverage the power of Generative AI and provide customers with the right information at the right time, all through their favorite messaging app, WhatsApp.
Conversational Commerce Excellence: Drive ROI Surge with Haptik