Chatbot in Banking – Examples, Best Use Cases and the Future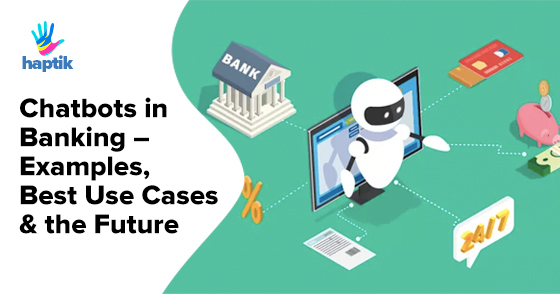 In this day and age, it's our bankers, more than anyone else, who have taken Socrates' advice seriously.

Banks have typically been early adopters of most new technologies that have gone on to achieve widespread commercial success.
So when Artificial Intelligence became viable for enterprises, it was only a matter of time before banks turned to AI for smarter automation solutions to meet the ever-growing expectations of customers!

Conversational AI, in particular, has seen a lot of interest in recent years, with a number of banks implementing AI-powered conversational solutions. Bots, be it chatbots or voice bots, can conduct smart and compelling conversations on behalf of the bank with millions of consumers, at a fraction of the cost of using human customer service staff. The interactive nature of Conversational AI, and its speed and efficiency go a long way towards enhancing the customer experience.

Of course, to effectively leverage Conversational AI, banks needed to restructure some minor portions of their business processes. Still, given the long-term benefits, banks have been rather quick at biting the bullet.

A 2017 report by Juniper Research claims that for every query that a chatbot handles, banks save 4 minutes of an agent's time translating to a cost saving of 0.70 USD per query. More recently, it has been estimated that the operational cost savings from the use of Conversational AI in the banking sector will reach 7.3 billion USD by 2023. This represents a total time saved for banks in 2023 of 862 million hours – equivalent to nearly half a million working years!

Needless to say, the outlook for Chatbot in banking looks very promising indeed. Banks are increasingly investing in AI-powered banking chatbots as a smarter way to acquire, engage, and serve customers.

To get a better understanding of how Conversational AI has been beneficial to the banking sector, let us first take a look at some examples of successful implementations, from across the globe.
Banking chatbots from around the world
1) Erica, by Bank of America
Bank of America, a leader in the U.S. banking industry introduced an AI-driven virtual financial assistant called Erica. This chatbot effectively catered to the bank's customer service requirements in a number of ways – sending notifications to customers, providing balance information, sharing money-saving tips, providing credit report updates, facilitating bill payments and helping customers with simple transactions. Erica's capabilities have recently been expanded to help clients make smarter financial decisions, by providing them with personalized and proactive insights. As of early 2019, Erica has surpassed 6 million users and has serviced over 35 million customer service requests.
2) Amex bot, by American Express
American Express deployed the 'Amex bot' on Facebook Messenger. Once Amex card users link their cards with their Messenger accounts, they will receive messages and push notifications in Messenger, related to purchases they make using their card. The Amex bot will make contextual recommendations based on the user's purchases, provide real-time sale notifications, provide information regarding credit card benefits and loyalty program features – in addition to responding to any other customer support query.
3) EVA, by HDFC Bank
HDFC Bank's EVA (Electronic Virtual Assistant) is an AI-powered chatbot for banking developed with the objective of providing better and faster service to HDFC's customers. Leveraging the power of Natural Language Processing (NLP), EVA understands user queries and fetches the requested information from thousands of possible sources, in a matter of milliseconds. Accessing information regarding branch addresses, IFSC codes, loan and interest rates etc. are a few of the common customer queries that EVA services. The bot has been deployed across a number of platforms, including Google Assistant and Alexa. EVA has answered over 5 million queries with over 85% accuracy – holding over 20,000 conversations daily with customers across the globe.
4) Amy, by HSBC Bank(Hong Kong)
Amy is a customer servicing platform that takes the form of a Virtual Chat Assistant (VCA) for corporate banking at HSBC Bank (Hong Kong). Amy provides real-time 24×7 responses to customer support queries. Available in English, traditional and simplified Chinese, Amy has enabled customers to seamlessly access information regarding a wide range of HSBC's products and services. It easily handles routine queries and FAQs, and gradually learns to respond to more complex and broader queries over time by processing and analyzing customer feedback. In case Amy is unable to respond to a query, it connects the customer with an actual consultant. Using this AI-powered chatbot solution, HSBC (Hong Kong) has been highly successful in scaling up its customer support.
5) Ceba, by Commonwealth Bank Australia
Commonwealth Bank launched a virtual banking assistant called Ceba to provide real-time customer support. Ceba can help the bank's customers with over 200 banking tasks such as activating their card, checking account balance, making payments, or getting cardless cash. Ceba is able to quickly analyze over 500,000 ways customers ask for 500 different banking activities, making it a highly powerful and effective tool for the Commonwealth Bank.
Successful use cases for Conversational AI in Banking



There are primarily three use cases for which Conversational AI solutions have proved to be effective in the banking sector.
1) Lead Generation
E-mail campaigns and cold calls are steadily losing their effectiveness. A conversational interface, like a banking chatbot, not only presents a less intrusive front but also add a novelty factor to the process of lead generation that is likely to appeal to prospective customers.

These lead generation bots are embedded on the bank's website/app and initiate conversations with users to find out if they wish to purchase products and gauge their interest. Later, these captured 'leads' can be sent to the bank's sales team for additional follow up until the sale is completed.

Brands have seen as high as 600% increase in the number of leads collected using chatbots as opposed to traditional lead generation methods.
2) Customer Support
With the advancements in the field of computing and natural language processing, banking chatbots have now become capable of having smarter and more compelling conversations, which means they can handle a wide variety of customer support queries which are redundant in nature.

These bots can be plugged into most customer touch points, such as social media profiles (Facebook Messenger, Twitter), website, app, and other platforms. They ask users to specify their problems and either give them direct solutions or redirect them to the right person.

A lot of banks have used customer support bots to successfully reduce the volume of queries, particularly simple routine queries and FAQ's addressed by their customer service centers and staff.
3) Feedback Collection
As banks endeavor to continuously improve their service, feedback collection becomes crucial. The advent of Conversational AI has provided the technological shift that feedback collection sorely required. The use of feedback bots has shown phenomenal results for banks.

The conversational survey format of feedback bots makes it a far more compelling alternative to the use of long, static feedback forms – thus boosting feedback collection.
Here's how Haptik empowers Digital Transformation Across Banking, Insurance, and Investments
Looking ahead



Conversational AI has come a really long way in a relatively short span of time, owing to advancements in computational power and large chunks of open source data being readily available. The ecosystem has been never as primed as it is today, for AI and NLP capabilities to be built upon.

Here are some other interesting developments from the world of Conversational AI that are likely to be of tremendous value to the banking sector.
1) Voice Bots on IVR
Bank customer service staff are notorious for making customers wait an average of 10 minutes during working hours, making it seemingly impossible to reach an agent in case of emergency. A voice-based IVR (Interactive Voice Response) system helps battle this problem by providing customers with instant access to service through a voice-based conversational interface. In 2018, Kotak Mahindra Bank launched a voice bot called Keya aimed at helping users navigate swiftly and smoothly through the IVR systems. Further developments in the area of voice bots and IVR are sure to be immensely beneficial to banks.
2) Alexa skills and Google home assistants
Smart speakers and voice assistants such as Amazon's Alexa and Google Home Assistant are becoming increasingly more commonplace in homes across the globe, including in India. The experience of having a Jarvis (from Iron Man) like-system in the house would really strike at the core of the conversational experience. Such systems can be seamlessly linked to manage your bank accounts and carry out transactions. A number of banks and other financial service providers have already started adopting such solutions, with U.S. Bank being the first bank to be available across Alexa, Siri and Google Assistant.
3) Handling more unique and complex queries
Chatbots today are programmed to handle rather simple and redundant queries, which make up the majority of the volume of customer support queries. In addition to this, some replies which can be pulled from a knowledge base can be accessed by the bot using an API. However, certain complex user queries and requirements still reveal the limits of automation. The efforts of AI and NLP developers over the years has already significantly enhanced the ability of Conversational AI to self-learn to respond to such complex queries, and this capability will only continue to evolve with time.
4) Other projects
HDFC's Humanoid Intelligent Robotic Assistant (or IRA) is a robot that visitors to certain HDFC branches can physically interact with. The assistive humanoid robot would respond to simple customer queries and guide them to the relevant staff or service counter. IRA was highly successful when it came to relieving the bank's staff from the need to respond to simple and routine queries – servicing an average of 60 customers daily. It's newest iteration, IRA 2.0, leverages the AI and machine-learning backend engine of HDFC's virtual assistant EVA to offer customers an even more personalized, voice-based conversational experience.

While assistive humanoids are a solution not very likely to see widespread adoption in the banking sector, HDFC's successful experiment in this regard stands testament to the innovativeness of Conversational AI in banking!

The Takeaway



As we discussed at the start, banking is a sector that has been ahead of the curve when it comes to adopting Conversational AI solutions. AI-powered chatbots and voice bots have significantly helped banks engage with customers at every stage of the customer life cycle.

Haptik has been at the forefront of the Conversational AI revolution in India, and our robust platform is more than prepared for the task of developing solutions for the banking industry.

You can learn more about what Haptik can do for banks, and other financial service providers.

If you're wondering why to use a Fintech Chatbot for Your Business, this article will help you understand the benefits, use-cases and success stories - Fintech Chatbots for Business: Reshaping Customer Experiences
Transform Banking Experience with Conversational AI