3 Ways Facebook Messenger Helps eCommerce Businesses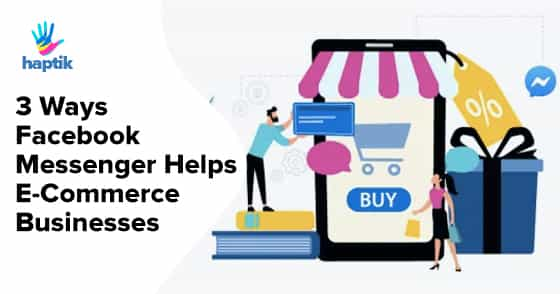 With over 2.6 billion monthly active users, Facebook is the most popular social network worldwide.
According to Gartner, $8B in business expenses will be saved by chatbots by 2022.
Facebook accounted for 55.9 percent of all social media site visits in the United States in February 2020. (Source: Statista)
What do these numbers mean for your eCommerce business?

Facebook has revolutionized the way people message. More than 20 billion messages are exchanged between business and users monthly on Facebook Messenger. Communicating with your customers through Facebook provides you the chance to create a meaningful relationship with them. Facebook Messenger allows eCommerce brands to keep their customers engaged by providing exciting content, product offers, demos, etc.

Due to the COVID-19 pandemic, contactless shopping has emerged as the future of retail. eCommerce brands can benefit from the rapid rate at which the consumers have adapted to the digital world in just a span of 4 months.
In this article, we'll go over a few reasons on why your eCommerce brand needs to integrate Facebook Messenger with their overall digital strategy.
Facebook Messenger Enhances Customer Service
In order to report a query, consumers typically had to either connect with businesses on-call or write them an email. They were unsatisfied with the long waiting time on-call due to a shortage of human resources in call centers or the lengthy process of filling out an entire form to write one email.
Enter Facebook Messenger.
eCommerce websites or apps need to handle large volumes of queries from customers. Some of these queries are unique in nature while the majority of them are commonly asked questions. Facebook Messenger enables eCommerce companies to respond to queries in real time. The 24*7 available bot has made customer service easier for brands with conversations.
Facebook Messenger powers eCommerce companies to serve customers on the channels where they are spending most of their time, drastically reducing the response time while exponentially increasing the response quality. This, in turn, increases customer satisfaction and loyalty.
With increasing competition, it's essential for eCommerce companies to deliver top-notch customer service if they want to retain customers, and this is exactly what Facebook Messenger helps them do!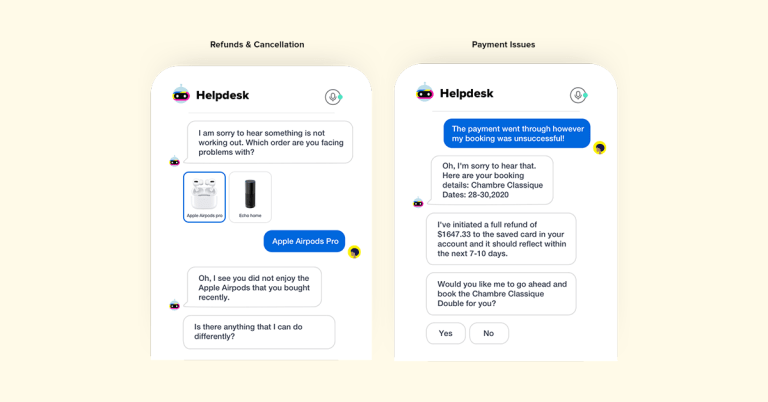 Facebook Messenger Helps you Generate High-Quality Leads
Before making any investment, one important question any business asks is "what will be my ROI?"
Facebook Messenger serves as the perfect lead generation tool for your eCommerce business. According to Statista, during the first quarter of 2020, Facebook reported over 1.73 billion daily active users (DAU). Facebook provides you with every piece of data that is required to reach your target audience. This helps businesses to segment their ads specifically to the audience they want to sell to. They can either use Click-to-messenger ads or sponsored messages ads for their lead generation campaigns.
How do these ads work?
The click to messenger ads appear on user's newsfeed with a CTA directing them to message you on the Facebook Messenger bot.
The sponsored messages are the most effective tool to re-engage with your customers. It enables eCommerce websites to send offers, promotions and details to users who have engaged with their business previously.
The combined power of these ads and the Facebook Messenger bot will exponentially increase the quantity and quality of leads generated by eCommerce brands.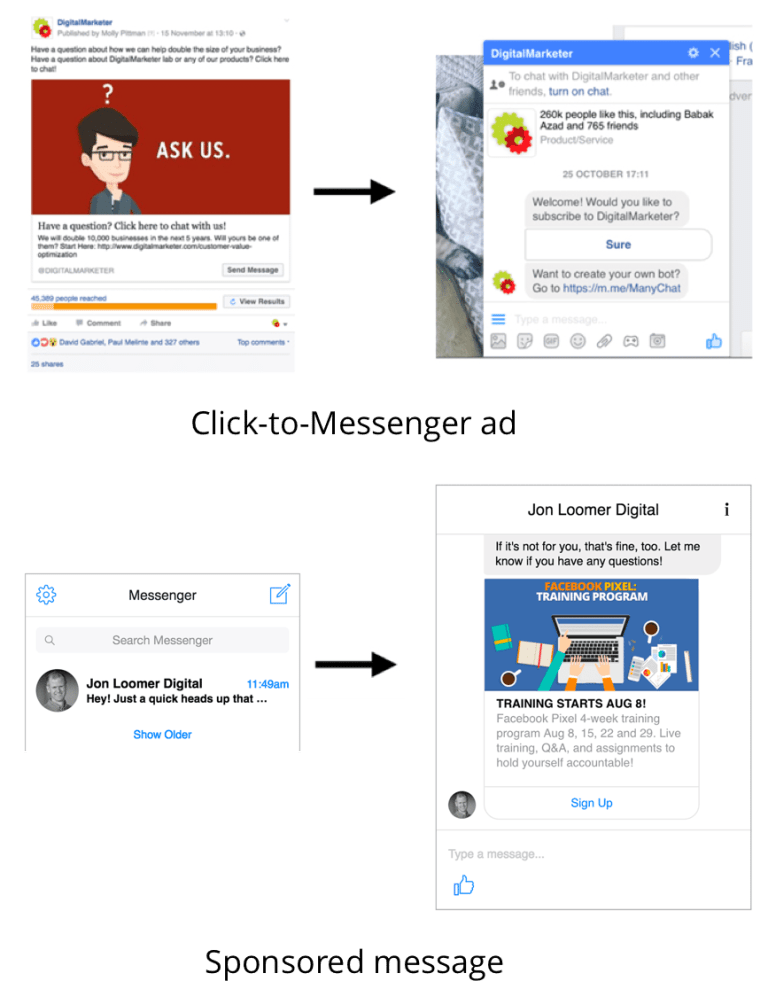 Source: Buffer
Leveraging Facebook Messenger as a Conversational Commerce Tool
Creating personalized experiences for your consumers has never been this important. But it was never this easy too. Facebook Messenger equips eCommerce brands with all necessary tools required to offer customized shopping experiences. Chatbots converse with the buyer and guide them throughout the buying process.
The power of Natural Language Understanding (NLU) and Natural Language Processing (NLP) provides Facebook Messenger chatbots the ability to understand buyers requirements and make product recommendations based on his inputs.
By deploying a Facebook Messenger bot, eCommerce companies can automate the sales process end-to-end. Starting from understanding the buyer's requirements, recommending products, and providing check-out assistance, the bot does it all!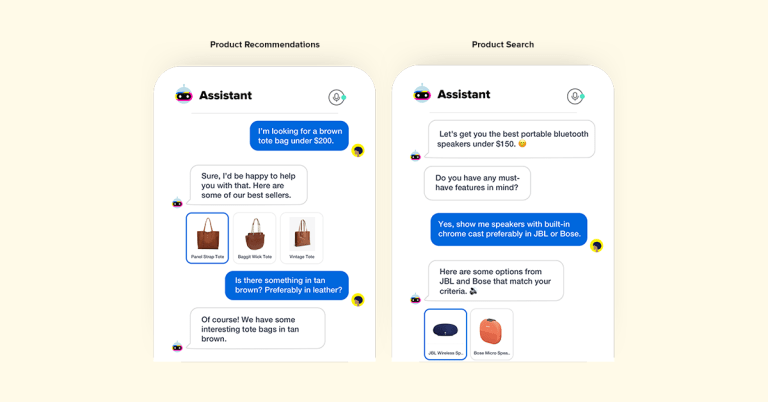 If you're an eCommerce brand, you must be struggling with users abandoning their carts at the payment stage. This is one of the most challenging issues that the eCommerce industry faces today. Unexpected shipping cost and a complex checkout process have been the major reasons cited for this.
The advantage of Facebook Messenger is that it notifies people when they receive your message. People typically only have one Facebook account, which isn't the case with emails. According to Barilliance, the email open rate has been as low as 40.76%! The fact that you can embed your Facebook Messenger bot on your eCommerce website makes the process of reaching out to abandoned cart customers quickly. Review 42 states that Messenger marketing leads to 70% better open rate than email marketing.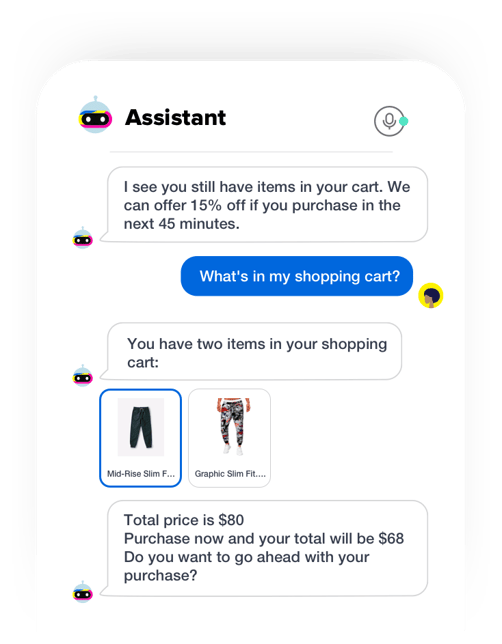 eCommerce brands can make the shopping experience a lot more fun and increase engagement with their customers. The correct mixture of creativity and technology is required to build a successful Facebook Messenger bot.
To sum up
According to Hubspot, messaging apps have over 5 billion monthly active users and this number is only expected to grow with the increase of mobile consumption. With Facebook's powerful ad platform with detailed targeting options, be 100% assured of reaching your target audience.
Facebook Messenger is playing an important role in shaping the future of consumer communication. With over 1.73 billion daily active users (DAU), there is perhaps no better platform for your eCommerce business to find customers, connect with them, increase lead generation and skyrocket your sales.
Here's something you might be interested in: eCommerce Chatbots and how to Drive Sales and Customer Retention
---
Want to develop an Intelligent Virtual Assistant solution for your brand?