Definitive Guide to Messenger Chatbots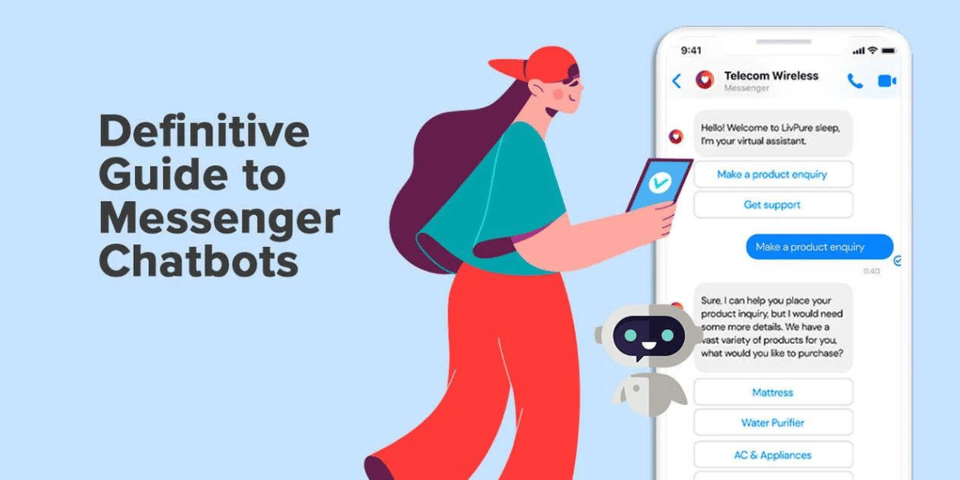 61% of consumers agree that messaging is the most convenient and easiest way to connect with brands, making it the most popular mode of communication. Whether enabling commerce or providing customer support, brands today rely heavily on messaging to deliver a delightful customer experience. 90% of executives agree social media will become a primary means of communication. Facebook messenger is one of the most popular messaging platforms globally, with over 1.3 billion active monthly users. It is a powerful platform for businesses to capitalize on Facebook's reach and utilize the rich media tools that the platform supports to unlock growth. A messenger chatbot can be an excellent tool for brands to automate and scale their efforts. That's why more than 300K messenger bots are live on the platform, and this is as per 2018 data; the number would be far more in 2023.
This blog will discuss how your brand can use a Messenger chatbot to leverage Facebook Messenger's full potential and much more!
Why should businesses use Facebook Messenger?
What is a Messenger chatbot?
Use Cases of a Messenger chatbot
Real-life examples of how brands use Facebook chatbots for marketing and customer service
Why Facebook Messenger?

Besides the platform's massive popularity, Facebook Messenger provides an exciting pack of features to help brands acquire, sell and build strong relationships.
Brands can simplify the customer acquisition process and make it more conversational by using UI elements like quick replies and message templates. Brands can present users with 13 options with the quick reply button. Whereas with message templates, businesses can make the conversation more interactive by using buttons, images, lists, etc., alongside text in a single message.


Image Source




The platform empowers brands to facilitate a seamless commerce experience for their customers on the platform they love by supporting rich tools like product catalog integrations, receipts and shipping updates, back-in-stock alerts, etc.

With their presence on Messenger, brands can make themselves available on the platform where their customers are already spending their maximum time. Customers can simply click on the messenger option available on a brand's Facebook page to start a one-on-one conversation and resolve their queries, increasing customer satisfaction.


Image Source


Messenger also offers easy integration with CRM platforms, chatbot tools, analytics services, etc.
Know 3 Ways Facebook Messenger Helps eCommerce Businesses
With around 20 billion messages exchanged between businesses and customers each month on Messenger, it isn't wrong to say that brands across industries can benefit from having a presence on Messenger. In the next section, we will deep-dive into how having a messenger bot can help brands improve their customer's messenger experience.
What is a Messenger chatbot?
A Facebook chatbot is an automated tool that leverages advanced Artificial Intelligence technologies such as Natural Language Understanding (NLU) and Machine Learning (ML) to facilitate swift and seamless interactions between brands and customers.
Let us look at how a Facebook chatbot can add value to each customer journey stage and help brands get results throughout the marketing funnel.
Use Cases of Messenger chatbot
Lead Generation:
A messenger chatbot enables brands to interact with the prospects conversationally; brands can inquire, understand and collect customer requirements and information by training the messenger chatbot to ask engaging and straightforward questions. This accumulated knowledge can help qualify prospects as leads and, when passed on to agents, help them have better customer interactions.

Brands can run sponsored ads in the prospect's chat tab, feed, or stories with a call-to-action to initiate a conversation with the messenger bot to generate leads and nurture them.

Brands can also share proactive messages with a helpful piece of information to warm the leads with the help of a messenger chatbot.

Conversational Commerce:
With the help of a Facebook messenger bot, brands can showcase their products in attractive ways by using carousel formats; they can add strong CTA buttons that nudge the customer to take the desired action. This way, brands can successfully drive traffic to their websites or apps, increase product demo sign-ups, etc.; By giving an option of buying directly, brands can also seamlessly turn conversations into sales within the Facebook Messenger.

With the help of a sophisticated AI-recommendation engine like Haptik's, brands can turn their Messenger bot into a sales agent equipped to provide customers with personalized recommendations and share tips to help them evaluate various options.

Brands can also send sponsored messages with highly targeted personalized promotions directly to people interested in their products or have purchased them in the past to create a strong brand recall and loyalty.

Know how to advertise on Facebook post iOS 14 update
Support:
90% of customers

rate an immediate response as essential when they have a marketing or sales question. The most significant advantage of having a messenger bot is that your brand is available 24/7 to help and guide customers without waiting for the service agents.




Messenger chatbots can quickly answer FAQs and routine requirements and route only the complex queries to the agents, which helps reduce the burden on the agents and lets them focus on the critical issues.



Brands can also send proactive messages like order updates, welcome onboard messages, etc., to inform and keep the customer updated with the messenger bot.

Businesses can increase response rates from customer feedback by using the conversational capabilities of the Messenger bots.

Brands can use Messenger chatbots for lead generation, engagement, customer support, in-store experience replication with personalized recommendations, selling, etc. Let us look at how leading brands across sectors have implemented Facebook chatbots to drive their business objectives.
Examples of Messenger chatbots
Citi Bot By Citi Bank
Citi Bank was a pioneer in adopting the chatbot technology and had launched its Messenger chatbot to its Singapore customers intending to enhance their overall banking experience. By interacting with the chatbot, customers can get answers to their everyday questions like account information, credit card bill summaries, rewards, points, etc. Looking at the success of its initiative, the bank planned to roll out this service across other parts of the globe with added features.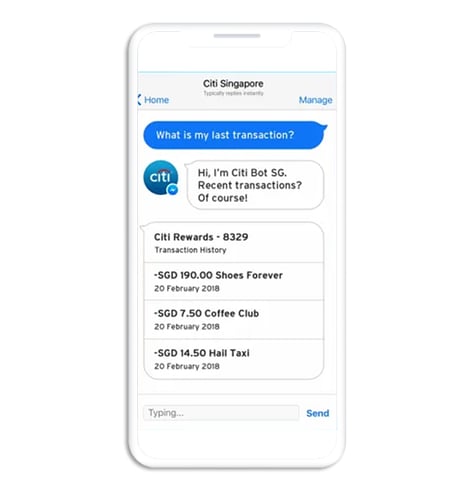 Image Source
StarHub's Support Messenger chatbot
StarHub is a leading homegrown Singapore company that delivers world-class communication, entertainment, and digital solutions. To provide prompt support and enhance CX, StarHub deployed an Intelligent Virtual Assistant to answer queries for their services across Digital TV, Cable, IPTV, Broadband Internet, Telephone, and Mobile. With the immense traction garnered by the Facebook bot, StarHub saw a 125% improvement in NPS.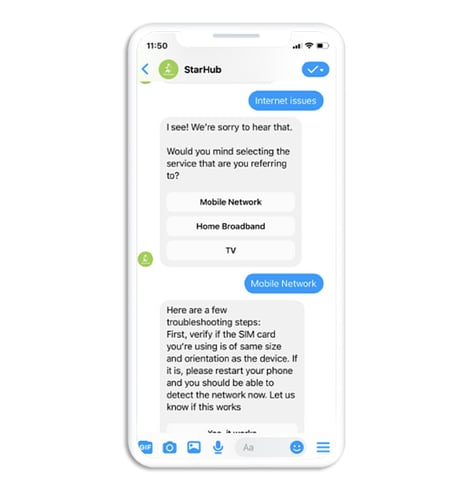 Know how StarHub powered omnichannel support with Haptik
All Things Hair by Unilever
All Things Hair PH Facebook messenger chatbot by Unilever aims to give its users a virtual personal hairstylist. The Facebook chatbot helps users with a hair care regime, tips, and product recommendations. The chatbot also has a makeover feature, where customers can upload their pictures and virtually try different hairstyles.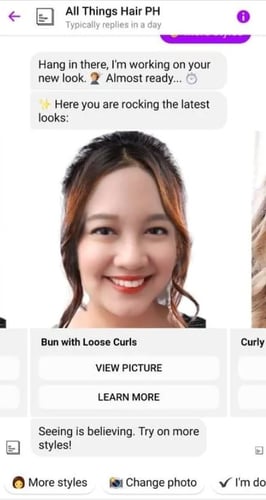 Livpure Facebook Virtual Assistant
Livpure is a well-known Indian MNC that partnered with Haptik to deploy an Intelligent Virtual Assistant for its successful venture Livpure Smart Homes. The brand wanted to be more interactive, convert prospects into leads to build a steady sales pipeline, and make 24/7 support accessible to its customers. The messenger chatbot proactively engaged with customers and lightened the burden on live agents by answering basic queries. The brand saw a 90% reduction in average response time.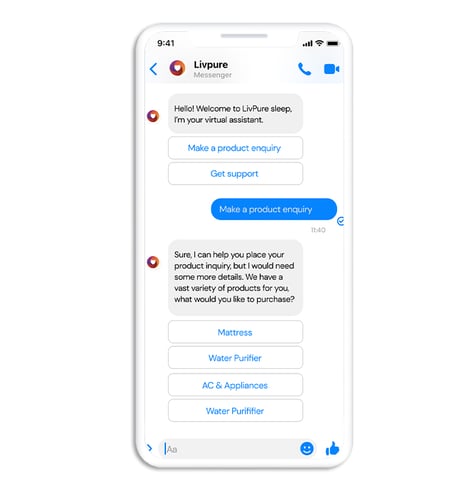 WHO Health Alert Facebook Messenger chatbot
To curb the misinformation regarding COVID, WHO launched its Facebook Messenger chatbot, offering instant and accurate information. The Messenger chatbot was available in English, French, Spanish, Arabic, etc., and reached 4.2 billion people.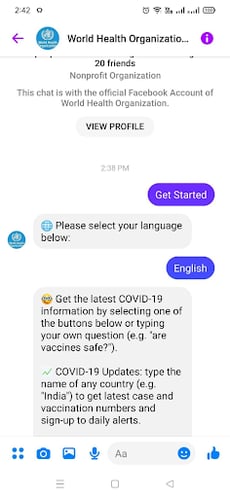 Image Source
Conclusion:
Whether choosing the right product, asking for flexible delivery, or applying for a warranty, consumers are looking to message businesses to seek information across the buying journey for a wide range of reasons. With 353 million downloads in 2021, Facebook Messenger should be on every brand's priority list to connect and engage customers. A messenger chatbot can help brands make the messaging experience quick, intimate, and smooth.
Haptik is the recipient of 15 G2 badges and is recognized by Gartner and Opus Research. Our experience handling over 4+ Billion interactions helps us stay ahead of the curve while delivering chatbot solutions and makes us one of the largest Conversational AI companies. With Haptik's chatbot builder and advanced NLU abilities leading brands have deployed AI-powered Facebook chatbots effortlessly and maximized their ROI.
---
Are you interested in exploring more about Messenger bots or want a Facebook chatbot for your business?