Why your eCommerce brand needs a WhatsApp eCommerce Chatbot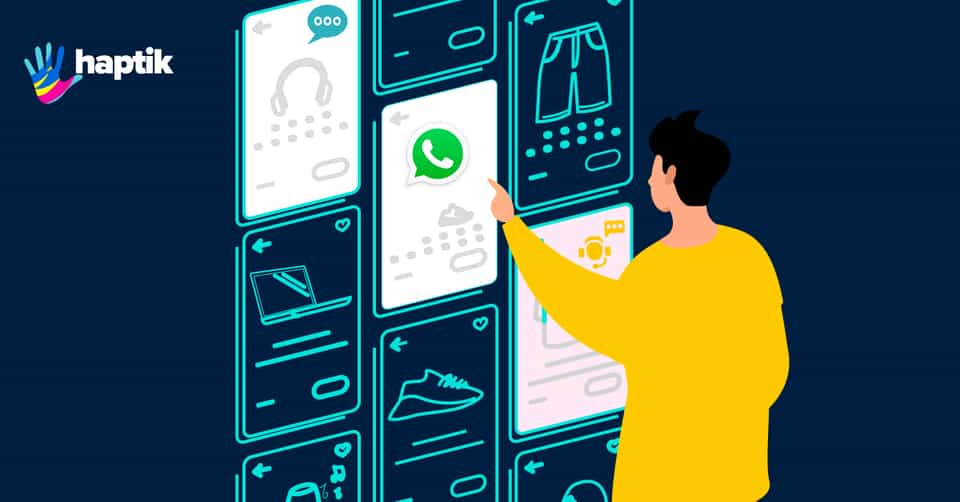 If there's one industry that can fully unleash the power of WhatsApp chatbot, that's eCommerce! WhatsApp has been a channel that's being leveraged by brands across different industries as a commerce, support, engagement tool.

Download Report: How is WhatsApp Shaping Commerce?

Now, when these two giant forces come together, the advantages for the customers are enormous.

Let's understand how an eCommerce chatbot on WhatsApp can deliver exceptional CX:


Customer Support:
Let's start with Customer Support. Providing customer support on WhatsApp has never been easier, cheaper, and convenient for your eCommerce business. A recent research study pointed out that 70% of customers will choose to message rather than call.

Refunds and Cancellations are extremely critical for an eCommerce company and WhatsApp makes this process swift and frictionless. WhatsApp allows your brand to have a 1-1 conversation with customers to resolve any queries that they're facing regarding their purchase.
Notifications:
Keeping customers updated about their orders boosts satisfaction levels. Especially, if they receive product updates on their most preferred channel of communication! WhatsApp notifications allow your brand to create higher engagement with your customers. With outbound notifications, you can share order and payment details, appointment reminders, purchase confirmations, or urgent alerts.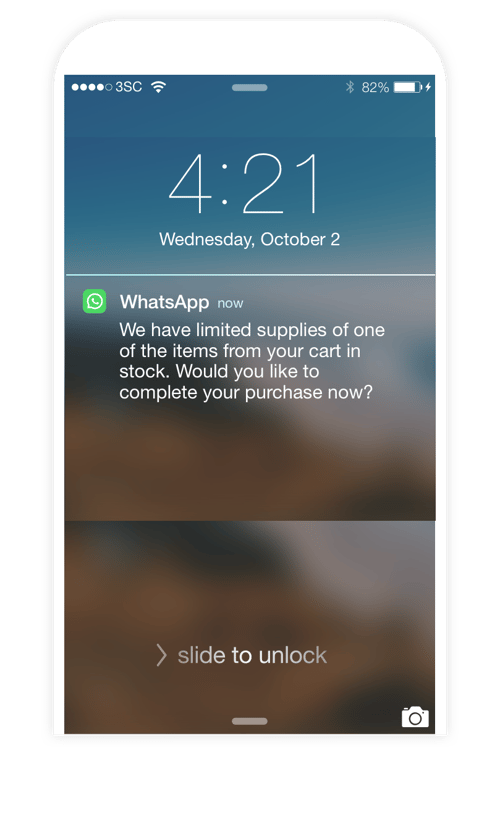 Payments:
WhatsApp Business API helps your eCommerce brand receive payments on WhatsApp in a seamless manner. You can send payment links to your customers via WhatsApp. They can choose to pay via their preferred mode: credit/ debit cards, net banking, UPI, etc. The transaction process has never been simpler!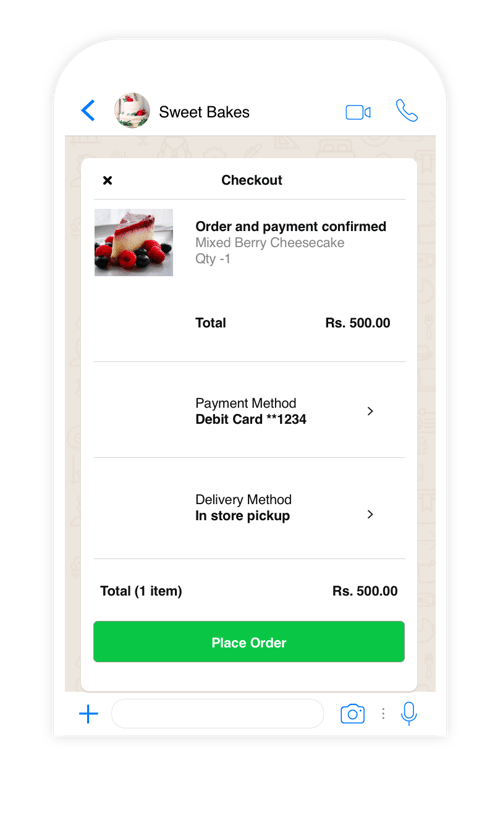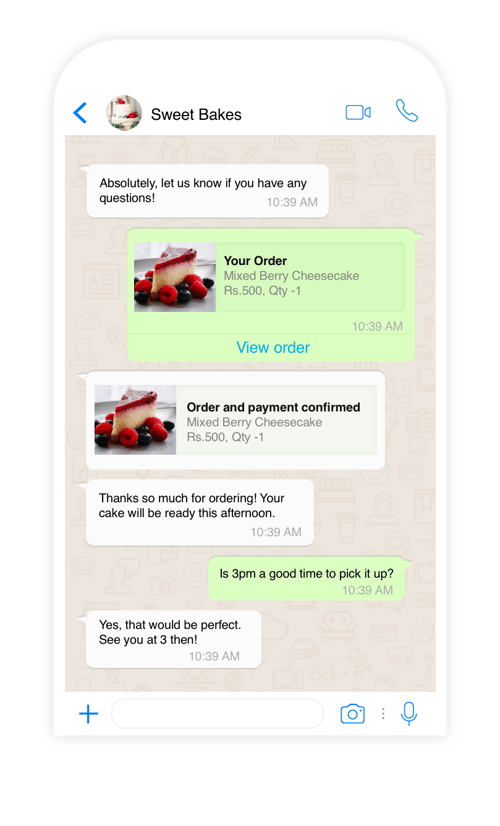 READ MORE: How Conversational AI Can Help eCommerce Brands Prevent Cart Abandonment
Personalized Experience:
With a WhatsApp Chatbot, you can provide a hyper-personalized shopping experience to your customers. Different customers shop differently. AI-powered chatbots can recommend products that meet the unique needs of your customers.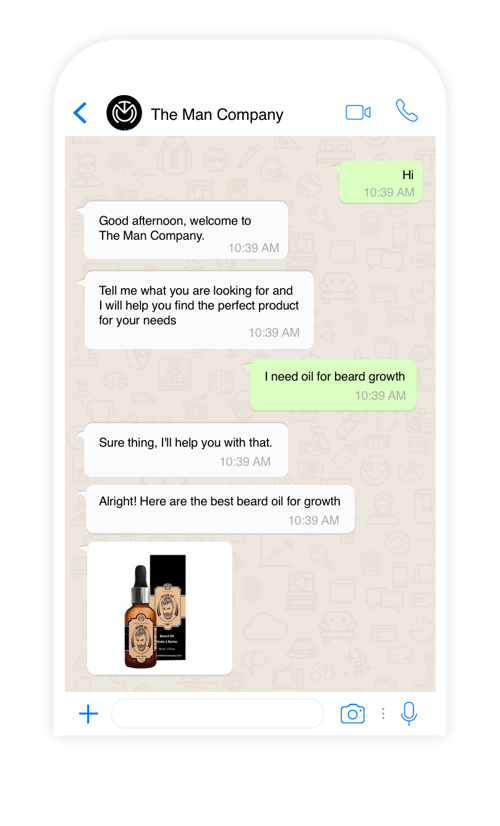 Facebook Ads:
This is a major growth hack! You can configure your Facebook ads so that prospects are redirected to your WhatsApp number. Just add a "Send Message" button to your Facebook or Instagram ads that will open a conversation thread in the WhatsApp Business App. This allows customers to connect with your business on WhatsApp after clicking the button on your ad.
FAQs:
It is crucial for any business to address any questions that customers have regarding the product. Whether it's pre-purchase, during the purchase journey, or post-sales support, you can automate all these queries with the help of a WhatsApp eCommerce chatbot.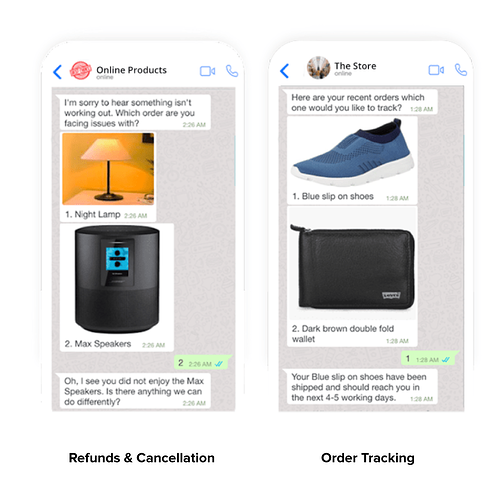 Carts:
This feature will allow customers to order multiple items at one go. With Carts, people can browse a catalog, select multiple products and send the order as one message to the business. This will make it simpler for businesses to keep track of order inquiries, manage requests from customers, and close sales.


Abandoned Carts:

A strong brand, a wide range of products, and attractive prices can bring customers to an eCommerce website or app, but great CX is what will stop them from leaving without completing their shopping journey with a purchase. With an eCommerce WhatsApp Chatbot, your business can send reminders, offer incentives to create a sense of urgency, and answer questions that your customers might have.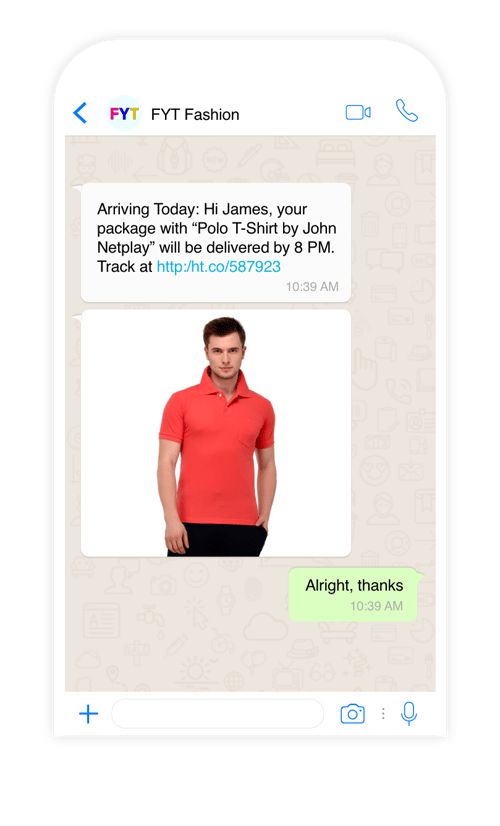 To Sum Up:
As discussed above, there are numerous benefits that WhatsApp can add to your eCommerce business. Right from product discovery to post-purchase customer support, WhatsApp can do it all for you!
At Haptik, we've had the experience of working with some of the largest eCommerce companies to help them unleash the true potential of WhatsApp. We've helped them reduce support costs and boost their revenue, CSAT, and NPS.

Get in touch if you're looking for a WhatsApp chatbot that can provide significant value to your eCommerce business!
READ MORE: 5 Reasons eCommerce Brands Have Made Chat Their Primary Customer Service Medium
---
Want to develop an Intelligent Virtual Assistant solution for your eCommerce brand?