Chatbot Marketing: How to use chatbots for marketing in 2023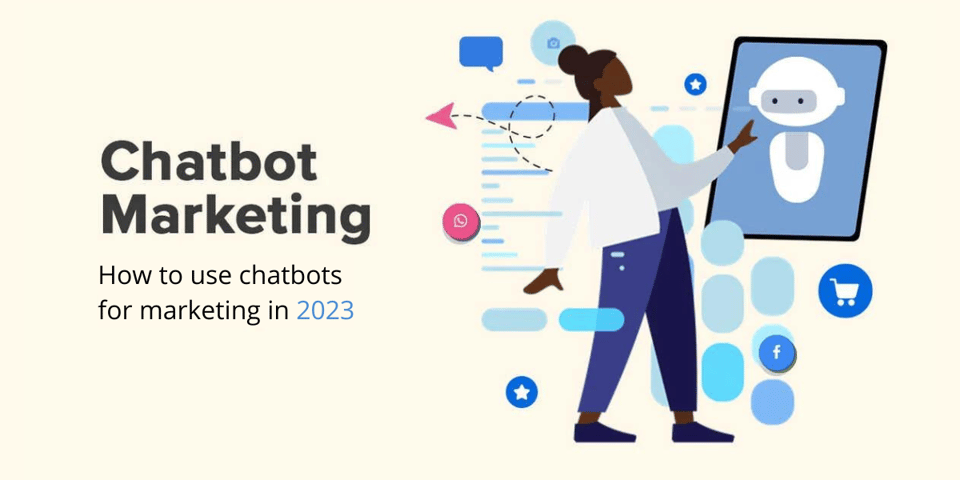 We live in the era of conversational marketing, where brands need to engage, support, and provide personalized experiences in real-time to keep the customers happy and satisfied. And that's the reason chatbots have become a crucial part of every brand's digital strategy. It is one of the fastest-growing brand communication channels. Today businesses use chatbots to add value to each stage of the customer's journey and also nudge them to get results throughout the marketing funnel.
This blog will discuss everything around chatbot marketing and how your brand can unlock growth by devising a chatbot marketing strategy.
What is chatbot marketing?
Let's start by understanding the basics of what a chatbot is. A chatbot is a sophisticated, interactive, conversational AI solution to facilitate swift and seamless interactions between brands and customers on digital avenues like websites, messaging apps, etc. Due to advancements in Natural Language Understanding (NLU) & Machine Learning (ML), chatbots have evolved considerably over the last few decades in scope, complexity, and capabilities.
A chatbot can perform simple functions like answering queries or doing advanced operations like sentiment analysis. It all depends on the objective that the brand is looking to achieve. When a business deploys a chatbot to promote its products & services and generate sales, it is called chatbot marketing.
Where can brands use chatbot marketing: Practically on any digital platform owned or operated by the business. Chatbots can be made available on website landing pages, mobile apps, messaging platforms, social media platforms, internal portals. etc. The selection of the right channel depends can depend on various parameters such as:
Target audience and their demographic and psychographic segmentation
Nature of the business
Type of content
Read our playbook on conversational advertising
Chatbot marketing use cases
Automating lead generation and qualification
A brand can automate the

lead generation

and qualification process with the help of a chatbot. A chatbot can interact with potential customers conversationally to understand and gauge their requirements. It can also collect preliminary details in the process and qualify the leads.
When passed to agents, this information can help them prepare better, leading to higher chances of conversion.
Brands can run sponsored ads across social media platforms with a call-to-action to initiate a conversation on the channel itself or drive them to their website.

See how Cars24 is driving 33% of sales via WhatsApp with Haptik
Delivering personalized shopping experiences
Businesses can train chatbots to collect prospects' requirements and help them find what they're looking for within minutes, making the product discovery frictionless.
When powered with an

AI-recommendation engine

like Haptik's, the chatbot can provide expert-like guidance to nudge visitors ahead in the buyer's journey. It can understand the intent behind the purchase, provide relevant buying suggestions, and suggest the right add-ons at the right time, increasing the average cart value and improving conversion rates.
Sometimes customers are close to purchasing but fail to do so and are about to leave; at that exact moment, a chatbot can engage with the customer with a special discount offer, product recommendations, etc., and encourage them to continue shopping, reducing the bounce rate significantly.
Chatbots are present 24/7 to support and answer customers' queries, relieving them from the hassle of reaching out to a sales representative. This enhances the overall purchase experience and thus drives loyalty and repeat purchases.

Know how TataCliq increased add-to-carts with Haptik's AI- shopping assistant
Amplify engagement
Brands can promote their newest product offerings by training chatbots to talk about its features and benefits.
Customers follow brands on social media; 90% of Instagram users follow a business. With the help of a chatbot, brands can keep an active presence on these platforms and participate in conversations.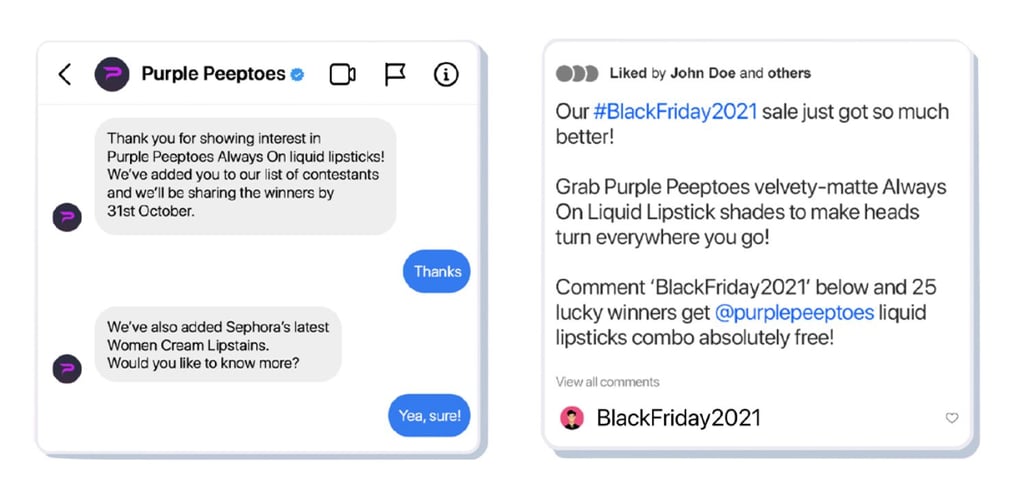 Re-engagement
Almost

69.57%

of online shopping carts get abandoned, a significant pain point for businesses. A chatbot can be a highly effective tool in re-engaging customers who have dropped off during the purchase journey. When a customer drops off from a conversation and later begins a new conversation with the business, chatbots can retain context, recover their cart, and remind them of items they'd selected earlier.
Chatbots can retarget customers by sending messages at different sales funnel stages:



Brands can send an abandoned card message to customers to nudge them to complete the transaction by sending them a picture or a video of the abandoned item with a link that directs them directly to the order completion page.
Brands can also send the product back-in-stock reminders, product recommendation messages based on the customer's recent purchase, new product messages, discount offers, and feedback forms to reconnect with customers who have not shopped with them in a while.


Learn how to drive growth with WhatsApp promotional messages in 2023
Chatbot marketing on social platforms
74% of the customer base globally say they get shopping ideas from Facebook, Instagram, Messenger, or WhatsApp, and 66% agree that social media is a vital source for product purchase decisions. Social platforms definitely should be part of every brand's chatbot marketing strategy.
Facebook Messenger:
More than 40 million companies globally are active on Messenger. One of the simplest ways to leverage Messenger is by running sponsored ads, where the prospect can start a direct conversation with the brand's Messenger bots.
Instagram:
More than 83% of users discover products and services on Instagram directly. Brands can deploy Instagram chatbots to connect personally through Feed, Stories, Mentions, and DM's.
WhatsApp:
The sheer scale, low friction of user adoption, and several interactive UI elements & features make WhatsApp the most attractive platform for brands. With the help of the WhatsApp chatbot, brands can facilitate end-to-end commerce for their customers at scale.
Brands need to find ways to meet consumers' expectations of quick, convenient, and personalized communication. Chatbot marketing can empower businesses to achieve this at scale by engaging throughout the purchase journey: from acquisition to conversion to re-engagement. Chatbot marketing can be a growth engine for brands to improve customer experience, clock higher sales numbers, and boosts satisfaction.
---
Are you interested in leveraging the full potential of chatbot marketing?