5 Growth Strategies for CPG Brands to Thrive Amid Economic Downturn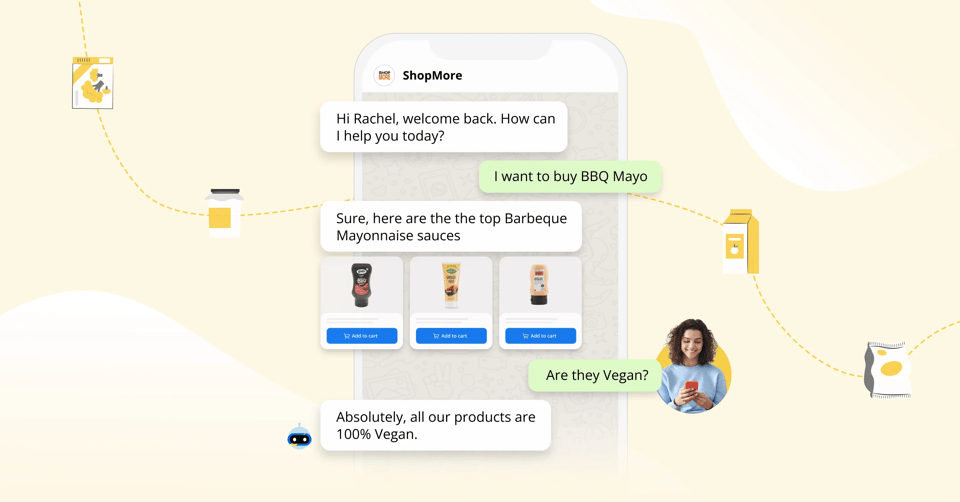 Over the past few years, there have been significant changes in the shopping habits of consumers and the operations of Consumer Packaged Goods (CPG) brands. With two-thirds of the global economy on the brink of recession and inflation at an all-time high, brands are struggling to grow their sales. The CPG industry specifically has become more competitive than ever, with new brands and products emerging every day. At the same time, consumers have a plethora of choices, but their attention is scattered, and disposable income is decreasing.
Under such market conditions, customers will only make purchasing decisions if they are completely convinced about the product, customer experience, and purchasing convenience. This blog presents 5 strategies that CPG brands should implement to establish a competitive edge and continually increase their sales.
Let's take a closer look at these strategies and explore how they can address the diverse challenges currently confronted by CPG brands.
1. Investing in High Engagement Channels
Marketplaces are great for promoting brand awareness, but they also make it easy for your audience to find competing products with just one click, making it harder for your marketing efforts to translate into sales. Furthermore, brands risk reducing their profit margins by paying high commissions to these marketplaces for their sales.
Now more than ever it's important for brands to invest in high-engagement channels. More and more businesses are turning to popular messaging channels to sell products and services.
Studies indicate that 74% of consumers, mainly millennials, utilize Facebook, while 64% use Instagram, to research CPG products before making purchases. By introducing eCommerce chatbots on messaging platforms like WhatsApp, Instagram, Facebook, and Google Business Messages, CPG brands can offer convenience to customers and improve direct sales.
Furthermore, businesses are not charged a percentage of their sales for utilizing these channels. Instead, the costs are based on the number of messages sent. Speaking of costs, let's explore how brands can optimize their marketing budgets for profitable growth.
2. Improving Marketing Spend Efficiency for Direct Conversion
According to research, CPG brands allocate around 24% of their budget to advertising, making it the industry with the highest percentage of ad spending in the US. Nevertheless, it is challenging to differentiate oneself from the competition as the average American is exposed to between 4,000 to 10,000 ads every day. As a result, consumers have developed a screening mechanism for advertising and tend to ignore brand messages unless they are personalized or interesting enough.
Although it is undeniable that CPG brands must continue to advertise, the format and amount of ad spending can be significantly optimized to determine the most effective and profitable channels for selling specific SKUs and pack sizes.
CPG Brands are now using conversational marketing ads to lead users from their social media feeds to WhatsApp and Instagram and engage in more one-on-one conversations.


Interactive Click-to-Message Ads are featured on platforms such as Facebook, Instagram, and Google, and permit users to engage with a chatbot capable of responding to immediate inquiries. Due to their unique format and opportunity to "speak" directly with the seller, conversational ads capture users' interest and create an experience that ultimately improves Return On Ad Spend (ROAS).

At Haptik, we also provide detailed Conversational Ad analytics which helps marketers:
Identify the traffic source from various conversational ad campaigns

Segment your customers and campaign traffic as per the conversations they have

Send the right APIs/events for Meta and Google to optimize their algorithms and improve retargeting



To learn more about Conversational Ads and Click-to-Haptik, schedule a demo with our experts.
3. Fostering Brand Loyalty to Stay on Top of Your Customers' Minds
Building brand loyalty is an uphill battle for many CPG brands. The key is to create engagement and stay top of mind. By leveraging the power of conversational channels like WhatsApp, you can connect with your customers on a deeper level, keeping them engaged and invested in your brand. Here are a few strategies to consider:

Send out personalized offers and discounts

Utilize a powerful loyalty program to reward customers for their regular purchases

Create an exclusive loyalty club for loyal customers

Create a referral program to reward existing customers for referring new ones

Send out notifications about new products and services

Offer personalized customer service over WhatsApp to ensure customer satisfaction

Utilize AI-powered bots to automate the process of engaging with customers, including offering discounts and reward
4. Improving Product Discovery & Recommendations Through Experiential Selling
Gaining knowledge about consumer behavior is crucial for CPG sales. Understanding factors such as customers' purchasing history, buying habits, and frequency of purchases can greatly improve sales at every step of the customer journey.
Leading CPG brands P&G, Unilever, Nivea, Lakme and others use Haptik's Conversational Commerce bots to provide experiential selling to their customers based on their consumer behavior. This allows them to:
Send proactive messages to customers at the right time in their journey
Contextually recommend products based on customers' preferences like color, budget, product specifications and others
Answer any product-related FAQs instantly
Allow them to compare products and read customer reviews
Complete the checkout process and make payments within chat, reducing drop-offs
Watch the JioMart WhatsApp Commerce experience in action below 👇
With this, the brand clocks more than 200k orders per month with a 68% repeat purchase rate.
5. Leveraging Consumer Insights to Make Business Decisions
A steady flow of timely CPG consumer insights is pivotal to Consumer Goods companies discovering and acting on opportunities for growth before their competitors do.
"Knowing what a company knows" about their customers can help in quick and winning business decisions. However, extracting such insights from just sales metrics can lead to biased, delayed and retrospective decisions.
For example, you see the sales for a particular product rising and decide to roll out an offer. However, this could be a seasonal spike, and to maintain that demand in the next season, you also need to provide offers on other products that customers have started inquiring about.
This is where insights from real customer conversations can really help CPG brands. Information like which products are in rising demand, what product-related questions they ask, what specifications they need, when and why customers drop off and others can help improve the entire experience and sales funnel.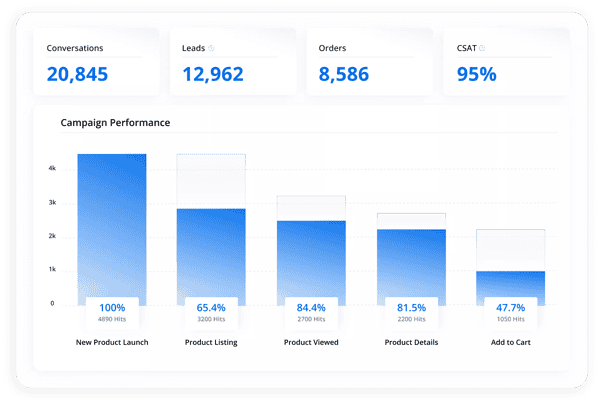 Conclusion
CPG brands have the tough balancing act of planning and designing strategies for demand while being cognizant of the largely unfavorable market conditions. However, the situation is not entirely bleak and a combination of the five strategies discussed here is essential for CPG brands to grow their sales and profitability as they tackle ever-changing consumer behaviour and an uncertain economic climate.

Learn how Haptik's retail chatbot helps generate leads, boost conversions and revenue, and offer instant customer support that drives brand advocacy.