Best WhatsApp Chatbots in APAC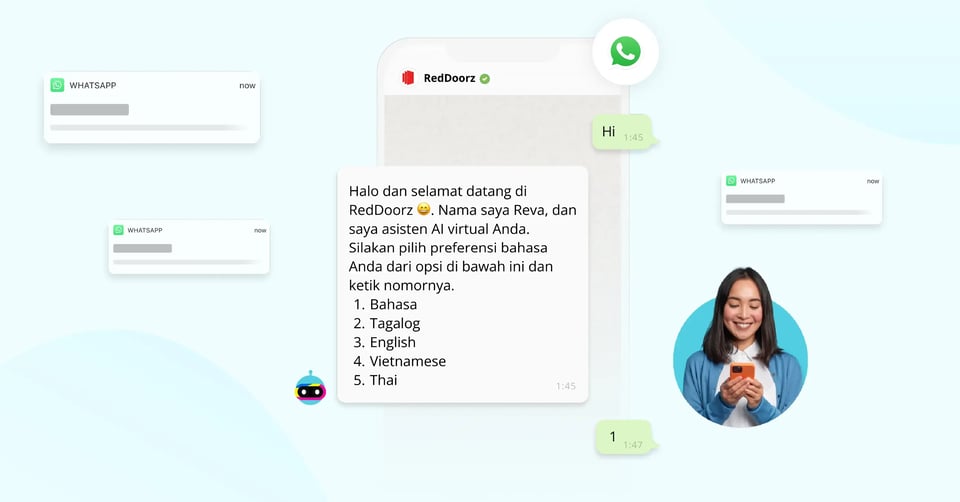 Welcome to the world of WhatsApp chatbots in the APAC region, where messaging channels reign supreme and technological advancements are transforming customer interactions. With skyrocketing smartphone penetration, businesses are harnessing the power of chatbots to revolutionize customer engagement. According to the 2023 Asia Chatbot Trend Report, the majority of respondents identify quick answers as the most significant advantage of chatbots. The participating countries include India, Singapore, Japan, and Korea.

Industries such as financial services, transport, travel, healthcare, education, retail, and human resources are leading the charge in adopting WhatsApp Chatbots, recognizing their potential to enhance customer experiences and boost operational efficiency. IDC's Asia/Pacific Enterprise Cognitive/AI Survey reveals that 14% of businesses in SEA have already implemented conversational AI strategies, with an additional 37% planning to launch AI-related projects within the next five years.

Discover successful WhatsApp chatbots in APAC and their impact on business objectives in this blog and uncover their winning strategies.
9 Best WhatsApp Chatbots in APAC

#1 StarHub
#2 Bosch
#3 RedDoorz
#4 Blibli
#5 Tokopedia
#6 Pizza Hut
#7 POS Malaysia
#8 Vantage
#9 MedShop
WhatsApp Chatbots in Singapore
#1 StarHub

StarHub, the leading Singaporean telecom company, revolutionized customer support with the introduction of a game-changing WhatsApp Chatbot powered by Haptik. This advanced AI assistant catered to diverse customer queries across multiple services, boasting an impressive repertoire of over 3000 unique intents and 50 pre-built journeys.

The results were astounding. In less than 8 months, StarHub's Net Promoter Score (NPS) skyrocketed from -40 to +10, a testament to the remarkable surge in customer satisfaction. The AI assistant ensured a smooth handoff while slashing response times for routine inquiries by seamlessly bridging the gap between the chatbot and live agents. The two important use cases that led to these improvements were customer care and lead generation.

By automating routine queries, resolving issues swiftly, and boosting agent productivity, StarHub's WhatsApp Chatbot transformed its customer experience, delivering personalized, efficient, and delightful interactions. Prepare to experience a new era of exceptional support with StarHub's cutting-edge AI assistant.
#2 Bosch
Bosch Assist via WhatsApp is revolutionizing workplace interactions. With this ingenious digital assistant, Bosch has made engaging with their Singapore office effortless. Employees, facilities management operators, and visitors can now have real-time "conversations" with the building's features, all through WhatsApp.
Whether reporting issues, receiving announcements, checking gym availability, or getting canteen menu details, Bosch Assist delivers information and insights instantly. The company has employed various channels, from emails to elevator flyers, to promote Bosch Assist.
Its success has prompted plans for expansion across Singapore and Southeast Asia, catering to clients and vendors alike. Experience the convenience and efficiency of Bosch Assist via WhatsApp, as it reshapes the way we interact with our workplace, blending cutting-edge technology with everyday ease.
WhatsApp Chatbots in Indonesia
#3 RedDoorz
RedDoorz, the hospitality giant in Southeast Asia, has upped its customer experience game with an intelligent AI assistant by Haptik. With this powerful conversational AI chatbot, RedDoorz ensures a seamless customer journey across WhatsApp, Facebook, their website, and mobile apps.
Say goodbye to language barriers, as the chatbot effortlessly converses in Bahasa and Tagalog, catering to the region's diverse linguistic needs. Haptik's chatbot outshines its predecessor, Kata.ai, delivering personalized assistance and uninterrupted support. Guests now enjoy a tailored booking experience, real-time assistance, and a delightful stay, all through their preferred communication channels.
RedDoorz's digital transformation has solidified its position as a hospitality leader, providing affordable and dependable accommodations while prioritizing continuous improvement and customer satisfaction.
#4 Blibli
BliBli, the Indonesian omnichannel commerce ecosystem, has recognized the changing preferences of millennials and adapted to meet their needs. With the decline in app downloads and the shift towards social media as a primary source of information, BliBli has leveraged WhatsApp as a powerful channel for customer engagement.
Their WhatsApp chatbot offers a one-stop solution for networking, news consumption, and shopping. By providing a seamless experience within the familiar environment of WhatsApp, BliBli ensures that millennials can easily access and interact with their platform.
With this innovative approach, BliBli continues to evolve and deliver exceptional value to Indonesian customers.
#5 Tokopedia
Tokopedia's WhatsApp Chatbot is revolutionizing the customer service experience by leveraging the power of AI. Developed using the Rasa chatbot framework, it utilizes machine learning and natural language processing to engage customers and provide personalized assistance.
From answering routine queries to suggesting relevant products, the chatbot enhances user engagement and boosts customer satisfaction. With an impressive completion rate of 55% for Tokopedia's inquiries and over 65% monthly user engagement, the WhatsApp Chatbot has become an invaluable tool for delivering efficient and personalized customer support.
Tokopedia continues to raise the bar in customer service innovation with its cutting-edge chatbot technology.
WhatsApp Chatbots in Malaysia
#6 Pizza Hut
Pizza Hut Malaysia is revolutionizing online ordering with its cutting-edge WhatsApp chatbot. By tapping into the popularity of messaging apps, Pizza Hut has made it incredibly easy for customers to order food and track their orders in real time. With data analytics integration, they gain valuable insights into customer preferences and behaviors, while in-app payment processing ensures a seamless transaction process.
The results speak for themselves, with over 15% of customers shifting to WhatsApp ordering and the numbers growing rapidly each quarter. Thousands of orders are effortlessly processed every day, providing a frictionless experience for both Pizza Hut and its customers.
As a leader in messenger advertising, Pizza Hut's WhatsApp chatbot is transforming the way people interact with the brand. Get ready to indulge in your favorite pizza with just a few taps and experience the convenience and satisfaction that Pizza Hut's WhatsApp chatbot brings.
#7 POS Malaysia
POS Malaysia Berhad, the nation's postal service provider, sought to enhance its customer experience by replacing its existing chatbot with Haptik's advanced solution. Their previous chatbot fell short in intent detection and handling transactional use cases like order tracking, requiring third-party integrations.
POS Malaysia desired a partner who could offer industry-best practices in bot building and provide consultative support for an improved customer experience. With Haptik's expertise, POS Malaysia expanded its capabilities across multiple channels, including WhatsApp, Facebook Messenger, website, Android, and iOS, catering to their customers' preferences.
WhatsApp Chatbots in Australia
#8 Vantage
In their quest for a robust Conversational AI platform, Vantage, a global multi-asset broker, turned to Haptik to enhance their customer support experience. With a focus on account information, onboarding processes, and more, Vantage required seamless integration with its existing Zendesk ecosystem.
Haptik delivered by seamlessly integrating with Zendesk, enabling agent-level escalation while retaining conversation context. With support for multiple languages and channels such as WhatsApp, Facebook Messenger, and the website, Vantage achieved an elevated level of customer service and satisfaction.
Haptik's partnership with Vantage exemplifies its expertise in providing cutting-edge AI solutions for the financial services industry.
#9 Medshop
Medshop, a leading provider of medical supplies, has transformed the way consumers access essential products through their innovative eCommerce platforms. To enhance their customer support capabilities, Medshop sought an advanced Conversational AI platform, as their existing chatbot fell short.
Haptik emerged as the ideal solution, with its Intelligent Analytics Tool enabling Medshop to continuously improve their bot performance. With support for multiple languages and integration with Freshworks, Medshop now leverages WhatsApp, Facebook Messenger, and its website to deliver exceptional customer experiences.
Medshop successfully optimized its customer support using cutting-edge technology and advanced analytics.
Conclusion
In today's digital landscape, brands cannot afford to overlook the power of WhatsApp chatbots in South East Asia. As customer preferences shift towards messaging platforms, implementing WhatsApp chatbot solutions becomes crucial for enhancing customer engagement and driving operational efficiency.
To stay ahead in this evolving landscape, businesses need a trusted partner like Haptik. With their expertise in conversational AI and extensive experience in developing successful WhatsApp chatbot solutions, Haptik can help brands unlock the full potential of WhatsApp chatbots. By leveraging Haptik's advanced technology and strategic guidance, enterprises can optimize customer interactions, streamline processes, and gain a competitive edge.
Partner with Haptik and embark on a journey towards delivering exceptional customer experiences and achieving business success in the digital era.
Accelerate Conversions, Grow Sales: Tap into WhatsApp Commerce with Haptik