Chatbots in Education: Decoding the Future of EdTech
According to a report released by transaction advisory firm RBSA Advisors, the Indian ed-tech industry's market size is set to reach $30 billion in 10 years. The country has become the second-largest market for E-learning after the US.
India is also home to some of the most prestigious institutes in the world. The IITs and the IIMs have a track record of producing global leaders. The country also has some of the largest ed-tech startups in the world.

The usage of technology in the education sector was only limited to classrooms. Some argue that technology cannot replace the in-class experience but the past year has proved otherwise.


The education sector has witnessed tremendous growth in the past year. Right from pre-primary schools to Ivy League colleges, all of them have undergone major technological developments in their operations. As the world went digital, the educational sector was the fastest one to adapt to these changes. This has spearheaded the digital transformation journey of many universities and other educational institutes.


As the education sector prepares itself to go digital, one component that remains common across the sector is Conversational AI.


In this blog, we will learn how Conversational AI can help educational institutes and ed-tech players deliver an unparalleled experience to students, teachers as well as administrators.


Let's jump right in!

How are chatbots helping the education sector?
Enhanced Learning Experience:

Conversational AI or a chatbot is a great tool for teachers to enhance the learning experience for their students. The capabilities of a sophisticated chatbot solution can help the students grasp information and knowledge in a way that's faster, more efficient, and engaging. An educational chatbot can prepare students with revising important concepts before exams, conduct quizzes around topics or help solve general doubts. The secret of building a successful educational chatbot is empathetic conversation design. The chatbots can be trained in a manner that facilitates students to build a connection similar to a student-teacher relationship.




Superior Student Support:

This is one of the most powerful use-cases of an educational chatbot. Students have questions, and they have lots of them! Educational institutes welcome students from all across the world - which means your support staff needs to be equipped with different languages. Hiring staff that regularly answers all their questions is expensive and not scalable. A chatbot can answer all the FAQs, be available 24*7 and have multilingual capabilities. This chatbot can be trained to resolve the broad spectrum that students have - right from the admission to the convocation ceremony. It can serve as a one-stop-shop for all answers related to them.






Providing Teaching Aid: An educational chatbot is not just restricted to students. The developments in AI and ML have helped Conversational AI companies to innovate at a massive scale. This allows educational institutes to build a chatbot that helps teachers to create innovative teaching methods that go beyond traditional classroom teaching. Professors can create unique solutions that help students prepare for their exams, submit assignments and revise concepts discussed in the class. Chatbots can also help educational institutes to bridge the gap between them and teachers. A chatbot can be deployed on institutes' internal portal that provides all necessary information to teachers. Teachers can also share learning materials with students in the form of PDFs and PPTs.
How can a chatbot aid the administrator?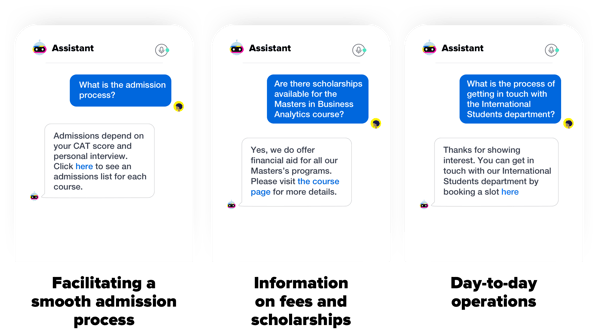 Let's look at some common use-cases of an education chatbot:
Alerts & Reminders: Students are buried with assignments, lectures, self-study, and on-campus internships. An education chatbot can help students with daily reminders and alerts. These range from reminders on assignment submission date, exam dates, renewal of gym, and library memberships. This is where the omnichannel capabilities of the chatbot help. Not every student will check their email every day. A chatbot deployed on their favorite messaging channel solves this problem.
Exceptional Student Engagement: Well, there's more to an educational institute than just academics. Students have to network with their peers, organize different events, participate in inter-collegiate competitions, join different clubs, and much more. These are the experiences that students cherish forever. A chatbot helps your university to engage with students on a personal level. Not only do students excel academically but develop a holistic experience that shapes their personality. Deploying a chatbot that assists students in extra-curricular activities will help them focus on highly critical tasks and not worry about operational inefficiencies.

Read Blog: How to Engage and Serve Customers with WhatsApp Chatbot
Assisting with Private Tutoring: You will agree that every student has a different learning style and pace. Different students have different strengths and weaknesses. A chatbot that can help you with creating hyper-personalized learning methods as per the required needs of the student will skyrocket his performance. More than the results, students will have fun and be actively interested in engaging in learning techniques that suit their strengths. Students can avail private tutoring from teachers by booking appointments and clearing doubts. This also helps students who have missed important lectures due to unforeseen scenarios. A well-trained and regularly updated chatbot can accommodate the missed lectures.
Offer a Virtual Campus Tour: Picking a college is of course, not just about majors or eligibility for a program. The beauty and aesthetic appeal of college campuses is certainly a factor, as are the infrastructure and facilities available.
For this reason, many students visit campuses for a tour while selecting colleges. Unfortunately, such physical campus tours may not be possible soon due to COVID-19. But even under normal circumstances, there may be students (particularly international students) who will find it difficult to make the trip.
With an AI Assistant, you can offer a virtual campus tour to interested students. Through photos and videos, a student can explore the campus and get a feel for the place, and learn about its amenities and attractions. The assistant serves as a virtual 'campus tour guide', answering students' questions about the campus and its facilities, interesting facts and trivia, and more.

It may not be quite the same as actually being there, but it's certainly the next best thing you can offer your prospective students!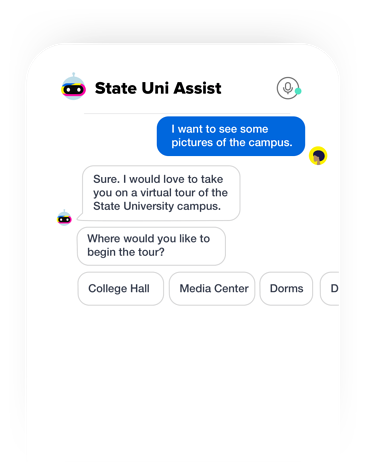 Lead Generation: Some many students and parents visit your website to know more about your institute. Helping them with providing the correct information at the right time will help you convert leads faster. Creating a FAQs bot is the best way to answer all questions and doubts that a prospective student might have about your institute. When students visit your website, they want to know everything about your university - right from the admission process, fees, financial aid, placement reports, etc. A chatbot can help the visitors navigate through your website, helping them get the required information faster. By looking at the chat, you can also judge the quality of leads and create marketing campaigns accordingly.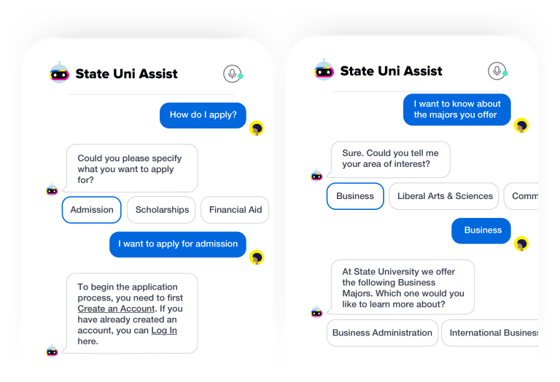 Case Study: How Embibe is Preparing Students for Success with Haptik IVA
Key Takeaways:
The above-mentioned points highlight the importance of Conversational AI in the Education sector. As more educational institutes are forced to embrace "online classes", the growth in the adoption of education chatbots will be rapid. Not only "online classes" but also "online coaching classes" have gained significant traction. As students and parents realize the advantages of online studies, there's no turning back for the EdTech industry.

At Haptik, we've had the experience of working with some of the biggest EdTech companies in India and other players in the education sector. Get in touch with us if you'd like to deploy an IVA for your institute.
---
Want to develop an Intelligent Virtual Assistant solution for your brand?