WhatsApp Enterprise: The Do's and Don'ts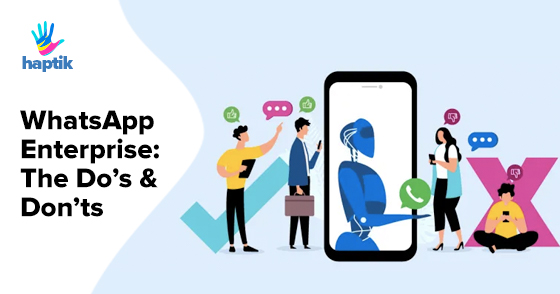 This is PART FIVE of our series on WhatsApp Commerce. Read PART ONE, PART TWO, PART THREE and PART FOUR

The WhatsApp Enterprise API is undoubtedly a boon for brands. The chance to potentially reach out to over 2 billion users of the world's largest messaging platform opens up tremendous opportunities for businesses across verticals – who now have the ability to engage customers on a seamless conversational interface, market and sell their products/services, and offer swift post-sales support.

But to truly benefit from the immense potential of WhatsApp as an engagement and commerce platform, it is crucial for your business to use it the right way, in order to ensure a great experience for your customers.

Here are some of the do's and don'ts of using WhatsApp Enterprise.
DO's
Follow these best practises to get the most out of WhatsApp for your brand.
Do start small and simple



Once you have your WhatsApp Business Account in place, it's tempting to get carried away and start implementing a bunch of use cases on the app. A far wiser approach would be to start small, either offering 1-2 products for sale over WhatsApp, or tackling 1-2 use cases.

Select the product categories or use cases on which you typically see the most engagement from customers, and start with those. Use them as a 'testing ground' to get your conversational flows, sales/support processes and customer experience right. Once you've 'cracked' those, extend WhatsApp to other use cases and categories.

When you adopt a new channel, it's important to get it right before scaling up. WhatsApp is definitely no exception to that rule!
Do promote your WhatsApp number extensively



To acquire new customers on WhatsApp, and to get existing customers to start interacting with you on the channel, it is crucial for you to maximize the visibility of your brand's official WhatsApp number. Your WhatsApp number should be prominently featured on your website, app, sales collaterals, outdoor advertising, and any other suitable promotional medium.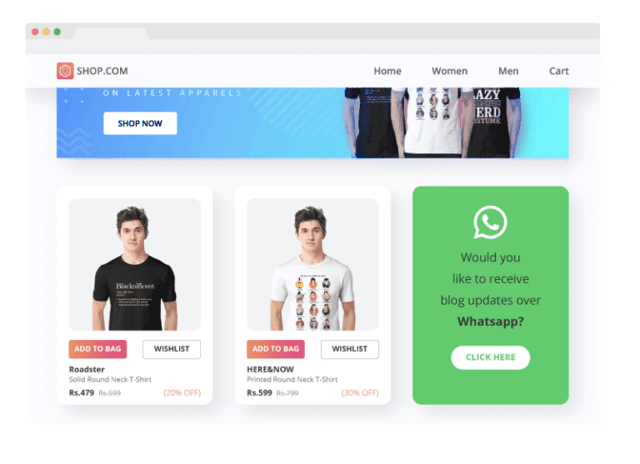 Another way to promote your WhatsApp account is through 'Click to Chat' links which allow your customers to immediately begin a conversation with your business with a single click. You can include these links on your website, app or banner ads, encourage customers to share them in WhatsApp groups as part of referral schemes, and more.

LEARN MORE: How to Acquire Customers on WhatsApp


Observe and iterate in real-time



A key advantage of WhatsApp as a platform is that it allows you to monitor customer interactions and user behavior in real-time. This enables you to swiftly modify, iterate and improve on your processes.

In the case of a website or app, your development/IT team would need to go through a lengthy process in order to make the required changes and then take them 'live', which makes it extremely difficult to act on real-time feedback. Not so in the case of WhatsApp, where you can make quick revisions to your conversational flows and processes, and take the changes 'live' in anywhere between 10 minutes to an hour!


Follow a Human + AI approach



WhatsApp gives you the option to either let human support or sales agents interact with your customers through the platform, or to implement an AI-powered WhatsApp chatbot solution to automate your customer interactions. The benefits of using a WhatsApp chatbot cannot be overstated! It allows you to completely automate your customer interactions and be available to your customers 24/7. So impressed are businesses by the capabilities of an AI Assistant, that they feel that they can cut human agents out of the equation completely.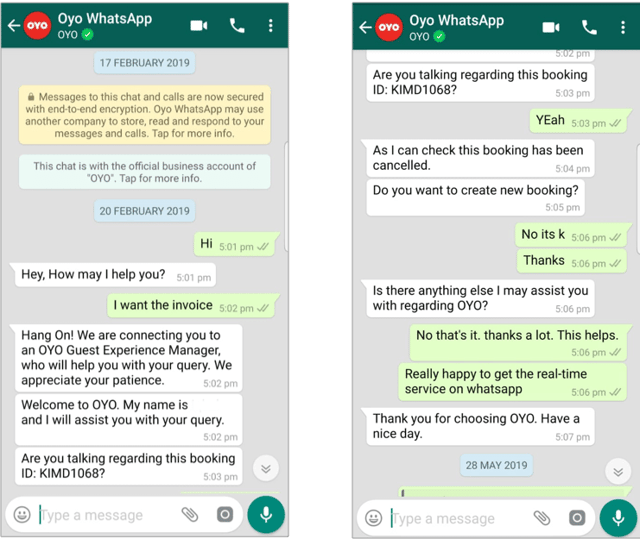 But that is far from the ideal scenario. While Conversational AI does significantly reduce your dependency on human agents, it is always a good idea to have at least a few on standby. As advanced as NLU (Natural Language Understanding) capabilities have become, there may still be complex use cases and customer issues that cannot be easily resolved by a chatbot. There are some customer interactions where the human touch simply cannot be dispensed with.

The best practise would be to adopt a Human + AI model. Let routine queries and tasks be handled by your WhatsApp chatbot. But allow human agents to handle complex customer issues. It's a good idea to include a clear prompt or option in your conversational flows that would enable a customer to request the intervention of a human agent. Also, to maintain a positive and consistent customer experience, ensure that your human agents are properly trained and well-versed in the domain knowledge required to effectively guide the customer.

LEARN MORE: How Haptik Enabled OYO to Leverage WhatsApp for Customer Service
DON'Ts
And here are a few things to avoid while leveraging WhatsApp Enterprise platform for your brand:
Don't treat WhatsApp Enterprise as a marketing exercise



Being on WhatsApp certainly generates a lot of positive buzz for your brand from a PR and marketing standpoint. It helps position you as a forward-looking business ready to embrace a bold new era of conversational commerce! But this should be a positive by-product of your WhatsApp Enterprise initiative, not its ultimate objective.

Likewise, do not think of WhatsApp as a marketing platform to push promotional offers and discounts the way SMS has traditionally been used. Treat it as an engagement platform that can facilitate commerce, drive end-to-end transactions, and significantly elevate your overall customer experience.


Don't set the wrong expectations for customers



Some brands make the mistake of giving the impression that "everything" can be done over WhatsApp. The reality is that there are still limits to what you can accomplish on WhatsApp, in terms of the platform's features, but also when it comes to what your business is capable of implementing, especially when you're just getting started on this channel.

It is crucial to set the right expectations among customers, and communicate clearly what they can do on your brand's WhatsApp channel at any point of time. So if you're starting out with a limited number of use cases, make sure that customers coming onto the channel know this, so that they don't ask any questions or queries that you don't intend to address on WhatsApp. A good practise is to start the conversation with a menu of options, to communicate the scope of your WhatsApp solution.


Don't start messaging customers without an opt-in



This is the red line which your business simply cannot cross on WhatsApp. DO NOT start messaging customers on WhatsApp without getting a clear opt-in that permits you to reach out to them on the channel. This can either be through a user-initiated conversation (i.e. the customer starts messaging you on WhatsApp), or if the user notifies you that they're ready to receive communication from you on WhatsApp (for e.g. through a check-box on a form).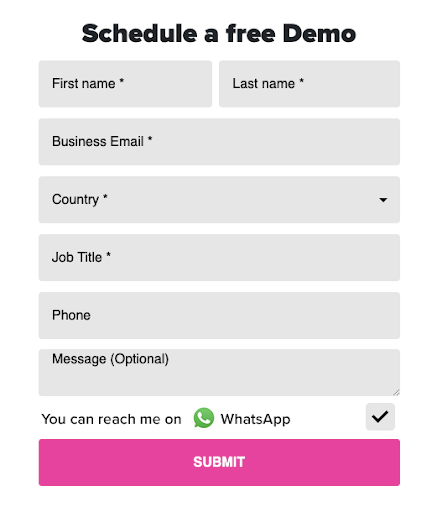 If you simply start messaging customer phone numbers in your CRM without a clear opt-in, your business will be in violation of WhatsApp's guidelines.

Remember again, WhatsApp is not the new SMS or e-mail. It is a tool for engagement, not spamming!
To sum up



WhatsApp Enterprise can be a great asset for your brand…if you use it right! Follow the aforementioned best practices or "Do's", and avoid the mistakes or "Don'ts", to ensure a great experience for your customers, that gets them coming back to your business, be it on WhatsApp or any other channel!

To learn more about how your business can leverage WhatsApp as a commerce platform, check out our on-demand webinar on WhatsApp Commerce for Brands: Watch it Now


---

Want to implement a WhatsApp Enterprise solution for your brand?