Instant OTP Authentication: Now on WhatsApp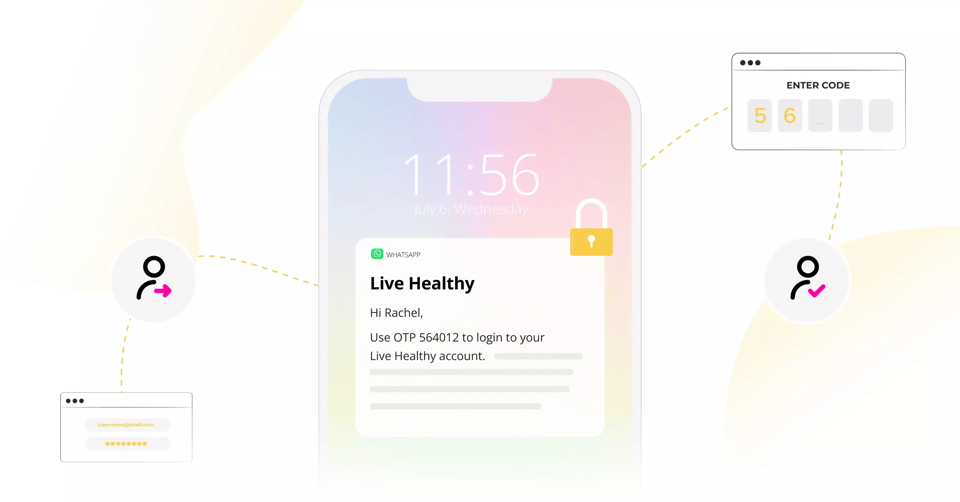 WhatsApp has recently announced the launch of Authentication Conversations for business accounts, aimed at providing a secure and convenient two-way communication channel between brands and customers. With the ability to send One-Time Passcodes (OTP) for user authentication, brands can effectively protect sensitive information and verify the authenticity of users accessing it.
This increased level of security enhances customer trust and confidence in the brand, contributing to a positive customer experience. With the widespread use and interactive features of WhatsApp, and seamless authentication integration, brands now have a powerful tool for enhancing customer interactions and securing communication.
Brands can initiate authentication conversations to verify user identity through OTPs at various stages of the login process, including account registration, account recovery, and integrity validation. This innovative solution provides an additional layer of security and a convenient experience for the customer, fostering trust and building solid and long-lasting relationships.
In this blog, we will delve into the following key topics.
1. Benefits of using WhatsApp Business for Authentication
(a) Efficient message delivery performance
(b) Safe & secure messaging
(c) Enhanced customer experience
(d) Verified WhatsApp identity upgrades credibility
(e) Easy verification with AI & rich media
2. Deploying OTP Authentication Conversation via WhatsApp - Explained with Use Case Examples
(a) Account Registration
(b) Login to User Account
(c) Account Recovery
(d) Enhanced customer experience
(e) Two-Factor Authentication (2FA)
1. Benefits of using WhatsApp Business for Authentication
The reliance on SMS as the sole method of delivering one-time passcodes (OTPs) is both costly and poses security risks, such as delivery failures, exploits, smishing, and more. Considering this, WhatsApp comes into the picture. Below are the reasons why WhatsApp might be the ultimate solution for user authentication via OTP delivery for brands.
(a) Efficient message delivery performance
The delivery of OTPs through SMS is contingent upon the availability of a cellular signal, leading to potential issues in areas with poor network coverage or during international roaming. On the other hand, WhatsApp OTP messages can be received through cellular and Wi-Fi connectivity, providing a more reliable and versatile solution for OTP sharing.
(b) Safe & secure messaging with WhatsApp
World's most widely used messaging platform, WhatsApp, offers robust security features, including end-to-end encryption. Unlike SMS, all messages sent and received on WhatsApp are encrypted throughout the entire process, ensuring secure and protected communication to prevent unauthorized access.
(c) Enhanced customer experience
The perks of using WhatsApp for customer experience extend beyond increased security. Integration of transaction OTPs within the platform provides a seamless experience for consumers making purchases, leading to improved sales and elevated Net Promoter Scores. It highlights the comprehensive impact of a WhatsApp-powered customer experience on a business's success.
(d) Verified WhatsApp identity upgrades credibility
SMS messaging is vulnerable to various security threats, including smishing attacks, fraud, and spam. As a result, recipients may be wary of messages from unknown sender IDs. WhatsApp, on the other hand, offers an added layer of security through its verification process for businesses. This helps validate the company's authenticity and provides a verified green badge, promoting greater trust among users.
(e) Easy verification with AI & rich media
With its two-way communication capabilities, WhatsApp provides an optimal platform for advanced verification processes such as bank know-your-customer (KYC) procedures. The channel enables interactive verification methods where end-users can converse with virtual and human agents and provide necessary documentation through rich media. This results in a streamlined and efficient verification process, further enhancing the security and trustworthiness of the channel.
2. Deploying OTP Authentication Conversation via WhatsApp - Explained with Use Case Examples
As identity theft incidents continue to rise in today's digital age, brands must implement a robust authentication mechanism to protect their reputation and avoid costly fines. Conventional systems may not be equipped to handle high volumes of user sign-ups and logins, making secure authentication an urgent requirement for businesses looking to drive growth and ensure security.
WhatsApp is the world's most widely used messaging app and provides a unique opportunity for effortless identity authentication on a familiar and trusted channel. This presents a convenient solution for users, making the authentication process seamless and accessible.
In this discussion, we explored the various scenarios where brands may need to implement an authentication process, and how integrating WhatsApp can provide an effective solution.
(a) Account Registration
When creating a new account or registering for an app or any other service, user identity authentication through One-Time Password (OTP) verification is commonly required. This OTP is typically delivered to the user's provided contact information through SMS and/or email. However, to enhance the user experience, companies can now share this OTP over WhatsApp as an additional communication channel.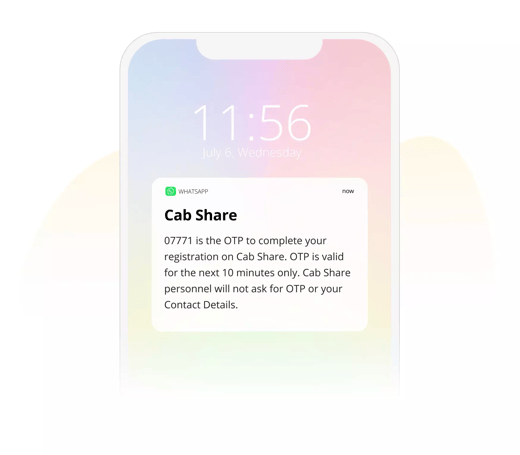 (b) Login to User Account
To secure consumer data, many companies today implement identity verification through OTP, every time users access their accounts through an app or utilize a particular service. Given that WhatsApp is the preferred messaging channel for consumers, it is a logical choice for businesses to use this platform to deliver confidential OTPs.
(c) Account Recovery
Identity authentication is a critical component of the account recovery process, such as in the scenarios of Forgot Password and Account Reactivation. Sharing confidential One-Time Passwords (OTP) via WhatsApp offers a more convenient user experience and enhances the overall user journey.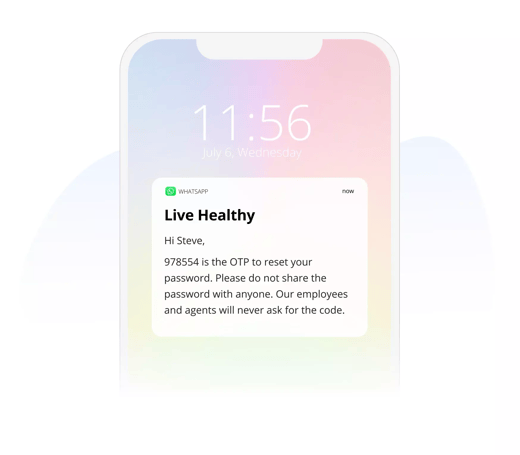 (d) Transaction Verification Token
After resolving a service request or completing an order delivery, sharing a secure OTP with the agent is standard practice. This OTP authentication method is deployed to ensure a transaction's successful completion and provide an exceptional user experience. Utilizing WhatsApp to share this crucial information is a widely adopted and effective solution.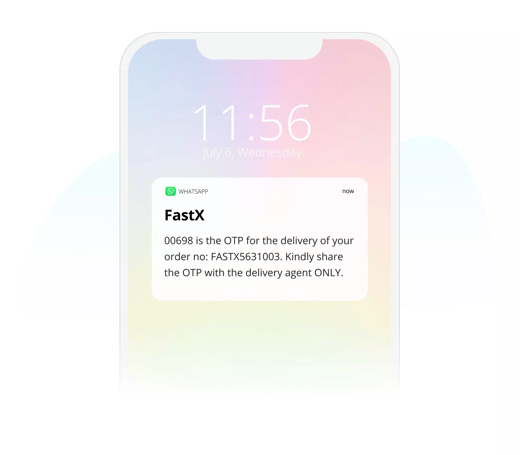 (e) Two-Factor Authentication (2FA)
2FA provides basic security measures for consumers. However, 2FA through SMS is expensive and can result in increased churn rates, lower security standards, and a poor customer experience. On the contrary, using WhatsApp for 2FA offers reduced costs, higher security standards, and a seamless customer experience, making it a preferred solution.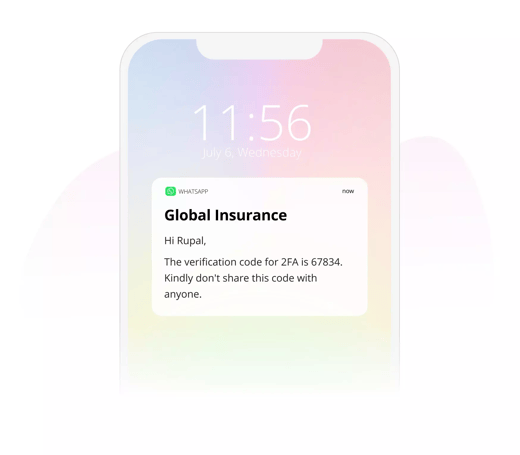 Take Away
Partnering with an official WhatsApp Business Service Provider streamlines the adoption process of WhatsApp. Business service providers like Haptik, help brands from setting up a WhatsApp Business Profile to crafting customizable message templates. Haptik goes beyond initial account creation and offers scalable services to meet a brand's specific needs. These include WhatsApp Chatbot deployment, robust analytics functionality, and advanced APIs that integrate WhatsApp with existing commerce and security systems. With Haptik, investing in WhatsApp messaging can result in a meaningful return on investment and optimized customer experiences.
Get Started with GPT-driven WhatsApp Solution