Full Review of Freshworks Customer Service Suite vs Contakt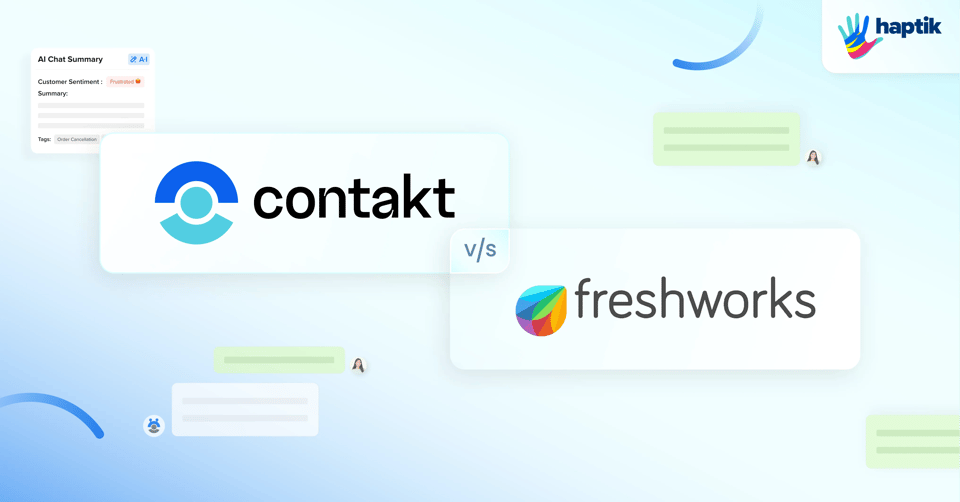 In the age of Generative AI (or Gen AI), brands need to offer so much more than rudimentary support experiences to drive customer acquisition, retention and loyalty. Customer support platforms powered by Generative AI help unlock a wide range of use cases, including improving customer experience, boosting agent productivity, optimizing resources, and becoming more efficient. What's more, the ability to offer real-time support can be a key differentiator, which is possible with Gen AI.
RELATED: List of Top 10 WhatsApp BSPs
Contakt, by Haptik, and Freshworks are two powerful, feature-packed suites designed to streamline customer support.

This blog provides a lowdown of the two platforms and how they stack up in terms of capabilities, features, integrations, and more.
Feature
Description
Freshworks
Contakt by Haptik

Pricing

Paid plans of both solutions

N/A

Agent-based

Conversations-based

Self-Serve

Gen AI-Powered Web Q&A

Instant, powerful AI Assistant built from unstructured data.

x
(Prompt-based bot building)

✓
(Build a fully-functional AI Assistant using unstructured data)



GPT Sales Assistant

Offer Pre- & post-sales support

Post-sales support only

✓

Multilingual

Break the language barrier during chat support

✓
(52 languages)

✓
(100+ languages)

Integrations

N/A

Improve the functionality & efficiency of customer support

Fewer integrations & limited third-party integrations

100+ integrations including APIs, CRMs, social channels, payment gateways, etc.

Agent Productivity


Unified Agent Workspace

Centralize agent-customer conversations

✓

✓

Agent Co-pilot

Improve agent productivity with Generative AI

✓

✓

Ticketing system

Team Inbox

Drive seamless agent collaboration

✓

✓

Ticket creation & assignment

Create and assign tickets to specialized agents

✓

Coming Soon

Analytics & Insights

Proactive Insights

Glean insights to improve support efficiency, bot performance, customer satisfaction, etc.

✓

✓

Unified analytics

Get comprehensive insights into bot & agent performance

✓

✓

Admin Panel

Workflow Automation

Equip agents with the tools to streamline support

✓

⨯
Contakt vs Freshworks
Contakt is a Generative AI-powered customer support suite of AI Assistant for pre & post-sales, Agent Co-pilot & Intelligent Analytics. It caters to a wide range of industries & is particularly suitable for large enterprises with complex use cases. Contakt can integrate seamlessly with third-party tools and it's backed by a powerful ecosystem of 100+ integrations that includes APIs, social channels, CRM & Livechat, Connectors, payment gateways & more. Contakt supports 100+ languages, enabling brands to cater to customers across geographies.
Freshworks is a customer service suite comprising AI-powered self-service, unified agent workspace, ticketing system, advanced insights, and admin panel. It has tended to serve small and mid-sized businesses (SMBs) offering solutions for basic use cases though it's now making efforts to cater to larger businesses. It has a set of native integrations and can integrate with popular CRMs, but customers have mentioned the platform has fewer integrations than necessary.
Capabilities
Contakt has an advanced NLP engine that seamlessly tackles complex customer queries while offering AI-driven sales support and proactive engagement. Furthermore, it empowers brands with rich multimedia support to effectively engage customers on chat including PDFs, documents, feedback collection, promotions, and more.
Freshworks is an AI-first omnichannel customer support suite that delivers conversational support and ticketing capabilities. Its Generative AI-powered solution, Freddy AI, offers proactive support, which is enhanced by personalization and high-level analytics and insights.
Features
How do the features of Contakt and Freshworks compare?
Pre- & Post-Sales Support - Generative AI Assistant
Contakt enables brands to deliver personalized support at the pre-sales stage of customer journey, converting prospects into buyers and buyers into loyal customers. What also sets Contakt apart is that during the pre-sales stage, it can handle questions about competitors (pricing, products, and so on), seamlessly tackle out-of-scope questions, and offer onboarding and technical support. Post-sales use cases like order tracking, return and refunds, order cancellation, payment issues, and so on are handled efficiently too.
Unlike Contakt's Generative AI-powered sales assistant that facilitates informed buying decisions, Freshworks' capabilities only allow for resolution to post-sales support such as order updates, cancellation, product returns, among others.
Agent System
Another area where Contakt shines is with its high-performance agent system, called Agent Co-pilot. It greatly improves agent productivity by equipping agents with AI-powered chat suggestions, contextual agent inbox to manage incoming messages, and intent-based responses to customer queries.
Freshworks' agent system enables agents to offer personalized customer service and get a unified view of customer interactions. The Co-pilot mechanism offers AI-powered chat suggestions, event summaries, and recommended actions.
Analytics
Contakt has powerful, cutting-edge analytics for insights into customer service outcomes and agent and bot performance. It includes AI-powered recommendations to optimize processes for better efficiency and higher customer satisfaction.
Freshworks does have reporting and analytics features but has limited capabilities to derive meaningful insights for informed decisions and offering better customer service. On popular review forums like G2, customers have mentioned that the functioning of Freshworks' analytics can get inconsistent wherein even setting up custom reports is complex.
Reviews - Contakt by Haptik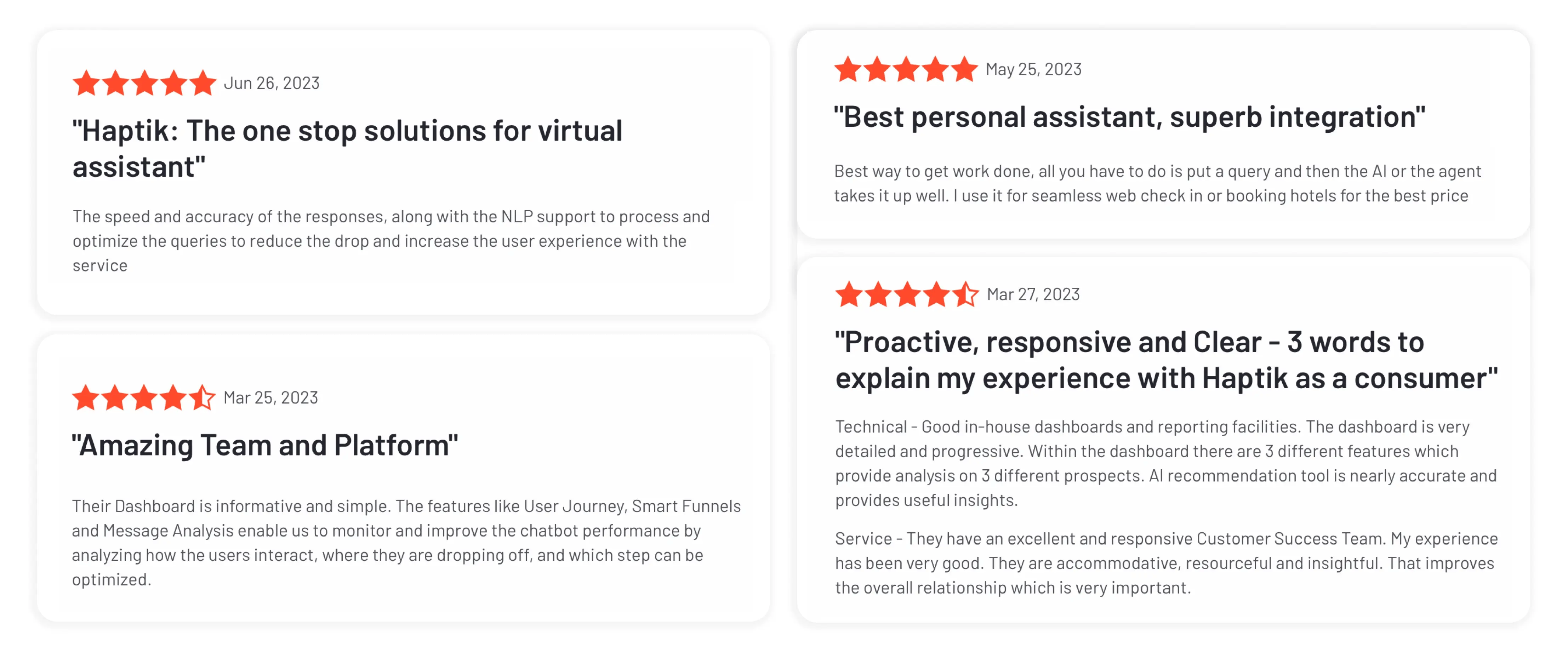 Reviews - Freshworks

Conclusion
In the realm of customer support and Generative AI-powered solutions, it is clear that each platform offers a distinct approach to addressing business and customer needs. Freshworks' customer service suite excels in robust agent support and ticketing solutions, which bring value to the table. However, as the world moves towards more self-service and seamless customer experiences, Contakt takes the lead with its unbeatable self-service capabilities, all powered by the transformative force of Generative AI.