WhatsApp for Business: A Beginner's Guide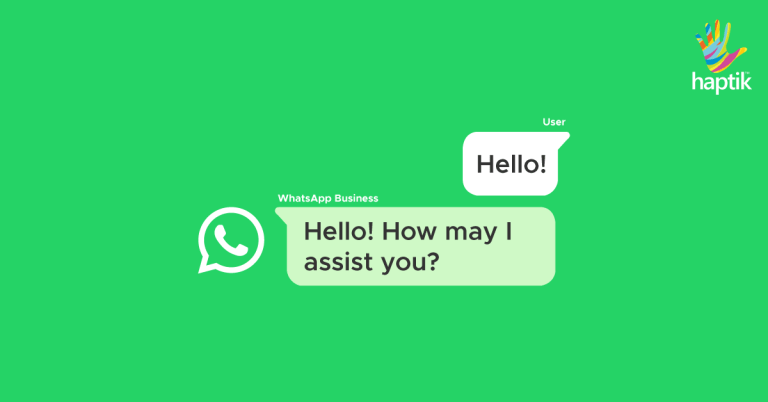 If there is one thing that businesses need to prioritize today, it is customer convenience. Not just in terms of how their products/services can maximize convenience for the end-user, but also in terms of how they reach out to customers.
Gone are the days when customers are willing to put up with slow and inattentive customer support staff on the phone, or even navigate tediously through a website. These days, customers expect to be able to connect to businesses with the same ease with which they connect to their friends, families and colleagues – through simple, fast and convenient messaging.
WhatsApp is the world's largest messaging channel – the platform of choice for 1.5 billion people across 180 countries. Leveraging the power and scale of WhatsApp, enterprises can engage and serve customers anytime, anywhere across the globe. And the key to unlocking the vast potential of WhatsApp as a customer service tool is the WhatsApp Business API.
Haptik is now an official provider of the WhatsApp Business Solution. If you're reading this you no doubt have a lot of questions about the WhatsApp Business Solution, and the services that Haptik can provide on WhatsApp. We have answered some of the Frequently Asked Questions below.
What is WhatsApp Business Solution?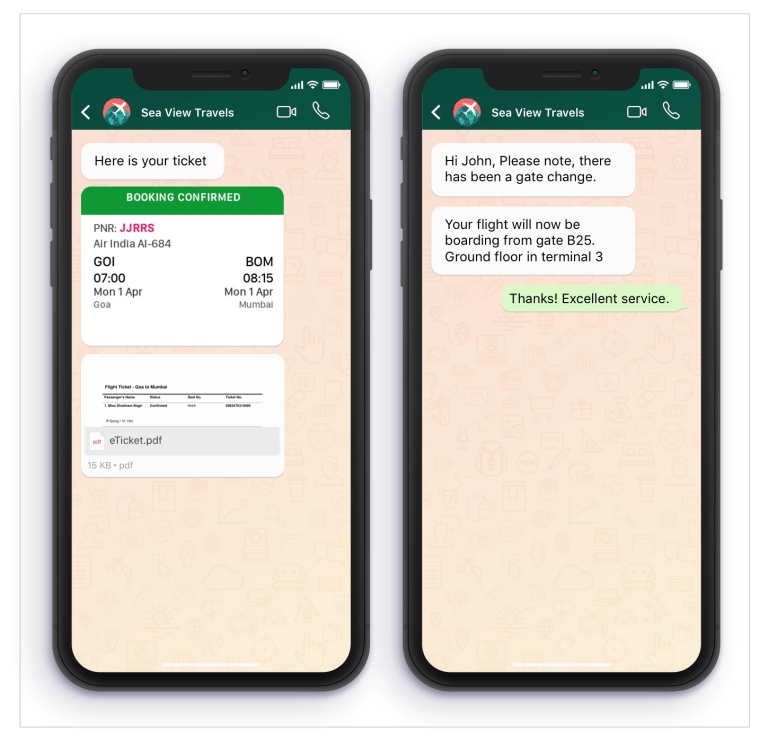 The WhatsApp Business Solution facilitates swift and seamless interactions between businesses and their customers on WhatsApp. It helps businesses better manage conversations with their customers, and provide them with useful information and necessary prompts.
The WhatsApp Business Solution has been specifically designed to cater to the needs of enterprises, as compared to the WhatsApp Business App, which has been designed for small businesses.
Sell, Engage and Support on a single platform with a WhatsApp Chatbot
Why WhatsApp Business?
WhatsApp has 1.5 billion users, spread out across 180 countries. It is today the predominant messaging platform across the globe – connecting people to their friends, families, and workplaces. Its vast reach, ease-of-use, and status as a preferred channel, make it the perfect platform for enterprises to leverage to connect to customers and provide swift and efficient service.
Moreover, WhatsApp helps businesses drive higher delivery, open, and conversion rates, as compared to other messaging channels.
Why opt for WhatsApp Business on Haptik?
Haptik's state-of-the-art Conversational AI platform is among the most advanced such platforms available globally. It is a full-stack one-stop-shop designed to comprehensively solve the problems of enterprises end-to-end. Haptik's feature-rich platform includes our own NLU Engine, Bot-Builder tool, Analytics Dashboard, and Live Chat Agent tool.
The Haptik team is constantly at work, finding the most efficient and optimized solutions for our enterprise partners, for every stage of the process – from use case identification to bot development to delivery.
Needless to say, Haptik's platform, integrated with WhatsApp Business, enables you to significantly scale up your ability to engage and serve customers.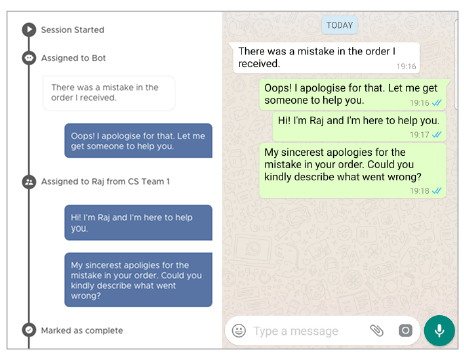 Human agents using Haptik's Live Chat Agent Dashboard to provide customer service on WhatsApp
By opting for WhatsApp Business on Haptik, will be able to leverage our unique Bot + Human hybrid approach on WhatsApp.
The response to simple routine queries and FAQs can be automated through the use of our AI-powered WhatsApp chatbot.
Our proprietary Live Chat Agent dashboard, equipped with our patent-pending bot-to-agent routing and chat assignment capabilities, will auto-route complex queries to human agents for more detailed attention.
With the most advanced Conversational AI and the best human intervention interface at your disposal, you are truly equipped to create an incomparable customer experience on WhatsApp.
How does the WhatsApp Business Solution work on Haptik?
The WhatsApp Business API offers businesses two ways to reach out to customers. This is how Haptik's platform facilitates communication:

24×7 Customer Service: Two-way communication wherein a user initiates a conversation by sending a message to the business using WhatsApp. The message is received by the Haptik platform and is responded to either by our WhatsApp chatbot or human agents (through Haptik's proprietary Live Chat Agent tool). Businesses have a 24-hour window following a user message in which to respond to the customer.

Notifications: One-way communication wherein the business sends customer phone numbers and message text to Haptik's conversational platform, which routes the message to the user. This can be used to send templated messages to customers, and notify customers about booking confirmations, upcoming appointments, deliveries, etc.
Know more: Best WhatsApp Message Templates to use in 2022
---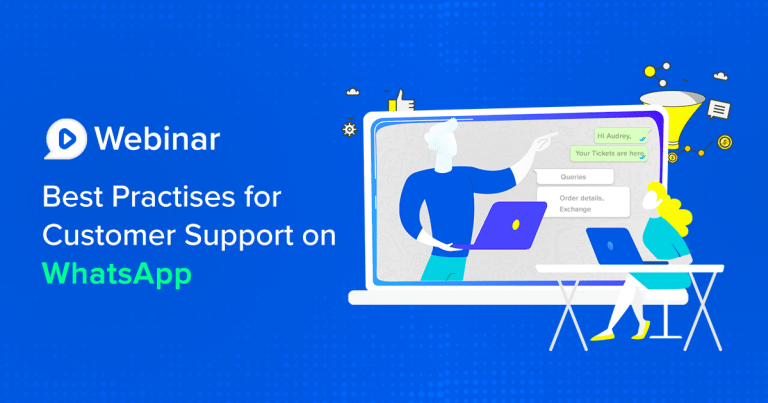 Learn how you can build a winning WhatsApp Business strategy for your brand
---
How to get started?
Once you approach Haptik to implement the WhatsApp Business Solution, we will request access to an official Enterprise API from WhatsApp, on your behalf. Following this, you will need to share your account details to begin the registration process. These account details include:
Business Name (along with company website, logo, address, e-mail, short description etc.)
Mobile Phone Number (to identify the business account on WhatsApp's platform)
Haptik will configure and register your WhatsApp Business account following a 2-3 weeks approval process. Once this is done, you will be able to connect to the Haptik API and start sending and receiving messages from your customers.
How do customers start using WhatsApp for Business?
Users need to opt-in to start receiving messages from a business on WhatsApp. Users will need to opt-in using a third-party channel, as the opt-in cannot be requested over WhatsApp. The business is responsible for storing and managing the end-users WhatsApp opt-in database.
Opt-ins must be initiated by user action, and phrased in the explicit language (e.g. "I agree to receive [noun], [logo & name], on [number").
More types of WhatsApp Messages: Building better customer relationships
Case Study
One of our enterprise partners, a leading hotel chain, needed a platform that would enable their guests to reach out to them for support in real-time. By providing a more natural communication method to their customers on mobile, they hoped to minimize the guest's need to call the customer support helpline.
By leveraging Haptik's Conversational AI platform, and the WhatsApp Business API, the hotel chain was able to seamlessly connect with guests over WhatsApp, and achieve a significant reduction in calls to customer care, while significantly boosting engagement.

WhatsApp has truly revolutionized the way people communicate, and with the WhatsApp Business API, this revolution has extended to the way people communicate with businesses.
If you want the power to reach out to customers anytime, anywhere, on their preferred platform, then there is little need to look further than the WhatsApp Business Solution. And to truly optimize your businesses' presence on WhatsApp, by leveraging the combined capabilities of human agents and AI-powered chatbots, there is truly no better option for you than Haptik!
---
Do you want the WhatsApp Business Solution for your enterprise?