How Conversational AI Drives Sales for Financial Services Brands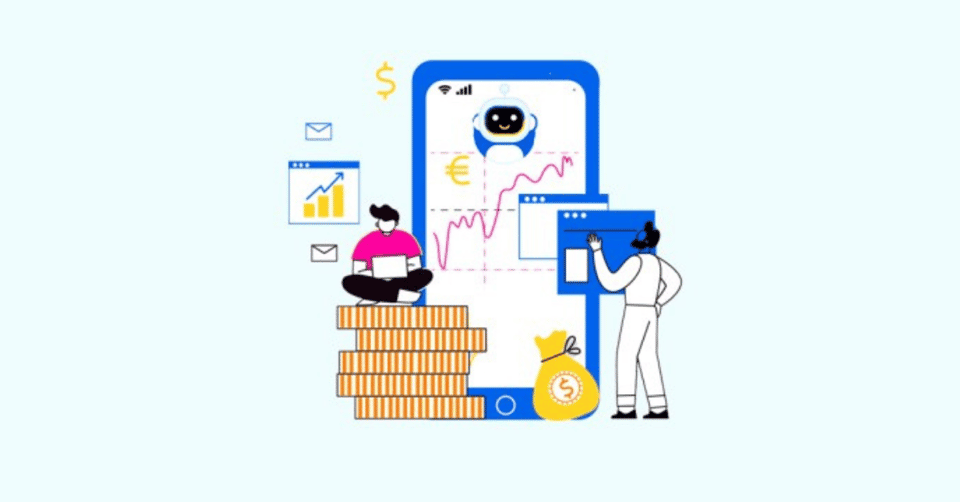 According to a survey by Cognizant, 74% of financial services executives believe that AI is extremely important to the success of their companies. When asked what AI technologies their brands were investing in, the most popular answer (given by 72% of the respondents) was virtual assistants.
Conversational AI has been eagerly implemented by financial services brands, not only for the massive cost savings it can provide, but also for its tremendous potential to redefine customer engagement and drive ROI at every stage of the customer lifecycle.
One of the most significant ways in which the technology adds value to the sector is through its ability to serve as the perfect virtual sales agent – educating prospective customers about financial services, engaging them with personalized recommendations based on their requirements, and ultimately nudging them towards making a purchase.
Let us take a closer look at the key reasons why Conversational AI is a powerful sales enablement tool for financial services brands.
Customer Acquisition
Implementing a Conversational AI solution is a great way for a financial services provider to give a healthy boost to their lead generation efforts – enabling them to convert passive visitors into engaged prospects.
Using intelligent prompts, an AI Assistant can attract the attention of visitors on a financial services brand's website, app, or other digital touchpoints. The assistant can engage them in conversations by offering information about relevant financial products and services, and prevent drop-offs by instantly addressing FAQs.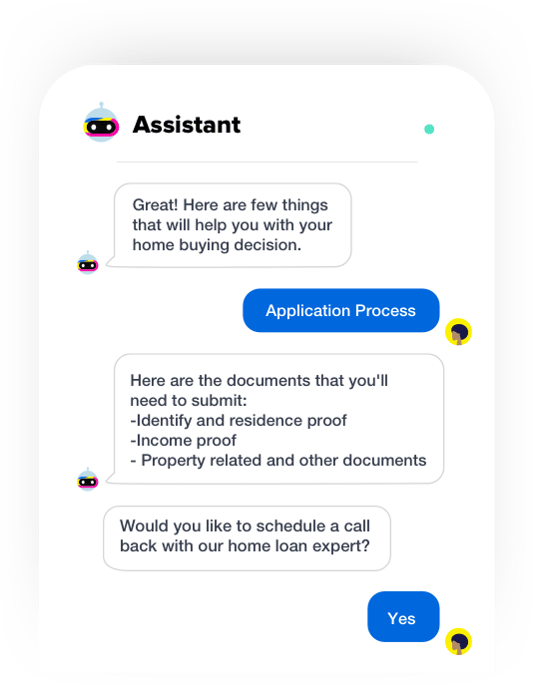 Moreover, with an AI Assistant, a prospective customer who would like to explore the purchase further can simply share their details and requirements over the course of a conversation, rather than having to fill a long, static lead form – a factor which significantly boosts lead generation on the financial service providers' digital touchpoints.
READ MORE: Why Financial Services Brands Should Leverage Conversational AI for Customer Care
A Virtual Financial Advisor
Buying in a financial product/service can be a complex process for customers, as they navigate through a maze of financial jargon, interest rates, terms & conditions etc. A certain degree of hand-holding is required to give prospective customers an in-depth understanding of the brand's offerings and empower them with the information they need to make an informed decision.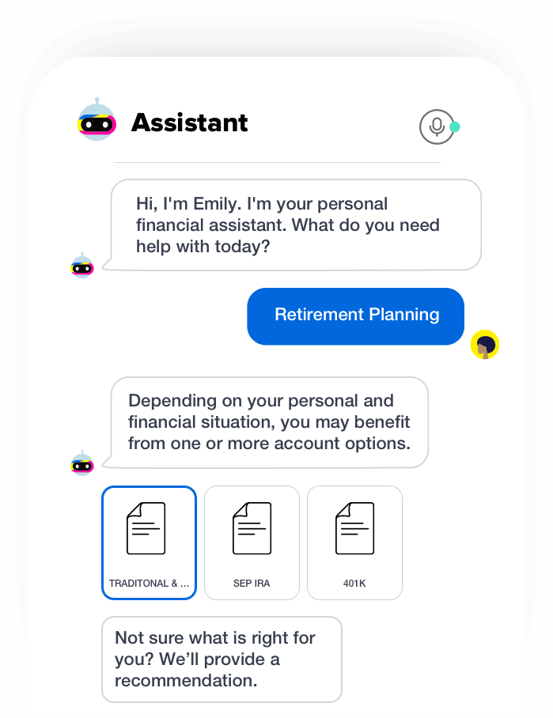 Conversational AI is the perfect tool to facilitate this necessary process of customer education. It is available 24/7 to answer routine customer queries and FAQs, and offer information about various products/services offered by the financial services provider in a seamless conversational manner. Through features like interest calculators or mortgage calculators, it can help customers better assess the costs, benefits and risks involved in various financial plans.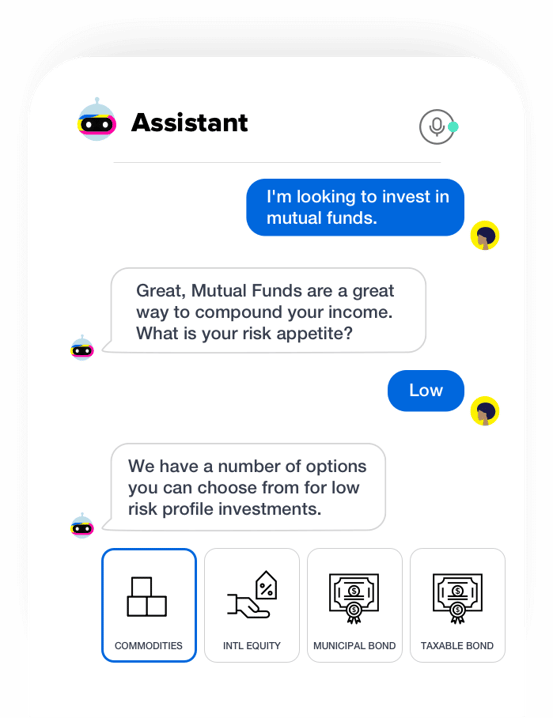 Going a step further, an AI Assistant essentially serves as a virtual financial advisor. It engages prospective customers in conversation to understand their requirements and/or financial goals. It builds a profile of the customer based on these, and other details. Using the profile, it can make personalized recommendations of products/services that are aligned to the prospect's financial goals. The AI Assistant can then instantly answer any of the customer's follow-on questions related to any of the options provided, as well as upsell or cross-sell new products/services.
READ MORE: 4 Chatbot Solutions for the Financial Services Industry
By serving as a useful information resource as well as a helpful advisor offering concrete recommendations, Conversational AI can significantly influence a prospective customer's decision-making, ultimately helping drive more conversions.
To sum up
Conversational AI enables financial services brands to offer their customers a seamless and personalized experience – guiding them at every step of their financial journey, resolving all their queries, making relevant product/service recommendations based on their financial goals, and collecting their details in a frictionless manner. All this makes it the perfect virtual sales agent for a financial services provider.
If you're wondering why to use a Fintech Chatbot for Your Business, this article will help you understand the benefits, use-cases and success stories - Fintech Chatbots for Business: Reshaping Customer Experiences
---
Interested in developing a Conversational AI solution for your brand?