Blazing fast WhatsApp chat payments with Haptik and PayU partnership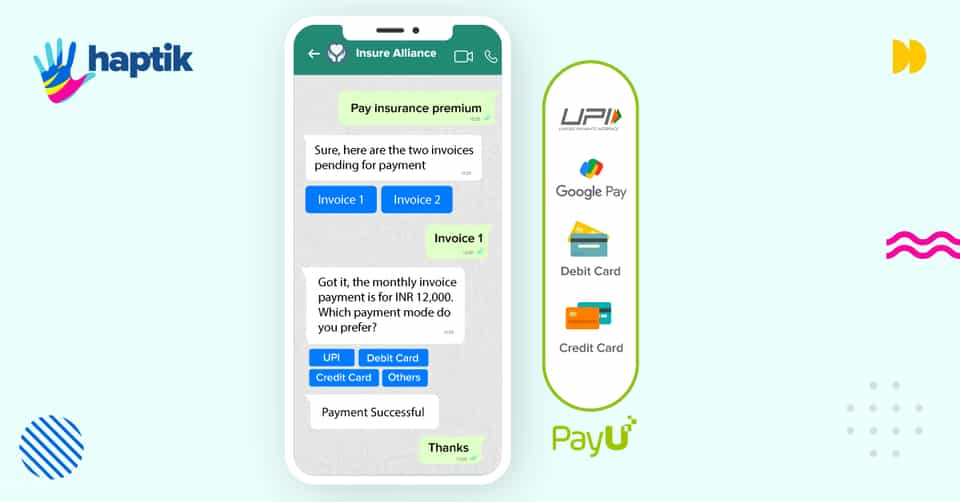 Today, messaging platforms have evolved into avenues for consumers to discover, browse and buy products, with 40% of consumers globally claiming that chat is how they first started shopping online. More than 100 million messages get sent each day by businesses using WhatsApp Business API, and over half of the customers (53.17%) want to purchase through the messaging app directly. But the payment experience on the messaging platforms is still not seamless, with consumers needing to switch between multiple tabs and go through tedious steps, leading to drop-offs and customer dissatisfaction.

Businesses need to provide a simple, quick, and convenient way to complete transactions and reap the benefits of the efforts and money spent in acquiring their customers. And to help brands achieve this, Haptik has partnered with leading FinTech company PayU to offer a payment gateway integration with our Intelligent Virtual Assistants on WhatsApp. We aim to help businesses deliver a personalized, delightful end-to-end shopping experience through our WhatsApp chatbot solution with PayU, which serves more than 450,000+ merchants with over 150+ payment methods in India.
Delivering a seamless payment experience for customers
With the digital payment segment projected to reach US $13.91tn by 2026, it is not wrong to say that it is the preferred payment method among shoppers, making it even more crucial for brands to create a trouble-free payment experience. Today, every interaction counts, with 80% of consumers saying they would move to a competitor after just one bad experience.
Haptik's chatbot guides and nudges customers to initiate payments while on their purchase journey. The integration facilitates a blazing fast checkout and payment experience for the customers.

The chatbot will also send customers messages about recurring bills with an in-built payments link; the customers just need to tap on the link and complete the transaction in no time.

PayU has one of the best transaction success rates in the industry, ensuring that there are no glitches and customers are not left frustrated.

After each transaction, the chatbot will notify customers of the transaction status with payment success messages.

Haptik, together with PayU, adheres to strict standards and practices to make sure that all online transactions are 100% secure.
The Haptik PayU Advantage
Integrating Haptik's WhatsApp chatbot solution with PayU will allow brands to not only enable conversational commerce for their customers on their most preferred communication channel but also:
Converting more prospects into customers.

Increase conversion rates and reduce drop-offs

Offer multiple payment options

Build a solid revenue pipeline with reminders and notifications for recurring payments

Boost cross-sell and upsell opportunities by suggesting the right add-ons at the right time.

Drive repeat purchases & higher customer loyalty, and much more!
Effortless Setup, Instant Conversions
We offer a variety of payment smart skills, ready for you to use & build payment journeys for your customers. The most common use-cases we have seen are:
Utilities bill payment

Subscription bill payment

Insurance policy premium payment

Lending instalment payment

Generic Payment flow
These smart skills help brands leverage the Haptik and PayU integration in three ways:
Encourage users to complete transactions within the chat

Choose their preferred payment mode accepted by the WhatsApp merchant like Credit Cards, Debit Cards, Net Banking, UPI and others

Proactively send payment notifications to the customers
Customer experience is no longer a competitive advantage for businesses. It has become a necessity. With Haptik PayU integration, brands can create a hassle-free checkout and payment arrangement for customers. It can help brands leverage the notification-based features of WhatsApp Business API and transform the platform into the ultimate all-in-one payment collection channel. Reduce drop-offs, lock higher sales numbers, drive repeat orders and boost satisfaction.
In short, empowering brands to unlock exponential growth on the most popular messaging platform. Click on the button below to get a demo of our Haptik PayU integration.