4 Ways to Boost Your Sales with a Travel Chatbot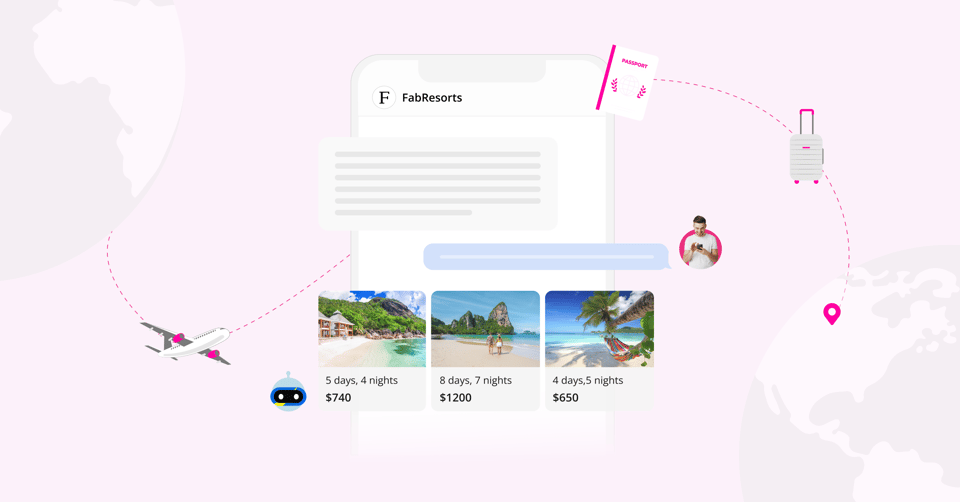 Planning a trip can be both thrilling and stressful. In the travel industry, it's common for customers to have many questions and concerns when booking their trip arrangements. Travel companies must provide quick, reliable, and efficient support for an outstanding travel experience. Fortunately, an intelligent travel chatbot, equipped with a conversational commerce suite, offers a stress-free journey by streamlining the entire process and offering proactive assistance.
Travel companies look for end-to-end, on-demand travel assistance solutions that utilize web and SMS chatbots to proactively engage with travelers and assist them in navigating their travel bookings, planning their itineraries, purchasing travel insurance, and more. This tech stack, offering automated travel planning, allows customers to focus on the excitement of their upcoming adventure, which ultimately enhances the overall customer experience.
Conversational Commerce can help travel companies maximize ROI and improve customer satisfaction through travel chatbots.
This article highlights the benefit of conversational commerce through travel chatbots on customer satisfaction, meeting unique needs, and increasing sales in the tourism industry.
4 Ways to Boost Sales with a Conversational Commerce-Led Travel Chatbot
Travel companies must prioritize customer engagement and superior service to meet the growing demand for convenient and flexible travel experiences. With online travel sales expected to exceed $1.8 trillion by 2025, conversational commerce solutions offer a promising opportunity to boost revenue and loyalty.
By leveraging chatbots and messaging apps, travel companies can offer personalized recommendations and instant booking confirmations, leading to increased conversions and customer satisfaction. Companies should focus on the following four key strategies to achieve these benefits.
1. Generate and Nurture Qualified Leads
Generating and nurturing leads in the highly competitive tourism industry presents significant challenges for travel businesses. Adapting to evolving customer expectations, short attention spans, and difficulty in measuring ROI requires continuous innovation and exceptional customer experiences.
Travel chatbots have become an essential part of the digital toolkit for various industries, providing personalized guidance to potential customers through channels like SMS and the web. Brands can run targeted conversational ads on social media, search and display to connect with customers directly through messaging channels. These conversational ads allow businesses to reduce drop-off rates and engage with customers beyond regular business hours by replying promptly. This leads to a better understanding of customers' needs and preferences, increasing conversions.
Moreover, chatbots are an excellent medium to collect valuable customer data on travel behavior and history, enabling targeted re-engagement campaigns. Proactive, personalized notifications help nudge users down the lead conversion funnel, build brand recall, and amplify customer engagement.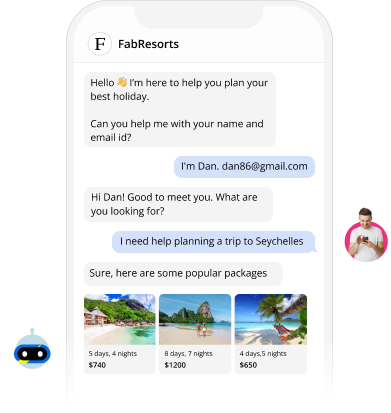 2. Direct Bookings via End-to-End Conversational Commerce Journeys
In today's competitive landscape, convenience holds paramount importance. Hence, facilitating the booking process for customers through a seamless, conversational experience is something that will increase repeat bookings. Using conversational commerce solutions, travel companies can guide customers through every step of the booking process, from initial search to final confirmation, without needing multiple clicks or page refreshes. This approach can drive direct bookings and improve customer satisfaction by providing a streamlined experience.
By leveraging rich customer insights and GPT-trained chatbots, travel businesses can improve customer engagement, drive sales, and improve customer retention. Haptik's GPT-trained chatbots offer a valuable tool for engaging with customers in human-like conversations, improving the customer experience while reducing costs.
Additionally, chatbots enable customers to modify bookings with ease, providing a positive experience and convenience that enhances customer satisfaction.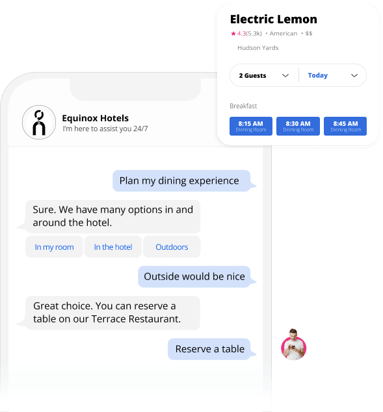 3. Reduced Booking Abandonment
Travel chatbots can effectively reduce cart abandonment rates by providing personalized recommendations, a simplified checkout process, and timely support that meets the unique preferences of travelers. Conversational commerce can streamline the checkout process by allowing customers to complete the entire booking process within a chat or messaging interface. This eliminates the need for multiple clicks or page refreshes, making the process more convenient and less intimidating for customers.
Messaging apps can also be used to send timely and relevant notifications to customers, reminding them of unfinished bookings or offering incentives to complete the transaction.
Furthermore, travel chatbots help to minimize no-show rates by sending proactive reminders and facilitating quick responses to any queries or requests for further information. This personalized approach demonstrates a high level of customer service and can foster a more profound sense of engagement with the brand.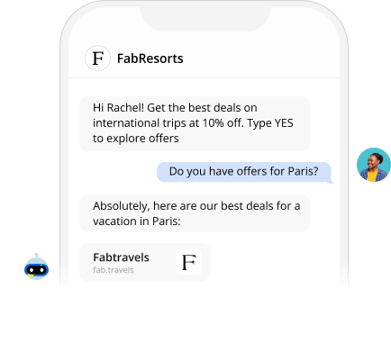 4. New Selling Opportunities with Tailored Recommendations
Conversational commerce-enabled travel chatbots have transformed the travel industry by providing travelers with a hassle-free and personalized experience. Travel chatbots offer a convenient platform for booking travel, upgrading plans, and purchasing additional services like meals, airport transfers, travel insurance, and SPA packages.
By leveraging customer data and preferences, travel chatbots can suggest activities, destinations, and accommodations that match the customer's interests and needs and create customized travel experiences and packages, helping travel companies differentiate themselves from competitors and drive customer satisfaction and loyalty. Travel chatbots can increase the average trip spend by offering contextual add-ons and upgrades that enhance the overall travel experience while maximizing revenue per traveler.
Multilingual chatbots can further expand the reach of travel companies by offering personalized recommendations in multiple languages, increasing engagement, conversions, and customer satisfaction across diverse markets. Chatbots and conversational commerce solutions together provide a competitive advantage for travel companies in the growing online travel industry.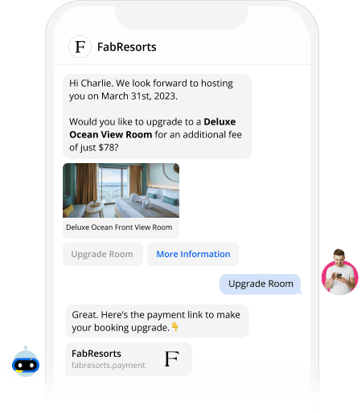 B. Haptik's Conversational Commerce in Travel: Explained with Use Case
Equinox, a luxury hotel in New York, aimed to improve its booking process and reduce on-property call volume. Haptik built an Intelligent Virtual Assistant (IVA) named Omar to assist customers during booking, plan and manage their experience, and handle special requests. Omar resolved recurring queries such as room selection, exploring amenities, payment support planning, and managing guest experiences.
The IVA helped increase automation by up to 85% while handling over 2600 new customers in less than three months. In just four months, the IVA also generated 150 qualified leads. The project's success is attributed to Haptik's conversational commerce-led chatbot, which provided guests with relevant support through simple, natural, and direct conversations.
Katie Tardif, Brand Director of Equinox, expressed her satisfaction with the project, stating that Haptik helped them drive exponential conversions in minimum time. Overall, Equinox improved its customer experience, reduced on-property call volume, and increased its lead generation with the help of Haptik's conversational commerce solution.
Quick Read: Read the Full Case Study of Equinox Hotel
Take Away…
With the dramatic increase in customer demands and queries in the travel and hospitality sector, conversational commerce solutions have become essential for making bookings and reservations providing travel advice, and recommending personalized holiday packages. Incorporating travel chatbots into a business strategy provides a significant competitive advantage in the tourism industry. Enhanced customer engagement and effective re-engagement campaigns drive higher conversions, leading to increased revenue and customer retention.
By leveraging Haptik's conversational commerce solution, travel companies can maximize conversions and sales through conversations. Turning web browsing into buyers by chat, companies can bring the entire digital user journey on to chat interface and start selling on every channel like Facebook, Instagram, website, and SMS as suited for each company. Furthermore, with Haptik's GPT-trained chatbots and rich customer insights and analytics, businesses can personalize their offerings and improve conversions, leading to long-term growth and success in the travel industry.
Maximize Your Revenue Stream with a Conversational Travel Chatbot