Delivering Unified CX with Salesforce Service Cloud and Haptik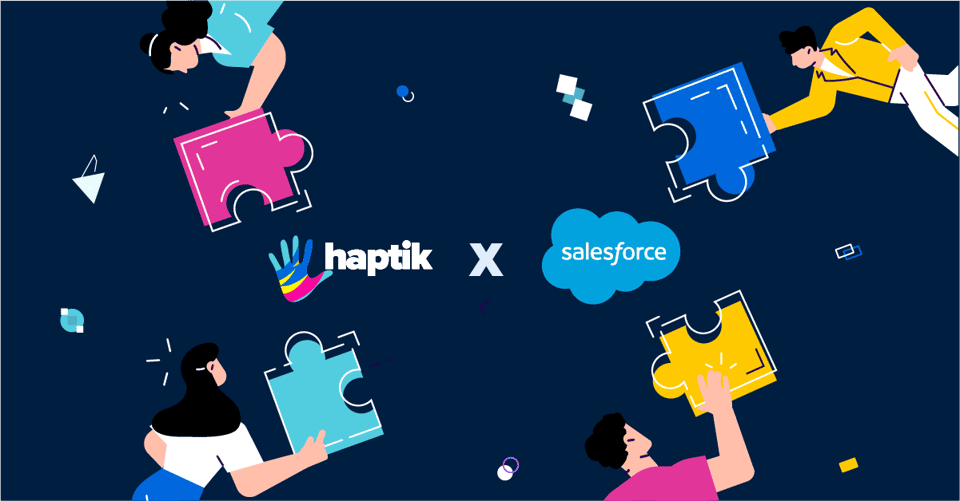 As we enter 2021, more and more businesses are moving towards an Automation-first strategy for CX. Which makes it integral to ensure that your Salesforce chatbots are also a part of it. While companies move to AI-powered assistants to offer quality support with faster resolution times, it's important to make sure that Live agents are equipped with interaction history from the user's conversation to deliver a seamless and frictionless experience that your customers will love.
To make this possible - it's required to combine the best of both the worlds - automation + human. Which is why, Haptik has launched out of the box integration with Salesforce Service Cloud - which might be your next CX dream team!


Let's dig deeper into what this integration exactly entails.
- Codefree integration of Haptik and Salesforce Service Cloud to deliver unified customer experience from a single interface
- Haptik Virtual Assistants form the first layer of support across multiple channels like Web, App, Whatsapp, Facebook, Google Business Messages and more.
- Connection points can be defined for data flow between the two systems for smoother communication
- As both the systems are connected, your CRM remains the single source of data. This further allows the Salesforce Live Agents to easily access captured information for context and speedy resolutions.
This was a quick high-level explanation of our integration. Let's quickly cover these scenarios below:
Scenario 1: 24*7 Sales and Support
As Haptik Virtual Assistant is available 24*7 to answer FAQs, share information and gather visitor details with no wait time - it can automatically create leads from these visitors in Salesforce. It can also capture details like name, email ID, phone number, etc. as per your requirement. Moreover, the IVA nurtures leads to a great extent by asking the right questions and providing all relevant information.
Scenario 2: Routing high-value queries from Virtual Assistant to Agents
In cases of complex queries where human assistance is required, conversations are transferred to Salesforce Live agents using pre-defined triggers. With this, most companies can automate 80% of their customer support requests and escalate queries with conversation context and user information to optimize agent response time. Implementation of this solution is easy and doesn't require any new agent training as they continue to use the existing UI. When the Agents are busy handling other queries, users also receive an update on their wait queue position.
Scenario 3: Creating cases with Chat Records

For predefined events and actions like leads enquiries, service requests etc., cases can be automatically created in Salesforce. Cases can also be created at the end of a conversation with the entire chat record to ensure all information is maintained at one place for reference. Upon user-request, details of the assigned case can be shared to maintain transparency.
Scenario 4: Leveraging Salesforce Data

Haptik's IVA can leverage user information stored in Salesforce to make automated conversations - hyper-personalized. This can be as simple as addressing the user with their name or other details shared during previous interactions or by creating smart conversation flows where the repetition of questions is avoided. And after these chats are closed, all customer details and chat records are consolidated at one point.
By adding AI-driven automation, the power of Salesforce Service Cloud is amplified. While AI can handle more than 80% of customer support queries, your agents get more time to handle critical requests. Best of all, this solution can be enabled in a couple of hours, versus months and delivers satisfying, proactive, and consistent omnichannel customer experiences.
What are you waiting for? Get in touch with enterprise@haptik.ai today!
---
Want to develop an Intelligent Virtual Assistant solution for your brand?