Whatsapp eCommerce Chatbots - The Biggest Trend in eCommerce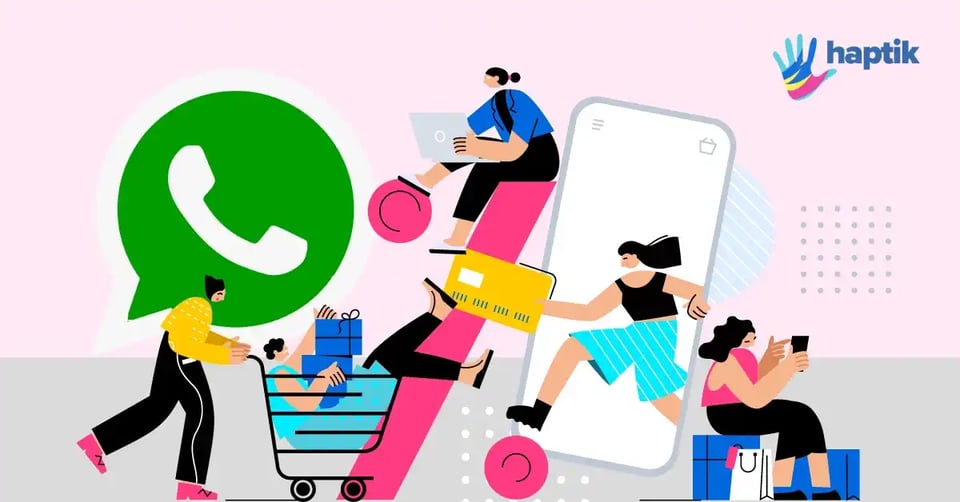 Despite the ups and downs faced by the global market last year, the eCommerce business is growing bigger every day.
According to recent research by Statista, it is observed that worldwide eCommerce sales amounted to $3.53 trillion in 2019, and the revenues are projected to grow to $6.54 trillion in 2022. The numbers clearly reflect the potential of the eCommerce industry as online shopping has become one of the most popular internet activities worldwide.
WhatsApp emerging as the new online shopping channel
Among all the contemporary social media and messaging platforms, WhatsApp is the most popular messaging app used by more than 2 billion active users sending over 65 billion messages every day. 67% of messaging app users say that they would prefer to use chat for communicating with businesses over the next two years. Also, 53% of respondents say they're more likely to shop with a business that they can directly reach through messaging. Forward-looking businesses are capturing this latest trend to drive their online sales using intelligent, proactive WhatsApp chatbots.
In this piece, we will deep-dive into WhatsApp chatbot integration with eCommerce, how it impacts the conversion rates for businesses, and what are the advantages of WhatsApp chatbots in the eCommerce sector.
What is a WhatsApp chatbot?
In simple terms, it is an intelligent virtual assistant (IVA) powered by artificial intelligence that runs on the encrypted WhatsApp platform allowing customers to engage with eCommerce sites with the same ease and user-friendliness. These chatbots have in-built NLU models keeping the eCommerce industry in the mind.
WhatsApp chatbots enable eCommerce businesses to convert shoppers into paying customers and automate the process of customer service to a large extent. WhatsApp Chatbot helps eCommerce businesses in:
Real-time communication with customers while providing personalized support

Trust building among the customers improving brand loyalty

Establishment of a secure platform for communication between businesses and customers
Impact of WhatsApp chatbots on eCommerce
A recent survey states that 71% of customers believe that they get better deals online than visiting a physical store. Also, it is observed that more than 80% of the internet-using population has bought something from an eCommerce store whereas, 50% of the internet-using population has bought something online more than once.
Whatsapp bots have a direct impact on eCommerce conversion rates.WhatsApp Business API chatbot has helped eCommerce brands drive customer engagement and increase sales three times more, and augment the rate of revenue generation by 10X. These chatbots are enabling businesses to convert increasing online traffic to loyal customers by adding value in the following ways:
Full Catalog Access: Earlier, customers were able to view selective products sent by eCommerce brands on messaging platforms but nowadays, these eCommerce chatbots help customers view the entire product catalog from their WhatsApp.

Lead Generation: WhatsApp chatbot integration also assists in automating lead generation. Once customers start chatting with the WhatsApp eCommerce bot, it collects all relevant details like name, phone number, and email address. This is a better approach to capture customer information than pushing customers to share their details.

Up-selling and Cross-selling: To make the most of customer data, the WhatsApp chatbot platform suggests the best-recommended product to customers based on their interest and historical purchase trend.
Read More: 10 Reasons Why Your Brand Should Be on WhatsApp
What makes WhatsApp Chatbots different?
Customers want the shopping experience to be as smooth as possible and the integration of WhatsApp chatbot facilitates that. Some of the most significant features that give WhatsApp chatbots an edge over other messaging platforms, and the benefits that are driven after integrating WhatsApp chatbots into the eCommerce business are as follows:
Automate FAQs

eCommerce industries have witnessed a surge in the volume of FAQs on online channels while customers engage with the business. These FAQs consist of questions related to products and their variants, size chart, payment methods, refunds, order status, and many more. A customer is likely to drop off or switch platforms if these questions are not answered immediately. Therefore, eCommerce businesses integrate chatbots with WhatsApp to engage customers with immediate answers, increase conversion rates, and reduce support-ticket volumes. This is to ensure a superior end-user experience through the entire customer lifecycle.

Personalized Recommendations

Whatsapp chatbots help capture a record of all previous conversations, user activities, purchase history, and relevant customer data and update the same in the CRM which the business is using. This contextual user data helps in creating a personalized user experience for customers by recommending the best products to their interests.

Retarget Abandoned Carts

Despite all optimization strategies in the eCommerce business, the biggest pain point for companies these days is losing their customers at the last step on their shopping journey, i.e., the checkout page. It becomes imperative to retarget those abandoned carts by re-engaging dropped-off customers and encouraging them to complete their purchases. This can be done with the help of WhatsApp business chatbots. Lower investments in re-targeting and engaging lost customers to convert them into sales via chatbots procure much higher returns than large investments required in new customer acquisition.

Click-to FB & Instagram Ads

One of the most important features that WhatsApp chatbots offer is the Click-to-ads feature. eCommerce companies use this feature to advertise products on customer's Facebook or Instagram pages. Once customers click on these ads, it opens a conversation thread in the WhatsApp Business App. This allows customers to connect with businesses on WhatsApp straight away and make instant, impulsive purchases.

24*7 Availability

Not only limited to sending promotional notifications, but WhatsApp chatbots also enable 24*7*365 availability, providing an uninterrupted shopping experience to users. It is observed that many customers drop off from an eCommerce webpage just because they didn't get immediate answers to their queries. In such cases, WhatsApp chatbots steal the show by accompanying the customers round the clock through their online shopping journey.

1:1 Shopping Assistance

Unlike conventional eCommerce customer support, catering one-to-one shopping assistance to each and every user is one of the most significant features of a WhatsApp chatbot that makes it different from other platforms. It provides a friendly, humanized experience to customers when these chatbots personalize their shopping experience the way they want.

Support Multilingual Conversations

WhatsApp Chatbot supports conversations in vernacular languages. This is a great opportunity for your brand to create a conversation with your customers across all geographies. This becomes particularly critical for a linguistically diverse country like India. At Haptik, we developed "Linguist Pro" which allows your chatbot to create multilingual conversations.

Read about how JioHealthHub leveraged Haptik's Multilingual Capabilities on its WhatsApp chatbot to create a deeper relationship with its customers.
Taking it one step forward with WhatsApp Business Pro
WhatsApp Commerce has been the engine behind the growth of many small and large-scale companies. It has evolved into a full-blown channel that brands are leveraging to sell and transact with their customers, emerging as the most efficient channel to buy and sell digitally. You are leaving serious money on the table if you're not unleashing the true potential of WhatsApp Business API. (It is home to 2 billion+ active users, across the world!)
It wouldn't be wrong to say that WhatsApp is the ONLY channel that a few brands leverage to connect with their customers. WhatsApp and Haptik are constantly tackling one question: How can we improve the commerce experience on WhatsApp?
Haptik's WhatsApp Chatbot solution has undergone major changes and we see a potential to create a formidable WhatsApp offering. This idea has given birth to WhatsApp Business Pro - Haptik's Ultimate Conversational Commerce Solution for WhatsApp! We have built powerful integrations to streamline the shopping experience on WhatsApp.

WhatsApp Business Pro is designed to cover the entire shopping journey of customers. We are confident that the convenience of shopping with WhatsApp Business Pro is an experience that your customers will be delighted with.
---
Watch the On-Demand Webinar!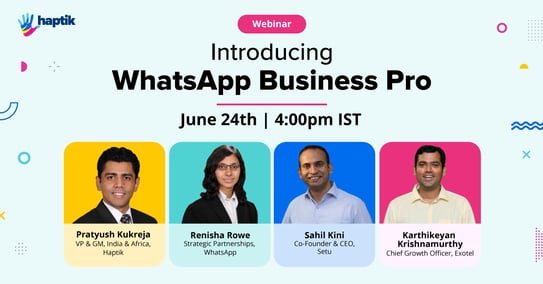 ---
Features of WhatsApp Business Pro
1. Easy payment in two clicks (Our personal favorite!)
The frictionless experience of digital payments has accelerated the adoption of cashless transactions. Right from retail outlets in malls to local Kirana shops, the UPI code scanner sits comfortably at the cash counter of every shop. As your customers have grown accustomed to digital payments, their expectations and demands have increased rapidly. This is where our 2-click payment experience helps. WhatsApp Business Pro will allow your customers to make direct payments from WhatsApp while they are on the purchase journey. The best part? They don't have to navigate between multiple apps. You can also use notifications as payment reminders and ensure a frictionless payment collection process.
2. AI-Powered Recommendation Engine
Imagine this: The salesperson in your store is trained to judge the intent of the visitor and recommends products based on intent and their past visit behavior. Well, we've made this a reality. Haptik's AI-powered recommendation engine increases upsell and cross-sell opportunities by contextually suggesting products your user needs based on their intent and past behavior. Haptik's Recommendation Engine automatically matches user requirements with your product catalogs, description, customer reviews, and other data to help you convert passive visitors into engaged buyers.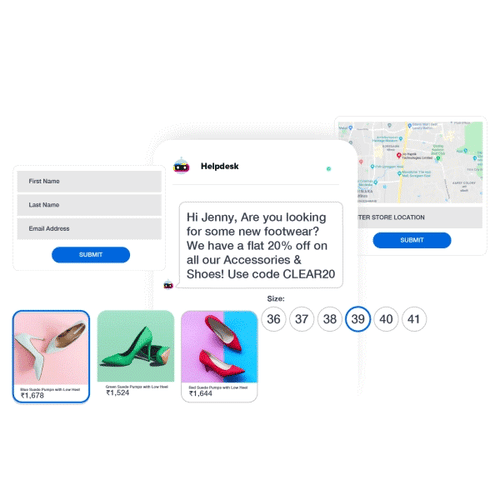 To make it easier for brands to have conversations with their customers, WhatsApp has introduced two new interactive elements for the Business API: List Messages and Quick Reply buttons.
At Haptik, we have been a part of the beta release of these feature updates and have implemented them for Reliance Jio for their Telecom and Jio Mart WhatsApp Chatbots. Read more about it here.
3. Discovery and Easy Opt-In
WhatsApp requires a brand to get an opt-in from a user before it can start engaging with him/her i.e. the user needs to consent to start a conversation with your business. Businesses can include a deep link, banners, or a contact form on their website which can be used to submit details. It can also be done by deflecting IVR calls to WhatsApp. This can be done simply by including an option in the IVR message which says "Would you like to continue this conversation over WhatsApp?"

With WhatsApp Business Pro, we're introducing "Missed Call" as another opt-in option. A user can simply give a missed call to your virtual number to get started!
Final Thoughts
WhatsApp commerce has become the mainstream for eCommerce businesses allowing them to trade globally and improve e-commerce conversion rates by providing instant customer support. With new brands coming up every single day, the e-commerce business is becoming too competitive. Hence, there is no surprise that eCommerce businesses are rapidly adopting Whatsapp chatbot integration to redefine customer engagement and deliver a personalized experience to their customers shopping online.
---
Want to develop an Intelligent Virtual Assistant solution for your brand?