9 Best Chatbots in the Financial Services Industry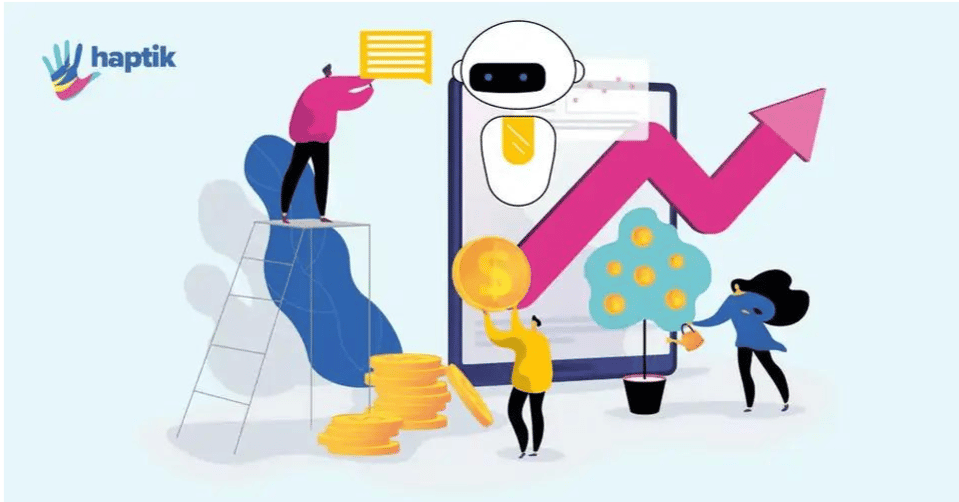 As user's expectations grow, AI is playing an increasingly important role in the financial services industry to keep with the expectations. Many financial companies are experimenting with chatbots both for offering new and better financial services to their customers and for general customer service. The chatbots in the finance industry add significant value to the user experience and cost management budgets. In any business, customer support and satisfaction are fundamental pillars. Hence, it is important to build a strong foundation of these pillars to have a successful business. By incorporating AI chatbots in the finance industry, the chatbots can handle routine requests such as balance inquiry, payment information thereby, reducing the workload of call center employees so that they can focus on other challenging tasks and strategies which require a higher degree of expertise.

According to a report from Forrester, 90% of customer service leaders agree that personalization is the need of today's business. It is the future of automation and the next-generation CX revolution. In every industry, Chatbots have established themselves as the best tool and helped companies provide more value to the users and reduce business expenses.

A report from business wire says that one-third of customers revealed they would consider switching companies after they experience a single case of poor customer service. To avoid such issues, brands are adopting new ways to provide excellent customer service to their users.

To help you in your venture, we have compiled a list of the top 10 best financial chatbots on various use cases such as:
Banking and account services

Customer service agent assistance

Voice-enabled virtual assistants

Requesting and managing refunds

Flexible chatbot platforms for multiple uses

Self-service insurance transactions
Read on: How personal finance chatbots can help users redefine money management


Best Chatbots in the Finance department
Kasisto has an AI chatbot platform called KAI. They claim to help financial institutions by creating chatbots for them. The chatbots can be used to make payments, review account details, and ask questions. Kasisto's chatbots can also help users to manage their funds from multiple accounts. In case the chatbot is unable to solve a customer's problem, then KAI software can send a chatbot conversation to the customer service department, where the employees take over the task and assist further.
Chatbots of Kasisto's platform can be integrated into desktops, apps, and dashboards for backend employees. The Chatbots are trained to converse with customers regarding financial tasks. Customers can also schedule and send payments, or update the terms of claims through Chatbots. The software can send a chatbot's conversation to a human agent in case the bot cannot solve a customer's problem.
Chatbots developed using Kasisto's platform can integrate into smartphone apps, websites, and dashboards for backend employees. The company also claims to have a deep learning tool for business banking chatbots that helps train new machine learning models, however, they do not offer a detailed explanation of how multiple neural networks would work to make a chatbot more effective.
Tars are known for its chatbots templates for every situation and in any industry. Particularly, their chatbot templates in the finance industry are more popular. The other good thing is that Tars have used their chatbots on their website. Working with Tars chatbot doesn't need any coding experience. The chatbots are programmed in such a way that they immediately catch users' attention, invite them for a conversation and encourage them to take the required action.

If any company wants a customized chatbot that is made just to solve their problems, Tars can do that too. Tars have a powerful AI integration feature, which can be integrated with any business management application. Tars say that if you use their financial services and banking chatbot then your conversion rate will increase up to 2-3x. Financial services chatbot helps you reduce the retention rate, saves money, and offers personalized engagement with the customers.
Haptik is one of the best emerging Chatbot tools that work on the Smart Skills technology, custom-made for the finance and other industries. Haptik has a rich library of smart skills that are derived from key-learnings and best practices of the financial services industry.
Haptik offers pre-built integrations where the IVA can be effortlessly integrated with other contact center infrastructures like CRM, ticketing systems, and ERP. Haptik has a Native Python-Based code editor that performs all the tasks. The information between the IVA and the other applications can be transferred easily using open APIs, and open, flexible Webhooks.
Haptik's financial services chatbots can be used across multiple channels such as WhatsApp, SMS, Messenger, Google Business messages and provide seamless integration with IVR systems such as Genesys, Avaya, Zendesk, Freshcaller, Cisco, and more. These chatbots converse in a natural, engaging, and personalized manner across various platforms that make the customer experience delightful. Haptik also helps in maintaining a unified and consistent brand voice across marketing, sales, service, and support.
[Expert guide] - Factors to Consider While Implementing Conversational AI for Financial Services
Hybridchat is a live chat software that integrates chatbots and connects them bi-directionally to a messenger that the company prefers. Hybridchat boosts digital adoption and streamlines banking operations and helps in reducing costs by automated FAQs and customer service inquiries by saving time for your customer support team.
It is a self-service software which means the new clients can easily be onboarded on the platform by helping them during the user registration, authentication, and account registration process
The employees in the financial services industry often have to hear the same questions again and again. To save customer support time, chatbots can answer customer inquiries and help companies to sell everything from credit cards to insurance policies.
Growthbotics offer different services like Chat Apps, Whatsapp API, CV, CRM, OCR, Payment Gateway Integration, Discord Bots, Alexa Skills development, Twilio API, WeChat API integration, and AI security.
They offer to reduce employee headcount and operational inefficiencies by 30%. Their chatbots include NLP powered chat support and price/product recommendations.
Growthbotics AML and KYC Automation features can stop fraud. Their AI OCR Image and Recognition detect fraud and automate, compliance, KYC and e-loans.
They help in improving the customer experience with customization AI face and Voice Assistant.

Their AI feature can point out non-paying clients and also find ones with bad credit scores.

Growthbotics make customer onboarding easy with AI sentiment assistants.
Their AI tool helps to recommend products and estimate prices based on data.

Kore:
Some of the key stats that Kore talks about:
40% of repetitive accounting and finance tasks can be effectively automated by chatbots.

A 90% increase in accuracy can be achieved by eliminating the inefficiencies and complexities inherent in traditional accounting processes.

50% reduction in payroll costs can be achieved by implementing chatbots to augment your existing finance or accounting staff.

Kore.ai bots help companies in the financial services industry to be more productive and efficient. They make invoicing easier. Their chatbots can be trained in identifying the accounting codes that should be assigned to each type of invoice and automatically update the necessary systems of record. This helps in improving finance visibility, productivity, and cost-effectiveness and reduces the possibility of human error.
Collect.Chat also offers different types of Finance Chatbot Examples and Free Templates for various use cases. The templates can easily be edited, updated, and installed on the finance business website. Some of the templates they offer are:
Merchant Service

Insurance Assistant

Mortgage Survey
Collect.Chat chatbots interact with the customers in a personalized manner that helps in generating leads. These chatbots are proactive and available 24/7 to serve customers. The messaging done by chatbots is 100% automated. Depending upon the user, the bots can easily change the flow of the conversation. Collect.Chat chatbots converse with every visitor and help in capturing emails of the users which can later be used in the lead generation process.
The chatbots can easily be built using a simple drag and drop feature. The conversations can be created with draggable elements. The customer support team will be quickly notified whenever a user finishes a conversation with the chatbot. Chatbots can be used to schedule and book meetings with senior agents. Chatbots made by Collect.Chat is mobile friendly and can easily be used to gather insights on customer satisfaction by asking their opinions & measuring their experience. The bots can easily be shared via social media or in the campaigns with a link that can be used to increase the reach and qualify leads.
Nuance Communications is popularly known for its AI-enabled voice recognition technology for healthcare. Recently, they started offering services in the financial services industry. They offer a virtual assistant service called Nina. The customers can ask Nina questions by voice or text. The virtual assistant can be integrated into the company's website or smartphone app. It is compatible with SMS texting applications, smart TVs, or acts as a customer service platform for bigger companies.
New users come across issues while setting up their account which Nina can handle flawlessly just by answering a few questions. Nina can also display highly personalized automatic prompts as per the user behavior. For instance, if a user is spending a long time on a particular financial plan, Nina can be configured to show prompts that offer advice. This way a chatbot like Nina can help navigate the user towards making an informed decision.
Paypal also offers an AI-powered customer service chatbot that can be run through Facebook messenger. For security reasons, Paypal chatbots ask users to log in every time they want to use the application.. The chatbots also bring up a list of the customer's disputed payments so that the customers can make sure to check the status of each one.
Users can also ask any questions about their Paypal account with chatbots. Common questions include:
Declined payments:
To know the reason why a particular payment was unable to clear or why the users were not able to accept payment that has been sent to them.
Unauthorized charges:
Customers can make inquiries about payments for goods and services that the customer did not purchase, which is followed by how to solve the issue.
Passwords
Passwords section also includes other login information such as the email which is connected with the account and other security questions as well
Account Holds and Limitation
Any condition set on the user's account limits how much money they can send or accept and how frequently they are allowed to.
Paypal also claims to use ML technology to detect fraud and risk mitigation on their payments platform. They claim to use hundreds of identifying factors within each transaction to ensure that no suspicious activity is going on. This also includes chatbot interactions like asking certain questions within a particular time frame.
Read On: Why Financial Services Brands Should Leverage Conversational AI for Customer Care
To Sum Up
Finance chatbots can provide support anywhere in the world to any user. They are available 365 days a year and can answer a question 24/7, solve common issues quickly like, resetting a password, managing transactions, or finding the nearest open office. Chatbots can handle multiple requests at a time. They decrease user waiting time and resolution time. Chatbots save 4 minutes per inquiry as compared to traditional call centers.
According to a Juniper study, companies that use virtual agents and chatbots will save $8 billion per annum by 2022. Finance chatbots can help to generate leads, reduce business expenses and turn the leads into buyers. They help reduce the workload and work 24/7.
If you're wondering why to use a Fintech Chatbot for Your Business, this article will help you understand the benefits, use-cases and success stories - Fintech Chatbots for Business: Reshaping Customer Experiences
---
Want to develop an Intelligent Virtual Assistant solution for your brand?