5 Best Chatbots in the Financial Services Industry in 2023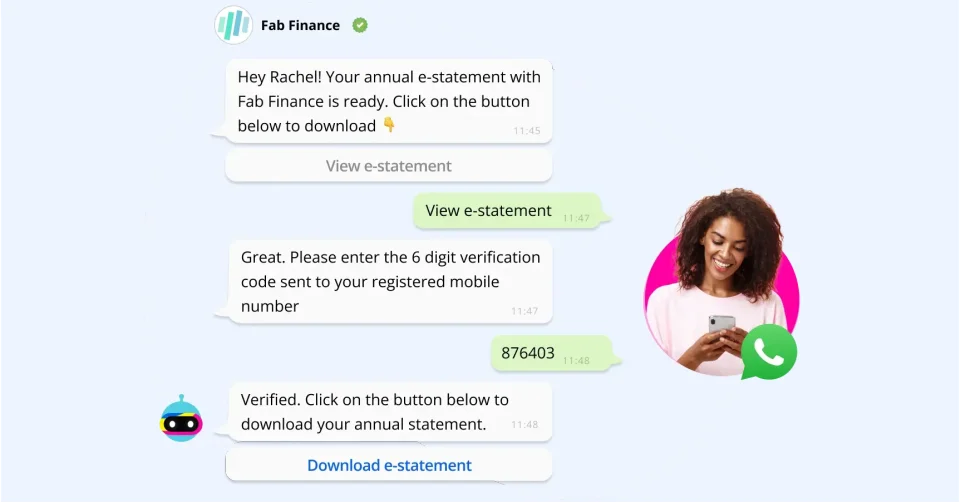 With user expectations in the financial industry continuing to rise, AI-powered chatbots are helping offer better financial services and improve customer support. Chatbots help financial service companies handle routine requests such as balance inquiry, payment information thereby, reducing the workload of call center employees so that they can focus on other challenging tasks and strategies which require a higher degree of expertise.
In this article, we discuss five of the best chatbots in the financial services industry, including the use cases they solve, the business outcomes they generate and so on.
Tata Mutual Fund
The most trusted mutual fund house in India, Tata Mutual Fund offers a wide range of solutions for financial planning and building wealth. It sought a solution capable of serving Millennials who demand support on the go. Tata Mutual Fund partnered with Haptik to provide them with an easy-to-use platform, which was an AI-powered chatbot for near-perfect query resolution.

The chatbot had to improve customer experience (CX) and drive customer engagement on popular messaging channels.

Haptik offered a digital-first approach by building a chatbot that resolved queries end-to-end and freed up agents to focus on high-value tasks.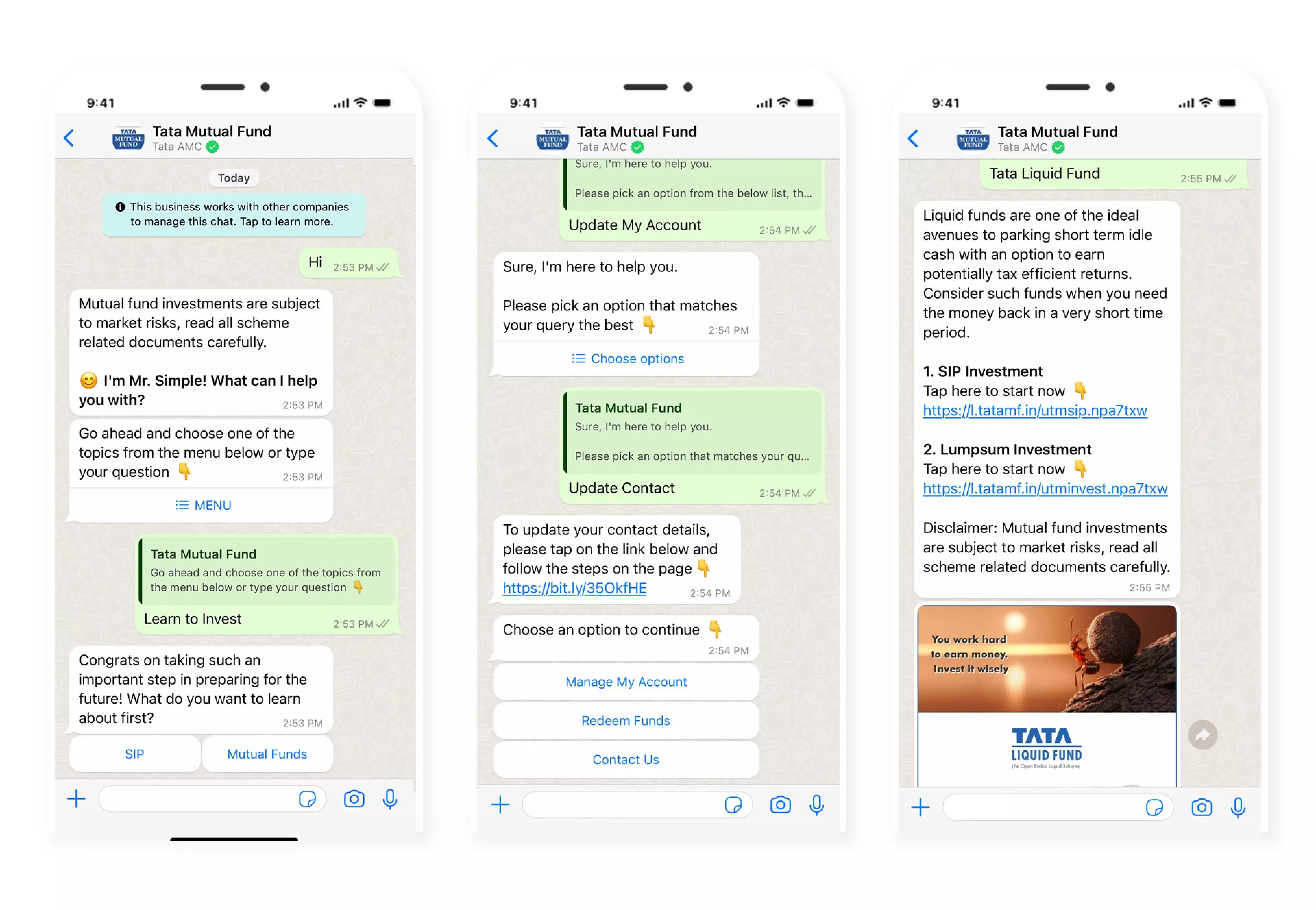 The end result was a significant improvement in customer engagement, achieved through intelligent prompts and content flows, while the chatbot also integrated seamlessly with the backend system to ensure effective information dissemination.

The deployment of the chatbot helped with Tata Mutual Fund achieving 90% end-to-end query resolution and a 67% reduction in call center queries.
Kissht (Ring)
Kissht, now Ring, is a leading financial technology platform that's transformed how customers access credit financing. Ring aimed to provide a frictionless credit lending experience online and offline to its customers. It was committed to delivering a strong user experience to its diverse customer base.

It had a twofold objective: deploy a chatbot capable of delivering exceptional customer service (more specifically, improve first-response time, among others) and ensure a seamless integration process. Haptik helped it address its objectives with "utmost efficiency".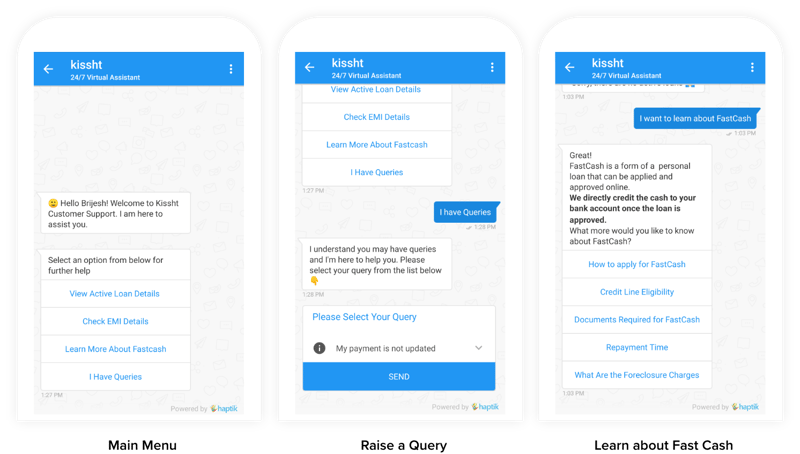 Ring collaborated with Haptik to build a conversation platform on WhatsApp that would enhance customer convenience and automate support. The conversation platform leverages the WhatsApp bot's efficiency to provide customers with instant access to EMI-related information and address their pressing queries.

Haptik used the WhatsApp UI to help current users check active loans and application status via chat, while the bot helped achieve faster query resolution and response times.

Ring achieved an end-to-end query resolution rate of 72% while handling 800,000 conversations and achieving 84% automation.
Find out how Ring's collaboration with Haptik enhanced customer convenience & automated support
CASHe
CASHe is a leading credit-based financial wellness platform with the aim of enhancing the borrowing journey for young middle-income consumers. It set out to leverage technology that would provide hassle-free access to loans, helping people to have more control over their finances. CASHe's product team also recognized that an automated and digital channel like WhatsApp was needed to provide sachet loans to millions of users across India.

It partnered with Haptik to give its customers access to instant credit line without any wait time, ensure every lead is responded to in a timely and efficient manner, and reduce back-and-forths associated with verification, document upload, automated underwriting, while accelerating loan disbursement.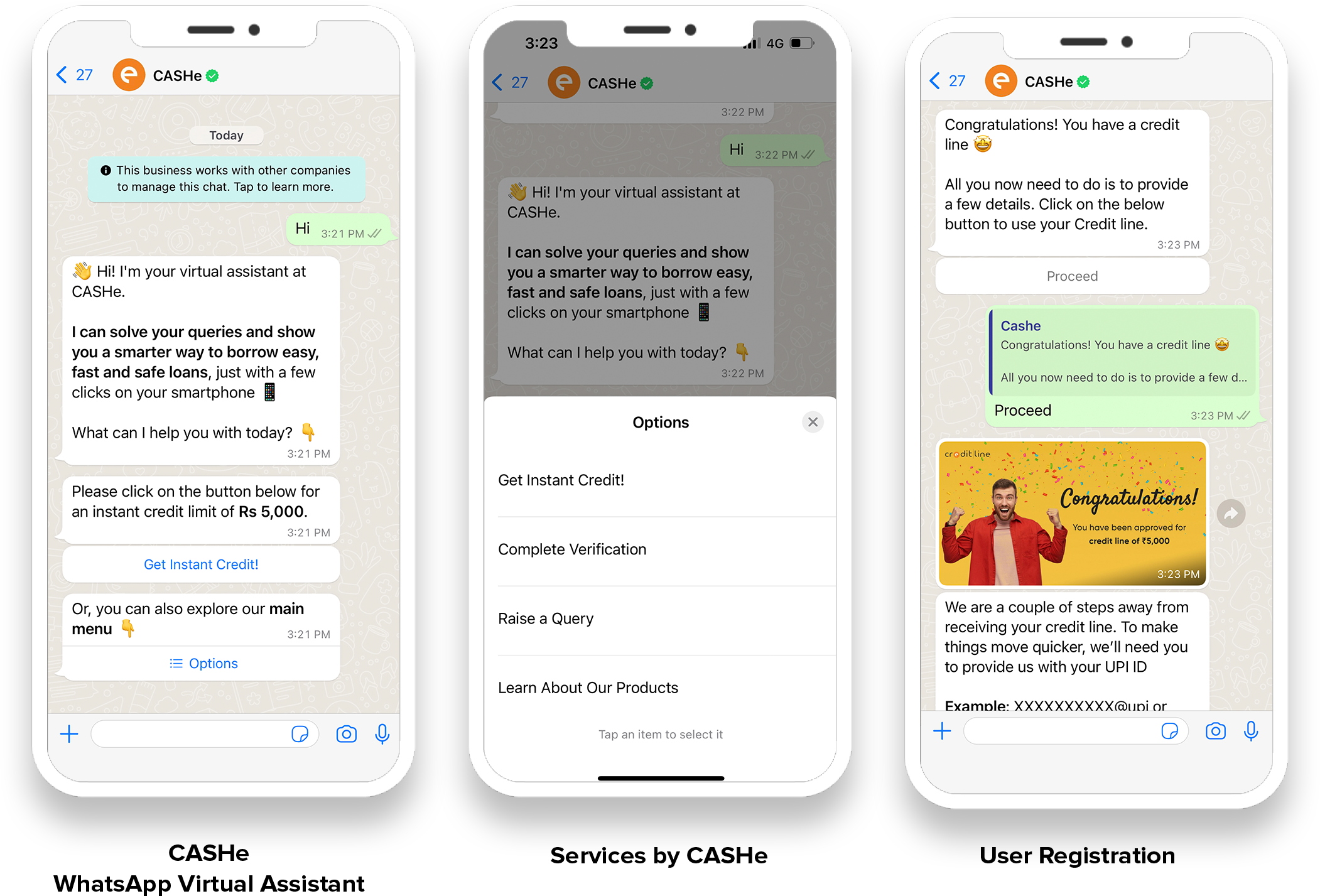 Haptik created a conversational WhatsApp bot to help with user authentication and loan issuance in less than a minute. The bot offers on-demand assistance to applicants with loan-related queries and the application process was also an effective way to collect leads on WhatsApp.

Haptik's WhatsApp bot solution helped CASHe in acquiring 50,000+ new customers, issuing 50,000+ credit lines and disbursing more than INR 25 Cr in loans.
Read more about Haptik helping CASHe with customer acquisition and reducing wait time
Upstox
Upstox is Asia's largest investment platform with an ever-growing customer base. However, with an uptick in dormant users, it focused on driving better engagement with its inactive customers while offering financial education, encouraging trading activity, and converting latent clients into frequent traders.
It sought to use WhatsApp as a customer acquisition channel to onboard new users while enhancing the trading experience for its existing clients.

Upstox partnered with Haptik with the aim of offering a distinct value proposition in a competitive market and ensuring every incoming lead was responded to in a timely and efficient manner.
Haptik built a WhatsApp chatbot that made it possible for Upstox users to effortlessly apply for IPOs. The bot helped with the onboarding process for new users, guided them with personalized workflows, and Haptik's Proactive Messaging feature allowed Upstox to send WhatsApp notifications to users and achieve a 20% increase in the number of trades.

According to Upstox's co-founder, Shrini Vishwanath, "Haptik has been pivotal in helping us explore the various engagement and sales opportunities that come with an AI-powered chatbot, firing up our sales pipeline, and giving us a competitive advantage in our mission to drive exceptional customer experiences at scale."


Haptik helped Upstox onboard 220.5k+ customers in less than six months and resolved up to 78% queries without the involvement of an agent.

Learn more about how Haptik helped Upstox deliver exceptional CX at scale
IIFL
IIFL Holdings Limited is a diversified financial services company in India catering to a four-million-strong customer base across various business segments. It sought an effective and cost-efficient solution to handle the high influx of customer support queries and enhance the overall customer experience with faster query resolution.

It collaborated with Haptik to build a chatbot, named ASK-IIFL, to cater to a high volume of queries in real-time, reducing the necessity of human intervention and alleviating the potential for errors.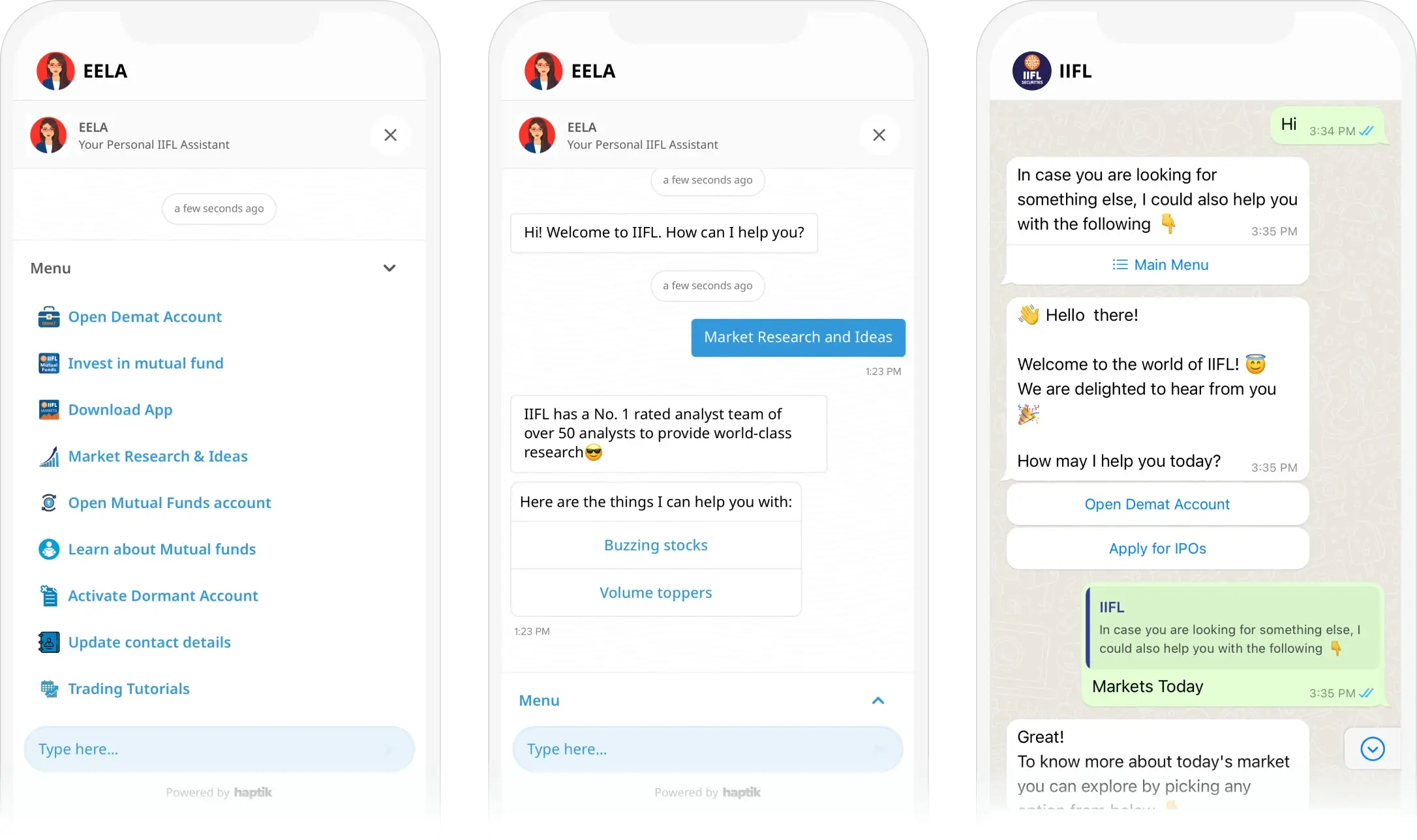 Haptik's chatbot helped achieve faster and more precise query resolution, thus leading to enhanced customer satisfaction (CSAT). Not only that, the chatbot also significantly reduced operational expenses for IIFL while offering swift solutions to FAQs such as trading report, balance and transfer, brokerage calculators, and more.

With the help of Haptik's chatbot, IIFL achieved a resolution time of 45 seconds, an average user feedback score of 4 (out of 5) and handled 30,000+ monthly conversations.
Learn all about IIFL accelerating query resolution & enhancing CSAT
Summary:
Finance chatbots provide support anywhere in the world to any user. They are available 365 days a year and can answer a question 24/7, solve common issues quickly such as resetting a password, managing transactions, or finding the nearest open office. Chatbots can handle multiple requests at a time. They decrease user waiting time and resolution time. Chatbots save 4 minutes per inquiry as compared to traditional call centers.