IVR Deflection or Conversational IVR: Which is better?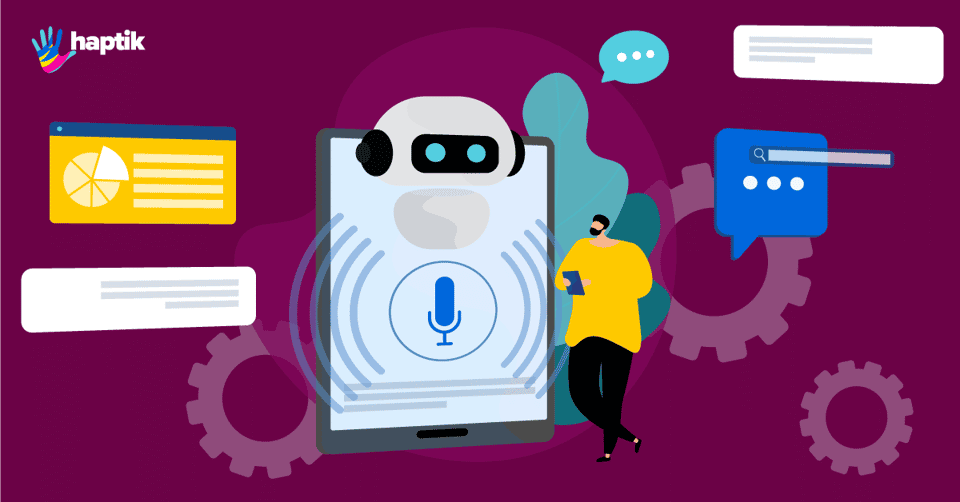 Interactive Voice Response (IVR) is a ubiquitous yet disliked tool for customer service. While businesses adopted them to respond to customer queries and calls effectively and reduce support costs, it created massive resentment among customers. This dissatisfaction reached a point where a large US telecom carrier decided to do away with IVR altogether and allow customers to contact human agents directly. While IVR helped organizations achieve efficiencies to some extent along with reduced cost per call, customers found the impersonal interactions to be less than satisfactory.
IVR Is Transforming To Be More Relevant
Despite the shortcomings of IVR, it is not going away. Instead, it is undergoing a transformation to provide better ways to serve customers. Primary among the changes is the rise of conversational IVR that replaces mechanical choice of options with natural conversation patterns.. Additionally, techniques like IVR deflection are also proving to be practical tools to improve consumer experience and organizational efficiencies with IVR. It is critical to understand the differences between conversational IVR deflection versus IVR automation to ensure that organizations can leverage them appropriately for increased customer satisfaction in a given context.
Understanding these differences will allow you to better handle customer interactions depending upon the context and situation. Such flexibility helps you enhance consumer satisfaction and engagement through a better experience.
The Problem With Traditional IVR
The customer dissatisfaction with IVR stems from how it prioritizes efficiency over experience. IVR's primary objective is to reduce the number of agent calls, according to over 57% of executives. To achieve this objective, it treats every customer and situation at par and stops customers from reaching agents to the extent possible. This design is not customer-centric. It doesn't take individual user journeys into account. Traditional IVR implementation leads to a maze of options that a customer must traverse before they can get even a simple answer. And for critical queries, the time it takes to navigate the IVR call-tree results in severe dissatisfaction.
IVR Automation (or Conversational IVR)
What is Conversational IVR?
Conversational IVR is not only a speech-based IVR that reacts to voice commands but instead uses the natural patterns of conversations to facilitate customer interactions. Such an advanced form of conversation IVR uses Natural Language Processing (NLP) and AI to understand customers' queries and respond appropriately without making the customer traverse through a maze of options and selections.
The intelligent response helps you improve your First Call Resolution (FCR) rates. The customers' enhanced experience also helps you with a better Net Promoter's Score (NPS), not to mention helping you reduce costs and making internal processes more efficient
You can read this article for more details on conversational IVR, its use cases, and its benefits.
Automation With Conversational Interfaces
Conversational voice interfaces enable organizations to automate business processes with the help of IVR. From a technological perspective, the customer might use a telephone call, a voice assistant, or any other voice-enabled interface to connect with the organization. The conversational agent who powers the IVR can respond differently depending upon the customer's needs and underlying data and intelligence. These responses may include:
Providing the answer or information to the caller. For example, in a banking scenario, if the customers want to find out the nearest branch or ATM locations, the conversation IVR agent can ask for the customer's current location and, through GPS integration, provide the list of the nearby branches.

Perform appropriate tasks in response to the customer's request. For example, a hotel's conversation IVR agent can reschedule a guest booking, or a car showroom may allow the customers to schedule a test drive through conversational IVR.
Gartner had predicted that "By 2020, customers will manage 85% of their relationship with the enterprise without interacting with a human." While the extent to which this prediction has come through is not available, recent research by Vanilla Forums found that 79% of customers expect organizations to provide self-service support tools to help customers find answers without having to contact support.
The Human Role In IVR Automation
While automation is critical, assuming that it will result in a complete replacement of human agents is erroneous. One of the essential considerations for effective IVR automation is how seamlessly it can facilitate human agents' interactions. The first level of automation that was already existing was to balance the load between available agents. Conversational IVR adds an intelligent capability to transfer the control to a human agent when appropriate during the conversation.
Check out this e-book, Conversational AI: Redefining Contact Center Automation With AI, for detail understanding that will help you leverage IVR automation effectively.
Advantages of IVR Automation Over Traditional IVR
Many experts predicted IVR's demise, given the challenges associated with it. As the more robust alternatives in the forms of chatbots emerged, many believed that IVR might no longer be relevant. However, there are times when customers prefer and need to speak to the right people. With conversational AI, IVR is transforming to be relevant again. And IVR automation helps address some of the concerns with traditional IVR systems.
Faster Response And Resolution
Since the Conversational IVR can find the customer intent better and faster, it can match the customer with the right agent with requisite skills quickly. With this right help, customers find their queries resolved much faster than with the traditional IVR systems. The First Call Resolution (FCR) rates also improve, while customer wait time and Average Handling Time (AHT) goes down, leading to higher satisfaction.
Easy Handling of Large Call Volumes
There are times when your business will experience a spike in incoming calls. Since IVR automation reduces the time taken to a resolution of each query, it frees up your agents faster. A shorter duration per call allows you to serve more customers without increasing the capacity.
IVR Deflection
What Is IVR Deflection?
IVR deflection takes the automated customer experience to the next level. While conversational IVR restricts the customer and agents to the voice channel, deflection allows you to add a multichannel experience to consumer interactions. Given the situation, people may prefer different channels. Sometimes, the information exchange is best performed through mediums other than voice.
For example, suppose a customer inquires about opening a bank account. In that case, the conversational agent can pass on the information to the underlying intelligence layer, sending the account opening form via email to the customer. This is just one example of how IVR deflection works.
IVR deflection allows using multiple channels to suit customer preferences and optimal communication modes for the intended customer actions. Customers prefer an omnichannel experience, and IVR deflection will enable organizations to leverage it. With additional channels, customers also get answers quickly, without any constraints of time or agent availability.
Implementing IVR Deflection
Traditionally, the concept of deflection was used passively. IVR systems played the message about other channels' availability while waiting to connect to the agent. However, this approach had drawbacks. The customer had to drop the call and reconnect again through a different channel. With today's smart devices, the process can be more proactive and seamless.
Your customers will likely call using a mobile phone. The IVR system can smartly identify if that's the case and offer to send a link to the customer's preferred channel. While SMS and email channels can be supported over almost every device now, with smartphones, customers can benefit from capable channels like intelligent conversational agents (aka chatbots). The links can allow customers to carry forward the conversation from where they left off, without starting over. Such smart IVR deflection can also utilize the organizational knowledge base and direct customers to appropriate resources.
Broad Steps For Implementation
Identify customer intent. New-age conversational IVR systems are capable of doing this smartly. Determining the customer intent will allow the IVR to decide whether offering deflection will be the right strategy for that intent.

Inform the customer about the time it will take to connect with the customer and offer different channels to save time. Provide this information at the earliest within the IVR flow. Also, share the information about any limitations depending upon the intent.

Let the customer decide if they want to utilize these alternatives or talk to an agent. Such an approach to IVR Deflection versus Conversational IVR helps with increased customer satisfaction.

Verify pertinent details of the alternative channels if necessary. For example, to utilize SMS or email, confirm the number and email address the IVR system should use.

Before hanging up, confirm that the customer can access the link or the information sent via the selected channel. Once the confirmation is received, IVR should inform the user before hanging up.

Let the customer know if any additional charges or conditions apply to the selected alternate channel. For example, to use the SMS channel, there may be standard carrier charges involved.

Ensure you are not passing any Personally Identifiable Information (PII) or Sensitive Personal Information (SPI) via unsecured channels.
The contents of the other channel can include;
Your message

Link to your conversational chatbot, messaging channels like SMS, Facebook Messenger, WhatsApp, Mobile App, or any other self-serve tools.
Explore 7 remarkable Conversational IVR trends for the year 2021 and beyond
How IVR Deflection Helps Businesses
Much like IVR Automation, IVR deflection too addresses many of the shortcomings of traditional IVR systems. Some of the benefits of an IVR deflection solution are:
Enable Faster Resolution Of Customer Queries
Often, the customers need preliminary information that doesn't require much human expertise. For example, a customer of an airline might call to request a copy of their airline itinerary. Instead of waiting for an agent to be available, the IVR can deflect the phone call to SMS to ask the customer for their identity or PNR and send the itinerary details via email. The customer doesn't need to wait for the agent to be available, mainly when the final action will involve sending the email.
Serve More Customers With Fewer Agents
While IVR Automation helped with larger call volumes to a great extent, there are times when even that is inadequate. Festivals, holidays, calamities, and pandemics are a few situations when your agents can get overwhelmed, and you might not have the capacity to serve this increased volume. IVR Deflection allows you to handle this increased volume easily, without an increase in capacity or expenditure.
Reduction In Cost
The cost per call when agents speak to each customer is high. Since a phone call is an asynchronous communication mode, only one customer per agent can be served. With multiple channels, the cost of serving a customer's request reduces considerably. Messaging and self-service channels have lower costs than voice channels. Deflection also helps minimize callbacks and repeat calls. An advantage of this reduction is improved agent satisfaction and reduced attrition.
Transcend Time Boundaries
IVR deflection allows utilization of IVR systems without the constraints of office times or agents' availability. Through IVR deflection, you can serve your customer any time of day, including times when the customer care line is closed or when call volumes surge, resulting in increased wait times.
IVR deflection allows you to increase customer satisfaction (CSAT) and Net Promoter (NPS) scores while leveraging your existing investments. It also facilitates the use of your existing knowledge base through self-service adoption. Through IVR Deflection, organizations can ensure 20% more usage of other channels than the calls.
How Deflection Improves on Traditional IVR
Traditional IVR takes away control from customers and acts according to its logic. IVR deflection gives a choice to the customer to use other appropriate channels.

Traditional IVR utilizes a single channel; deflection is multichannel.

With deflection, the IVR can serve multiple requests simultaneously as it works in an asynchronous mode.

With deflection, you can allow customers to connect at any time to resolve their queries or solve their issues.
To Sum Up
Not to be confused with call avoidance, deflecting calls is a way for overloaded contact centers to answer customers' questions and requests without needing an agent to engage with them. From optimizing IVRs and self-service options to customizing messages across multiple channels, perfecting call deflection at your contact center will help balance the call load and improve the customer experience. IVR deflection provides a personalized experience to the customers, which provides more significant customer satisfaction than treating every call and customer with a similar yardstick. Deflection also allows for a better omnichannel experience.
Both Conversational IVR and IVR Deflection identify the customer intent much better than traditional phone-based IVR systems. The adoption of these smarter IVR improvements helps provide a more customer-centric and journey-focused approach. Both the Conversational IVR and IVR Deflection empower you to optimize your internal operations while ensuring better customer satisfaction.
---
Want to develop an Intelligent Virtual Assistant solution for your brand?