Introducing Feedback Bot: CX Powered by Conversational AI
" When you're not sure what is working, ask your customers…and actually listen to them. "
Customer Feedback is the heartbeat that pumps change across companies and domains. Product teams use feedback to prioritize their roadmap. Engineering teams keep an eye on feedback trends to spot any bugs that error tracking tools might have missed. Support teams use feedback to measure their effectiveness.
Despite this, the market still does not have an engaging way to collect and, more importantly, use this feedback. Customer satisfaction surveys have not evolved or changed since their inception. These surveys are coma-inducing, people dread taking them unless they have to report extremely positive or negative feedback.
In fact, even Fred Reichheld, the inventor of the NPS(Net Promoter Score) was not a fan – "The instant we have a technology to minimize surveys, I'm the first one on that bandwagon."
So, we asked ourselves the question, "Could conversational AI be the right way to solve this?" Haptik has been using chat as the primary way of connecting with customers, and our platform has reached over 30 million devices since 2013. We have come to the realization that chat by itself is only a communication medium. So, rather than just evangelizing chatbots as a technology, we wanted to focus on solving customer problems. Like we always say, chatbots work best when they're focused on solving a narrow, specific problem.
Customer Feedback Collection – The problem you didn't know you had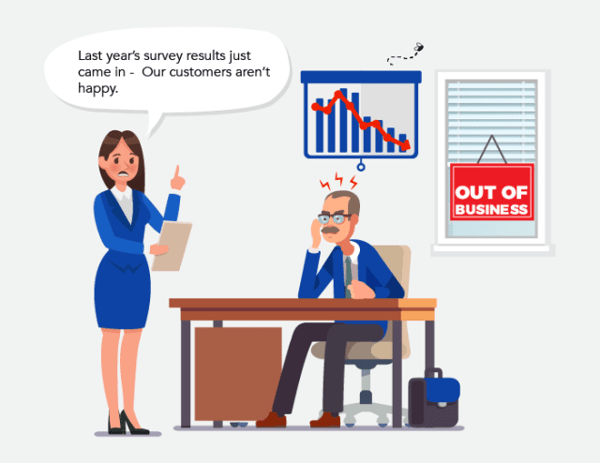 Even though feedback is accepted as an important aspect of any modern business plan, the methods have not changed. Traditional surveys over emails have a 10% open rate, and a less than 5% completion rate in the best of cases. These yearly surveys conducted by companies provide yesterday's insights tomorrow. They are ineffective, unactionable and near impossible to co-relate to other data points.
Quite often, teams within an organization must separately collect feedback to suit their goals.
This results in a disparate customer engagement strategy within the same company.
Thus, customers are bombarded with feedback requests. An innocuous test drive with a luxury car brand resulted in 3 different surveys, conducted over multiple telephone calls.
the dealership

– requesting feedback about the sales agent
the company

– requesting feedback on the vehicle
sales agent

– requesting feedback on the whole once more
We are undoubtedly suffering from survey fatigue.
Companies might be keen to increase response rates but, this can result in skewed feedback rating. Because, during surveys, customers are not only rating the product but the feedback experience as well.
But perhaps the biggest problem of all traditional feedback ratings is the lack of actionable outcomes. The problem with vanilla NPS is that, while it can tell you if customers are likely to recommend you, it can't tell you why.
Introducing, Feedback over Chat
69% of customers prefer communicating with chatbots for simpler support queries. Chat is now the primary way businesses and customers want to connect. At Haptik, we have extended the simplicity of a conversation to feedback. Here's what the Feedback Bot offers that makes it special:
1. Qualitative + Quantitative
The key data points for actionable feedback can be divided as follows:
Quantitative numeric data
Contextual qualitative data that is more free-form in nature
One gives you discrete data that you can measure, to know if you are on the right track.
Whereas open-ended questions make sure you're giving your customers a chance to talk and give a detailed review.
People don't always think on a scale of 0 to 10, and you need both quantitative and qualitative data to make the right decisions.
2. Real-Time + Contextual
Don't wait weeks or months to get answers to your questions. Our Feedback Bot can be deployed where your customers are, be it on your website or mobile app, over SMS, email, WhatsApp or even over a telephone call.
Custom feedback triggers allow you to target customers at different points during their journey, even if they've left your website or app.
Contact your customers to understand why they uninstalled your app.
Understand why your users are not converting to paying customers.
Know where your sign-up funnel is broken.
You can decide what to ask your users, when and take the guesswork out of your product decisions.
Still not enough? You can drop in on live chat and take over the conversation from the bot.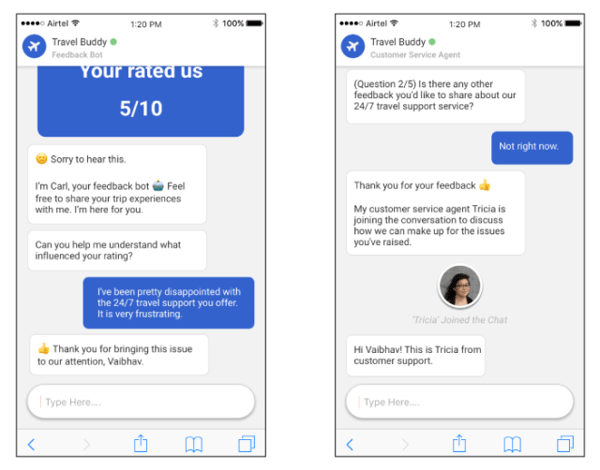 3. Intelligent Outreach
Not all customers are the same. Some customers would rather be contacted at 3 pm over text message, some would prefer to provide feedback over a call during non-working hours, while millennials would rather be contacted over email and provide feedback asynchronously…the list goes on. We don't treat customers the same inside our app, and the same should be true while collecting feedback.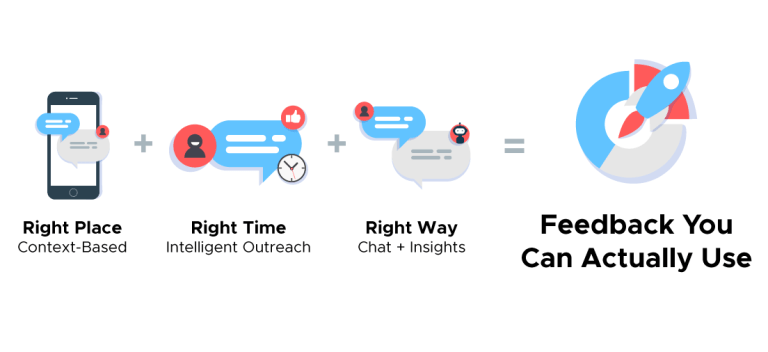 By understanding and modelling user behaviour, our machine learning models find the best time and the correct medium to reach out to your user. You shouldn't be calling people at work or emailing them in the middle of the night. Correct timing and medium selection can improve your feedback collection rates by more than 80%!
But Why Chat?
All this begs the question – why chat though? Why bother having a chatbot to collect customer feedback? Is this something a chatbot is good at? A fair question, and one that we had to ask ourselves to make sure that we were on the right track.
1. Higher Engagement leads to Higher Completion Rates
We've seen up to 3x higher conversion on our lead generation bots and the same applies to feedback as well! We were surprised to see improvements not only in the amount of data collected but in the quality of data too. People's inherent comfort with messaging platforms translates to the chat window as well, thus providing a higher volume and quality of feedback data.
2. Take Action!
Haptik's Platform allows you to deploy your existing support bot on to feedback as well. Complaints and Issues can be automatically triaged and resolved immediately as part of the feedback flow.
3. Live Chat and Sentiment Analysis
Chatbots have come a long way in the past few years, yet they cannot compare to the depth of a real user interview by your Product Manager. Our Live Agent Chat comes integrated out of the box with every Bot. This means that you can directly talk to your most aggrieved customers and conduct user interviews any time you wish!
Feedback Bot can even understand the sentiment a user exhibits(happy, angry, disappointed) and then, respond or redirect the conversation accordingly.
4. Customer Reach
The recent plethora of conversational mediums: SMS, WhatsApp, Facebook Messenger, Voice assistants like Google Home and Amazon Echo, has opened up several new ways to reach users.
The only problem? These mediums simply don't support traditional survey forms. A problem that our Feedback Bot easily solves.
Talking to your customer in their native language is more likely to give you answers. Haptik's Feedback Bot not only supports Multiple Languages but also supports everyday Mixed Language – (Hinglish) Chatbots!
Measure Everything with Analytics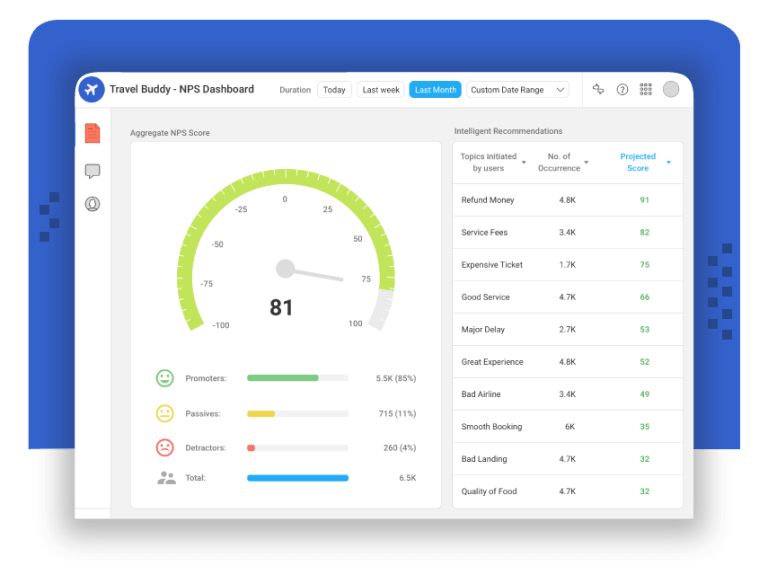 Feedback collection is just one part of the puzzle and high feedback collection rates are valuable only if they provide actionable insights. We've doubled down on our investment in intelligent analytics and expanded on our Analytics platform to specifically support the Feedback use-case. Here's how and why the numbers will matter:
Aggregation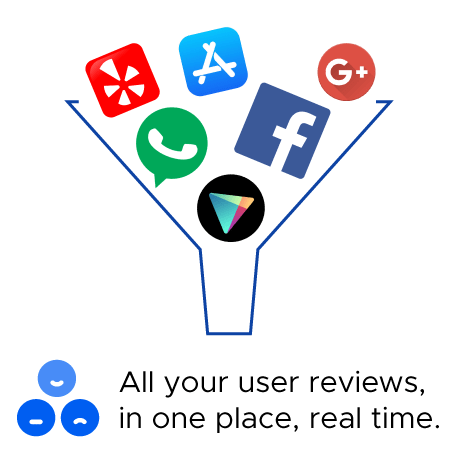 We funnel feedback in from multiple sources such as Facebook, Google Review, Yelp, Google Play Store and Apple App Store to provide you with a holistic view of what your customers are saying about your product. This collated real-time information keeps your finger on the pulse of your customer.
We also support a variety of survey metrics like NPS, CSAT, CES or simply binary (thumbs up and thumbs down) feedback, that you can choose based on your product and business goals.
Imagine having one dashboard that collates feedback from all your social media pages instead of combing through each profile separately – that's Feedback Bot for you.
NLP for Insights
Our Feedback Bot converts the Qualitative and Quantitative data from all your surveys into actionable insights by grouping feedback to highlight trends and the biggest impact points to take action on. Our NLP technology analyzes long-form Qualitative data by mining through the tons of feedback your chatbot will collect so that you don't have to.
You will see monthly trends on our dashboard that show you exactly what issue affected whom and how to improve your feedback.
Here's how this would work: If a large section of your users suddenly faces delivery issues and send you feedback on several platforms, Feedback Bot will immediately notify you of this outage by analysing what users are saying, thus enabling an immediate resolution for these customers.
Here's how this stacks up against the competition: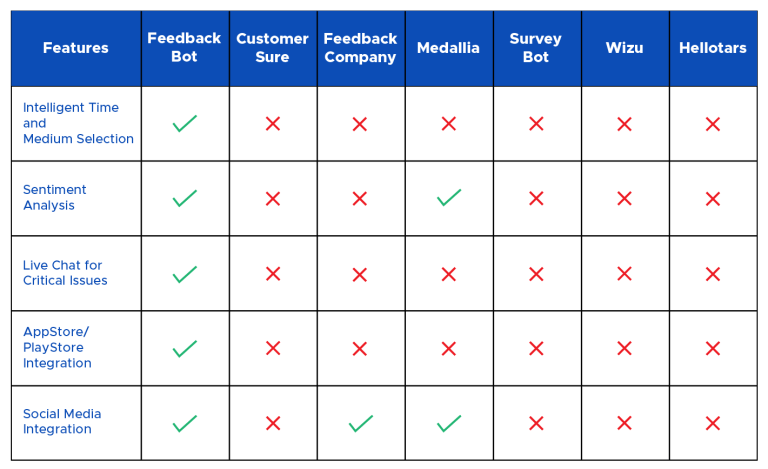 Stay tuned for a more in-depth article covering our Analytics and our Issue Resolution System.
Does your business need Feedback Bot?
Do you:
✔️ Receive feedback in too many places?
✔️ Want targeted medium options to reach customers?
✔️ Want to know which features are delivering value?
✔️ Constantly need to monitor performance and quality for your customer interactions in real-time?
If you tick any of these boxes, Feedback Bot just might be for you.
It's not just digital products, even companies in the physical space (Hospitality, Airlines, Banking, Financial Services, Appliances, Automobiles) can use Feedback Bot to revamp their traditional, cumbersome processes.
We're really excited about our new Feedback Product and have heard a lot of great things from our existing clients in the initial previews.
---
Ready to make sure you never lose a customer again?
This post has been penned by Prateek Gupte, Director of Engineering at Haptik.