2023's Powerhouse WhatsApp Chatbots in UAE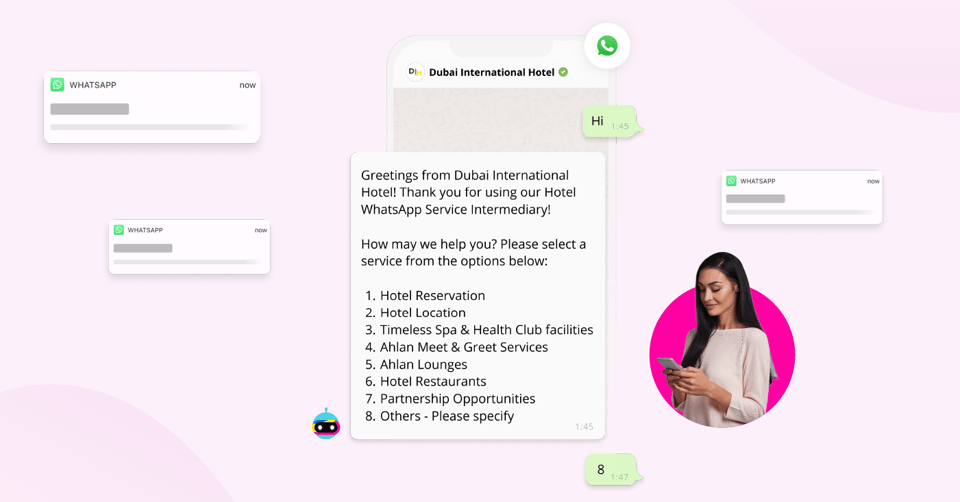 WhatsApp, despite the ban on its voice and video calls in the UAE, continues to reign as the number one messenger application, boasting a staggering 8.08 million users in 2022. With its global popularity and unmatched reach, businesses in the UAE are turning to WhatsApp and its innovative chatbot features for customer engagement, marketing, and sales.
Welcome to our blog where we unveil the most successful and impactful WhatsApp chatbot examples that are reshaping the business landscape in the United Arab Emirates (UAE) for 2023. In this article, we'll delve into the top GPT-powered WhatsApp chatbots that are revolutionizing the way UAE businesses connect with their customers. These chatbots have proven to be game-changers with their unparalleled capabilities, enabling seamless interactions and opening up new avenues for growth in the Gulf region.
Leading the Way: Top WhatsApp Bots in UAE 2023
#1 Aramex
#2 Mall of the Emirates
#3 American Hospital Dubai (AHD)
#4 SEHA
#5 Ounass
#6 Mashreq Bank
#7 Etihad Airways
Leading the Way: Top WhatsApp Bots in UAE 2023
#1 Aramex
Aramex, a global leader in logistics and transportation solutions operating in over 65 countries, has made waves in the industry by introducing Aramex Bot, the largest WhatsApp chatbot to date. This groundbreaking chatbot platform is revolutionizing the logistics and transportation sector, leveraging advanced conversational AI capabilities and a remarkably natural conversational flow that closely mimics human interactions.
Aramex Bot is streamlining customer experiences by enabling them to effortlessly locate nearby Aramex centers, track shipments, and share preferred delivery locations. With seamless integration into WhatsApp, the chatbot is catering to users across various Aramex centers in the Middle East, including Jordan, KSA, UAE, Bahrain, and Kuwait.
Since the introduction of Aramex's WhatsApp Business Bot, the impact has been phenomenal. Now it successfully handles an impressive 50% of shipment inquiries, showcasing its efficiency and effectiveness. Moreover, Aramex has successfully served over 8 million customers through this innovative channel. By embracing cutting-edge technology and embracing customer-centricity, Aramex is setting new industry standards and redefining customer engagement in the logistics and transportation landscape.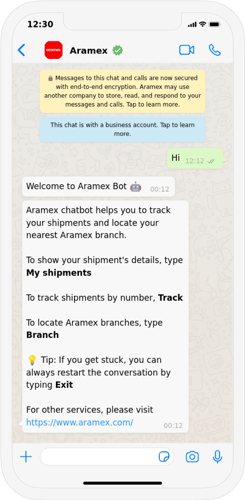 #2 Mall of the Emirates
The Mall of the Emirates has launched a digital concierge service via WhatsApp, revolutionizing the shopping experience. With the Mall of the Emirates WhatsApp Chatbot, customers can interact directly with the concierge team, receiving personalized assistance and guidance throughout the purchasing process.
Shoppers can simply scan a QR code or visit the mall's website to initiate a live chat with a representative on WhatsApp. They can then browse and select their desired items, sharing product details and even photographs with the concierge team. Once the customer and representative have confirmed the selection, a secure payment link is provided, facilitating a smooth transaction. The concierge team takes care of collecting the purchased item from the store, packaging it, and arranging for its delivery straight to the customer's doorstep.
As of now, this service is available free of charge in the UAE, and there are plans to extend it to the entire portfolio of Majid Al Futtaim's shopping malls. This convenient service empowers customers to shop from the Mall of the Emirates effortlessly, irrespective of their physical location.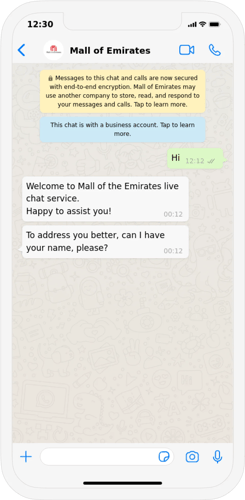 #3 American Hospital Dubai (AHD)
American Hospital Dubai (AHD), a renowned private healthcare provider in the Middle East, sought to enhance user engagement and streamline customer inquiries and appointments. Their goal was to offer an omnichannel experience through an AI-enabled chatbot solution, accessible anytime and anywhere with minimal resource utilization. AHD aimed to reduce response times, decrease queue abandonment rates, and drive sales while keeping users within their ecosystem.
By implementing a WhatsApp chatbot solution, AHD successfully delivered personalized and localized services to their customers. The chatbot enabled secure and seamless interactions, fostering efficient communication between the hospital and its clientele. Furthermore, the WhatsApp chatbot integration with external enterprise apps, such as ERP and CRM systems, opened doors for managing customer relations and operations, leading to significant improvements in key business KPIs.
The WhatsApp-integrated chatbot solution empowered AHD to engage with customers more efficiently, resulting in a remarkable 0% abandonment rate and an astounding 70X increase in monthly chat sessions. American Hospital Dubai's WhatsApp chatbot exemplifies how technology-driven solutions can revolutionize customer engagement, enhance operational efficiency, and elevate the healthcare experience.
#4 SEHA
SEHA, established in 2007, plays a vital role in the healthcare landscape of the Emirate of Abu Dhabi by owning and operating all public hospitals and clinics. Committed to providing integrated and exceptional healthcare services to residents and citizens of the UAE, SEHA has embraced technological advancements to enhance customer support and engagement.
SEHA's WhatsApp chatbot offers a seamless and interactive customer support experience, empowering users to easily manage appointments, access information about COVID-19 vaccinations, and obtain answers to frequently asked questions. The chatbot presents a compact menu of options upon initiating a conversation, allowing customers to select their preferred service, whether it's appointment management, COVID-19 vaccine-related inquiries, general FAQs, or receiving announcements.
By leveraging the capabilities of WhatsApp and deploying a user-friendly chatbot, SEHA enhances accessibility to healthcare services and improves customer satisfaction. The chatbot streamlines processes, providing users with a convenient and efficient way to interact with SEHA, ultimately contributing to integrated and outstanding healthcare services across Abu Dhabi.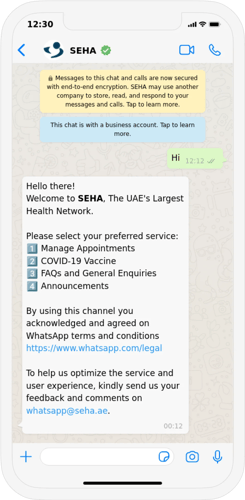 READ MORE: Make Digital Healthcare Accessible & Efficient
#5 Ounass
Ounass, the luxury online destination, has successfully implemented a WhatsApp chatbot to enhance customer support and streamline the shopping experience. The Ounass WhatsApp chatbot is designed to engage customers in both English and Arabic, catering to a diverse customer base. By offering a range of options, such as order tracking, returns and refunds, payment assistance, and general support, the chatbot provides automated resolutions to common customer queries.
This implementation has significantly improved customer satisfaction by providing instant responses and 24/7 availability. Customers can easily select their preferred option by replying with the corresponding number, ensuring seamless and efficient interaction.
The Ounass WhatsApp chatbot has not only reduced the burden on customer service agents but has also increased operational efficiency. It has become an invaluable tool and shopping assistant for delivering personalized and prompt assistance to customers, enhancing their shopping experience, and solidifying Ounass as a leader in the luxury eCommerce market.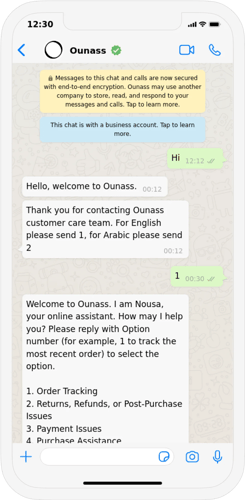 #6 Mashreq Bank
Mashreq Bank, a leading financial institution in the United Arab Emirates, has successfully implemented a WhatsApp Chatbot to provide convenient and accessible banking services to its customers. With a simple 'Hi' or 'Hello,' customers can initiate a conversation with the chatbot, enabling them to interact with the bank 24/7. Mashreq Bank's WhatsApp Chatbot exemplifies the institution's commitment to leveraging technology to deliver exceptional customer experiences.
The Mashreq Chatbot offers a wide range of functionalities, including checking balances, viewing transactions, obtaining credit card summaries, temporarily blocking cards, accessing foreign exchange rates, finding ATMs, and applying for products. This intuitive and interactive solution ensures that customers can easily access the information and services they need, anytime and anywhere.
By leveraging AI and natural language processing, the chatbot is capable of understanding most conversations and addressing customer inquiries promptly. This implementation has not only enhanced customer convenience but also improved operational efficiency by reducing reliance on traditional channels and providing real-time assistance. The user-friendly interface and round-the-clock availability have transformed how customers engage with the bank, making banking and financial services more accessible, efficient, and personalized.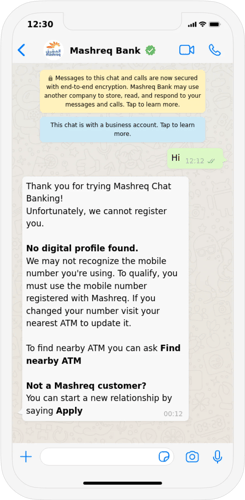 #7 Etihad Airways
Etihad Airways has embraced the power of WhatsApp Business by launching a chatbot solution to revolutionize customer communication. This move is part of the airline's digital strategy, aiming to enhance the travel experience for premium guests at Abu Dhabi International Airport.
Through the WhatsApp Business solution, Etihad Airways now offers instant and personalized assistance to guests, enabling them to interact with customer service agents efficiently. This seamless communication channel ensures a fast and convenient way for guests to address their flight-related queries or concerns.
Moreover, Etihad Airways plans to expand the WhatsApp service in the future, allowing guests to receive essential messages such as flight reminders. By opting into WhatsApp communications on the booking confirmation page, travelers can stay informed and updated throughout their journey. The implementation of the Etihad Airways WhatsApp Chatbot showcases the airline's commitment to leveraging technology to provide exceptional customer experiences.
DOWNLOAD REPORT: Preparing for the rise in Travel demand in 2023
Take Away…
As the UAE embraces the era of virtual assistants, chatbots have emerged as indispensable tools that enhance the customer experience and drive business growth. Overcoming initial linguistic challenges, these Arabic-speaking chatbots now engage customers in organic conversations, utilizing natural language processing and machine learning advancements.
Across various industries like retail, real estate, banking, hospitality, and government, chatbots are revolutionizing customer interactions in the UAE. The UAE stands at the forefront, implementing AI-powered automation for public services through the Rashid chatbot, setting an example for the Gulf region.
While the scarcity of training resources initially posed a challenge, the development of numerous Arabic virtual assistants signals a promising future for more responsive, accurate, and conversational chatbot technology. As these chatbots continue to evolve, businesses in the UAE and beyond can leverage their power to provide personalized, efficient, and round-the-clock support, solidifying their position in the competitive market. The rise of WhatsApp chatbots in the UAE marks an exciting chapter in the region's technological advancement and customer-centric approach.
Tap into WhatsApp Commerce: Maximize Conversions with Haptik