How Conversational AI Helps Ensure Business Continuity During Crisis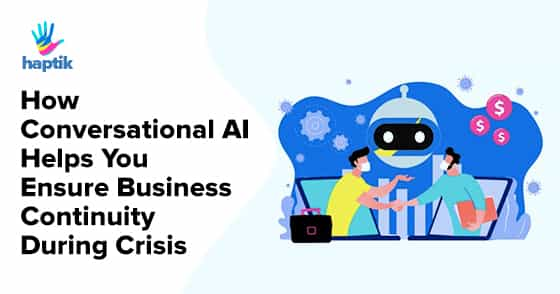 COVID-19 has changed the world. And that's putting it mildly. Overnight, individuals, communities, and businesses were forced to adapt to a 'new normal' for virtually every aspect of existence. The way we live has changed dramatically, and with it, the way we work.
There's no denying that COVID-19 is not just a healthcare crisis, but an economic one as well. It has severely disrupted business operations across the globe, to the extent that it is estimated that the world economy could shrink by 1% in 2020! JPMorgan has said that the crisis could cause a global loss of $5.5 trillion in output.
But there is a silver lining amidst all this doom and gloom, and it lies in the old adage that "What doesn't kill you, makes you stronger". This crisis has forced enterprises across verticals to re-examine their business continuity plans and find ways to leverage technology to mitigate the impact of this disruption.
Conversational AI has emerged as a powerful tool for brands in this regard, enabling them to keep their customer care running during the pandemic – which is vital for maintaining business continuity. AI-powered chatbots and virtual assistants offer a number of benefits, such as reduced dependency on human agents, increased operational efficiencies, improved customer experience – all of which are particularly valuable to businesses during a time of crisis.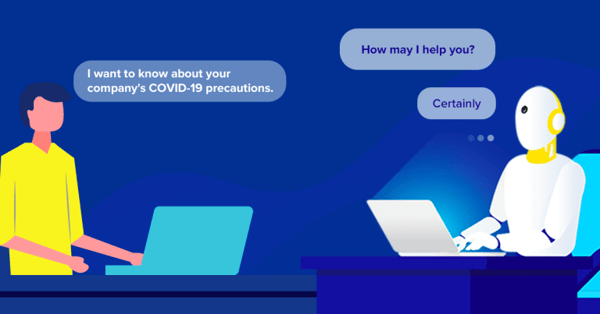 A number of enterprises have successfully implemented AI Assistant solutions to help ensure business continuity during COVID-19. Here are some key takeaways from these implementations, which prove that Conversational AI should be a key part of every brand's business continuity plan.
Better CX through automation
Social distancing norms and lockdowns have brought call centers to a standstill during COVID-19. Restrictions on the movement of people have left remote working as the only option for customer support teams. But transitioning to remote work is not an easy process for every team, and maintaining the efficiency and timeliness of contact center operations thus becomes a challenge.
In the current crisis, this has had a quantifiable impact on customer experience. 23% of support teams have reported a decline in their CSAT scores since the outbreak, while the average wait time for customers has spiked to 27 minutes.
At a time when anxious customers need instant access to support and swift query resolution more than ever before, poor customer experience doesn't bode well for any business.
However, brands that implemented Conversational AI solutions have been able to ensure a positive customer experience even amidst this crisis.
An AI Assistant is available 24/7 to cater to support requests, seamlessly resolving routine queries end-to-end, with no need for human intervention.
This not only solves the immediate customer issue but also, in the long-term, helps foster lasting brand loyalty. After all, customers are more likely to feel good about your brand when you don't leave them in the lurch during a difficult time, but instead, go the extra mile to be there for them. This goodwill goes a long way in ensuring the long-term stability and health of your business during a crisis.
Scaling up support
As we discussed earlier, customers need access to instant support more than ever during a crisis. And the COVID-19 crisis has seen an unprecedented surge in inbound support queries across verticals.
Remote work and learning companies have seen perhaps the sharpest spike, with a 220% surge in customer requests over chat. Groceries and telecommunications, two industries that become particularly crucial during a time of lockdowns, have seen a doubling in inbound queries. Travel & hospitality, a sector that has been hit harder than most by COVID-19, also observed a spike in queries – 57% for restaurants, and 60% for airlines.
Effectively addressing a massive surge in support queries can be a challenge even at the best of times, and the situation becomes a lot harder when contact center operations are in disarray during a crisis. And that's where Conversational AI can be a lifesaver to businesses!
80% or more of inbound query volume tends to comprise routine, repetitive queries or FAQs – the kind of queries that AI Assistants can instantly and seamlessly resolve end-to-end. Essentially, implementing a Conversational AI solution means automating 80% of your customer care. And with that comes the ability to scale up support massively in a short span of time.
Typically, scaling up support would be a massive investment in human resources and infrastructure, which is not only expensive, but also time-consuming. But when 80% of your customer care is taken care of by an AI Assistant, you can scale up in virtually no time, and with no additional investment in resources required.
Expanded customer support capabilities empower your brand to take advantage of the spike of inbound queries to engage exponentially greater numbers of customers and prospects during the crisis – turning what could have been a logistical nightmare into an opportunity to maintain, and even grow, your business.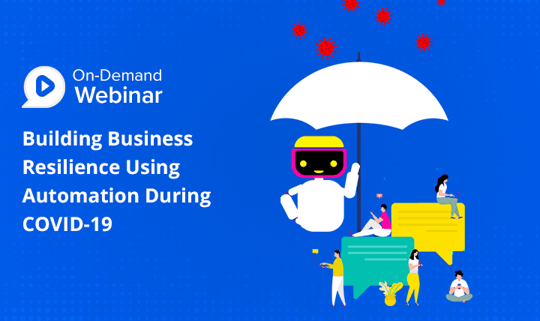 Learn how you can automate customer care during crisis by leveraging Conversational AI that can be implemented within 7 days
---
Reducing operational costs
An organization's ability to be frugal during a crisis is a crucial part of ensuring business continuity. Every step needs to be evaluated for its cost-effectiveness, and its ability to save the enterprise money. COVID-19 has forced brands to contemplate the possibility of an economic recession and work towards preserving cash-flows.
This is yet another area where Conversational AI can add tremendous value. As we've already discussed, an AI Assistant automates 80% of your customer care, which translates to an 80% savings on your support costs. Moreover, it enables your brand to scale up support without the need to incur substantial hiring, training and retention costs, which are a massive drain on organizations under normal circumstances and simply cannot be afforded during a crisis.
To understand the scale of the potential cost savings from a Conversational AI implementation, consider this – a single AI Assistant can handle the same volume of queries in a month that would require 600 human agents!
AI Assistant solutions also improve the productivity of human customer care teams. With routine, repetitive queries being handled completely by the assistant, only complex customer issues that specifically require human attention are routed to the agents. This AI + Human hybrid approach effectively doubles agent productivity.
Since the onset of the COVID-19 crisis, support teams using automation have been 41% more likely to hit their targets, as compared to those not using automation. It's clear that the key to much-needed productivity during a crisis lies in Conversational AI.
Case Study: How Haptik Helped IIFL Reduce its Operational Cost and Improve Customer Experience
Looking ahead
The ability to handle massive scale at minimal cost, coupled with an engaging user experience, has already made Conversational AI a favored technology among enterprises across verticals. And amidst the COVID-19 crisis, it has also emerged as a powerful tool for ensuring business continuity.
Surviving a crisis requires the ability to react to a dynamic environment and make swift moves on-the-fly. But it also requires learning from the challenges of the present to plan ahead. COVID-19 forced many brands to rapidly embrace digital transformation, which leaves them better placed to deal with similar adverse situations in the future. The time to invest in solutions to survive, and thrive, in the crises of the future is now.
Check out our Ultimate guide to Conversational AI in 2022
---
Are you interested in developing a Conversational AI solution for your brand?