Haptik Roundtable Discussion: A Winning WhatsApp Commerce Strategy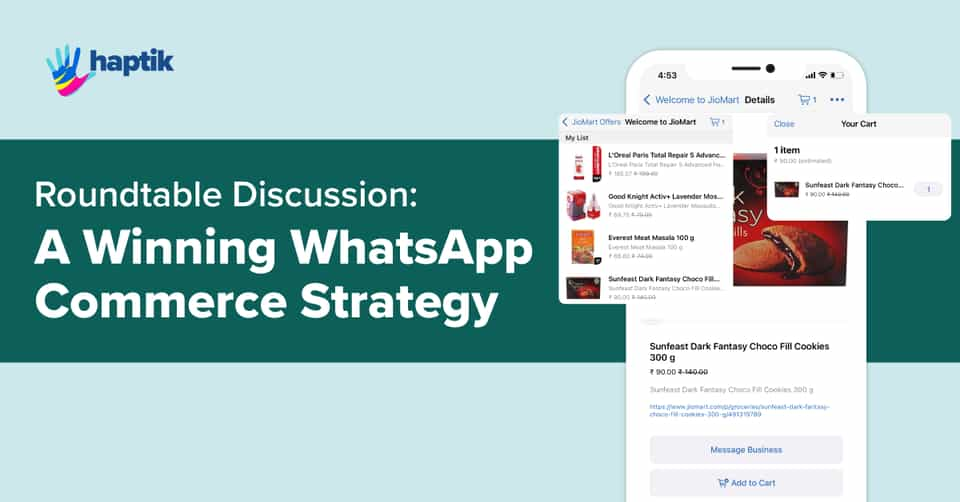 WhatsApp has been paving the way for a new era of commerce since the launch of its Business API. It enables brands to create personalized shopping experiences for their customers on their most preferred communication channel, giving rise to the concept of WhatsApp Commerce-offering and selling products and services to customers using WhatsApp.
Haptik realizes the potential the platform has to offer and has been at the forefront of the WhatsApp Commerce revolution. We believe that WhatsApp will become the most crucial channel for brands across industries to generate revenue and unlock hyper exponential growth.
To help businesses stay on top of the latest developments around WhatsApp Commerce and WhatsApp Business API. Haptik hosted a closed-door roundtable discussion with Founders & C-level executives from some of India's largest consumer brands like Cars24, PayU, Whirlpool, The Body Shop, Biba, Crocs, Havells, Country Delight, and many more at Taj City Centre, Gurugram on Thursday 10th March 2022.
The agenda for the roundtable was to understand how WhatsApp Commerce can become a key revenue generator for businesses. The session was hosted by our Co-founder and CEO, Aakrit Vaish, and Pratyush Kukreja, VP & GM, India & Africa. Here are a few of the excerpts of this session.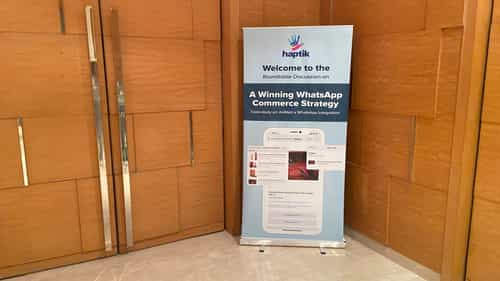 Why WhatsApp Business API?
Our hosts discussed the paradigm shifts in consumer behavior in the last two decades and how businesses can equip themselves to fulfill these ever-changing demands effectively with the help of WhatsApp Business API. Today customers are looking to interact with brands in the same way as they do with their family and friends, and WhatsApp is already the platform of choice, which fits this bill perfectly.
With WhatsApp Business API, brands can create a strong relationship with their customers through real-time two-way communication. The platform's inherent rich-media capabilities and several new features help businesses make this conversational experience more interactive and straightforward for their customers.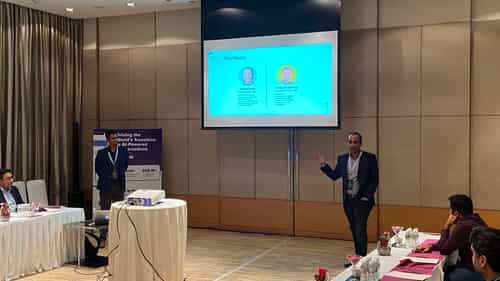 Conversational Commerce Journey on WhatsApp Business API
The session also had an in-depth dialogue on how brands can create an end-to-end buyer journey from discovery to post-purchase support for their customers through WhatsApp.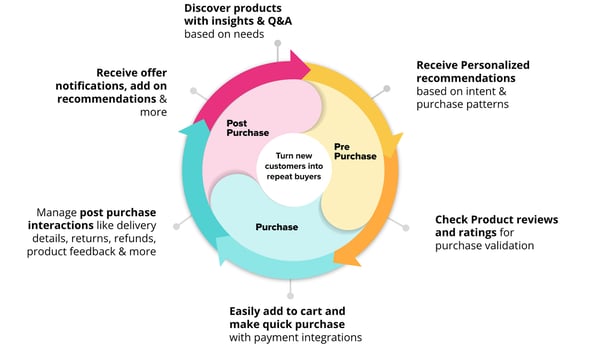 Driving Visibility and Discovery: WhatsApp values customer experience the most hence it requires brands to get a user's consent to start a conversation with them. WhatsApp has made it highly flexible for brands to get customer opt-ins. Practically, brands can use every communication channel to get customer opt-ins, e.g., SMS, website, social media, telephone, etc.
Shopping Experience: The COVID-19 pandemic has boosted the demand for quick and convenient shopping experiences. With the introduction of new UI elements and features, WhatsApp Business API is aiding businesses to fulfill these requirements. By using the newly launched UI elements like the single-product message, multi-product message, list messages & quick reply buttons, shopping cart, brands can provide their customers a seamless shopping experience.
WhatsApp chatbots can help businesses engage, support, serve their customers and leverage the full capabilities and benefits of the platform. When powered with an AI-recommendation engine like Haptik's, the WhatsApp chatbot can offer shopping guidance & product recommendations to users at the right time in their purchase journey, driving enhanced shopping experiences and improved conversion rates.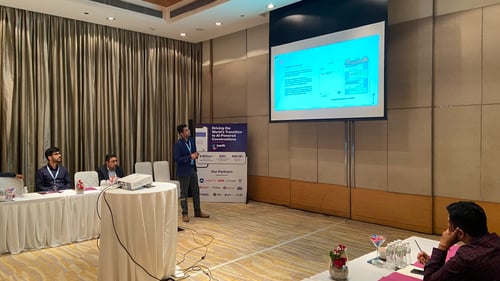 Payment: Brands can also deliver a frictionless payment collection process on WhatsApp for their customers without them having to navigate between multiple apps.
Post Purchase Support: A WhatsApp chatbot can also be very beneficial to automate post-purchase support use-cases like delivery details, returns, refunds, product feedback & more, relieving the pressure from the support agents. This way, the agents can focus on critical issues which require human intervention.
Customer Engagement: WhatsApp has now allowed brands to send promotional marketing notifications through WhatsApp Business API to people that opt-in to receive them. These notifications play an important role in nudging the customers ahead in their buying journey.
They include:
Product recommendations related to a customer's previous purchases
Helpful informational alerts and reminders
Relevant offers
Newsletters
Brands can utilize these marketing notifications to provide a superior buying experience to their customers.
Read more: Marketing Notifications
Deployment of a WhatsApp Chatbot
Our hosts also spoke about the essential elements for creating a WhatsApp chatbot solution. Here are a few tips and insights shared by them:
Decide the release date for the WhatsApp chatbot so that you can plan accordingly.
Conduct thorough market research to understand and build a buyer persona, including their pain points and expectations.
As WhatsApp requires a brand to get an opt-in from a user before it can start engaging with them, it is essential to devise a complete marketing plan to promote your chatbot solution. Increasing

traffic

to your WhatsApp chatbot is crucial to maximizing your ROI.
Keep track of performance metrics like DAU, MAU, Sessions, Time spent, Drop off points, etc.
Basis the performance and customer feedback, keep incorporating changes in the present features or introduce new ones; continuous improvement is a must.
Haptik's JioMart WhatsApp Commerce Chatbot
Being the first BSP to launch the complete shopping journey for JioMart, our hosts demonstrated Haptik's WhatsApp Chatbot solution with all its use-cases built for the brand. They also shared the outstanding results that the brand achieved after deploying Haptik's WhatsApp chatbot solution.
Read the complete case study: How JioMart handles Customer Support on WhatsApp
To Sum Up
All in all, it was a fantastic experience having to meet so many industry experts, share our knowledge, understand their challenges and requirements. Haptik's WhatsApp Chatbot solution has undergone significant changes to create a WhatsApp Commerce offering that will help brands stay on top of the latest WhatsApp Business API developments and cover the entire shopping journey for their customers.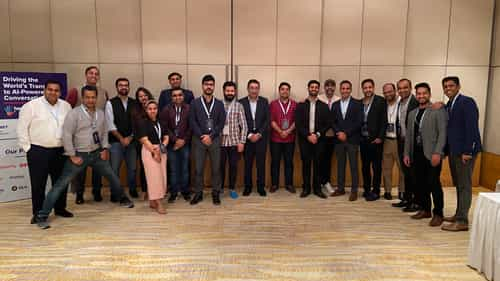 Haptik has also powered WhatsApp solutions for some of India's most prominent brands such as Jio, TATA, HDFC, Dream11, OLA, Kotak Mahindra, etc. We're a recipient of 15 G2 badges and recognized by Gartner and Opus Research. With handling over 4+ Billion interactions, we're India's largest Conversational AI company.
---
Are you interested in exploring WhatsApp Commerce for your brand?