8 Reasons Why Your Brand Needs a Shopping Assistant Chatbot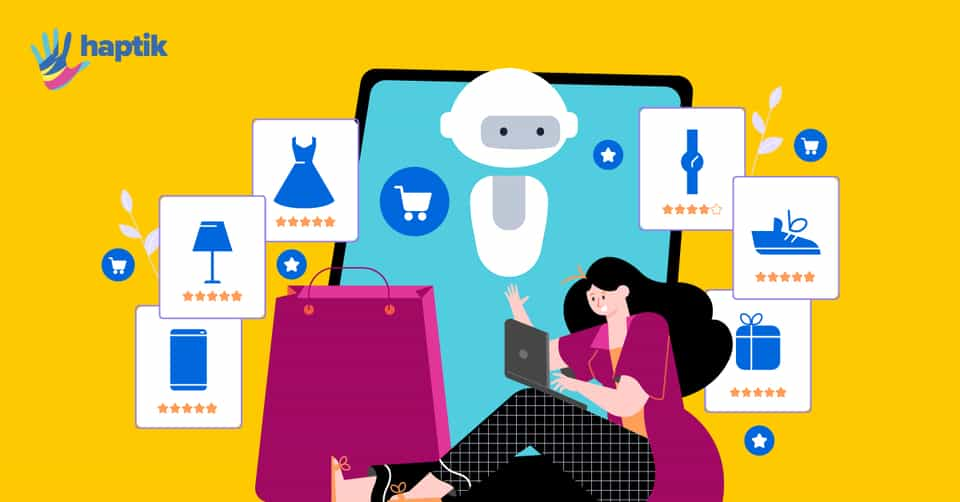 Implementation of chatbots is considered to be the epic and quintessential customer engagement strategy in the eCommerce sector at present. According to some recent surveys, around 2.4 billion customers have chosen chatbots over human interactions as they are capable of answering 80% of standard questions effectively and accurately. Juniper Research claims that the use of chatbots could result in savings of around 2.5 billion hours of time for both customers and business enterprises by 2023. The best part is, all these functions are fully automated when it comes to chatbots. The chatbots are technologically programmed to communicate with multiple brands using one program, which reflects a positive impact on retail businesses.
How Chatbots are revolutionizing shopping experiences for customers:
For being a top-notch eCommerce enterprise, and have your brand trending in the market you need to comprehend the power and role of chatbots in revolutionizing customer experiences. The AI-enabled chatbots contribute in noteworthy ways, simplifying and facilitating shoppers' purchasing experience.
Personalized experiences: Chatbots are capable of handling one to one conversations with the customers and providing them with individualized suggestions and solutions as per their shopping preferences. It has been observed in a survey conducted by Epsilon, that 80% of customers are drawn to shop from brands that extend personalised assistance to them.

Improvement in team efficiency. There is a pool of questions that are repetitively asked by the customers. It becomes a monotonous job for the staff to answer them time and again. Chatbots can unravel this problem by providing intelligible replies to those frequently asked questions thereby saving a lot of manual time and cost. This further allows the team to focus on more intricate issues which require unavoidable human attention.

Accelerated interaction and engagement. The shopping assistant chatbots are stationed on several messaging platforms such as Facebook, WhatsApp, Telegram, Email, etc. for an expedited communication with the consumers. Approximately 67% of digital customers prefer to have a chat through these messaging apps while interacting with any business firm.

Real-time resolutions. Customers appreciate instant and pertinent responses. This is what exactly the chatbots do. These virtual assistants promptly attend to customer queries and resolve them without any delay. This low effort - swift service is highly appreciated by the shoppers as they can now avoid the long queues in getting their problems or confusions settled.

Eligible Offers & Promotions Customers love to have their aspired products at a reasonable price. They love it more when it's at an exclusive discount. The shopping assistant chatbots make this happen seamlessly by letting them know about the current offers or discounts offered by the store. The chatbots provide details about gift vouchers and coupons that are offered on festive seasons or other special occasions so that the customers can proceed with the purchase of their wishlist products. The chatbots also serve as gift guiding assistants to help the customers in selecting gift items for various occasions thereby taking your brand a step closer to their hearts.

Visual Searches. Enabling the choice of visual search in chatbots enormously contributes to your sales escalation efforts. With visual search where the customers can upload pictures of their desired items to search through your inventory, your brand gets the push it needs to heighten engagement. Chatbots also provide visually illustrated suggestions to the buyers so that they can anticipate whether the product they are about to purchase is as their expectations and requirements thereby triggering a confident purchase decision.
[On-Demand Webinar] The Big Retail Reset: The New Way of Buying in 2021
Why your brand needs shopping assistant chatbots
It has become crucial for eCommerce companies to feature shopping assistant chatbots so as to assist the customers and facilitate their shopping decisions. The shoppers can directly interact with the virtual shopping assistants for necessary information instead of steering through multiple menus on the company's website. The chatbots are effectively programmed so that their services are not restricted to a specific domain.
Engage with your store's visitors resulting in an increased conversion rate :
Customarily a shopper navigates through numerous online stores before finalising the suitable product. About 80% of customers shopping online practice this. The foremost reason behind this strategy is to get the best deal of their desired items. For instance, if a buyer is looking for a t-shirt, he will browse through various brands selling t-shirts. Your brand will have a very short time-span to attract the attention of your prospective buyer. The chatbots help in retaining customer attention by engaging with them in human-like conversations, understanding their shopping preferences and then offering them the most suitable variety of products from your store's collection. Using both AI and ML technologies the chatbot even notifies the buyers when there is any price drop or additional discount available on their desired commodity. This in turn helps in converting the store visitors into buyers through effective communication. Before coming up with admirable options the chatbot considers the valuation of those products taking into account the applicable discounts, cashback options or benefits of various payment methods.
Facilitate decision making and order placement for customers
Customers like to get an extensive variety of options for their coveted commodity but often end up getting confused while shortlisting the products from a whole catalogue. Chatbots make this task easier for them. Adhering to their filtered preferences and browsing history, the shopping assistants formulate a curated list of items that the customer is searching for. This becomes possible due to their omnichannel presence across numerous digital platforms. The AI automated chatbots have alternated the manual order placing process by predicting the customer preferences from their past orders and placing their order quickly. The eCommerce chatbots even assist the customer by comparing the same product from different brands in terms of cost, discounts, quality, delivery timing and other relevant specifications. The prediction technology of the chatbot empowers the promotion of brand identity. It becomes effortless for your customer to buy the most suitable item from your collection and this draws them to your brand every next time.
Improves overall accessibility of product information
While sorting out and narrowing down on the product they want to buy the customers sometimes come up with additional queries, directly or indirectly related to the products. To get their doubts cleared they often navigate from the product page to visit the eCommerce website and access the information. But with the presence of a chatbot, the customers do not need to leave the product page to get their answers. The chatbot itself answers the frequently asked questions and provides all the necessary information the customer is looking for. Dodging this outward navigation from the product page enhances the chances of closing the deal.
Updating customers about their order and its movement
Apart from resolving customer queries, assisting them in making shopping decisions, another major functionality of the chatbot is keeping customers up to date about their orders. After placing an order the customers become eager and anxious to know about the status of their product. Therefore, many retailers enable the delivery tracking options for the customers to trace the whereabouts of their ordered items. That's when Chatbots connect with buyers like real representatives of your brand. From confirming the successful placement of the order to keeping the customers updated about every movement until delivery, Chatbots work like they are working exclusively for the buyer's order. The customers frequently raise queries about the current location of their order, the shipment, the cancellation procedure, delivery rescheduling and much more. Hence, the responsibilities of the chatbot do not end with the purchase of the order. They continue to assist the customers till the ordered item reaches them and they are satisfied with it.
Simplifies communication between your brand and its customers
Customers are often reluctant to download additional applications for resolving their little queries and this often navigates them from the product page. Chatbot enabled conversations through the very common messaging apps make your brand more accessible to customers. If the customers already have any of the messaging applications, they can conveniently interact with the chatbot using these platforms and take a more spontaneous purchase decision.
Removes the needs for multiple registrations
If you have already enabled your shopping assistant chatbot to communicate through the messenger apps, then customers having those apps do not require any further registration. For example, If a buyer intends to communicate through Facebook messenger, then he/she can simply log in to his/her Facebook account to connect with the chatbot. The chatbot will immediately recognise the customer by his/her name, thereby stimulating a personalised communication experience. While this might seem not a big deal, registrations pinch your clock, it often distracts customers from executing the purchase action and navigates them elsewhere.
Filling up shopping carts by up-selling and cross-selling
The shopping assistants focus on ensuring that the customers' shopping cart isn't empty. They suggest a wide variety of products or services that the buyer may like, highlighting the specific brand's brighter features or qualities, while also persuading customers to shift their wishlist items to the cart and take the final move. This gentle nudge to the desires of your customers can elevate the sales figures of your company significantly.
Assistance in managerial decision making:
Nowadays, direct interaction between brands and their stakeholders is crucial but complicated. The AI chatbots can digitally assist the brands in interactions with various stakeholders of the company and the management team can make better decisions based on the data and patterns captured by the chatbot.
Read on : 3 Ways Conversational AI Can Drive eCommerce Sales
What to expect and anticipate from the implementation of chatbots
Before effectuating the chatbots, the eCommerce companies should be well versed with the technicalities of these bots.

The assistant bots will refine customer engagement not only by providing assistance in acquiring goods and services but also by strengthening customer loyalty and brand value through advanced interactive capabilities.

Track the purchase mannerisms of the customers by obtaining information through customer reactions, A/B tests, etc. and stimulating increased customer engagement with the chatbots.

Chatbots will help in automated operations by providing unhindered services across the year. As the chatbots will single-handedly organise a major chunk of customer associated programs your brand will be able to make some major savings in the cost of hiring a human workforce

Predict customer moods through natural language processing (NLP) technology. The chatbots would be able to sense the tone of the customers and would immediately respond to them according to their moods.
Haptik's smart skills is a tried and tested automated virtual assistant that accelerates the quality of the shopping experience your brand delivers. These Smart Skills are built to automate your brand's strategy for upselling and cross-selling, impacting the revenue and cost incurred by the brand. A major chunk of everyday customer interaction is executed through pre-trained, easy to deploy Smart Skills. From booking an appointment for the customers as per their convenience to communicating with the online retailers, locating a nearby store based on customer's location preferences, providing invoice copies over email, Smart Skills automates it all. Functions like IVA, check order status, triggering replacement or refund requests, updates on offers, coupons and promotions, collect product feedback, track the ordered items, display past and current order details, notify payment cancellations and speculate customer loyalty points. All these services are extended to both logged-in users as well as guest users.
Check out our new handbook on eCommerce Chatbots: Drive Sales and Customer Retention
Factors to be considered while selecting your chatbot solution
The chatbots are operated based on a set of rules as well as machine learning. The functions of the rule-based shopping assistant chatbots are limited to specified commands and their performance is based on a constricted set of rules and regulations. Whereas, the AAI-enabled chatbots are set to conduct a wide range of operations, starting from interacting with customers to interpreting their requirements.
Embeddable Knowledge base: Chatbots should contain a well-structured knowledge base to virtually assist the customers. To cater their services efficiently the bots need to acquire the relevant answering program from a reliable source.

Has no-code workflow builder: An interpretative chatbot along with a no-code builder design is the most labour-saving method to set up bot workflows. Without much tech dependency, all the relevant answers are covered by these easy to handle chatbot builders. Haptik's Smart Skills, advanced by AI technology, are specified with Natural Language Understanding (NLU) feature which enhances the conversational aspects in the eCommerce businesses.

Open to third-party integrations: To capacitate the chatbots for faster resolution of frequently reported queries, it is necessary to integrate with third-party applications such as order management software, customer relationship management (CRM) and others.

Facilitates in-depth reporting: An efficient chatbot would present in-depth reports to the eCommerce firms to evaluate the productivity of all the operations going on

Allows integration with customer support software: A competent service-oriented bot is required to amalgamate with service software which would ensure that both the customers and retailers are gaining pleasant experiences using the chatbots.
A substantial number of brands operating in India and abroad have invested in Chatbots as they intend to use these Human-like companions to sell products directly thereby economizing both time and money. So, to pace up your brand's growth implement chatbots that can be there for your customers as sincerely as you.
---
Want to develop an Intelligent Virtual Assistant solution for your brand?