Haptik gets recognized in G2 Best Software Awards 2022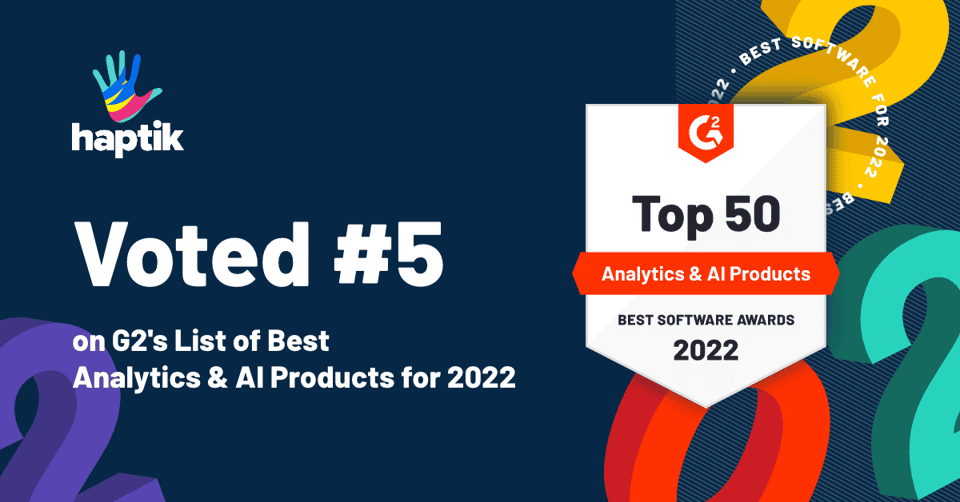 Haptik Earns #5 Spot on G2's 2022 Best Software Awards for the Best Analytics & AI Category and also wins recognition as Best India Sellers
We're thrilled to let you know that Haptik has been recognized in G2's 2022 Best Software Awards, placing #5 on the Best Analytics & AI Products list and #23 in Best India Sellers! 🏆
Operating a software marketplace used by more than 60 million software buyers annually, G2 is the definitive online destination to discover, review and manage the technology that businesses need to reach their potential. Its annual Best Software List ranks the world's best software companies and products based on authentic, timely reviews from real users.
This is Haptik's first time appearing on one of G2's Best Software lists, earning our place this year thanks to our dedicated customers that truly believe in our mission to transform the way businesses interact with consumers by providing a significantly upgraded customer experience. G2 ranks companies based on market presence and authentic reviews & ratings from real businesses, and this achievement further testify the continued love & support that our customers have shown for us.
Speaking on the occasion, Aakrit Vaish, CEO & Co-founder at Haptik, noted, "AI-powered conversations are continuing to transform the way businesses approach customer journeys, from acquisition to commerce to customer support. Valuable integrations, a self-serve CX platform, new feature additions, and continuous innovation to deliver the highest quality of virtual assistants have helped us in providing real business impact for our customers. We've been making big strides over the last year towards delivering on our mission of helping brands provide elevated customer experiences with AI-powered conversations and it gives us immense pleasure to see that dedication and focus reflected in both our customer feedback and this recognition by G2."
With business value and reputation now being defined by customer experience, Haptik's Enterprise CX platform is emerging as a key differentiator that businesses are looking to invest in. Haptik has witnessed 130% quarter-on-quarter growth across all key metrics and is now officially doing business in 8 countries: India, USA, UK, Singapore, Indonesia, Australia, South Africa, UK, making Haptik the #1 Conversational AI Partners for AI-driven connected experiences.
To learn more, view G2's 2022 Best Software Lists:
---