3 Ways Conversational AI Can Drive eCommerce Sales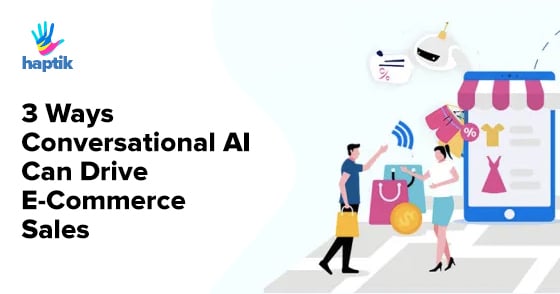 eCommerce companies have been at the forefront of leveraging the power of Conversational AI. Of the many functions virtual assistants help to automate, one of the major use cases is Sales. The advancements in Natural Language Processing (NLP) and Natural Language Understanding (NLU) have spearheaded the development of Virtual Assistants for Sales Automation.
In the new COVID-19 times, digital shopping has emerged as the safest and most convenient way for businesses to interact with their customers. This has significantly boosted the growth of the eCommerce industry. eCommerce worldwide revenues are projected to grow to 6.54 trillion US dollars in 2022 . By all accounts, it does seem like the future of retail lies is the digital world.
The growing use of Conversational AI in eCommerce to automate their sales function end-to-end is a testament to the capabilities of the technology to positively impact businesses.
In this article, we will shed some light on the ways in which AI assistants can help the eCommerce industry in driving sales and growing their business.
Virtual Sales Agent for eCommerce Brands
Your eCommerce store will have a variety of products available for purchase. While this provides consumers a long list of options to choose from, it can become particularly difficult for them to find exactly what they are looking for. Virtual Assistants can assist the customer in finding the best product available as per their needs.

How does this work?
AI Assistants can help users in the product search journey and even recommend products to users by understanding their requirements. They are capable of answering product questions that the user may ask before making a purchase.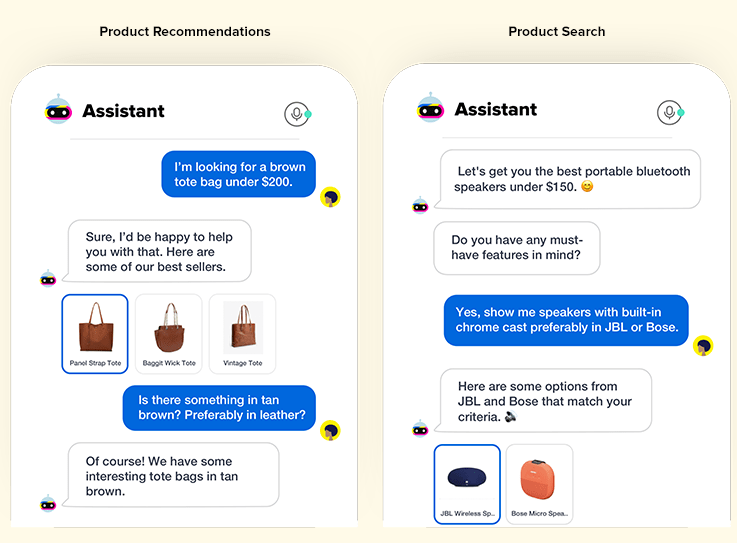 This function of Conversational AI in eCommerce will help companies boost their sales by delivering a customer-first experience and guiding customers at each stage of the purchase process. AI Assistants help eCommerce brands deliver a highly personalized shopping experience, which helps customers develop a positive outlook towards the brand and ultimately results in better sales performance. From product recommendation to making the final purchase, Virtual Assistants enable end-to-end automation of the purchase.

Up-selling and cross-selling is one of the most important strategies adopted by eCommerce players to increase revenue per customer. The built-in functionalities of Virtual Assistants enable eCommerce brands to identify up-selling and cross-selling opportunities and execute them at scale.
[Download E-book] Supercharge Your Sales with Conversational Commerce
Generating High-Quality Leads and Acquiring New Customers
Conversational AI in eCommerce can help companies engage with their customers by asking them questions, conducting surveys, and even by playing quizzes! This particularly will help eCommerce brands to collect customers' personal information and nurture them with relevant information! The process of generating leads and at the same time engaging with the visitor is a great opportunity for eCommerce businesses to build a positive relationship with their customers.
Based on the information provided by the customer, the virtual assistant can segment users based on demographics, interests, and psycho-graphics. This will help eCommerce players reach the right customer with the right messaging!
AI assistants can help acquire new customers by analyzing their position in the purchase funnel and making product recommendations accordingly.
With the powerful re-targeting feature of Facebook Ads, a Facebook Messenger chatbot is the ideal platform for capturing leads for eCommerce businesses.
For most businesses, customer retention is more important than customer acquisition, purely because there's more scope to generate revenue from existing customers than from new customers. Here's how Conversational AI helps eCommerce players retain existing customers:
1. Transactional Messages from a Virtual Assistant helps eCommerce brands to continue creating conversations with their customers throughout the purchase and post-purchase journey.

2. The 24/7 availability of the Virtual Assistant helps eCommerce companies to provide a seamless customer care experience to their customers.

3. 97% of consumers look for deals when they shop. Virtual Assistants can provide referrals, coupons, discounts, and rewards to loyal customers and boost companies' loyalty programs.
Assists eCommerce Customers at Every Stage of the Life Cycle
The eCommerce industry is a highly competitive one. A key differentiating factor for an eCommerce brand is the post-sales support it provides to its customers. If the company wishes to retain the customer, it has to ensure that he gets the best post-sales customer service. How the company treats its customers after the purchase is an important factor that customers consider before making the next purchase.

AI assistants do not have fixed working hours. They can engage customers 24/7. They can also be equipped with multilingual capabilities to converse with customers in their preferred language. These factors play a crucial role in providing a smooth experience for customers who are facing any issues with their product.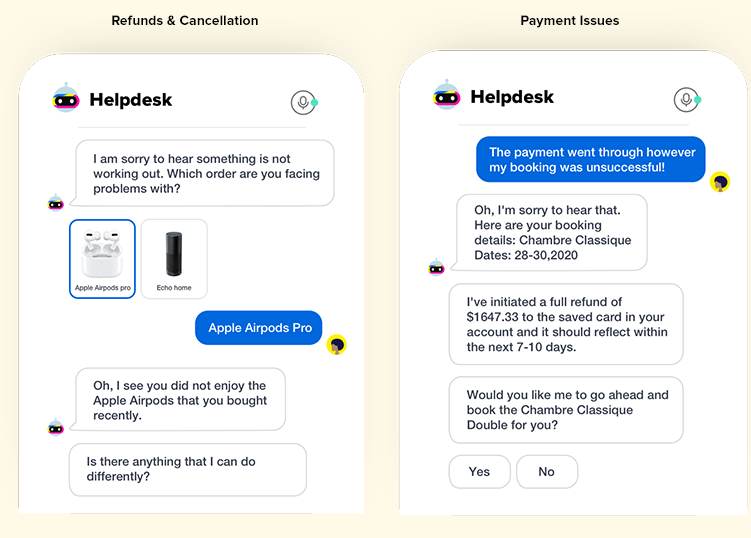 According to Neil Patel Digital, the average time saving per chatbot inquiry is 4 minutes + when compared with traditional call centers. Conversational AI facilitates the overall growth of your eCommerce company by increasing sales and bringing down operational and employee training costs, thereby increasing profit margins!
The biggest nightmare for any eCommerce player is cart abandonment. It is reported that high shipping charges is the top reason why users abandon their carts at the payment stage. AI Assistants effectively help eCommerce brands in decreasing cart abandonment rates by sending reminders, offers, and discounts to them on their preferred channel of communication.
[Read case study]: How Flo Mattress Improved Lead Generation by 317% using Haptik
To Sum Up
According to Forbes, Conversational AI has increased sales by 67% on average. The development in AI technology has enabled Virtual Assistants to successfully drive growth for enterprises of all sizes.
From engaging with customers across digital platforms and converting them into leads, to providing end-to-end post-sales support, Conversational AI has revolutionized the way eCommerce brands drive growth.
Conversational AI is transforming the eCommerce industry by end-to-end automation of the sales function, bringing down operational costs and increasing revenue.
Gartner reports that $8B in businesses expenses will be saved by Virtual Assistants by 2022. Conversational AI is indeed at the forefront of unlocking exponential growth for the eCommerce industry.
---
Want to develop an Intelligent virtual assistant for your brand?