3 Ways Conversational AI Can Drive eCommerce Sales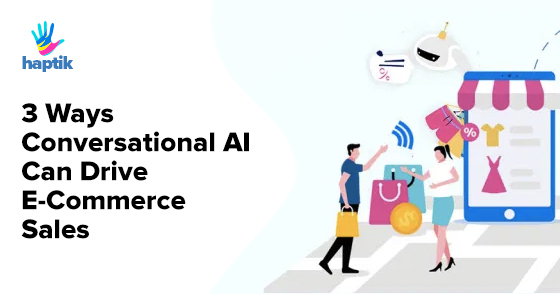 Welcome to the future of online shopping, where technology meets conversation to revolutionize the way we shop. In this fast-paced digital era, businesses constantly seek innovative strategies to enhance customer engagement and boost sales. Enter Conversational AI, the game-changer that combines the power of artificial intelligence with natural language processing to create seamless, personalized interactions.
Conversational AI is reshaping the eCommerce landscape from virtual shopping assistants that guide you through a tailored buying experience to chatbots that provide instant support.
In this article, we delve into three incredible ways Conversational AI can drive eCommerce sales, transforming the way you shop and ensuring a delightful customer journey from start to checkout.
3 Ways Conversational AI Can Supercharge eCommerce Sales
Haptik's Conversational AI Success Stories Explained with Case Studies
Virtual Sales Agent for eCommerce Brands
Conversational commerce is reshaping the eCommerce landscape, and at the forefront of this transformation are Virtual Sales Agents. These intelligent AI-powered shopping bots are revolutionizing the way eCommerce brands interact with their customers, providing personalized guidance and driving sales like never before.
Virtual Sales Agents act as trusted shopping companions, effortlessly assisting customers in finding their ideal purchases. By understanding user requirements and preferences, these agents offer tailored product recommendations and address queries, ensuring a seamless shopping experience from start to finish.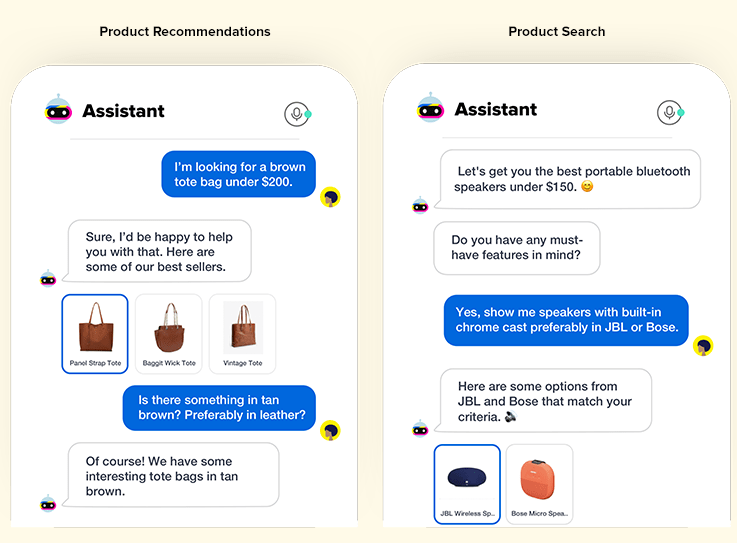 But their impact doesn't stop there. Virtual Sales Agents also excel at up-selling and cross-selling, identifying opportunities to increase revenue per customer and executing them at scale. With end-to-end automation of the purchase process, these agents empower eCommerce brands to deliver exceptional customer-centric experiences, fostering brand loyalty and boosting sales performance.
E-Book: Supercharge Your Sales with Conversational Commerce
Generating High-Quality Leads and Acquiring New Customers
In the ever-evolving world of digital marketing, acquiring high-quality leads and converting them into loyal customers is the ultimate goal. By leveraging natural language processing and machine learning, Conversational AI engages in meaningful dialogues, understanding customer needs, and nurturing leads in real time.
Gone are the days of static lead capture forms that often go unnoticed. Conversational AI captivates potential customers with interactive chatbots, virtual assistants, and messaging platforms. It guides them through the buying journey, answering questions, providing product recommendations, and addressing concerns promptly. This seamless and personalized experience not only builds trust but also boosts conversion rates and drives new customer acquisitions.
Conversational AI captures valuable customer data, analyzes user intent, and adapts its responses to provide a tailored experience. By automating lead generation and customer acquisition, Conversational AI empowers businesses to scale their operations, reach a wider audience, and stay ahead in today's competitive digital landscape.
Here's how Conversational AI helps eCommerce players retain existing customers:
1. Transactional Messages from a Virtual Assistant helps eCommerce brands to continue creating conversations with their customers throughout the purchase and post-purchase journey.

2. The 24/7 availability of the Virtual Assistant helps eCommerce companies to provide a seamless customer care experience to their customers.

3. 97% of consumers look for deals when they shop. Virtual Assistants can provide referrals, coupons, discounts, and rewards to loyal customers and boost companies' loyalty programs.
Assisting eCommerce Customers at Every Stage of the Life Cycle
The eCommerce industry is a highly competitive one. A key differentiating factor for an eCommerce brand is the post-sales support it provides to its customers. If the company wishes to retain the customer, it has to ensure that he gets the best post-sales customer service. How the company treats its customers after the purchase is an important factor that customers consider before making the next purchase.

AI assistants do not have fixed working hours. They can engage customers 24/7. They can also be equipped with multilingual capabilities to converse with customers in their preferred language. These factors play a crucial role in providing a smooth experience for customers who are facing any issues with their product.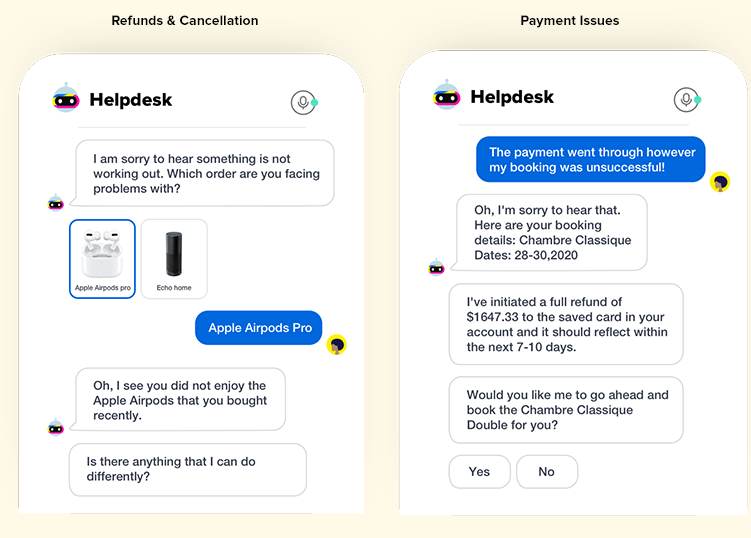 According to Neil Patel Digital, the average time saving per chatbot inquiry is 4 minutes + when compared with traditional call centers. Conversational AI facilitates the overall growth of your eCommerce company by increasing sales and bringing down operational and employee training costs, thereby increasing profit margins!
The biggest nightmare for any eCommerce player is cart abandonment. It is reported that high shipping charges is the top reason why users abandon their carts at the payment stage. AI Assistants effectively help eCommerce brands in decreasing cart abandonment rates by sending reminders, offers, and discounts to them on their preferred channels of communication.
Case Study: How Flo Mattress Improved Lead Generation by 317% using Haptik
Haptik's Conversational AI Success Stories Explained with Case Studies
Case Study 1: Equinox Hotel
Haptik's partnership with Equinox Hotel resulted in a remarkable impact. With 24/7 support, Haptik optimized the hotel's website, generating 2600 new inquiries in under three months. Their efficient assistance and prompt response resolved 85% of customer queries without an agent, while also generating 150 qualified leads in just four months. Equinox Hotel witnessed a significant boost in guest satisfaction, thanks to Haptik's valuable contribution.
Case Study 2: CEAT
Haptik's partnership with CEAT, a leading tire manufacturer, led to impressive results. With an AI-powered chatbot, CEAT experienced a lead-to-conversion rate of 21% and achieved a remarkable 75% automation rate. Haptik's solution not only enhanced customer experience but also drove additional revenue by promoting special offers and discounts.
To Sum Up
In the dynamic world of eCommerce, Conversational AI emerges as a game-changer, driving sales and transforming the customer experience. By leveraging virtual shopping assistants, personalized recommendations, and seamless interactions, Conversational AI creates a customer-first approach that leads to increased conversions and revenue. eCommerce Chatbots empower businesses to deliver highly tailored experiences, automate the purchase process, and identify up-selling and cross-selling opportunities. In this age of technological innovation, embracing Conversational AI is the key to unlocking the full potential of eCommerce, revolutionizing sales strategies, and propelling businesses toward unparalleled success.
Start Your Conversational Commerce Journey with Haptik