Building Self-serve Enterprise CX Platform: Product Owner's POV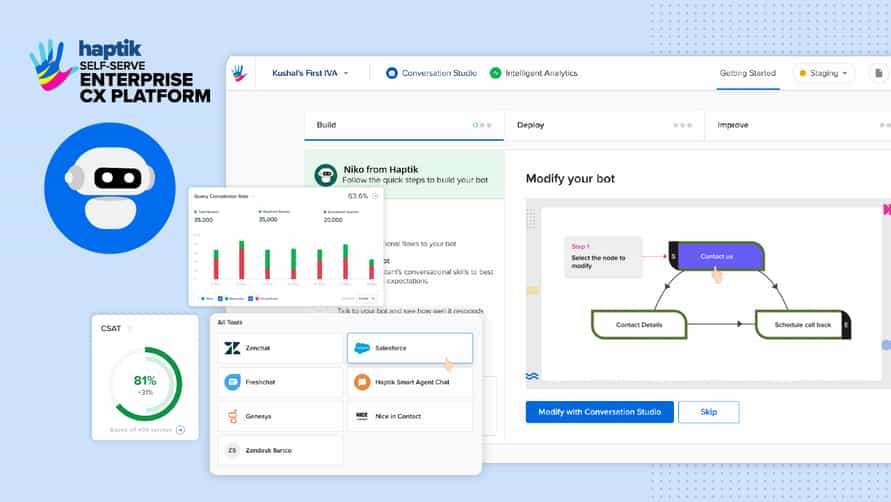 At Haptik, we take pride in building the best Customer Experiences for our users - and their end-users, powered by Conversational AI. In the last 8 years, we have been leading the Conversational AI industry by building the most sophisticated Intelligent Virtual Assistants that exceed the expectations of brands & customers alike. Our mission is to drive the world's transition to AI-powered Conversations.
Over the years of working closely with large and medium Enterprises and gathering a multitude of customer insights - we realized a major underlying challenge in our industry that isn't being addressed.
The Challenge
The challenge is - How do people build Intelligent Virtual Assistants that actually work i.e. it should be able to understand customer queries with their context & meaning, resolve them accurately & provide an end-to-end personalized customer experience across multiple tools - with the fastest time to value, ease of use and scalability. All of this to grow conversations with elevated customer experience as an enterprise continues to grow.
And we get it, building an intelligent virtual assistant - is easier said than done. It requires:
Conversational AI Expertise
Investing several man-hours
Multiple rounds of training
Advanced NLU & ML capabilities
Integrations & customizations
and a hundred other things to truly deliver exceptional customer experiences.
BUT NOT ANYMORE! 😎
In the last 18 months, we've worked hard towards filling this huge gap of achieving the right balance between serving the complex needs of Enterprises while ensuring an easy-to-use platform to build the best virtual assistants.
The Solution
Introducing Haptik's self-serve Enterprise CX Platform which allows you to launch Intelligent Virtual Assistants in 3 simple steps - Build >> Deploy >> Improve.
With our new low-code CX platform, you can choose from 100+ proprietary AI templates to easily build the best virtual assistant for your customers and go live within days, upgrading your customer experience that doesn't just meet but exceeds customer expectations.
Let's dive deeper into what went behind the biggest launch in the history of Haptik and how we worked towards creating value-driven impact.
The Getting Started Checklist
The first challenge we had to solve was enabling our users to discover the different capabilities of Enterprise-grade Conversational AI platforms. Simultaneously, we also wanted to provide a mental map of the different stages involved in using virtual assistants to improve CX.

With the Getting Started Checklist, we make it very simple & straightforward, for Product Managers who are predominantly responsible for driving their brand's CX metrics to launch powerful virtual assistants in no time. Moreover, the checklist also ensures that users are successful across all the stages of launching an AI-chatbot:

1) Building the virtual assistant
2) Deploying the virtual assistant to the channel of their choice
3) Improving the virtual assistant using insights from Intelligent Analytics
This checklist keeps users updated with the progress they are making through the different stages and enhances their confidence in using Conversational AI.
Guided Tours
Over the years we've realized that more and more customers are inclined towards building their own virtual assistants.
To truly embody our mission to become self-serve, we've added guided tours that essentially walk the user through the different actions they need to take on the platform to complete a step. This enables us to be there for our users across various stages and leads them to successfully complete their bot-building journey.
Actions over words
One of the key philosophies that we established fairly early on while building the platform was to urge users to build the AI bot by themselves and experience the learnings first-hand instead of having to read through explanations or watch videos.
To do this we've intricately created our product tours to drive users to take actions on the platform vis-a-vis the vanilla approach of explaining the different aspects and benefits of the platform.
Overall UX upgrades
Besides including the getting started checklist and guided tours, we've also given a major face-lift to the overall UX of the platform —making it cleaner, easier to navigate, and more accessible.
The new UX of the platform will help users easily find what they are looking for, no matter which stage of the bot-building process they're in. Additionally, the new UI also surfaces different sections of the platform ensuring higher accessibility across the board.
>> Top navigation system: We've also introduced a new top navigation system that allows users to choose the bot they are working on then decide what they want to do with the bot. The top navigation lets users easily switch between conversation studio (our bot builder tool) and Intelligent Analytics (our analytics tool) The top navigation also lets users easily access the getting started page at all times if they want to refer back to the checklist. Additionally, we also enable users to easily switch environments between staging and production from this section.
>> New Side Navigation System
Additionally, we have also created a new Sidebar based navigation system that lets you access all the different sections with conversation studio and intelligent analytics in a single place.
Conclusion
Building Conversational AI Chatbots doesn't need to be intimidating anymore!
Our low code, self-serve CX platform is designed for product managers, UI UX experts, and CX professionals - those who know the business best. Take control of your customer experience end-to-end and build the most powerful Intelligent Virtual Assistant for your users, driving CSAT and NPS like never before!
Give your users immediacy and convenience with AI-powered chatbots while ensuring brand consistency & brand voice across all communication. Make CX your biggest differentiator and stay ahead of the curve with Haptik.



Experience the Power of Conversational AI-driven Customer Experience