How Conversational AI Can Help Generate Leads for Insurance Brands

According to Accenture, as many as 79% of insurance executives believe that AI will transform the way their companies communicate with customers.
The insurance sector, like many other verticals, has certainly benefited tremendously from AI automation. Conversational AI, in the form of chatbots or virtual assistants, serves as the perfect automated insurance agent – educating prospective customers about insurance, helping them compare plans and policies, and even making personalized recommendations based on their needs.
Let us take a deep-dive into some of the key reasons why Conversational AI is the perfect lead generation tool for an insurance brand.
Customer Education Made Seamless
Insurance is a complex product – one who's buyers require a certain degree of hand-holding when it comes to understanding the finer points of different plans and policies, and understanding which policies best suit their specific requirements and risk profiles. In fact, the complexity and perceived inaccessibility of insurance poses a particular challenge in the case of Millennials – the largest uninsured generation in the United States – who find it difficult to navigate through the maze of insurance options and don't know where to find the information they need.
This is where an AI Assistant can be really useful. It enables prospective customers to explore the complex web of technical terms, rates, terms & conditions and other crucial information in a seamless conversational manner. Customers can ask an insurance chatbot any query using the words or phrasing of their choice – the Natural Language Understanding (NLU) capabilities of the assistant ensures that it understands the customer's query perfectly and instantly provides the relevant information.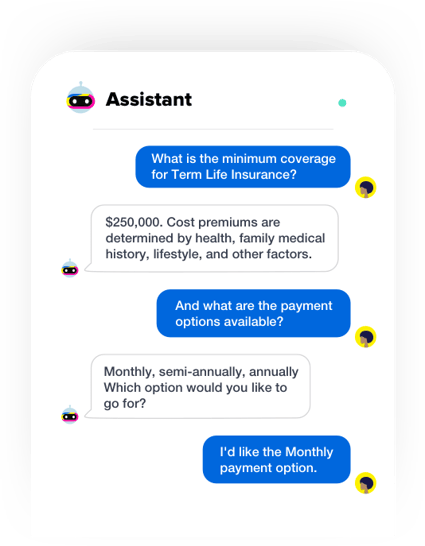 Consider the above example, in which an interested customer gets their questions about Term Life Insurance answered instantly during the course of a conversation, making them more likely to move on to the next step of the purchase journey. And contrast this with a static website that the customer would have had to painstakingly navigate to find the answers they needed.
An AI Assistant can help customers compare plans, answer queries around benefits and coverage, and even provide tools such as interest calculators to help the customer get a better understanding of the costs and benefits involved.
Customers today, particularly Millennial customers, have gotten accustomed to quick answers in real-time interactions. Conversational AI enables insurance brands to meet that expectation, and significantly improves lead generation, as well as the likelihood of a conversion down the line.
Explore How to Gain Tremendous Competitive Advantage By Using Automation In Insurance
Acquiring Customers Through Intelligent Prompts & Recommendations
Conversational AI enables you to engage website visitors with intelligent prompts, encouraging them to begin a conversation. The insurance chatbot prevents drop-offs by keeping the visitor engaged with information, answering FAQs, and asking them questions about their insurance requirements – ultimately collecting the details of interested prospects.
With a virtual assistant, the prospective customer can simply provide their details over the course of a conversation, rather than having to fill up a long, static lead form – a factor which significantly boosts lead generation through the insurance brand's website.
Of course, educating customers and answering their questions is only the first step. Insurers need to go the extra mile to keep prospects engaged and get them on board. Insurance agents often need to serve as advisors to their prospective customers – discussing their specific requirements and their risk profile, and making recommendations based on these discussions. And Conversational AI helps with that task as well.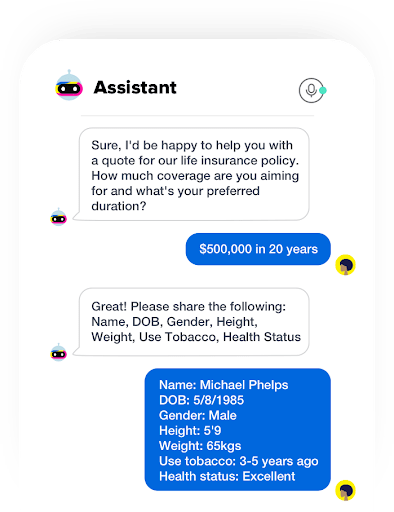 With an AI-powered recommendation engine in place, a virtual assistant can engage the customer in a conversation about their insurance needs, build a profile based on their responses, and make personalized policy recommendations, complete with quotes.
Being presented, not just with general information, but with concrete recommendations to match their insurance needs, is sure to increase the customer's engagement with the insurer, and makes it more likely for them to explore the purchase further.
The AI Assistant can also effectively upsell and cross-sell to existing customers, making relevant recommendations that complement their existing policies, thus further contributing to the bottom line.
---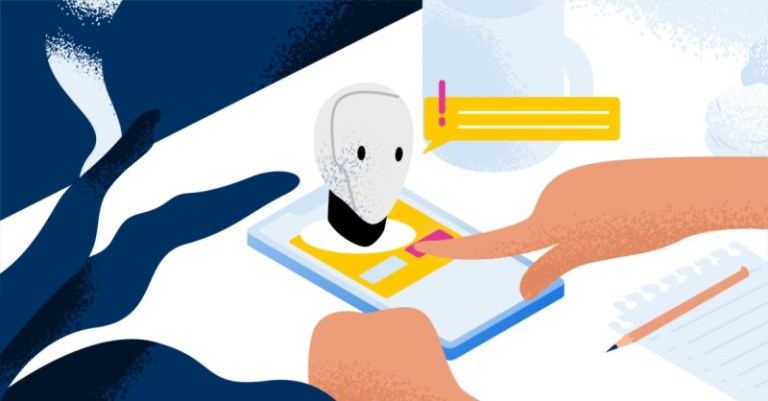 E-BOOK: Implementing Conversational AI – What Insurance Brands Should Keep in Mind
---
A Frictionless Customer Experience
The purchase journey for insurance products is a unique one in that it is driven by the fear and anxiety of potential loss – of property, health, or loved ones. As such, customers tend to be very emotionally invested in the process. This makes it all the more crucial to provide them as frictionless an experience as possible – giving them instant access to the information they require, helping them right the right plans and policies, and streamlining routine tasks and processes. Something Conversational AI facilitates perfectly.
One of the challenges of customer engagement in the insurance sector is its perceived opacity. As we've discussed, insurance is a complex subject, and this complexity leads customers to believe that they are not getting 'straight answers' from insurance agents. They are constantly wary of the 'fine print' which may carry hidden clauses and being led into buying something that they don't really need or want. An AI Assistant helps insurers present themselves as being more transparent by swiftly and seamlessly closing information gaps.
Moreover, an insurance chatbot doesn't just make sales pitches but engages the customer by freely offering access to information around policy features, terms, and pricing – all this in clear and simple language that helps dispel the notion that something is being hidden from the potential customer.
Being able to gain the customer's trust through transparent information dissemination, rather than explicit promotion, is one of the key reasons why Conversational AI is such a great tool for lead generation in the insurance sector.
Last, but not least, an AI Assistant can be deployed across a wide range of platforms beyond just the insurer's website or app, including popular channels such as WhatsApp and Facebook Messenger. This further contributes to making insurance, and insurance providers, more accessible to potential customers, and increases the likelihood of getting them into the purchase funnel.
The State of Insurance Chatbots in 2022: Use cases, Reports, case studies, and more.
To sum up
The COVID-19 pandemic, and the resultant disruption in operations across sectors, has highlighted another way in which Conversational AI can be of great value to insurance brands – helping them continue to drive their lead generation efforts at a time when in-person meetings with customers became virtually impossible.
As Rahul Pandita, Product Manager at one of India's fastest-growing insurance companies, Kotak Life Insurance (KLI), says, "Considering the environment around COVID-19, lead generation via chatbot became a very critical channel for us. Naturally we wanted to implement this immediately and in the best possible way. Currently, our lead generation module is very engaging and handles 20% of the overall queries on our chatbot".
So clearly, having an AI Assistant solution in place can be very handy for an insurer during a crisis. But even under normal circumstances, Conversational AI does a lot to make insurance more accessible and easier to understand at every step of the purchase journey, right from the initial exploration to evaluating and selecting options. Insurance chatbots or virtual assistants offer a frictional experience to prospective customers – answering their queries, presenting them with policy options, and even making recommendations based on their requirements.
By serving as helpful, knowledgeable and transparent insurance advisors, they gain the trust of customers and ease them into the funnel – thus proving to be a great asset to the lead generation efforts of insurance brands.
---
Want to develop a Conversational AI solution for your brand?