WhatsApp Enterprise: How to Get Started in 5 Steps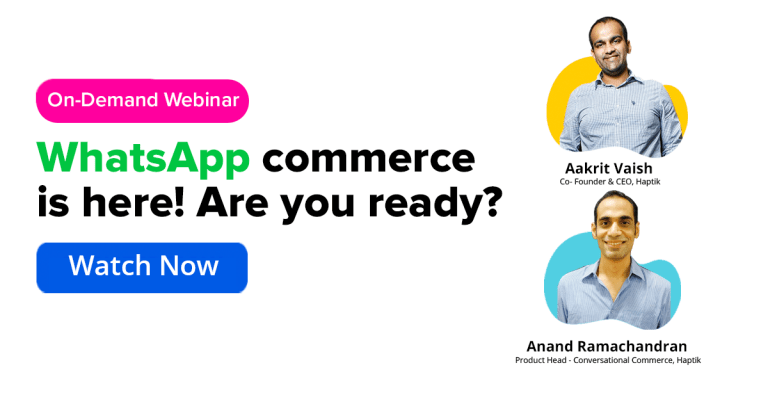 This is PART TWO of a series of articles on WhatsApp Commerce. You can read PART ONE.
As the world's largest messaging platform, WhatsApp is the medium of choice for most people to chat with their friends, families, co-workers, and even businesses. The launch of the WhatsApp Enterprise API opened the doors for enterprises to start engaging with their customers at scale. And with its recent development of features and the growing consumer demand for contactless shopping, WhatsApp is also emerging as a significant commerce platform.
If you are a business owner looking to provide delightful customer support, increase customer engagement, drive sales, and unleash the full potential of the messaging app WhatsApp. The first step is to set up WhatsApp Enterprise for your brand. This article will serve as a quick guide to help you get started.
Read More: 10 Reasons Why Your Brand Should Be on WhatsApp
What you need to get started
Before setting up WhatsApp Enterprise for your brand, there are a few things you need to have in place. These include:
Website: It is required for your business to have a fully functional website. Do note that even if you're aiming to enable a WhatsApp Commerce solution, it is not essential for your website to be a commerce platform. It is simply a prerequisite to creating your WhatsApp Business account.

Facebook Business Manager: Having access to Facebook Business Manager is another prerequisite to setting up WhatsApp Enterprise. Log into Facebook Business Manager and set up an account for your business. This will enable you to manage your WhatsApp Business account.

Business Phone Number: You need a cellphone number through which your business will operate on WhatsApp. This number should not be already linked to an individual WhatsApp account.

Business Solution Provider (BSP): Facebook and WhatsApp have a list of official solutions providers for the WhatsApp Business API. You will need to collaborate with one of them to set up your brand's WhatsApp business profile.
Haptik is an official BSP for WhatsApp Enterprise. Reach out to our team to get your business set-up on WhatsApp.
Setting up WhatsApp Enterprise
Once you have the preconditions discussed above in place, you can set up WhatsApp
Enterprise for your brand with the following five steps: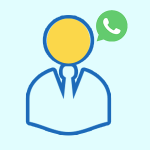 STEP ONE: Create your WhatsApp Business Account through your Business Solution Provider (BSP).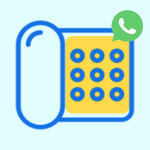 STEP TWO: Add your business phone number to your WhatsApp Business Account.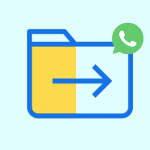 STEP THREE: Your BSP will set up an individual WhatsApp container for your brand, which will be linked to your WhatsApp Business Account.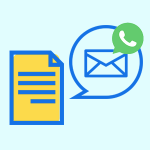 STEP FOUR: You can set up Message Templates within your brand's WhatsApp container. Message Templates are specific message formats a business needs to initiate a chat with its customers. Brands can send transactional notifications like, e.g., confirmations, status checks, reminders, etc., and promotional messages.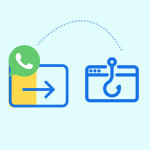 STEP FIVE: Your WhatsApp container will be connected through Webhook urls to your brand's chat management service, which will enable your agents to interact with customers over WhatsApp.
.You can also link your container to your business' CRM system or an AI-powered WhatsApp chatbot that can engage your customers and cater to their needs entirely automatedly.
WhatsApp Enterprise API vs. WhatsApp Business App
A vital advantage of the WhatsApp Enterprise API is that it offers businesses various options to manage customer conversations. Unlike the WhatsApp Business App, wherein one phone number can only be used to interact with one customer at a time, with the Enterprise API, the same phone number can be used to engage hundreds simultaneously, or even thousands, of customers, through either multiple human agents or by using a chatbot. This makes WhatsApp Enterprise the perfect customer engagement platform for offering support and enabling conversational commerce.

Conclusion

WhatsApp, the most popular messaging app used by more than 2 billion people sending over 100 billion messages daily, has become an integral part of every brand's digital transformation strategy. With the WhatsApp Business API expanding its capabilities and scope, it has now evolved into a full-blown sales channel. Brands will leave serious money on the table if they don't leverage the platform's benefits. A WhatsApp chatbot can be an excellent tool for amplifying the brand's efforts at scale and achieving the desired results.
---
Are you interested in a WhatsApp Enterprise solution for your brand?