Behind the Scenes: The Reliance Industries "Rights Issue" Chatbot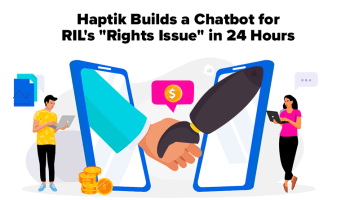 On May 20th 2020, Reliance Industries Ltd. (RIL) began its $7 billion "rights issue" – the largest-ever rights issue in India. The sheer scale and scope of this public offering alone made it historic, but there was another element that added to the uniqueness of the event.
In just 24 hours, Haptik built an AI-powered chatbot to answer shareholder questions about the rights issue, the first such solution to be implemented in the Indian capital markets.
Reliance Industries, in addition to being one of the world's largest conglomerates, is also our long-term strategic partner. As such, we were privileged to have the opportunity to work closely with their team to build and implement this unique Conversational AI solution.
What does the rights issue chatbot do?
Available on WhatsApp, the chatbot answered shareholders' queries and FAQs related to the rights issue – essentially complementing the services of brokers, sub-brokers, and call centers who normally field these queries.
The chatbot was programmed with over 75 responses to these FAQs, including important dates, a calculator on rights entitlement and the amount to be paid in the initial installment if any, how to trade the rights entitlement, how to apply, payment methods, how to access forms and how to connect with lead managers. These replies were based on the FAQs that lead managers typically post through conventional channels.
All the chatbot replies were in English. However, the chatbot included FAQ videos in multiple languages, including English, Hindi, Kanada, Gujarati and Bangla.
How we built it
The chatbot needed to be ready in time for the commencement of the rights issue on May 20th. Therefore, our team had to go through the rigorous development process of building, testing and implementing the solution at an accelerated pace on a very tight schedule.
The first step was a demo that we built for the solution, which answered around 30 FAQs. This demo chatbot was evaluated by the team at Reliance, and we received a go-ahead once the solution was found to comply with regulatory guidelines.
After receiving feedback based on the demo, the team had 24 hours to build and implement the final version of the solution, which would include responses to over 75 FAQs, and five distinct conversational flows. Our team worked closely with the Reliance team through the day for real-time feedback on the use cases and conversational flows, as well as to make tweaks – such as the addition of FAQ videos.
Finally, after an intense 24-hour period of constant testing, feedback, and reiteration, the rights issue chatbot went live in time for the public offering.
A triumph of people and process
The successful implementation of the rights issue chatbot within 24 hours is a credit to our talented team of bot-builders, conversation designers, engineers and program managers; as well as to our robust development process and quality assurance checks which ensured that the solution was not only implemented on time but also completely error-free.
Moreover, building a Conversational AI solution on WhatsApp requires a slightly different approach to building on other platforms, and our team's previous experience with implementing WhatsApp chatbot solutions proved to be a great asset in this project.
READ MORE: Haptik Builds WhatsApp Chatbot for Government of India to Raise COVID-19 Awareness
In the words of our Co-Founder & CEO, Aakrit Vaish – "Answering FAQs for a rights issue is one of the most unique use cases that we've tackled. This solution highlights the crucial role that Conversational AI can play in effectively disseminating information to stakeholders, especially at a time when in-person meetings are not possible due to COVID-19. The fact that we were able to execute this project in 24 hours, while working remotely, is a testament to what you can achieve with a dedicated and passionate team".
Want to develop a Conversational AI solution for your brand?