How to pick the right use-cases for your Chatbot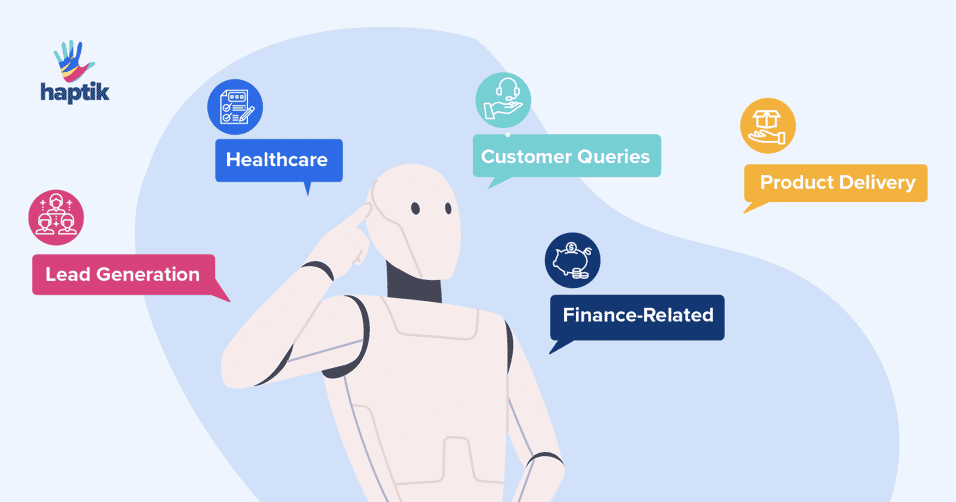 When Artificial Intelligence (AI) became viable for enterprises, it was only a matter of time before businesses turned to AI-powered IVAs and Chatbots as smarter conversational solutions to meet the ever-growing customer expectation.
Earlier, customers struggled to interact efficiently with brands. There were few pain points like long wait times, inefficient customer service, lack of personalization, etc. But now, the customer experience landscape tells a surprisingly different story. Innovations in artificial intelligence have changed the way businesses used to communicate with their customers.
According to Accenture's Global Consumer Pulse survey, 23% of US consumers said that their expectations from customer service are now higher than a year ago, and they are expecting faster customer service with more digital options. In contrast to this evolution in digital communication, businesses are preferring to adopt cognitive AI technologies to uphold the transforming standards of customer service and engagements.
Today, many businesses seek to join the AI revolution. Genesys predicted that 60% of U.S. companies will be using AI by 2022.
Why? Because not only have they seen the results of a poor customer service experience, but the fear of losing the market to AI-enabled competitors is a critical factor for business survival.
But, before any business can adopt and implement AI-powered virtual assistants or AI chatbots, this is something to think about:
Why do you need an AI chatbot?
What can AI chatbots be used for? Or What problems will it solve for your business?
What type of customers is your chatbot for?
Once you know the requirements, feasibility, and your target customers for AI Chatbot, it's time to start thinking about the best use-cases. Picking the right use-cases for an AI chatbot increases the efficiency of customer service teams and the overall success of AI-enabled customer experience.
Before we talk further about picking the best use cases for an AI chatbot, let's recap the basics.
What is a Use Case?
In terms of AI chatbot methodology, a Use Case is an action that can be modeled, handled, and accomplished through a conversational interaction between the bot and the user.
Tracking the status of an order is a typical example of a use case for e-commerce.
While creating appropriate use cases, it is important to identify business aspects of the flow, exceptions, and technical limitations. This process requires the contribution of the whole project team including the project manager, business/product representatives, and developers.
Identifying & designing the first few Use Cases might take up some time for the project team initially, but once a process template is established, it doesn't take more than 4-6 hours to design the whole set of best-suited use cases unique to a business.
We know that the use cases will vary for businesses and may require industry-specific extensive research. Therefore, a strategic approach to choosing the best use-cases for your AI chatbot is the first step.
Steps to choose the right use-case for an AI Chatbot
While choosing the best AI chatbot use cases for your business, assessment of your organization's technical capabilities becomes of utmost importance. Once you analyze your requirement to adopt and implement an intelligent AI chatbot, you need to look out for these key steps that can help you decide on the best possible solutions.
1. Calculate the ROI of Your Chatbot
The first step in choosing the best use case is to determine what ROI means for your business. This calculation is based on the unique needs of your business in the context of both brand value and industry reputation. In simple terms, you should have track of the returns of your AI Chatbot.
For example:

Customer Service: "The average resolution time is reduced to 45 sec because customers now have access to the relevant information through AI chatbots".
Financial Services: "Users struggling to find relevant information or perform specific tasks in their insurance portal. Improving the customer experience with an AI-powered conversational interface will save hours of work for businesses.
Hence, it makes sense to start automating the repetitive processes with an AI chatbot that drives higher ROI. Also, it is crucial to have clear KPIs to constantly monitor the performance of your AI chatbot from an investment perspective. Eventually, when you can describe your ROI in one sentence, you should know that your approach is working.
2. Identify Your User Persona
The next step is defining your target audience. However, you need to research the following W's to identify your correct user persona:
Who are they?

What do they expect?

What are their preferred languages?

What are their pain points?

How is their experience with AI chatbots?
By having clear answers to these questions, you will be able to build tailored use-cases for your AI chatbot that matches the expectations of your target audience.
It is important to keep in mind that we are building a chatbot for real users trying to accomplish concrete tasks. Depending on the user group that is targeted, the chatbot would have a very specific persona. For example, building a chatbot to help sales representatives in their daily tasks (e.g. updating meeting details, creating new opportunities in the CRM…) is not the same user persona as building a chatbot to help finance teams manage their cost centers.
3. Decide Your Chatbot's Personality
Next, it's time to decide how your AI chatbot will interact with your customers. In simple terms, the next step is to determine the personality of your chatbot.
For Example Siri or Alexa, have a well-defined inbuilt personality to make the interaction user-friendly and engaging.
Similarly, to decide on the best chatbot personality while communicating to customers, here are some of the key aspects that need to be considered by businesses looking forward to adopting AI chatbots:
Who is the name and character of your chatbot? (neutral, formal/informal).

What is its avatar? (If any)

What languages, tone, vocabularies, does it use?

What capabilities would the user expect your chatbot to have?

What are you trying to achieve with the help of AI chatbots?
The efficiency of an AI chatbot is directly related to the way it starts, transits, and closes a conversation. Although the use cases can be different across industries, your AI chatbot should be domain-independent when it comes to delivering a superior customer experience.
AI Chatbot Use Cases for Business
While we know how to pick the best AI chatbot use case, let's take a look at these common chatbot use cases across different industries:
Customer Service

Instant answer to customer queries
Handling common repetitive questions
Guiding visitors through their journey
Payment Processing
Collect customer feedback

Healthcare

Collect patient information
Book consultations
Schedule tests and diagnosis
Healthcare Tips and Safety Guidelines
Report Generation

Retail

Lead generation
Order management
Product delivery
FAQs
Instant buy option

Finance

Answer finance-related queries
Troubleshoot account related issues
Process online payments
Generate leads by engaging visitors
Detect Fraudulent transactions

Key Capabilities AI Chatbots Should Have

Wrap Up
To pick up the best use cases for an AI chatbot, businesses can adopt different strategic approaches when it comes to deploying AI-powered technologies. A simple, generic chatbot may not deliver superior CX due to limited capabilities; however, an AI-powered chatbot can help your business increase customer engagements significantly. Also, an efficient AI Chatbot should not be confined to a single use case but to expand and add more, in an attempt to deliver the best solutions for industry-wise business use cases. With the increasing adoption of powerful AI technologies and evolving customer expectations, finding and designing the best-tailored use cases for AI chatbots is now an imperative and essential element of the customer service strategy.
---
Interested to explore more or want to try out a chatbot of your own?