3 Virtual Assistant Trends for Retail and eCommerce Brands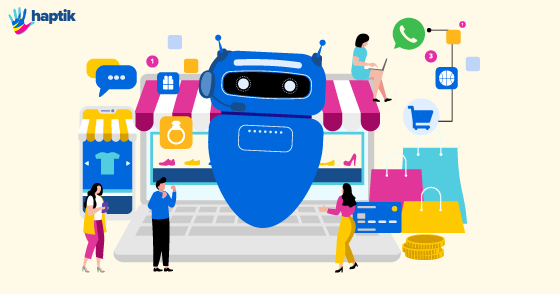 There has been an exponential growth in the use of eCommerce chatbots. eCommerce chatbot has helped global retailers and eCommerce players realize the power of Messaging to enhance CX, drive revenue, and reduce costs.

Today, messaging apps have over 5 billion monthly active users, as per a study by Hubspot.

According to Gartner, $8 billion in business expenses will be saved by chatbots by 2022.

Consumers today expect a personalized shopping experience. A Virtual Shopping Assistant or eCommerce chatbot can guide the user through the buying journey and provide highly personalized product recommendations. AI-powered eCommerce chatbots or virtual assistants can replicate the in-store shopping experience by acting as virtual sales agents.

The advancement of artificial intelligence in retail has revolutionized the broken Customer Support experience. You can deflect traffic from costlier channels to your chatbot, provide 24*7 support, and at the same time enable live chat support for complex queries.
Let's look at some of the top advantages of deploying an eCommerce Virtual Assistant:
A. 24/7 customer service - AI-powered eCommerce chatbots allow your consumers to engage with your brand 24/7. Intelligent Virtual Assistants are redefining the way companies handle customer queries by providing consistent service anytime, anywhere.


B. No Abandoned Carts - Cart abandonment is one of the most challenging issues that the eCommerce industry faces today. With the help of an eCommerce chatbot, you can send customers prompts, notifications, reminders, etc. to facilitate cart recovery.

C. Omnichannel Experience - The modern customer wants the ease and convenience of shopping. An Omnichannel virtual assistant facilitates smoother communication and offers a consistent experience across multiple channels.

D. Order tracking - eCommerce chatbot can assist customers in keeping track of their purchases, order status, billing info, shipping info, etc.


E. Product Recommendations - Virtual assistants can provide highly personalized recommendations and expert-like guidance - effectively serving as an expert shopping assistant for your users.
b
Top Drivers of Growth for eCommerce Chatbots:



1

.

WhatsApp
WhatsApp Commerce:
The growing adoption of WhatsApp by businesses is a testament to the power of WhatsApp as a platform to help businesses achieve massive scale at low cost. From SMBs to large-scale enterprises, WhatsApp has emerged as the primary tool of communication, commerce, and support.

The future of eCommerce is Conversational Commerce and WhatsApp is projected to be the largest player in this market. The decision-makers in eCommerce and Retail brands have integrated WhatsApp into their overall Digital Transformation strategy.


---

[Webinar] WhatsApp Commerce For Brands: All You Need to Know

---

WhatsApp allows you to share personalized user-specific product recommendations, important alerts, discounts, and sell seamlessly, all while saving time, money, and human resources. You can also prompt customers to share their real-time location to enhance delivery.

After a long wait, the National Payments Corporation of India finally gave a green signal to WhatsApp Pay! This will significantly help the retailers to transact with consumers with utmost ease and convenience!

Here are some of the WhatsApp chatbot use cases in retail for Conversational Commerce.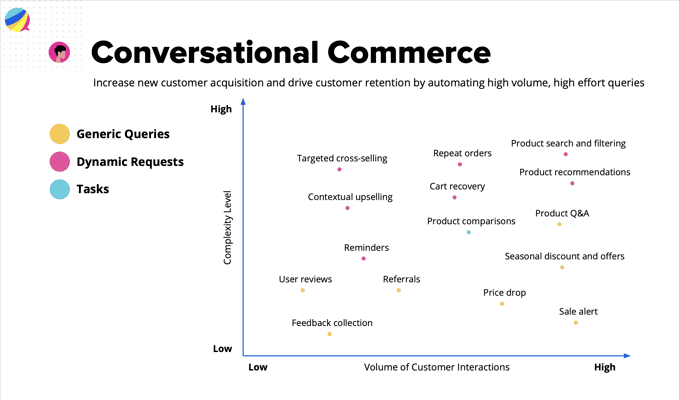 WhatsApp Support

The response time on WhatsApp is 9X faster than a phone call.

70% of customers will choose to message rather than call.

It is not only convenient for users to message directly on WhatsApp but also a cost-saving mechanism for businesses.

WhatsApp enjoys an open-rate of around 70%. You can seamlessly reroute high volumes of incoming support queries from call centers to WhatsApp. Chat with your prospects and customers and resolve queries 24*7, significantly bringing down operational costs.

Order tracking and refunds & cancellations are two of the most common support use cases, and both of these can be handled over WhatsApp swiftly and in a completely frictionless manner.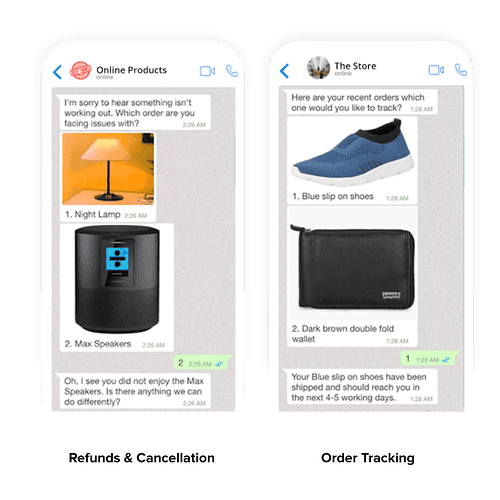 ---

[Webinar] How JioMart Handles 40% Customer Support on WhatsApp
2. VOICE
Hey Alexa, play top Bollywood songs! So easy, isn't it? Well, shopping online is as easy as playing music now.
Consumer buying behavior is changing rapidly with digital retailing witnessing exponential growth!
48% of search queries are now Voice Powered. $40 Billion is the projected voice shopping market by 2022. According to a study by ComScore, 50% of online searches will be done through voice by 2020.

Voice makes it easy and convenient for buyers to shop online. Instead of navigating through the application, they can simply ask what they're looking for and the AI-powered engine will find it for them.

Voice assistants are unleashing their potential to revolutionize the retail industry as customers are increasingly leaning towards virtual assistants.
With an increase in the adoption of Virtual Assistants in the retail and eCommerce industry, it is safe to say that the Future of Online Shopping is VOICE!

The three key features of a Voice powered AI Shopping Assistant are Product Recommendations, Quick and Easy Ordering, and Contextual Cross-selling.


---

Actionable insights to improve engagement, increase cart recovery, and drive sales across the customer journey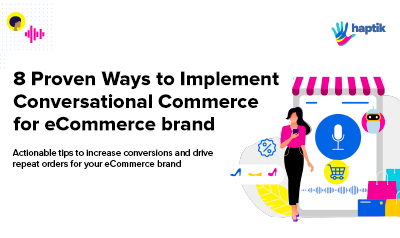 ---

3. Google Business Messages (GBM)
35% of product searches happen on Google. 42% of mobile-driven brand interactions involve Google search.

Google Business Messages (GBM) enables you to directly talk to your users right at the beginning of their journey through Google Search & Google Maps.

GBM eliminates the friction of calls, emails, and app downloads and empowers users to get in touch with businesses directly via messaging from mobile entry points such as Google Maps and Search.

You can leverage the combined power of AI and human intervention with a Seamless AI to Agent Handoff.

Haptik worked with Netmeds, India's largest online pharmacy, to help them get started with their GBM journey.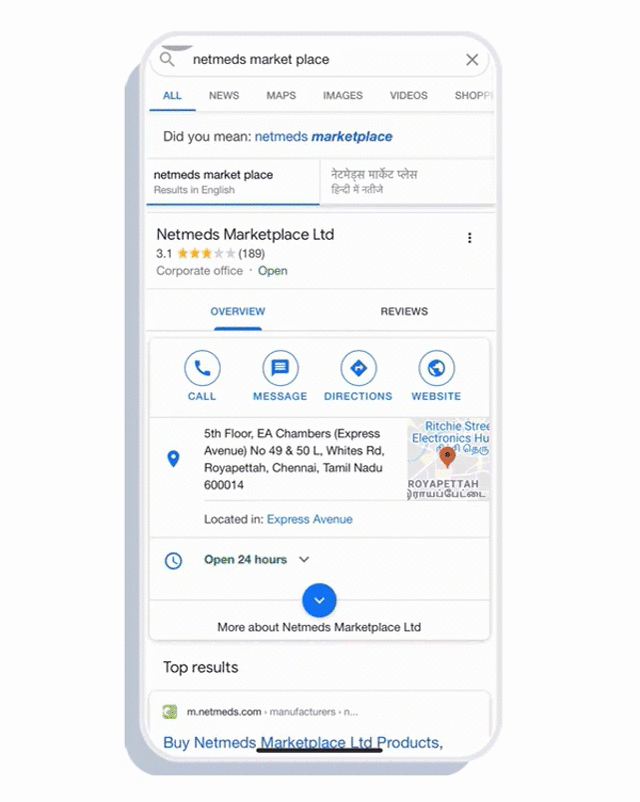 To know more about how Google Business Messages can help your brand deliver an exceptional customer experience, improve conversions, and reduce customer support cost, visit here.


How are brands leveraging Haptik's eCommerce Virtual Assistants?
Learn exactly how IVAs are helping real-world eCommerce businesses!
1. HealthKart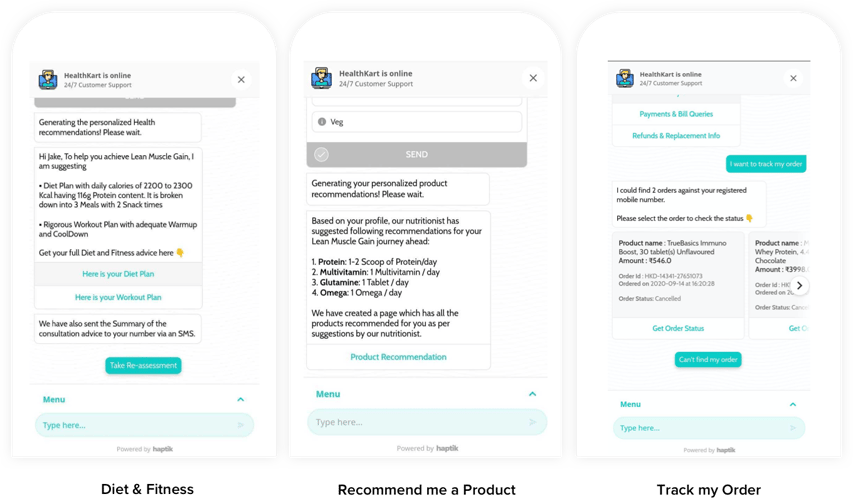 Business Goals:

1. HealthKart wanted to make support more self-serve and asynchronous to handle the surge of user queries during COVID-19

They wanted to proactively educate users and recommend relevant products based on their lifestyle and fitness goals

Solution

1. They activated on-demand support for routine queries such as order tracking, payments, bill queries, refund, and replacement.

2. HealthKart also shared personalized diet and workout plans based on the users' goal, eating habits, current weight, lifestyle, etc.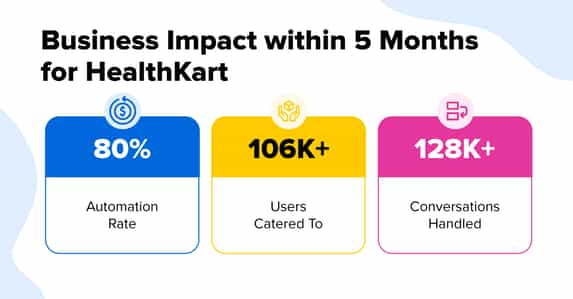 You can read the full case study here.
2. Flo Mattress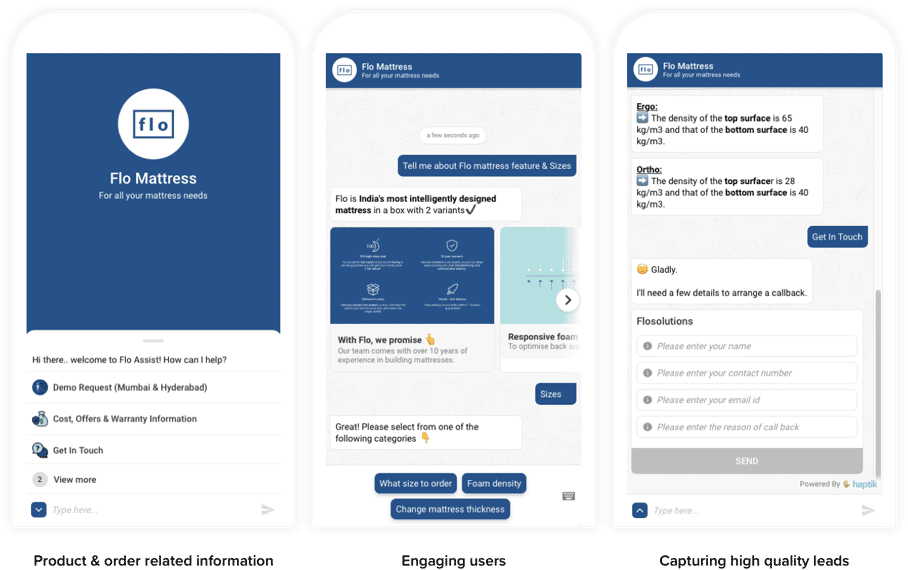 Business Goals:

After the launch, Flo saw a massive jump in their sales leading to a 50x rise in customer support queries. Flo wanted a solution that could scale rapidly without constraints.

Solution

1. Guiding website visitors with product information and FAQs

2. Answering support queries around usage & delivery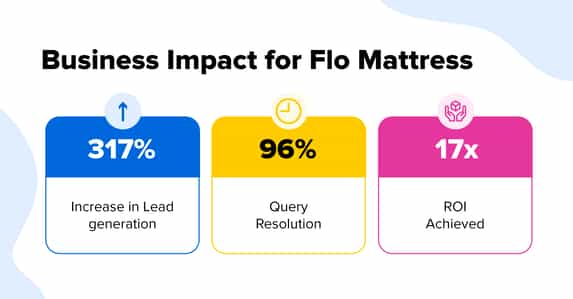 You can read the full case study here.

Haptik's Smart Skills have played a huge role in delivering exceptional ROI for retailers and eCommerce players globally. You can build virtual agents by importing from our comprehensive library of Smart Skills derived from key learnings & best practices, custom-made for the retail industry. Know more about Smart Skills.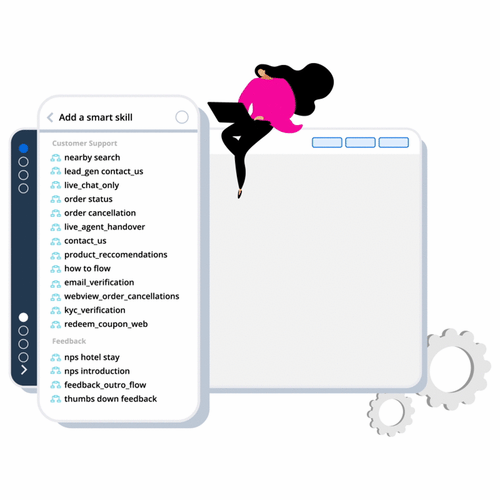 To Sum Up…

In the wake of COVID-19, chatbots for the retail industry have come to the rescue for major retailers and eCommerce brands. With the growing usage of AI in retail, IVAs are playing a key role in transforming the broken, costly, and inefficient traditional systems of handling customer support. Retailers are now realizing the power of Conversational Commerce and including it in their overall digital transformation strategy.

At Haptik, we've had the experience of solving complex business problems for some of the largest brands in the world. If you want to provide an exceptional Customer Experience, generate more sales, and reduce Customer Support costs, let's grab a cup of coffee (virtually, of course!) and discuss how Haptik can help you meet your business goals!


Here's a guide on eCommerce Chatbots and how to Drive Sales and Customer Retention
---

Interested in developing a Conversational AI solution for your business?