Introducing 'Smart Assist': An Intervention to Humanize AI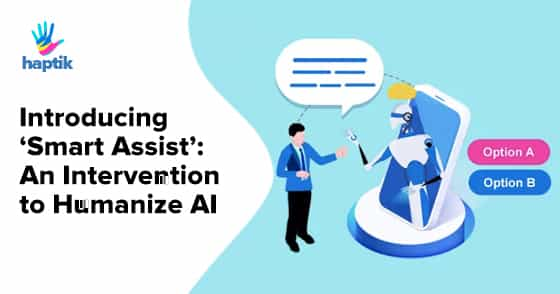 This article has been penned by Shrey Jain (Sr. Product Manager, Haptik) and Aman Srivastava (Machine Learning Engineer, Haptik)
Intelligent Virtual Assistants are fast becoming the go-to choice of the enterprises for automating customer support processes. Infact, the IVA market size in the customer support domain is projected to grow from $2.6 billion in 2019 to $9.4 billion by 2024.
However, most automated IVA solutions tend to sacrifice the human element of the customer support in their quest for Automation and Cost Reduction.
At Haptik, we understand that higher automation doesn't necessarily need to come at the cost of reduced customer delight. This makes us very excited to announce the launch of 'Smart Assist' — an innovative enhancement towards humanizing AI and making it as conversational, free-flowing & natural as possible while bringing higher cost efficiencies for our partner enterprises.
What is Smart Assist?
Over the years of building Intelligent Virtual Assistants, we've realised that customer conversations contain myriad intents, sometimes making it difficult for the IVA to understand the customer's needs.
It's here that 'Smart Assist' comes into picture. Whenever a customer sends a message that the IVA has difficulty comprehending, 'Smart Assist' engages the customer with relevant recommendations, closest to their query, and hand holds them back into the conversation to find the solution they came for.
Simply put, Smart Assist enhances customer experiences and helps businesses with:
Improving automation
Saving agent hours
Reducing costs
The chart below shows a simplified customer journey and how 'Smart Assist' enables Haptik's IVAs to help customers find solutions to their problems.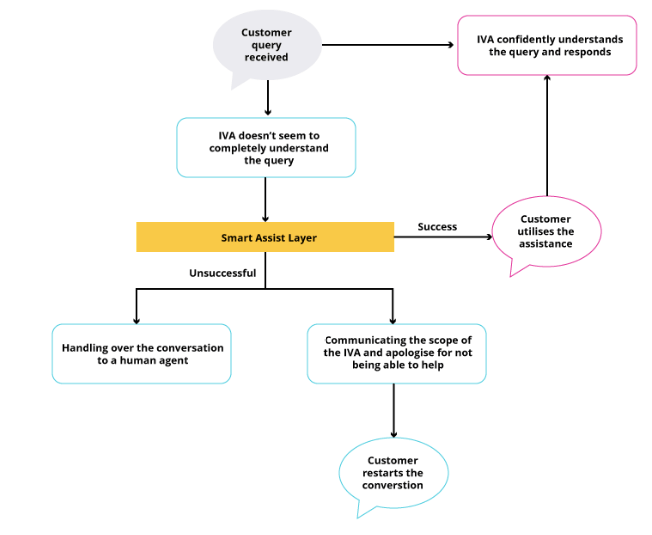 Measuring Business Impact
We have deployed 'Smart Assist' across all the Haptik's IVA deployments and there has been a significant impact on Automation. The summary below shows the business impact on some of the prominent support IVAs designed by Haptik across multiple industries: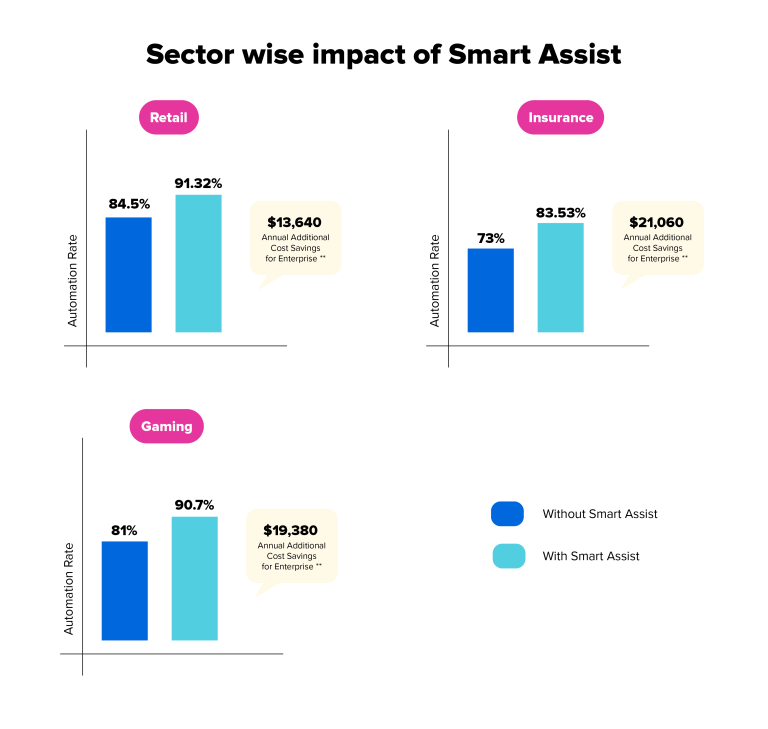 ** Assuming annual 100K support chats and average cost to serve a chat as $2
* SBB – Smart Bot Break
The above numbers highlight the impact 'Smart Assist' has been able to drive at the bottom line for our partners. They also reinforce our conviction that an automated IVA solution that drives ROI, doesn't need to do so at the expense of customer experience.
Let's take a look at some real customer journeys to check out how Smart Assist makes Haptik's IVAs more human –
Typos and accidental errors
Customers may not always be within the comfortable confines of their home, when they reach out to an enterprise for support issues. They could be moving in an elevator, sitting in a cab, taking a jog, etc. It's seemingly natural for customers to accidentally make errors while typing or give incomplete queries.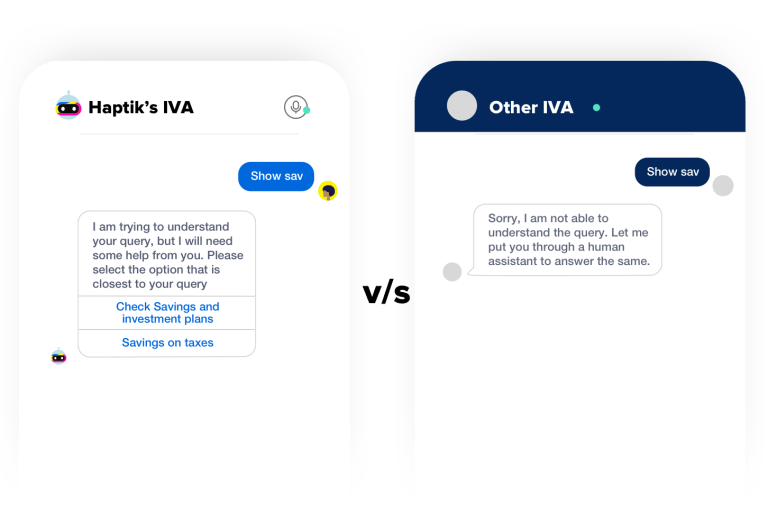 An Intelligent Virtual Assistant smartly deciphers an incomplete query and suggests potential completion options to the customer's attention, just like a human would do.
Ambiguous message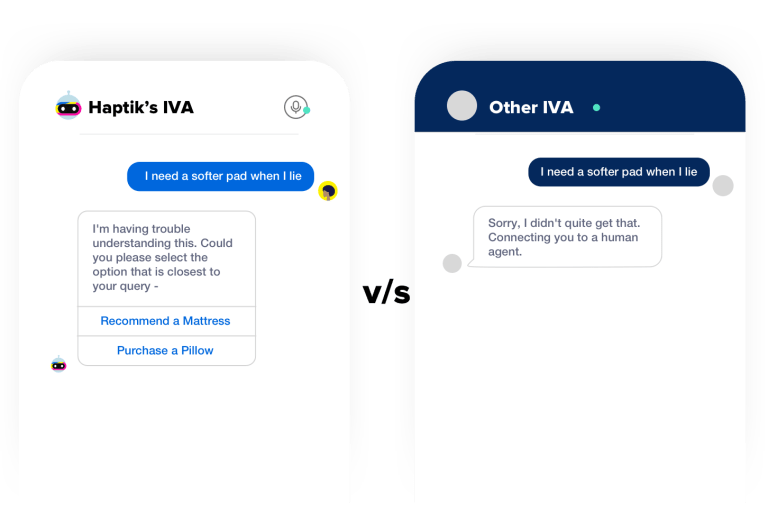 In the above scenario , a human would respond with relevant options to continue the chat and drive the user towards achieving their goal. Similarly, a virtual assistant would ask for clarifications and suggest recommendations closest to the user's query instead of handing over the conversation to a human agent.
Queries with incomplete information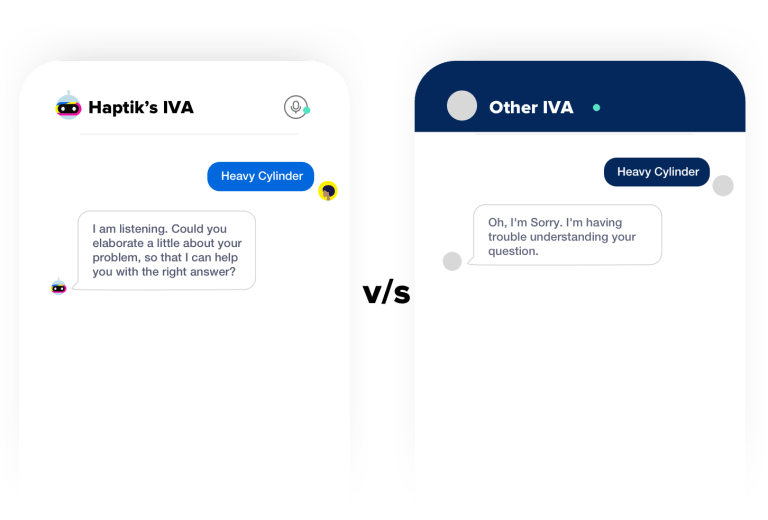 Imagine if a customer is in a hurry and needs to hop in for an important meeting. Quite natural that she might forget to provide complete information to the IVA around what issues she is facing.
Here, through 'Smart Assist' the human side of the Haptik's IVA requests the customer to share more context, while letting them understand why the IVA was unable to answer their query.
Providing information without explicit direction
There are times when customers share some important information but implicitly assume the IVA to understand it's utility as well. In some cases the information may match multiple use-cases within the scope of the IVA, leading the IVA to be unsure of what the user really wants.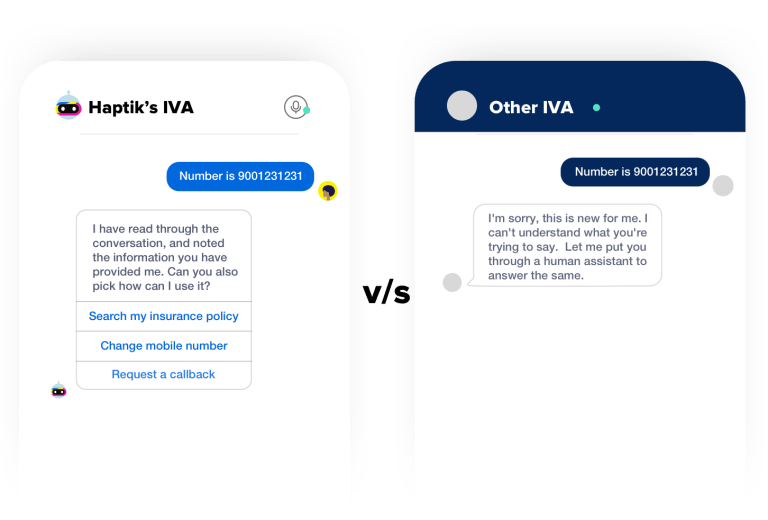 In this scenario, a smart IVA would reply exactly like a human and try to confirm from the customer of what can be done. Replying with "I can't respond to this query", that would not only hamper the customer experience, but also make the IVA appear robotic to the customer.
Long queries with background information
Usually in troubled situations, we humans tend to describe our grievances in as much detail as possible and expect the other person to hear us out.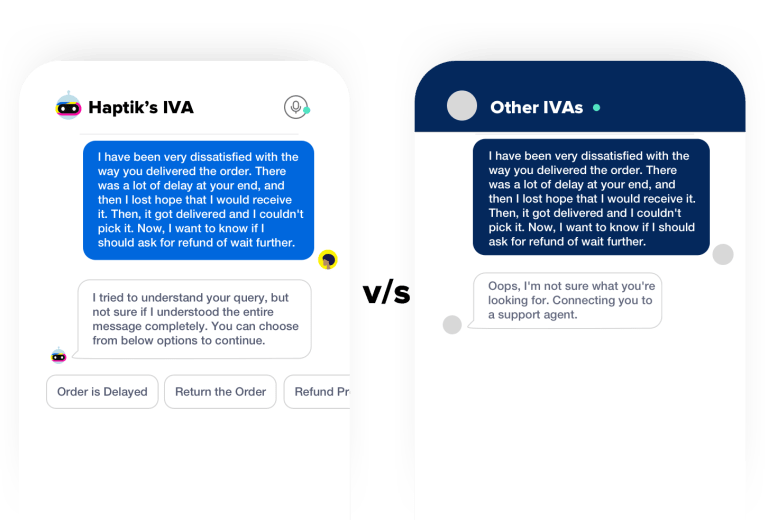 An intelligent virtual assistant responds with an apology, thus, showing respect and acknowledgement of the customer's emotions. It requests the customer to summarize their concerns and shares relevant conversational possibilities that can be inferred out of the customer's message. This not only helps in building a rapport with the customer but also enhances the customer's confidence in getting their query resolved, without being transferred to an agent.
Final Thoughts
Today, IVAs continue to be an essential part of the digital transformation process for businesses globally. And, while IVA adoption is at an all time high, we've realised that automation doesn't have to be robotic or lack human empathy.
Smart Assist is already helping our customers reduce bot breaks by over 50%. For those of you wanting to learn more about Smart Assist, you can get in touch with us at enterprise@haptik.ai.
We would also love to hear your feedback on the feature or answer any follow up questions you might have. Curious to learn more about Haptik's NLU features? Check out this article on how identifying out of scope queries can make or break your virtual assistant.
---
Interested in developing an Intelligent Virtual Assistant solution for your brand?