The COVID-19 pandemic changed everything around us. As we look back, we cannot imagine the magnitude of changes it has brought to the whole world! While it boosted the pace of the digital revolution, it also took the lives of many innocent people.
We applaud the tireless efforts of the healthcare department that has worked round the clock (literally) to ensure the health and safety of its citizens. We cannot compare ourselves with the work done by them, but we take immense pride in helping the nation fight another critical battle - a battle against rumors, myths, and misinformation.

To facilitate this efficient and timely information dissemination process, Haptik developed the MyGov Corona Helpdesk – the official Government of India chatbot to answer queries about the COVID-19 pandemic.

We received encouragement from senior public officials for this technology-driven awareness initiative, including the Honorable Prime Minister of India, Shri Narendra Modi.
Creating a similar impact, a year later
The cloud of pessimism and negativity has passed now, and India has picked itself up from the shackles of the second wave of the pandemic. Vaccination drives across the country are in full swing, and business owners are breathing a sigh of relief!

The MyGov Corona Helpdesk was the talk of the weekend, and we couldn't be more excited to witness how the whole of India reacted to it!

We worked with the MyGov and WhatsApp teams to enable people to download their vaccine certificates from the MyGov Corona Helpdesk on WhatsApp.

Here's how it works 👇🏻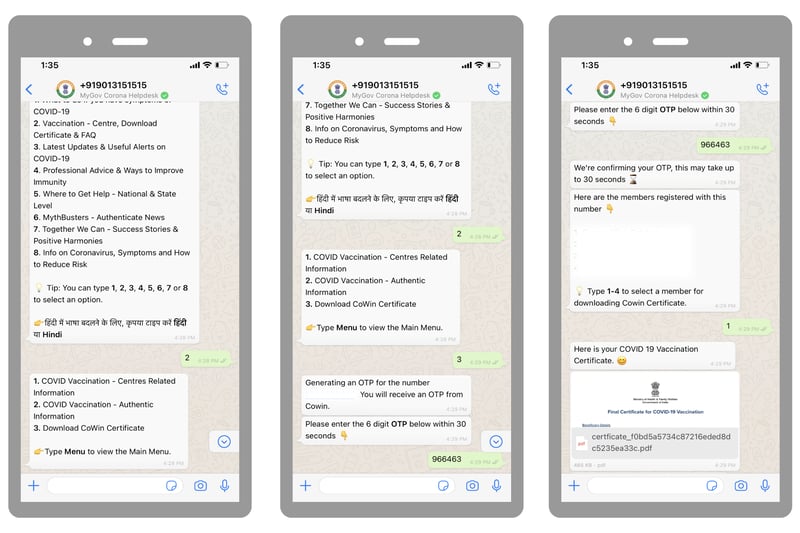 What prominent industrialists and government officials had to say about it 👇🏻
Apart from the business results we deliver for large-scale enterprises, these events genuinely reflect AI's impact on society!

We're proud to join hands with MyGov and WhatsApp who are doing groundbreaking work to facilitate the process of efficient and timely information dissemination around everything related to COVID-19.

In more than 90+ hours that we are live with this use-case, 697000+ users have downloaded their certificates successfully, which is almost 50% of the whole traffic on the bot during those hours. (The above data is between 06 Aug & 09 Aug 06:00 PM)

We're also excited to announce that we worked with the same teams to enable millions of Indians to Vaccine on their favorite messaging channel. Now, booking your vaccine slot is as easy as sending a message!


Click here to open WhatsApp and use the service directly: https://lnkd.in/eADEK9NC
---
Are you interested in developing a Conversational AI solution for your business?