Leverage AI Chatbots for Public Services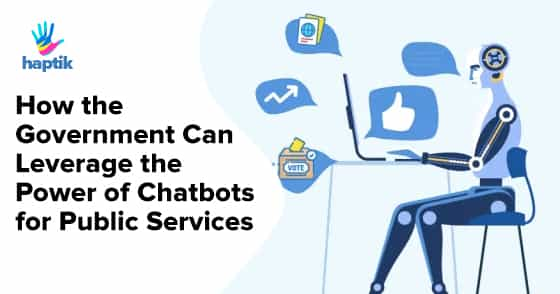 Governments across the globe have been focusing on harnessing technology to provide the best services. This has led to massive automation, both online and offline.
The Indian government too has been focusing on leveraging machine learning and AI in the past few years. In fact, it has doubled the budget allocation to the Digital India initiative spearheaded by NITI Ayog.
Chatbots are becoming the default customer support solution for most services across the globe. They can process service requests in huge numbers, function round the clock, and can help government departments and civic bodies fulfil their duties at significantly lower costs. But these obvious advantages aside, chatbots entail several long-term benefits for the government services that use them. In a nutshell, chatbots can help governments be better service providers to their citizens.
However, the true impact of chatbots can be seen only when they are deployed for the right use case. Haptik had the opportunity to share our products and innovations with the honourable Prime Minister, Mr Narendra Modi during the Indo-Singapore exchange summit in May 2018.
We've been working closely with government agencies to understand their challenges over the last few months. Based on our experience, here are the key use cases where chatbots can be of immense value:
1) Service Discovery & Information
The government is a civil service provider to every citizen. From Passports to Identity Cards to Electricity Bills, the government does it all.
A service discovery bot can act like a receptionist who can answer or guide you to the right page based on your query.
This solves the problem of complex sites that make it very difficult to avail any of services. With a chatbot that can easily redirect citizens to the right place, there's no chance of getting lost or confused in the complex maze of menus, departments, sub-departments and pages.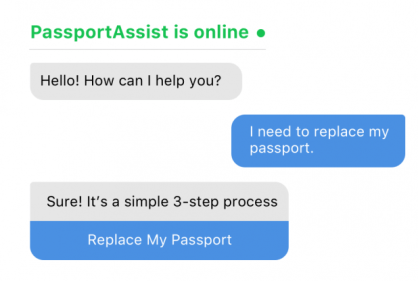 2) Eligibility Check
While the government runs several well-intentioned programmes, there is no defined guide to understanding what the qualifiers and criteria are. Chatbots can put them in a conversational manner for people to understand. Based on certain qualifying questions, the bots can understand a user's eligibility and suggest the steps to avail the benefits.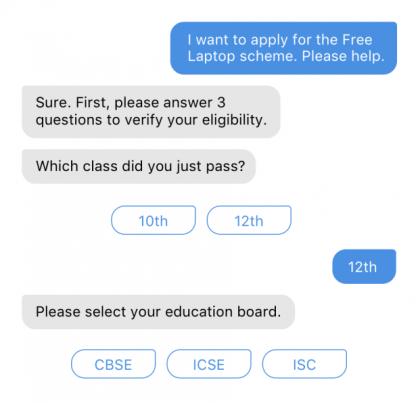 ▶️ Watch this webinar by our Business Head – Kartik Poddar to understand the best chatbot use case for your business.
3) Service Delivery
The government machinery has many touch points at the grass root level like municipal offices, post offices, Seva Kendras, etc which a citizen must visit to avail a service. Assume that you've learnt about a service, have found out the eligibility criterion (which you qualify for) and now want to avail it.
Just enter your pin code, and a chatbot can guide you to the nearest centre, timings and the right department within the office to avail the service.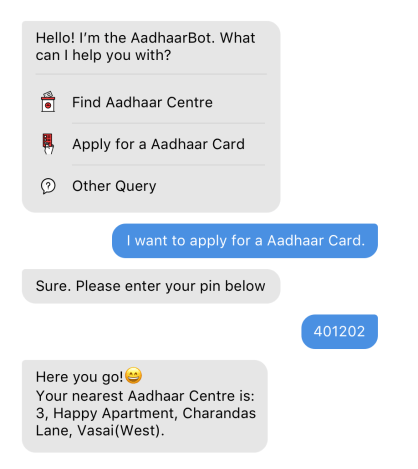 4) Citizen Feedback
You'd have noticed that the government runs many campaigns asking users to send SMSs or call to give feedback on their services. A chatbot is the easiest and most natural way to engage users to collect feedback, both qualitative and quantitative.
It makes the entire experience very human and accessible to the citizens. With smart backend integrations, the bot can automatically route the feedback to the right departments within the government for quick action and redressal.
Government Feedback Chatbot – Citizen Feedback



Read what our Co-founder & CTO- Swapan Rajdev has to say about How Chatbot Breaks, and How to Handle Them
What Makes Chatbots the Best Goverment Helpers:
Chatbots are the ideal solution for public-facing entities like government agencies and we say that because:

1. Chatbots are inexpensive as compared to the manpower they save:

Using any chatbot platform from across the globe, the government can get a chatbot up and running in no time. Building and maintaining a chatbot to handle customer requests is much cheaper than hiring a new government employee. Furthermore, as chatbot technology progresses, the cost to build and maintain a chatbot will continue to go down.

2. Chatbots work 24X7X365:

People want services beyond the normal "9 to 5" business hours. Why not have chatbot provide services 24 hours a day?

3. Chatbots can reduce the burden of pending inquiries:

One of the most famous applications of chatbots was by the city of Los Angeles. The chatbot reduced email inquiries by 50%!

4. Chatbots work faster:

Reducing citizen wait time can enhance the experience and win the government some brownie points. Instead of keeping phone customers on hold, government agencies can use chatbots to handle simple customer requests immediately.

5. Ease of use:

Since chatbots universal chatting interfaces, there is absolutely no learning curve to be able to use them–if you know how to read and type, then you know how to use a chatbot. In 2016,

133.1 million

mobile phone users in India accessed over-the-top messaging apps to communicate. If that doesn't prove that chatbots are the perfect service delivery vehicles, nothing else will.



We feel that conversational AI is a great way for governments to make their services accessible and help citizens with their queries. Leveraging technology to serve citizens would make lives easier. They also save a lot of time, money and human resources for the government.

Feeling inspired and want a chatbot of your own?
UPDATE: Haptik

has developed MyGov Corona Helpdesk – the official Govt. of India chatbot for COVID-19 awareness.